Race To The Finish: 45 Rat Rods That We Can't Get Enough Of
By Olajide O February 10, 2022
---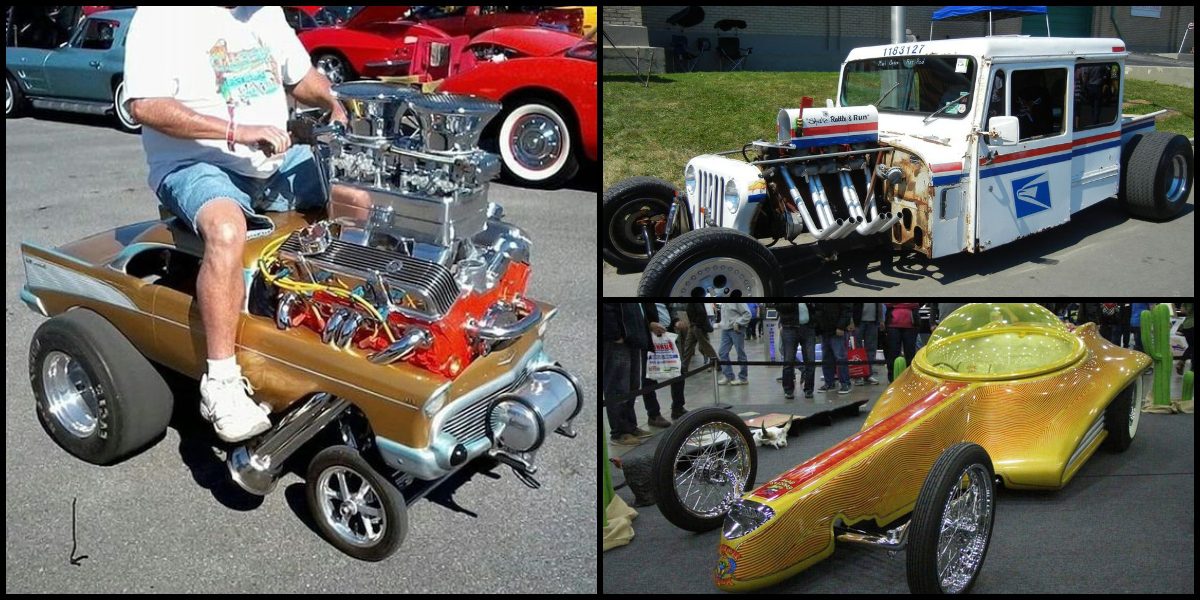 We have all heard of hot rods, but have you ever heard of rat rods? They're a not-so-popular category of cars that are essentially a mix of hot rods and rat bikes. They may not look like much, but these vehicles prove that looks aren't everything. When we talk about the fastest pieces of machinery on four wheels, it would be wrong to rule out these odd yet beautiful rat rods. Most people think about rat rods as a couple of rusted old weirdly modeled cars, but they may also not know just how crazy and cool these cars can be. Don't believe us? Check out these funky rat rods that might just change your mind; they certainly changed ours.
1925 Duesenberg 8 Speedway Roadster
This 97-year-old car was designed in 1925. It maintains a unique appearance because of what cars represented back then. Not minding how awful the design might be, the speed is something else entirely. Driver Peter DePaolo would know, having won at the Indy 500 with a new speed record of about 101.13 miles mph.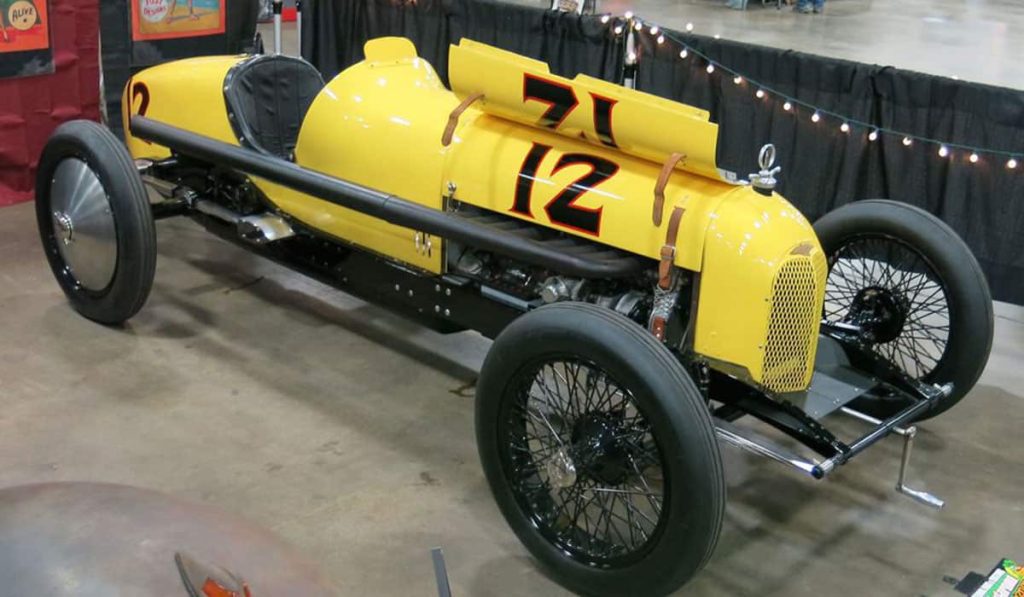 Not only did it win, but it held that record for seven years. This excellent rat rod engine can produce about 225 horsepower, and it is 121,3 cubic inches in size. It is worth about $200,000, but it sold for $352,00 on an auction block. What do you think, hit or miss?
Winged Rod
This one seems like a half-car, not unlike one would describe a half-shoe. It is no ordinary car but a crazy rat rod. From its body's design, you can liken it to a regular hot rod but turn it over to the other end of the vehicle, and it changes your perspective. It rightfully earned its name—winged rod.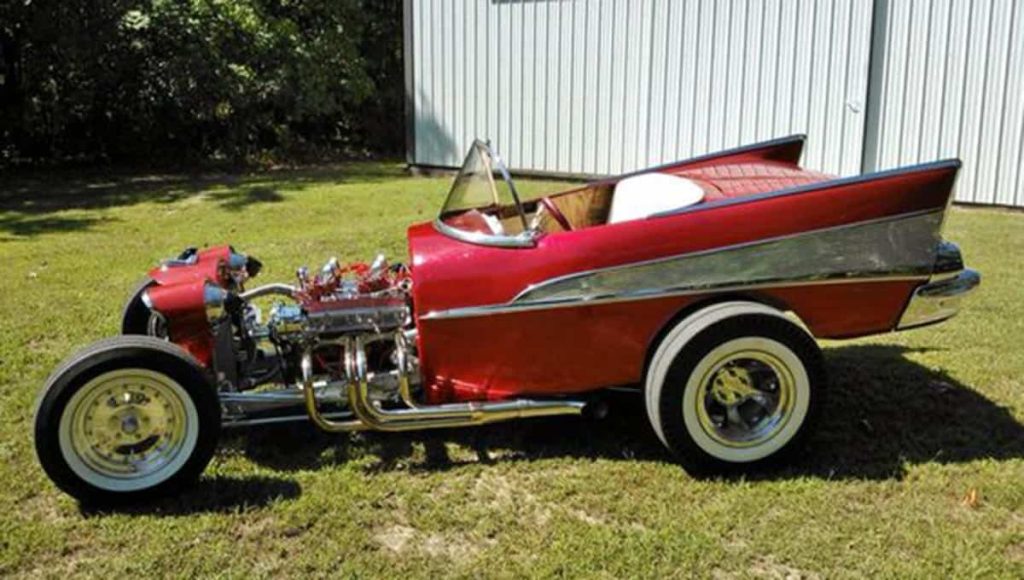 The Frankenstein of all rat rods is made from scraps of different cars, including the rear body of the 1950s version of the Chevrolet Bel-Air. The car fits the mad atmosphere of the 1950 drag race-loving culture. The vehicles sold out big in 1953, with over 1.7 million units procured off the market.
1927 Ford Model T
Ford is the father of automobiles in the United States. The brand is known for its durability and ruggedness. The Model T was a vehicle whose last appearance in the mainstream market was in 1927. It was sold out of production by the middle of the year.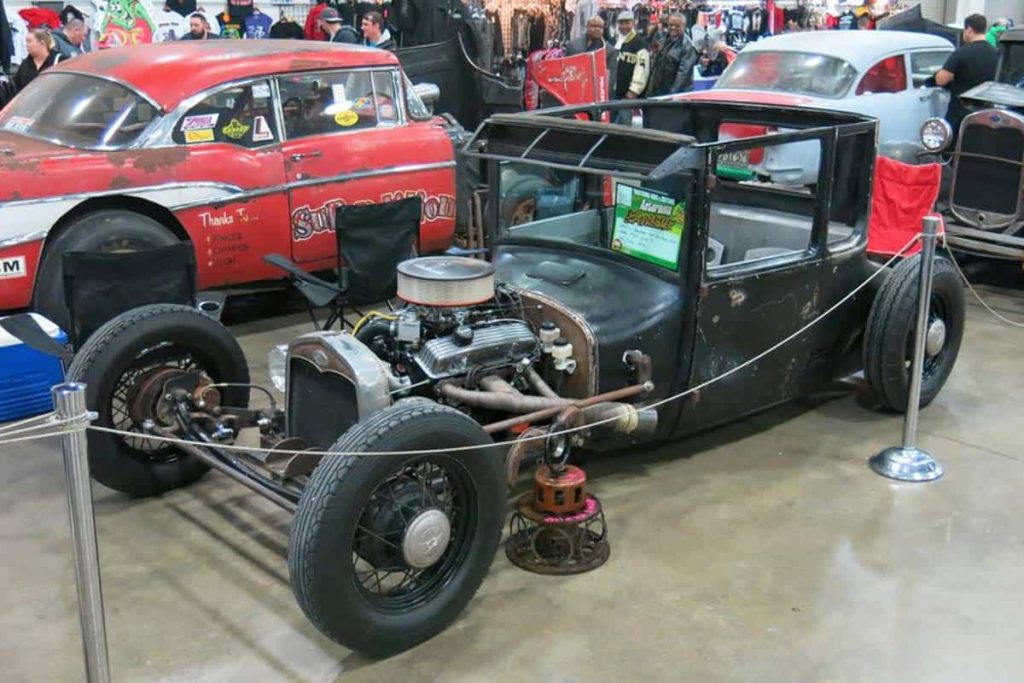 What you see of the vehicle now is a customized rat rod version. People had a knack for taking it apart even when it was in vogue. Its parts were used in building tractors, threshers, and at times, ice saws. Their sheer applicability was impeccable as people admired it for its all-terrain capabilities and toughness.
1929 Ford Pickup "Phoenix"
The significance of the original Ford Model A car when it first rolled onto the market can be compared to that of today's highly valued sports cars. It was one of the fastest cars on the streets of America; the cherry-red beauty caught the eye of people who love custom cars.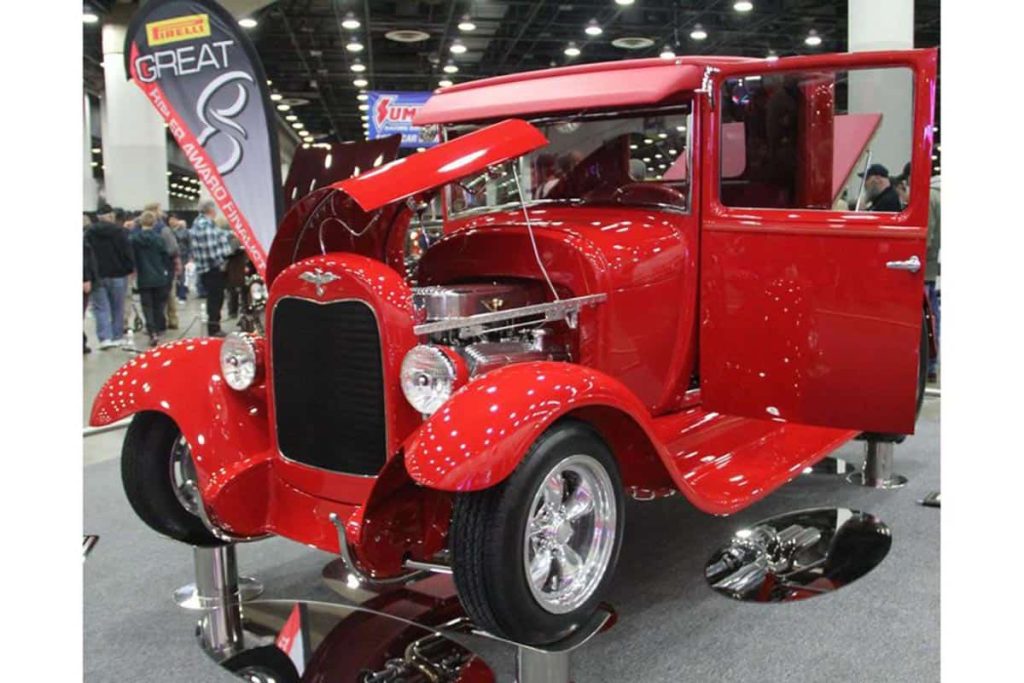 This rat rod is completely modified with extra legroom, a beautiful Phoenix emblem, and a motor of about 383 cubic inches. But it still has some of its old features. The AC/heat production is the original Stewart warner model. The rat rod is a homebuilt model that the owner reportedly worked on for 20 years.
Wheel Barrow Rod
Oh yes! People can get really creative when designing a fitting rat rod vehicle, as odd as it sounds. Hence, we are not shocked to see something this cool built out of a wheelbarrow. It is nice to see such a handy work tool deployed for what we can call a greater purpose.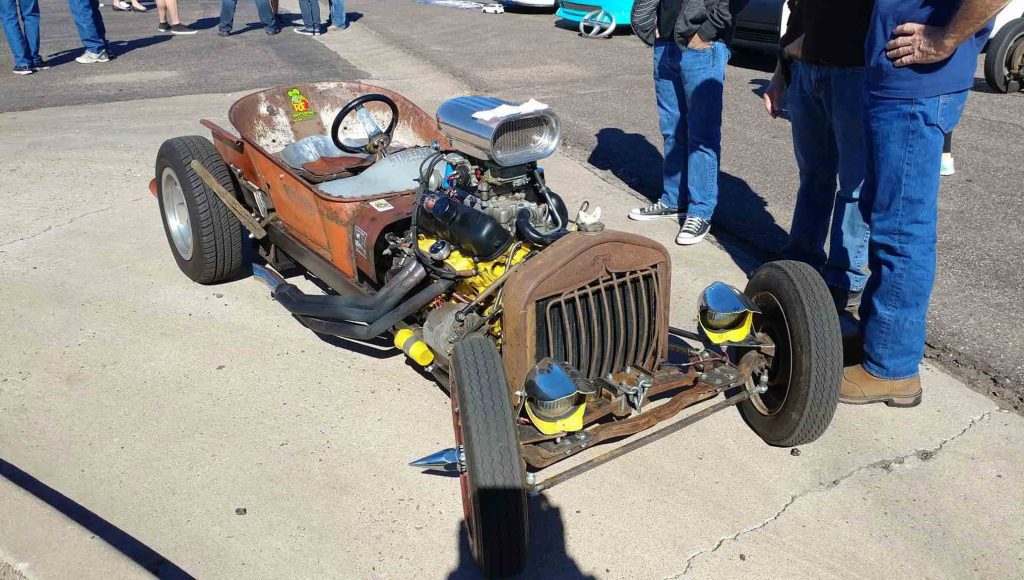 The wheelbarrow rod was built in the 1970s, and they were still around until the 2010s. The wheelbarrow wasn't the only odd material used in its makeup. Other features include a seat made of a snow shovel and a pitchfork grill. Its bumper is a literal post-hole digger with the remnants of a 1953 Mercury as the headlights.
Jeepster Rad Rod
The Jeepster had undergone significant changes to its morphology after massive economic investment by the person who acquired it. According to reports, the owner spent about $13,000 to refurbish it with new parts. That sounds like a lot of money to put into an old car.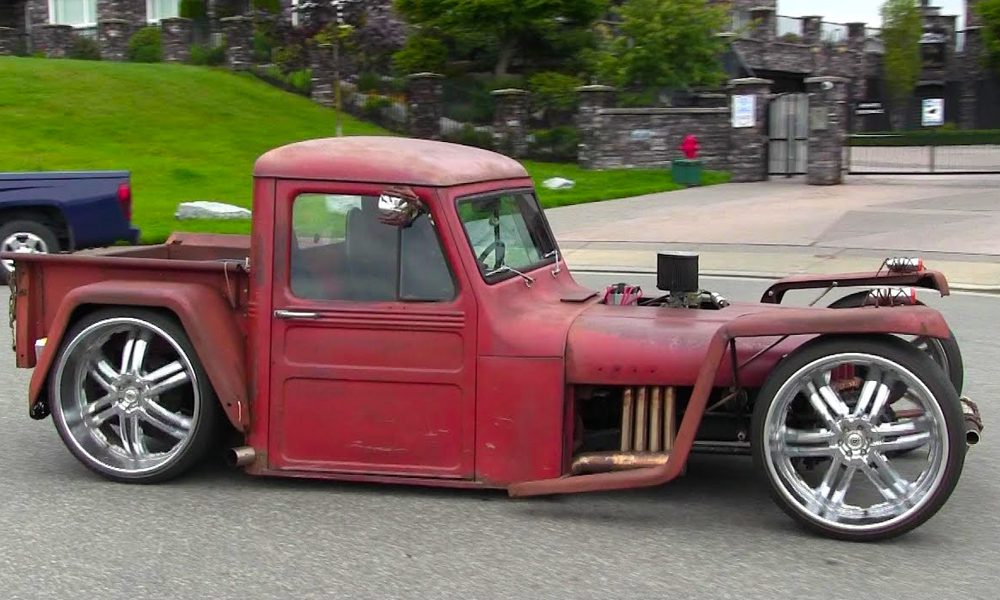 The car is now equipped with a modern stainless steel fuel tank and a GPS, which was a necessary addition because the car's speedometer was dysfunctional. Despite its front fender's look, it makes for a pretty cool rat rod. The headlights might need a bit more work, though.
1957 Chevy Wagon Rat Rod
Even if it's only one piece, this partially re-constructed Chevy Wagon is charming nonetheless, and it is considered one of the most applauded old beauties that have caught our eye in the last decade. 2023 marks ten years since it won the Rat Rod Build-Off competition. It wasn't created in 1957, as you might want to think.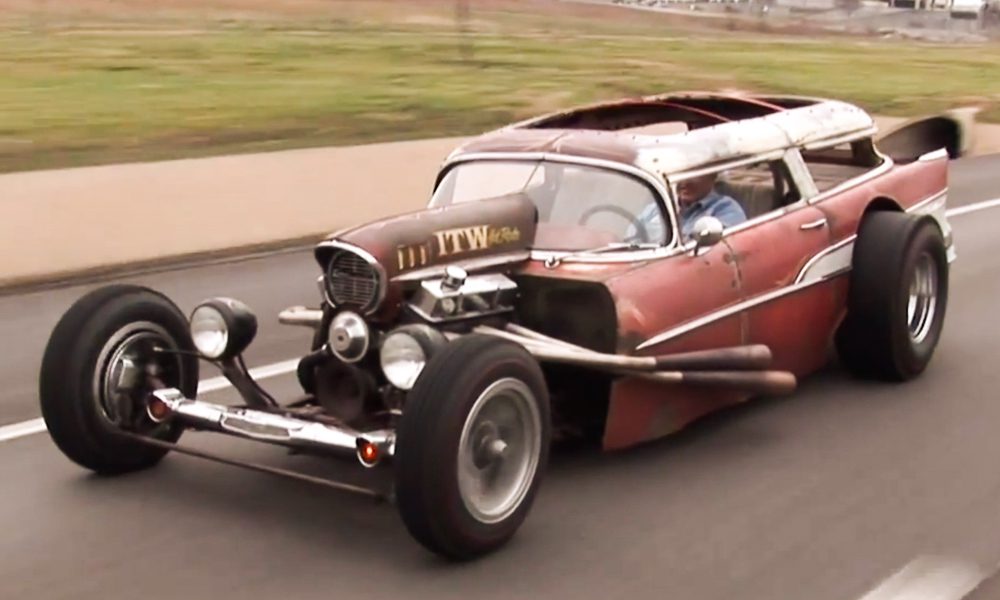 Its body was simply constructed from a 1957 wagon, used as a new frame. The engine is a V8 small block 355ci Yeoman racing Chevy engine., which means that it could race at top speed despite its rusty old body.
Yellow Fever
Excuse the pun, but this yellow beauty is one to literally raise your temperature. Why? Well, we simply cannot look away from this rat rod built from an old yellow school bus. But what would be the inspiration for such a transformation? The owner, Jason Bliesner, isn't secretive about it.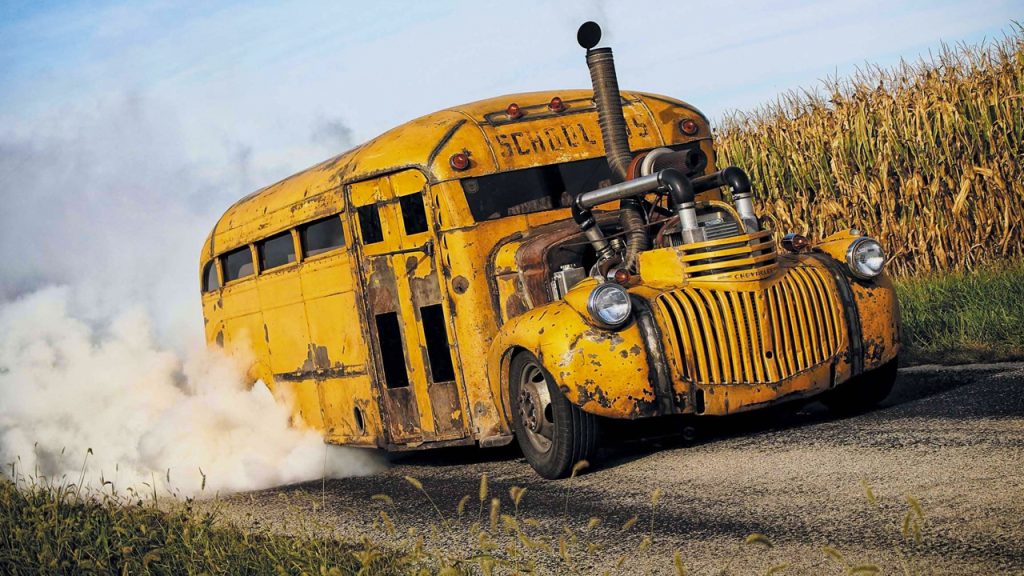 The idea came out of pure pleasure to just do something interesting. The bus is an old 1941 Chevy bus which he procured for about $2,700. The bus retains its humongous appearance, but the interiors have had an overhaul. It's fitted with an 8.9L 12-valve engine with a new air ride suspension and turbo system.
1968 Lamborghini Espada
The car mold is a bit sketchy, well, not in a wrong way, but we can't help but wonder who would do this to a beautiful Lamborghini. What pleasure does the person intend to derive from making a rat rod out of a Lamborghini? Despite the demise of a classic, this might be our favorite car so far.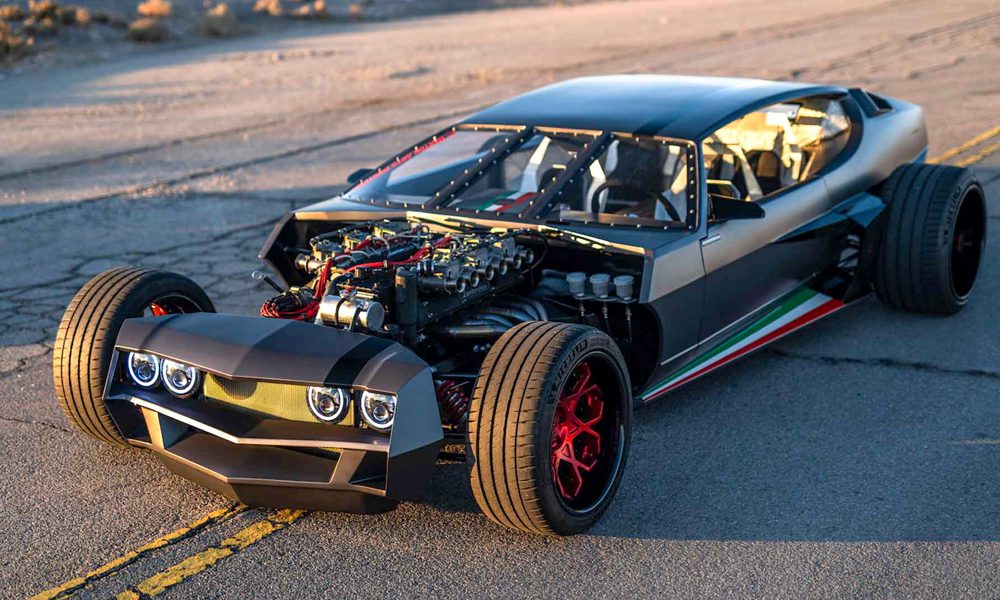 The model has been around for over half a century. In fact, this rat rod was built by professional custom car designers as a way to commemorate its 50th year. Virtually everything about the classic was modified, including the seats and the wheels. The engine is a V12 and coupled with a gorgeous body.
Stubby Bob
Below is the first rat rod on this list that has seen some airtime on a popular TV show. Ever heard of Roadkill? The rat rod was built live on air by the co-hosts. It was a pleasant mix of the old 1950 Ford F6, a 2-ton refuse truck.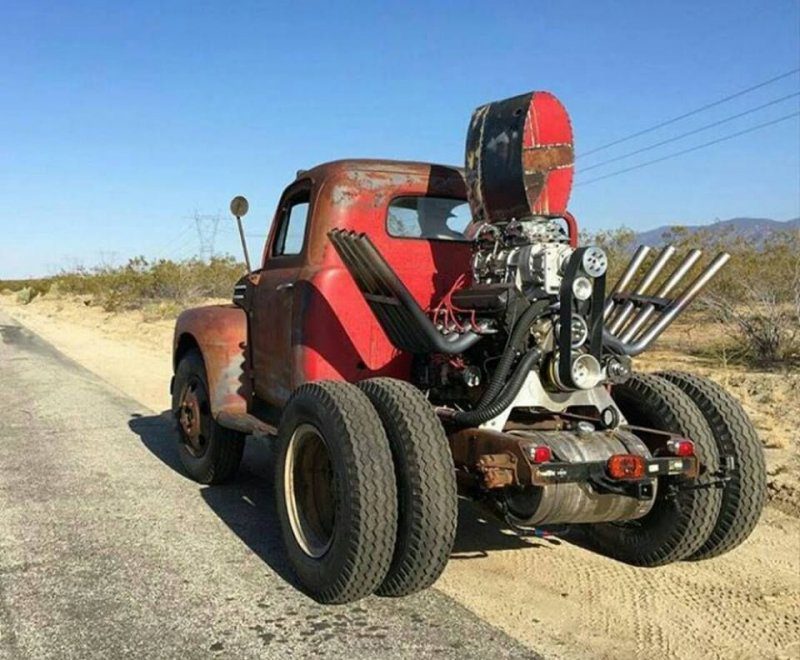 It holds an equally heavy engine of a Chevy, which is about 454 cubic inches in size. It has a big exhaust and a short wheelbase, and the engine was also mounted backward to ensure that it had more space. It looks big, but the builders were delighted with the speeds they could reach.
Hot Rod Scooter
The scooter rat rod is less known in comparison to the previous cars we've seen so far. We don't know all the specifications of this little car, but it sure looks handy with a smaller engine and, in a way, has an element of beauty to it. Admit it; the modified scooter seems pretty awesome!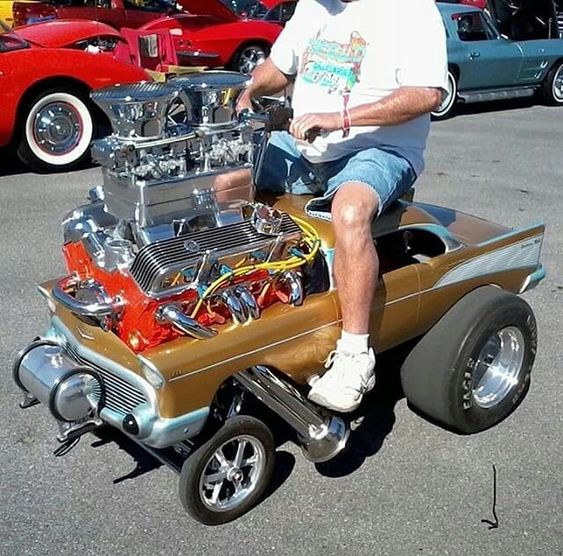 If it speeds, you'd have to be careful with this one and try not to partake in a race against other full-bodied vehicles or even another scooter. It would be helpful as a mobility scooter for moving across shorter distances. You are sure to look cool going to the grocery store in this rat rod.
Rodzilla
We couldn't help but marvel at the beauty of this rat rod; it's on a whole different level compared to those we've seen before. With the frame of a 1928 Studebaker, the engine is turbocharged with the 29-liter capacity fuel tank retrieved from a Patton tank. The sheer horsepower of about 1400 contributes massively to its fearsome rep.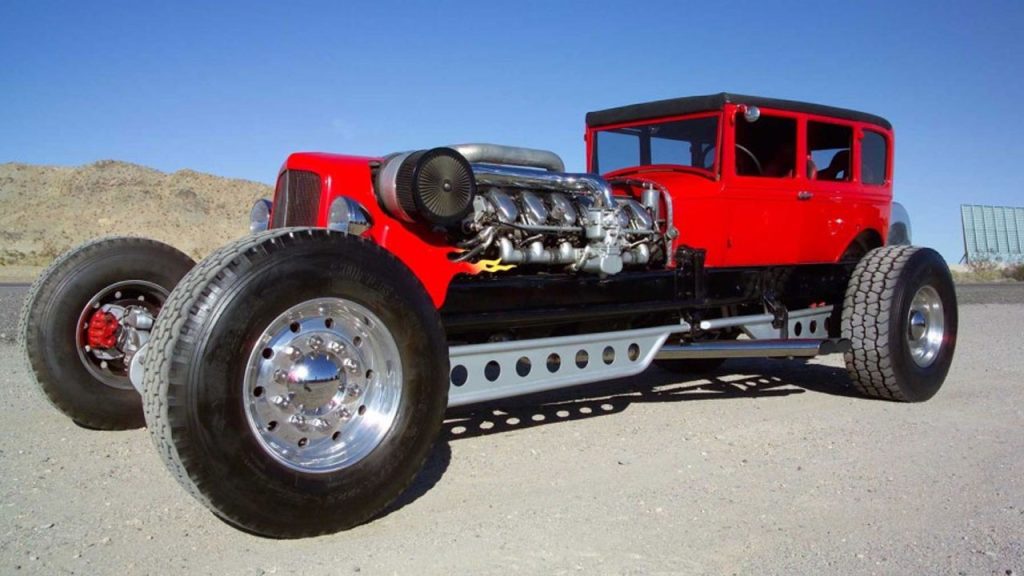 It was designed by the Blastolene Brothers, who claimed that this monster could cover a quarter of a mile within just 11 seconds. Its name came out of comparison to Godzilla as the car stands tall at about 7 feet. The rod attached to the name was a derivative of the owner's real name Rodney Rucker.
Jeep DJ-5
Here is the new face of an old Jeep procured from eBay by a Jim Bye from New York. He removed the Jeep's body and turned it into a new frame. The resultant rat rod has the 1985 GMC Truck's six-cylinder engine, which is about 292-cubic inches to go with wheels of the Mickey Thompson brand.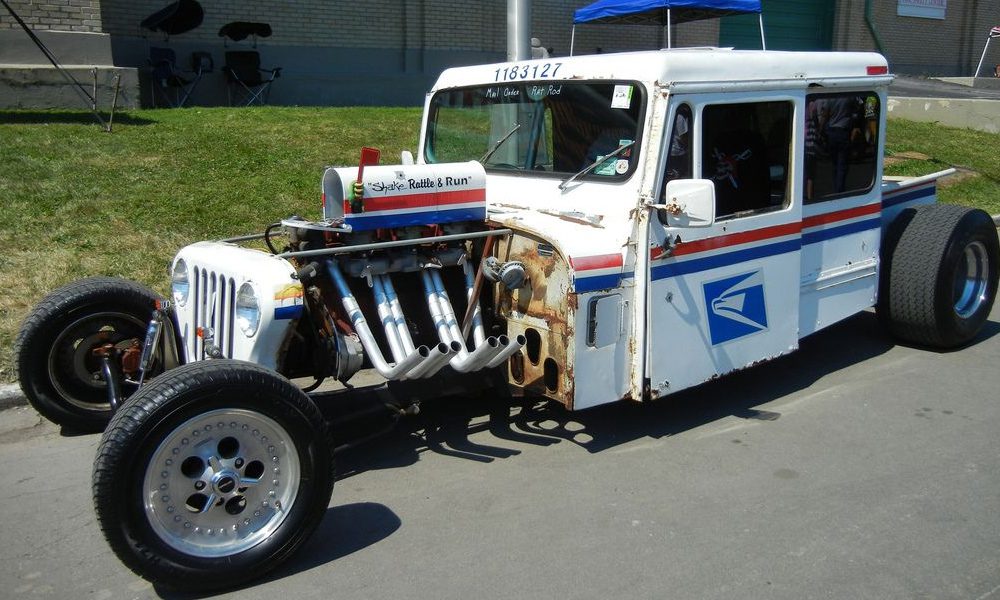 The car is further customized by the colors and logo of the US Postal Service, including a mailbox attached on the front. He chose this design to commemorate his time at the job before retirement. Bye is more than glad that his car, which cost a few thousand dollars to make, played a significant part in fundraising for humanitarian causes.
Gasser
The gasser is aptly named for its awkward appearance with its enormous blower shoving its head right through the car's hood. With the metal pulled back, it almost looks like it exploded through the car! The rod was designed out of an old 1955 Chevy Sedan 150 and built by WelderUp.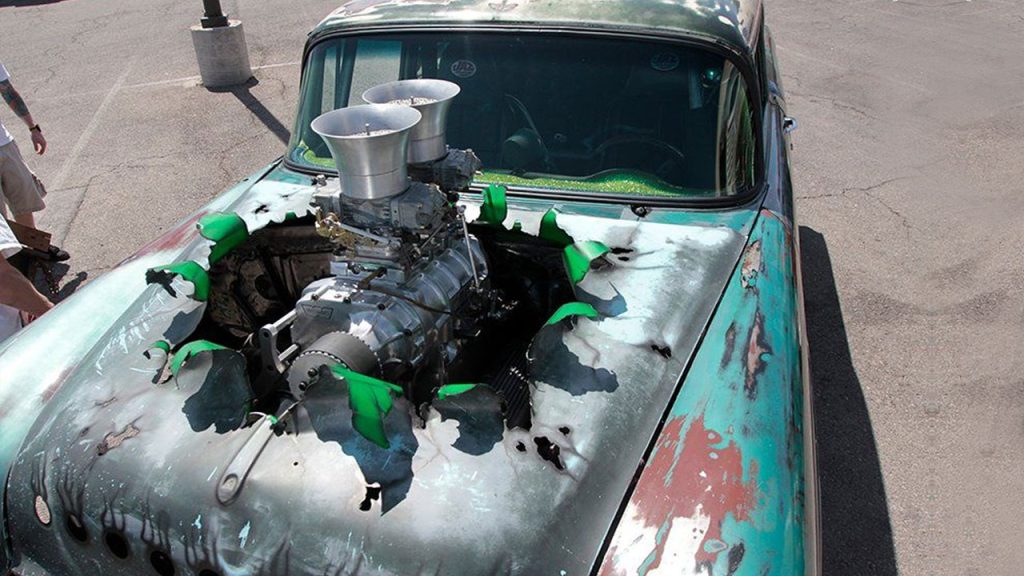 It is the picture of awesomeness with the great engine and exhaust added. It would definitely fit in with some of the underground rat rod races that welcome crazy cars of this class. You wanna sit tight for a race in this one. It would simply blow your mind.
Crazy Frank
Seen a vehicle like this on TV before? Where? Think deeply about it. Ring a bell? If you are a fan of heart-pumping movies like Death Race or Mad Max Fury Road, you'd recognize this. They were right to call this vehicle "Crazy" Frank. The name was chosen mainly due to its raggedy appearance and its speed.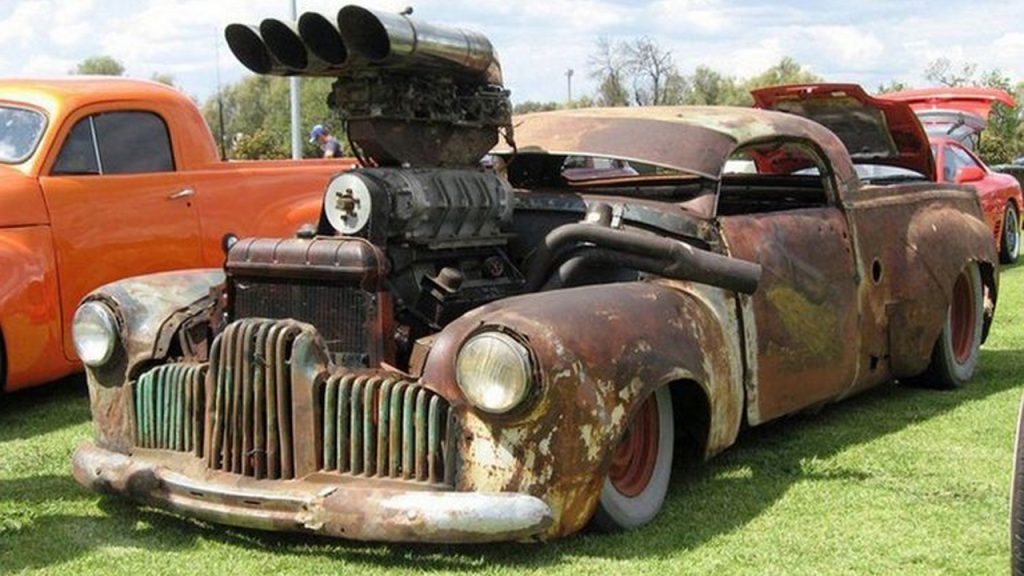 It was built with the body of a Holden FX and a supercharged Chevy V8 engine reported to have four intakes. Coupled with that is a two-speed Powerglide transmission responsible for its mobility at top acceleration. This car is certainly one for the silver screen, and filmmakers agree as some have shown interest in buying it.
Corvette Zinger
Zingers are the most popular model cars often paraded in car shows. They didn't gain much renown until classy showman Bob Larivvee promoted it for the MPC Corporation in the 1970s. Most model cars are not real vehicles, just prototypes with almost complete engines.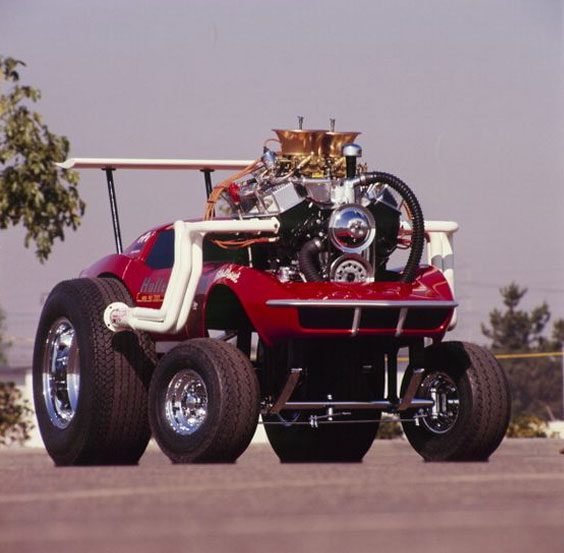 The rat rod version is not an available car but majorly a promotional model used for display in the popular ISCA hot rod show. It made this list based on its looks alone, and it would be nice to actually have one, let a one a rat rod of this model with a full-sized engine.
Van Rod
A visit to a rat rod rally will have your jaw dropping at the concoctions of machine parts used to make up a wacky new vehicle. From our point of view, this particular rat rod's build screams "crazy." It's basically a chopped-up 1964 Chevrolet G10 van that doesn't seem like it has had the best of days.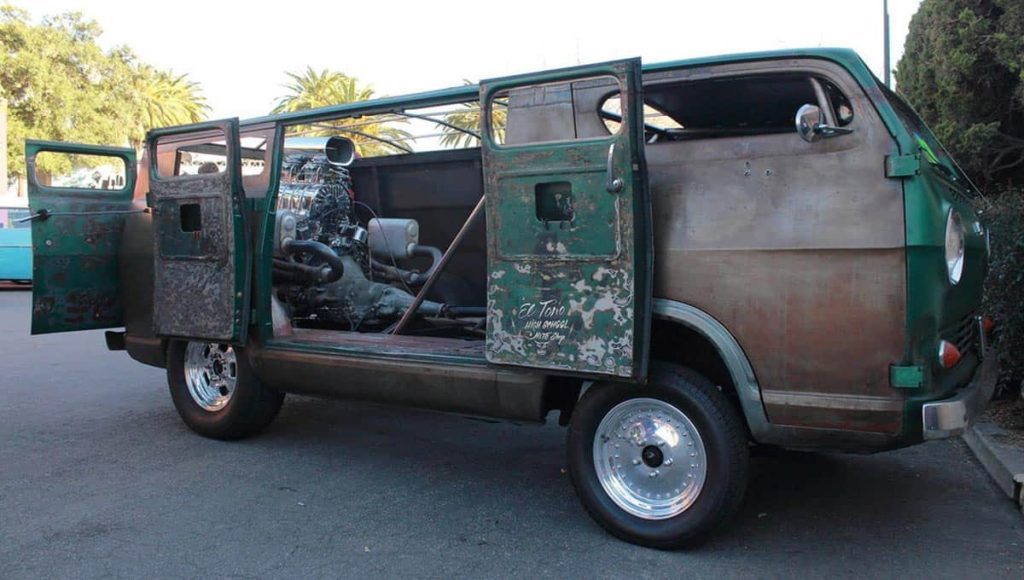 The revived rod now holds a Chrysler engine, hung up in the back rather than the designated engine space in the front of the vehicle. It is no longer the modest van, now that it generates 90-horsepower from its 153-cubic inch engine. Most of its seats are missing, save for the driver's and passenger's seats.
'64 Cadillac 'Deuce DeVille'
Matt Groover is a well-known name in the car customization industry, likely in large part due to his social media accounts, where he publishes most of his designs. It's a work of art to turn a 1964 Cadillac DeVille into a six-wheeled rat rod, complete with wheels that belong to a trailer navigating the highway traffic.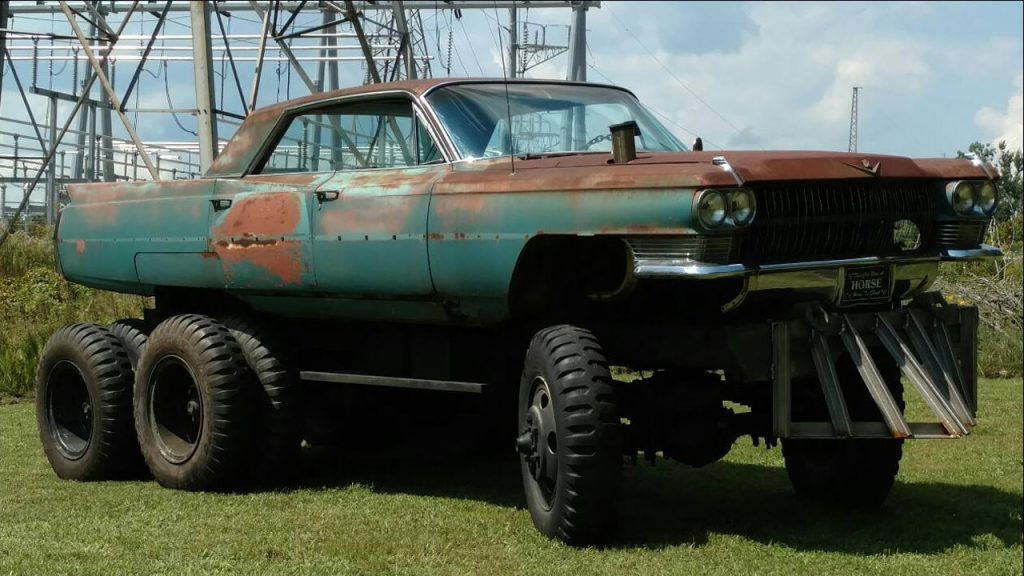 But this is more of an off-road vehicle that speeds well on its multi-fuel drive train engine. Think about giving it a more healthy-looking appearance, and it'd look a lot more gorgeous than this. You can check out Matt Groover on Facebook to see more of his wondrous works. Maybe you'll find something catchier to your delight.
1976 Toyota Land Cruiser Fj40
Here is a street rod model of the original Toyota Land Cruiser designed by a popular car customizing shop in the streets of Johannesburg in South Africa. It did an excellent job of portraying the creativity within the South African culture. It looks like a car built for kings.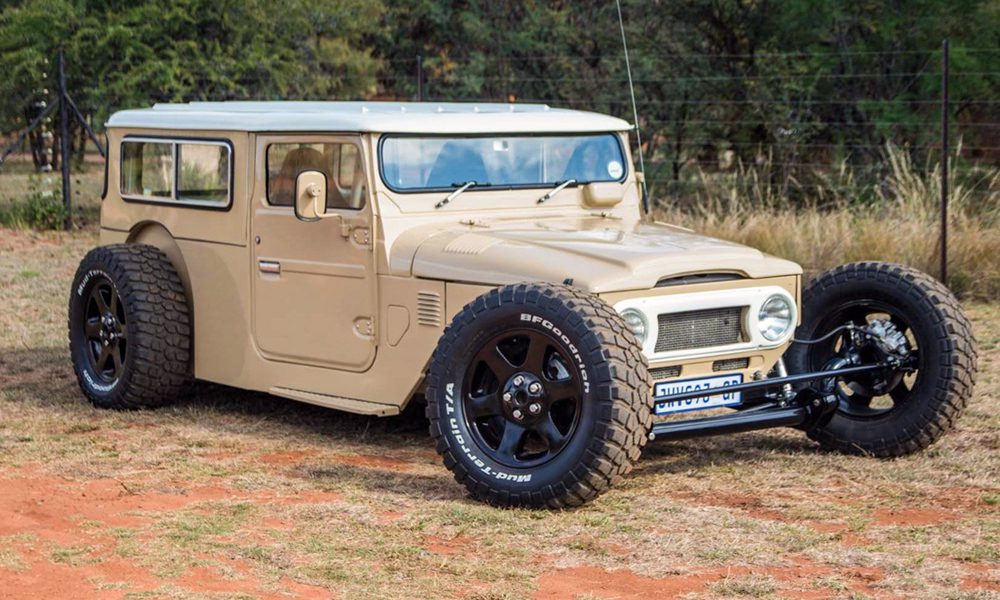 The classic Land Cruiser has seen some heavy modification with new seats derived from the Jeep Wrangler, a new modified front suspension, and two headlights obtained from a Volkswagen Gold vehicle. The engine is a Lexus 1UZ V8 which can travel at incredible speeds. The customs shop claimed to have taken about 50 days to complete its build.
Truck Rod
When it comes to rat rods, nothing should surprise you anymore. We mean that; we have seen rat rods built out of a wheelbarrow and an old van. Seeing one made out of a semi shouldn't feel too strange at this point. Here, we know it's a modification of a truck into a rat rod.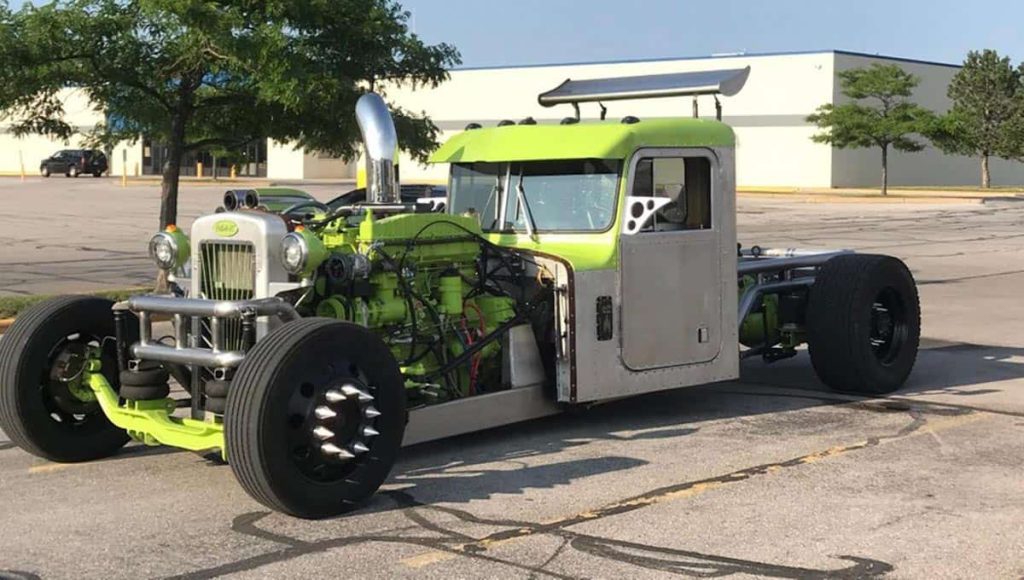 Now, it combines the double perk of both the speed and the hauling power of a tractor-trailer. It can carry quite the cargo while still moving at a decent pace. Once the shipment has been unloaded, the rat rod feels light as a feather as you put the pedal to the metal.
Let's call it "Nameless"
In the history of rat rods, this build doesn't make a shred of sense. What is this? It looks like it's been taken right out of a cartoon show. We can confidently say that it moves well with two big wheels in front and two tiny wheels supporting the weight of its big engine.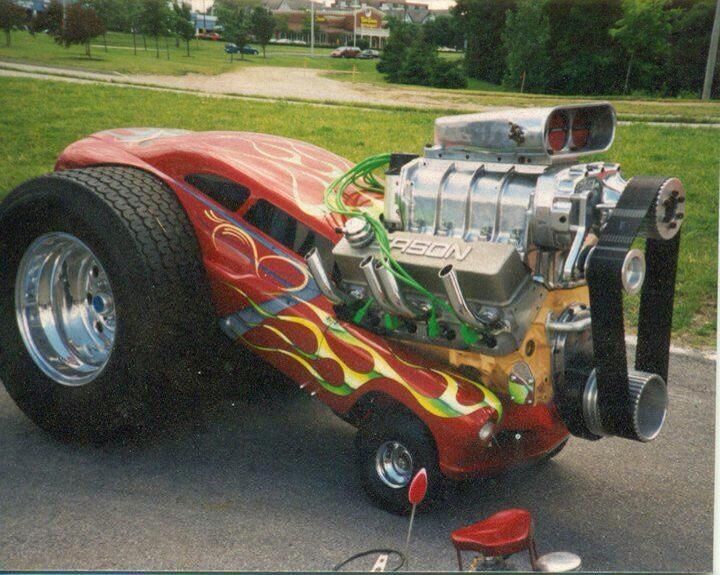 We cannot ignore the genius behind its colorful design, with beautiful fire styling on the body and sides. The engine is a firecracker, by the way, even though driving it seems to be an arduous task. Still, if anyone manages to do that, they'd surely draw a lot of attention.
1930 Ford Model A
It's easy to understand the motivation of whoever customized this vehicle. It is shaped like a bullet and is so heavily modified that the Ford family wouldn't even recognize their beloved car model. It has seen a lot of changes with a new 5-speed manual transmission, a V8 engine, and a fuel tank capacity of about 4.8 liters.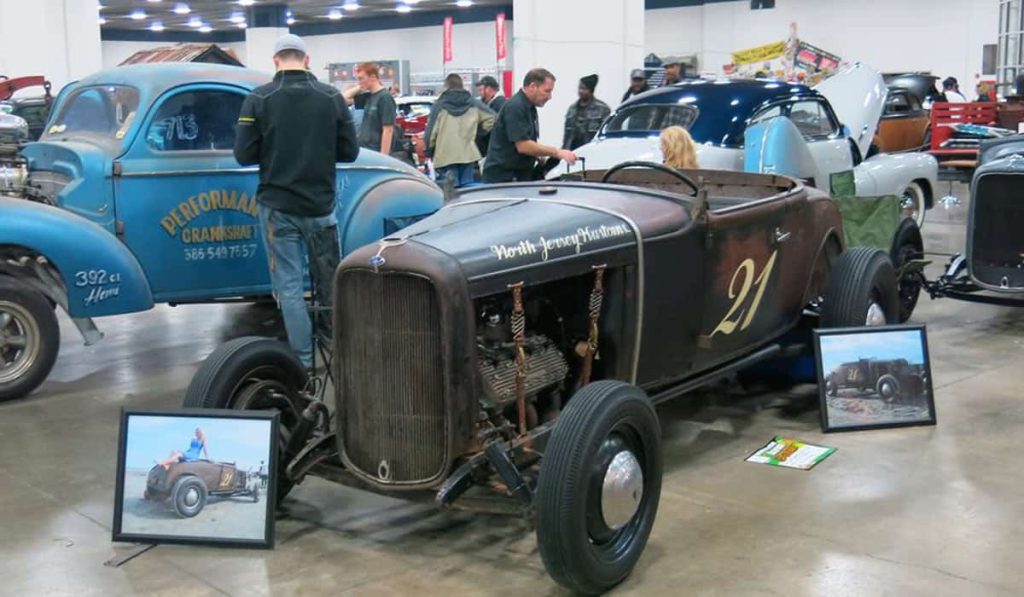 It lacks the embargo of supporting structures and a roof to move at higher speeds. To some extent, it is still similar to the old model that was created almost a century ago. Looking at this rat rod, you'd never guess that this used to be the most famous vehicle in the world at the time of its creation.
1932 Ford Tudor "GPT"
The 1932 Ford Tudor rat rod was designed and built in 1997 by a hot rod shop—this all-black beauty was featured in the Detroit Autorama in 1997. It caught the awe of passionate rat rod gearheads. The speed monster contains a V8 block engine of a 312 Ford Y and a Hillborne injection unit system.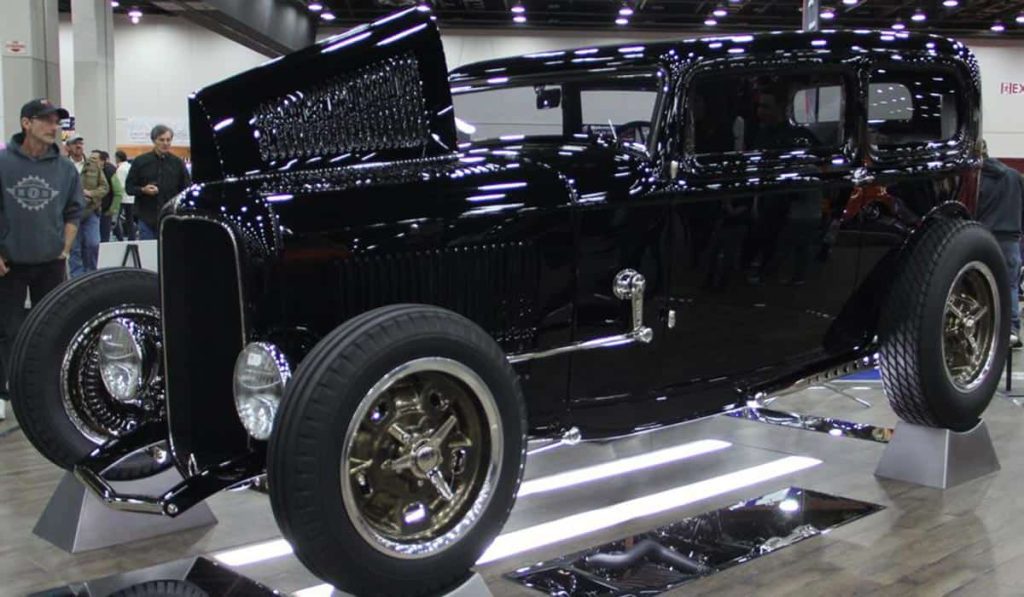 It is a big vehicle at first glance, but some parts (e.g., the quarter windows) have been shortened. Its panels and the position of the cowl have been modified as well. We love the finish, though, as the beautiful black paint makes it all the more endearing to go with its gold-like wheels.
1930 Ford Coupe
When you look at this rod, all you can think about is how powerful it is and what speeds it can reach. The coupe's hood can easily be removed, and all in all, it is now a car that packs quite the punch compared to the 65 miles per hour speed limit of the original model.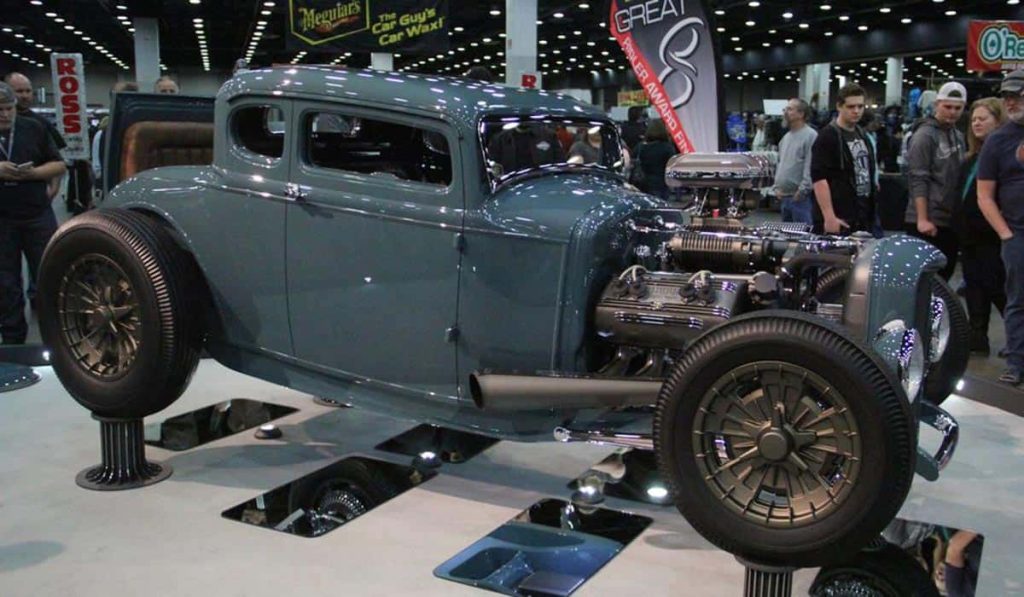 The engine is a little exposed, and it is a bit intimidating when brought forward in any rat rod race. Your opponents are bound to shiver at the thought of racing against this monstrosity. It still retains the early Ford automobile design look, making it a mobile artifact.
The Crucifier
The Crucifier is a legendary testament of the great Joe Cruces. He was one of the greatest car customizers that ever lived. After building this beauty, he moved to Chico, California, where he helped a collector restore automobiles and other vehicles, including airplanes.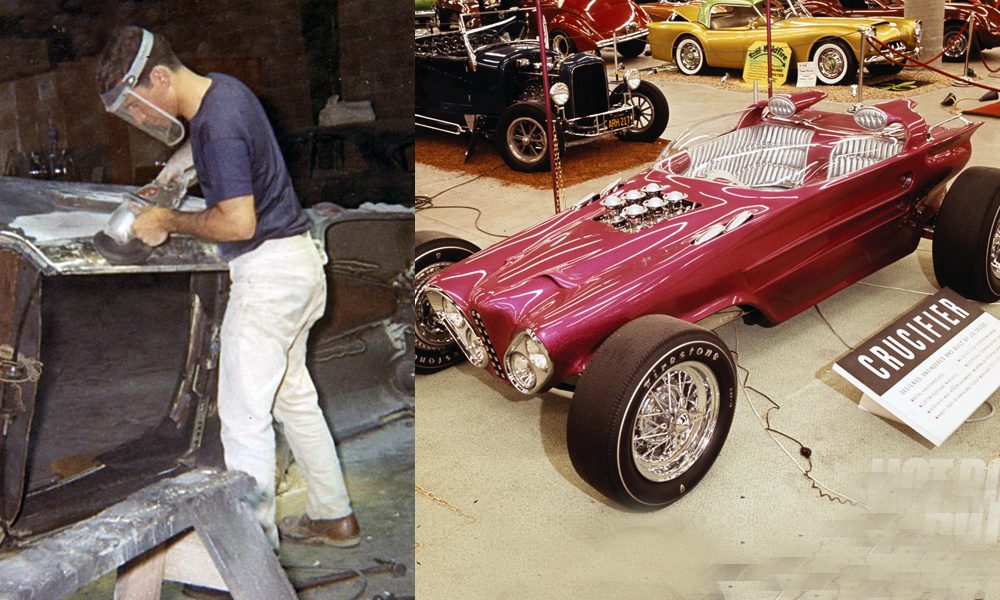 The Crucifier was quite the catch, and his name made it to the cover of the Hot Rod magazine. He retired from the car customization scene in 2002, but back in its prime, his Crucifier was fond of roaring down fast down the race tracks at high speed like a double-barreled shotgun.
Another Truck Rod
Sci-fi film lovers would say in a heartbeat that this rod looks a lot like Optimus Prime from Transformers. While this isn't the first rat rod truck on our list, this one seems more visually appealing, with the striking blue color and adorned with an American flag on its body.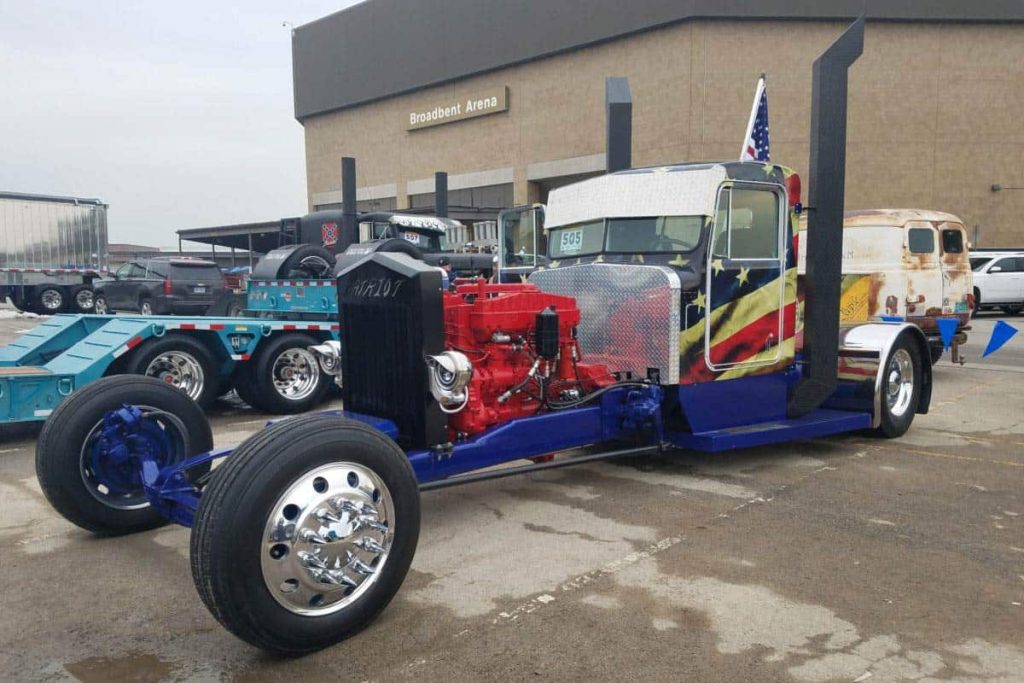 It would certainly draw crowds at an Independence Day celebration, with people heartily singing the national anthem as the flag on the back flaps in the breeze. Or perhaps it would fit better as the vehicle for a parade float. And the ginormous exhaust pipe would gain attention as it looks more fit as a house's chimney.
Baja Bandeeto
This is not your regular rat rod. The odd shape and flashy colors make it awfully different from other rat rods. We have seen some weird-looking cars on this list, but this one is the most futuristic-looking one of the bunch. Art illustrator Jimmy Smith designed it for Fritz, the owner and builder of the car.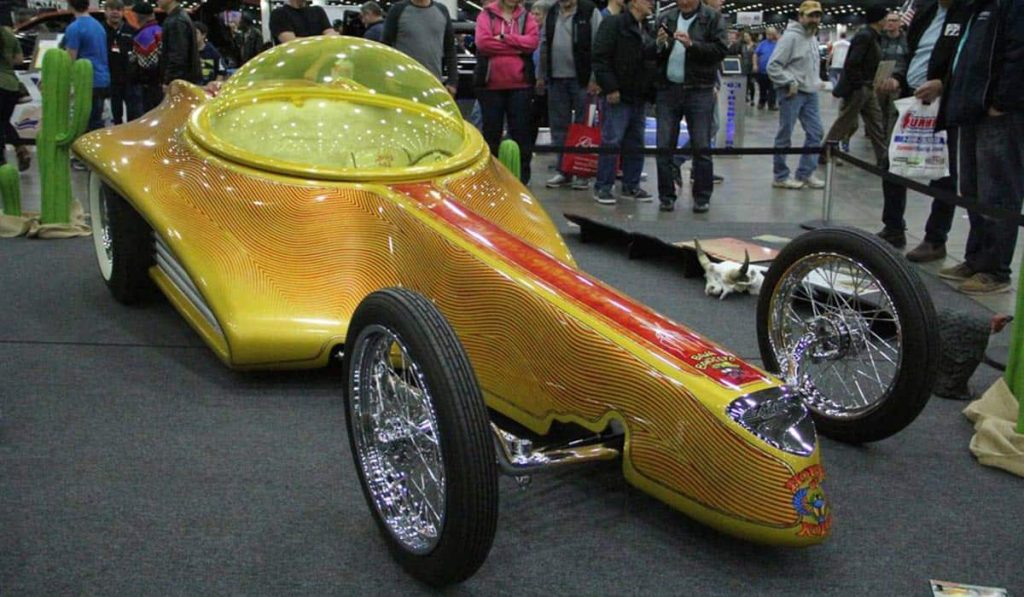 This car, which could easily belong to the Jetsons, is powered by a Volkswagen beetle 1600cc engine, a fiberglass body, and a bubble top with wheels from a Harley Davidson motorcycle. The paint job was done to look like a maze, and you could feel lost staring at the vehicle as the pattern held your gaze.
1952 Kaiser-Frazer Henry J "Henry Jaded"
The end of World War II left the automobile industry pulling for scraps in a bid to move on from the mass destruction that persisted all over the world. Many automobile companies would rise up to restart in the US. Still, Kaiser-Frazer was the first of this crop of companies.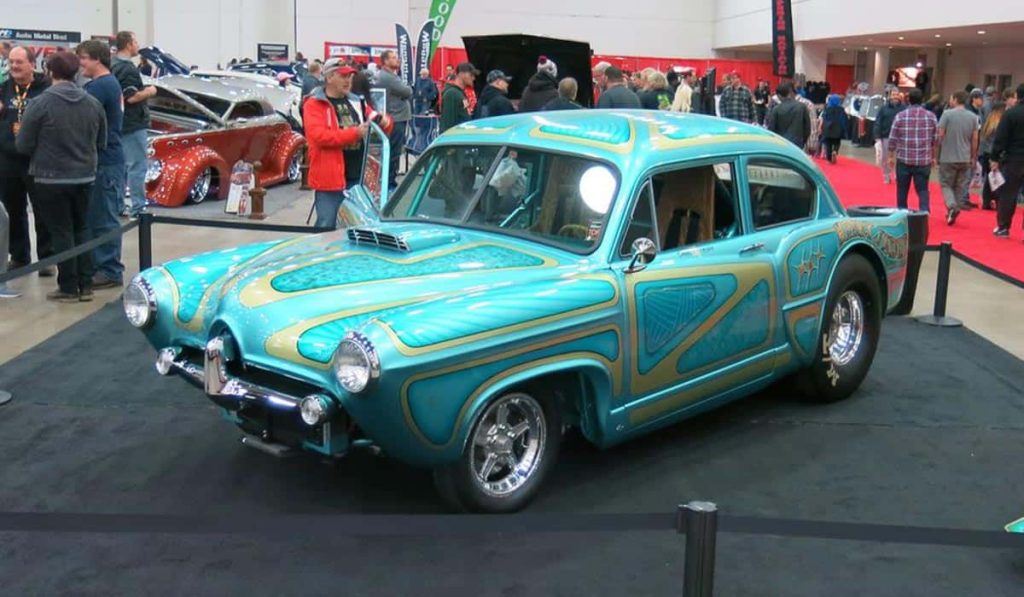 Henry Jaded is one of the cars they produced after the war, and its rat rod now has a Chevrolet 572 engine with flow master mufflers. The most attractive part of the car is definitely the body paint which drew the awe of many people. Its pleasant mix of colors sure made it an appealing vehicle.
Darth Vader x Megatron Rod
You don't need a picture to tell you how cool a rod with this name would be — the combination of the names of two of the craziest villains in sci-fi cinema history says it all. The Star Wars and Transformers antagonists are well-known for their destructive potential, and the same can be said for this rod.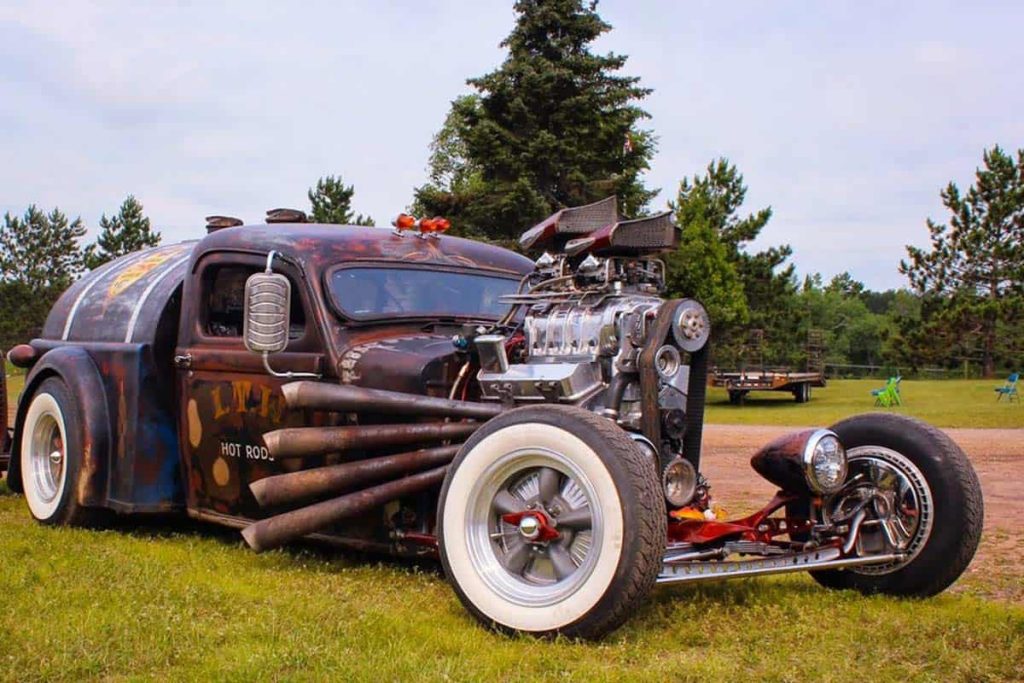 Other cars are bound to feel dwarfed before this monster; it looks like a war machine at best with its imposing stature. The powerful searchlights and spikes coming out of its sides just add more dread to its frame. We certainly wouldn't want to mess with this rat rod.
Tank Rod
Forgive us if we already claimed that a semi-built rat rod could be the giant car. Wait until you see this tank-like vehicle. Just when you think it will end at the use of a semi, then someone develops the crazy idea to build a rod out of a tank.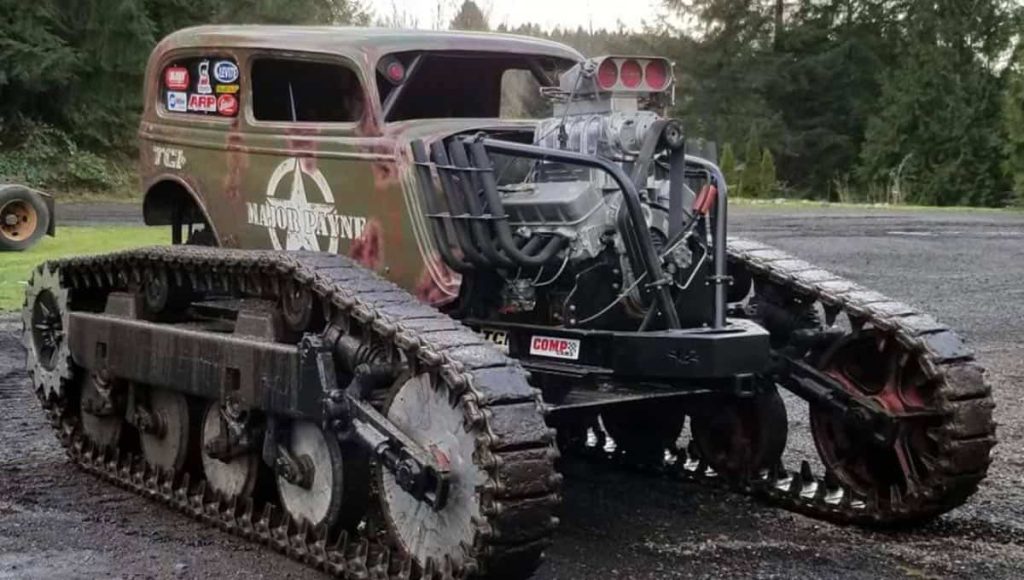 Many modifications were made to reduce the sheer size of this car to the form you see in the picture. If it were close to its original size, the term "rat rod" wouldn't feel sufficient. About 12000 pounds of weight has been shed to now have this rod speeding at over 1000 horsepower when fired up.
1940 Willys
The 1940 Willys doesn't look that impressive, but it sure packs a punch. Don't let the small frame fool you; many excellent things can be said about the engine and the durable body frame. It is even more impressive now as a rat rod vehicle.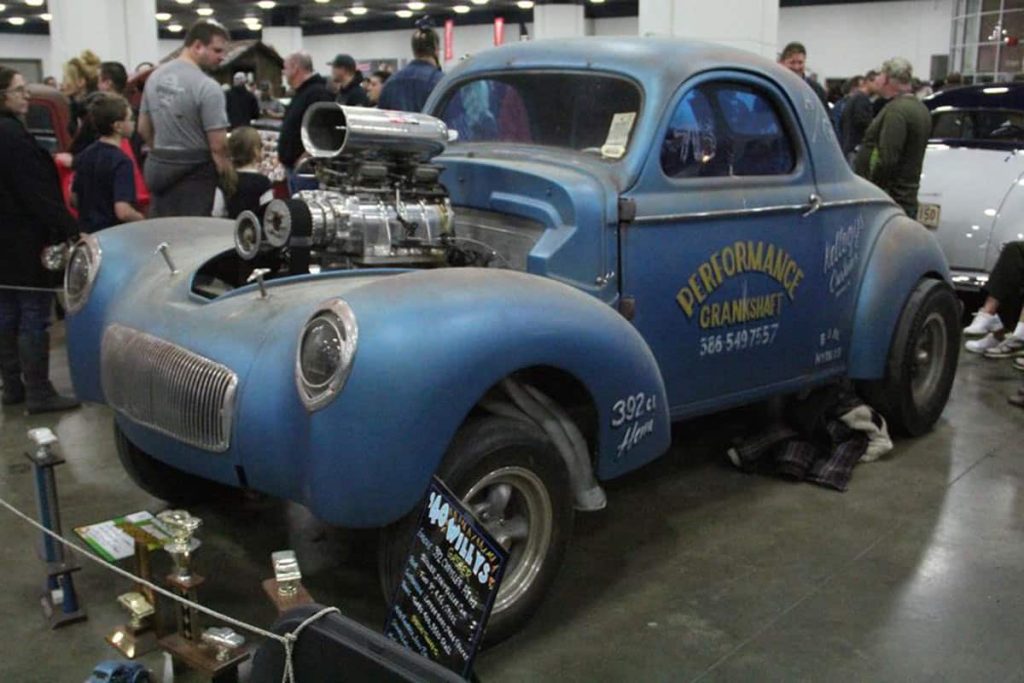 It has an imposing engine that could literally block the driver's view while on the road. Its body is made of steel, and it produces about 502 horsepower when completely revved up. It runs on a Holly 4-barrel carburetor with a 350 motor to cap it all.
Spider Web Rod
If you fear spiders, maybe you should scroll downwards to the next on the list. Otherwise, join us to marvel at what could have been the motivation behind this rod design. This masterpiece looks like the perfect ride to a spooky Halloween party or arachnid convention.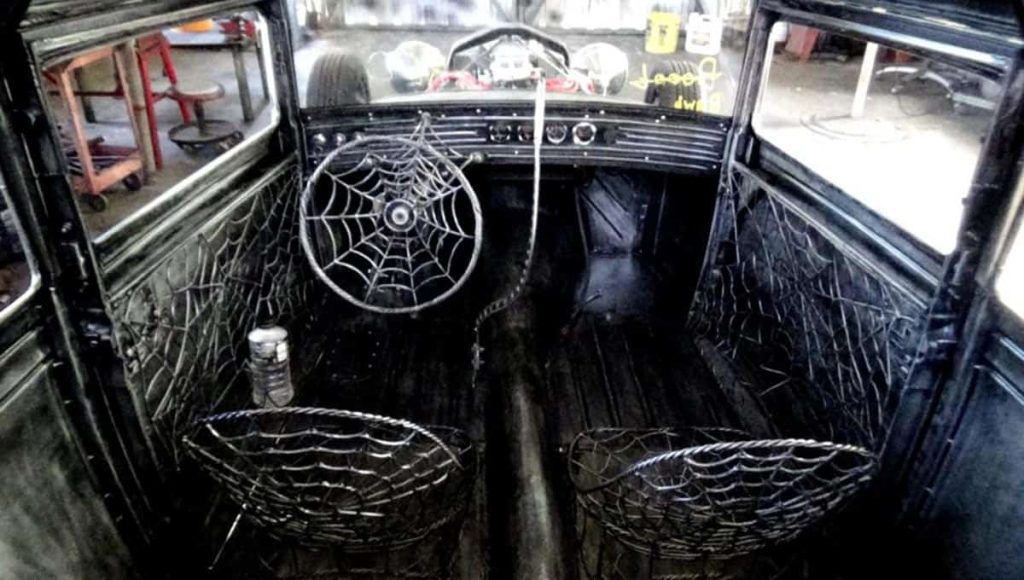 Everything is spider-themed and could even pass as a spider-mobile if Spider-Man ever lost his web-slinging ability and opted for an incredible piece of technology. It's got spiderweb seats, side panels, and even a spider web steering wheel! With all the webbing, you'd never know that this used to be a 1931 Chevy.
1949 Chevrolet C10
Talk about beautiful rat rods, and this vehicle pops up in your imagination. No? The city of Mount Vernon has the pleasure of claiming to be the origin of this magnificent piece of machinery. The owners, Bob and Hazel Collvins, must indeed feel proud zooming down the streets of their Texan town in this impressive rod.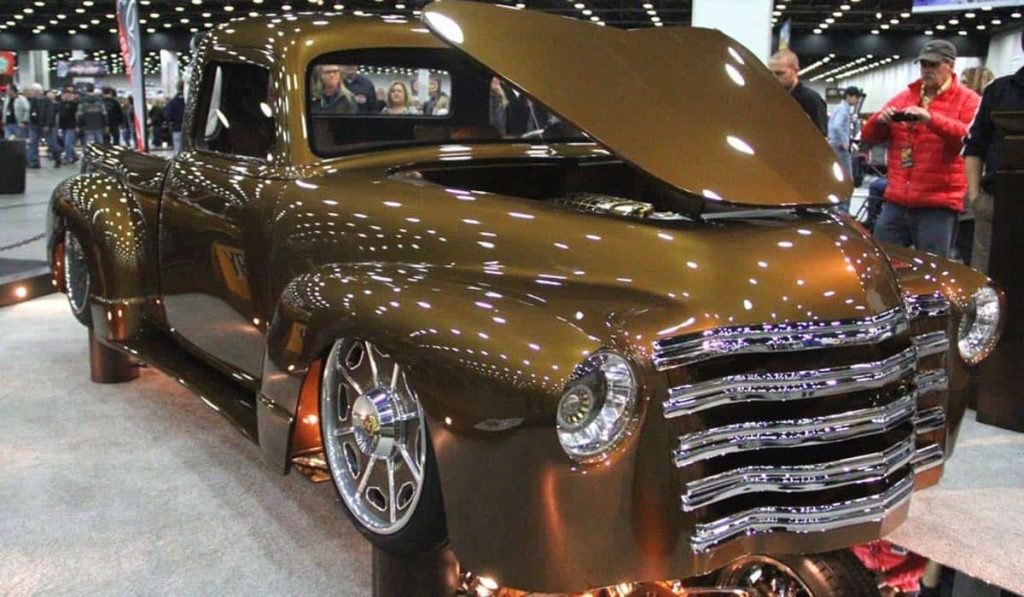 The interior has been modified with brown leather. At the same time, the driver's door is customized along with flashy taillights taken from a 1949 Cadillac. The original Chevrolet C10's two-wheel drive is now equipped with 4X4 wheels. The bodily design and fender outlook would put some modern cars to shame.
1948 Ford F-7 "Standin' Tall"
From the looks of it, this car is standing tall indeed. This car seems better suited to anyone over 6 feet; perhaps someone in the NBA would feel more comfortable in it. The vehicle itself is about 11 feet and six inches tall, with its width measured at about 9 feet.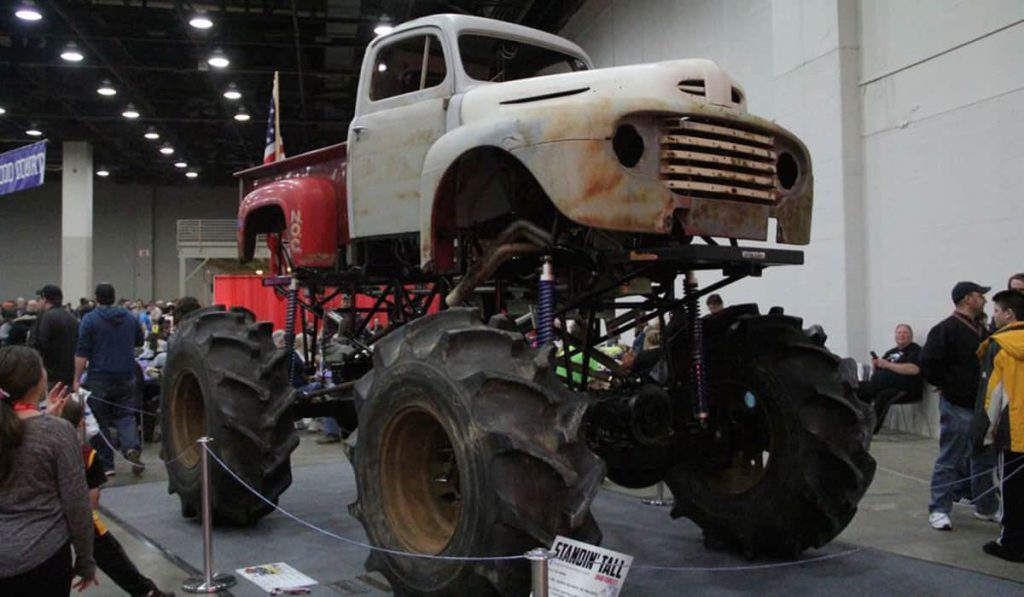 The model car, Ford F-7, got an upgrade with a Ford V8 engine, two Rockwell five-ton axles that support its height, and a C6 automatic transmission. It was rebuilt by the Willhite Family, who longed to preserve this former firetruck and bring it up to speed as a rat rod.
Soviet Minsk Auto Zavod Truck
This rod is one of the remnants of the old Soviet-era, where Minsk was an integral part of the USSR. The manufacturer Minsk Auto Zavod, or MAZ for short, translates to Minsk Auto Factory in English, was responsible for producing some of the impressive Soviet vehicles since its inception in 1954.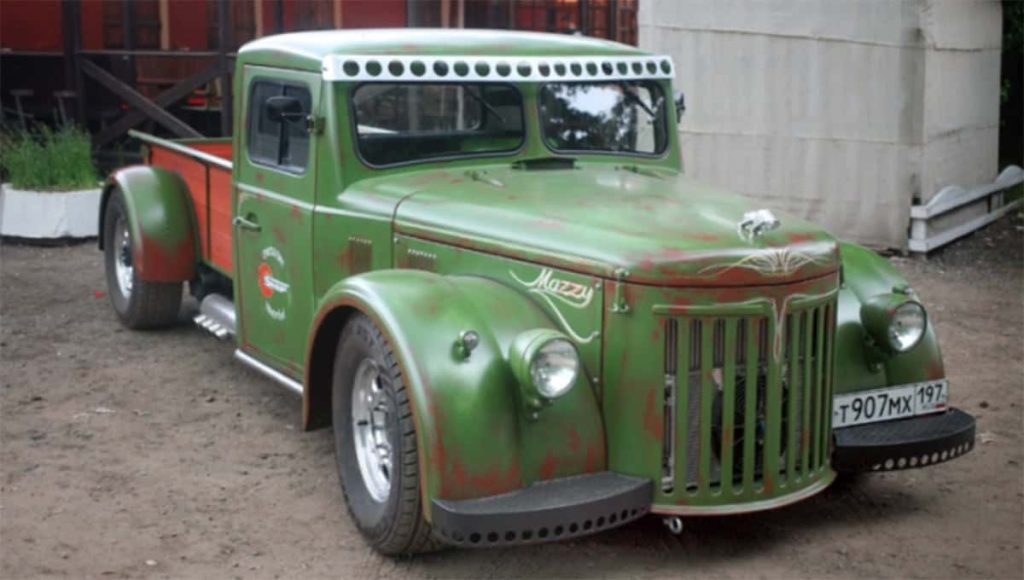 MAZ wasn't just known for its new vehicles, but its restoration and customizations, too. The original vehicle was once used to lift some heavy weaponry like ballistic missiles, back when flexing your military power was a thing during the war. The rat rod is the resultant modification of the truck.
Supercharged Big Block
Formerly a Sedan owned by the Addams' Family, this car has seen a transformation into what we can only call a street racer. The old Sedan might still be in the memories of people who knew about it in the 1960s. It is a product of the combination of Ford and Chevy car components.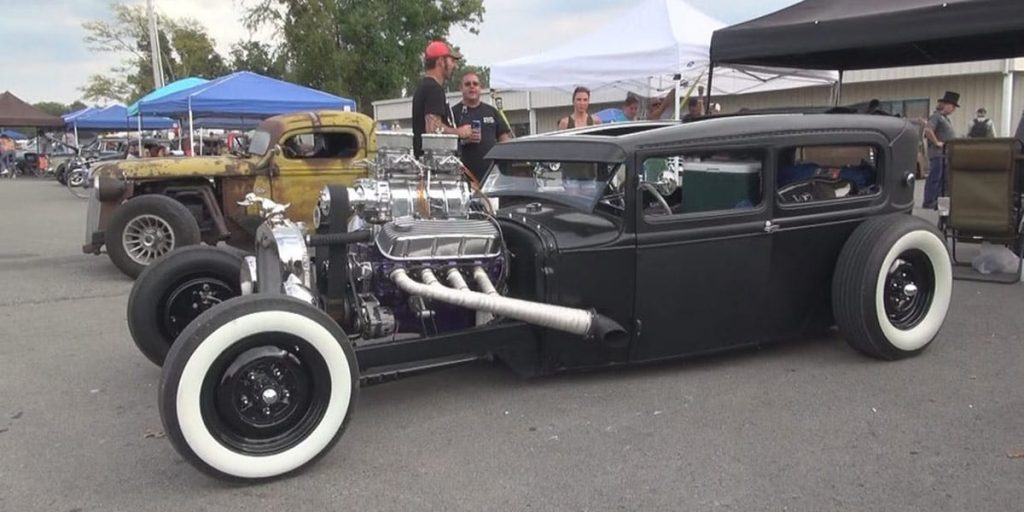 The remodeled car now boasts a Dyer's supercharger, a remarkable 468 Chevy engine, and a cam for some magnificent views. Like most rat rods, the 1930 Ford is a standard frame used along with some incredibly creative art and custom works. This one sure moves a bit heavy and fast.
Ricky Bobby Rat Rod
Ricky Bobby is a famous name that most people recognize from the Will Ferrell film Talladega Nights. But Ricky Bobby was a name long before 2006; he's the owner of a rod shop in Tennessee and has had a long history of partaking in street racing while growing up, starting with his dad's old 1970 Plymouth Duster.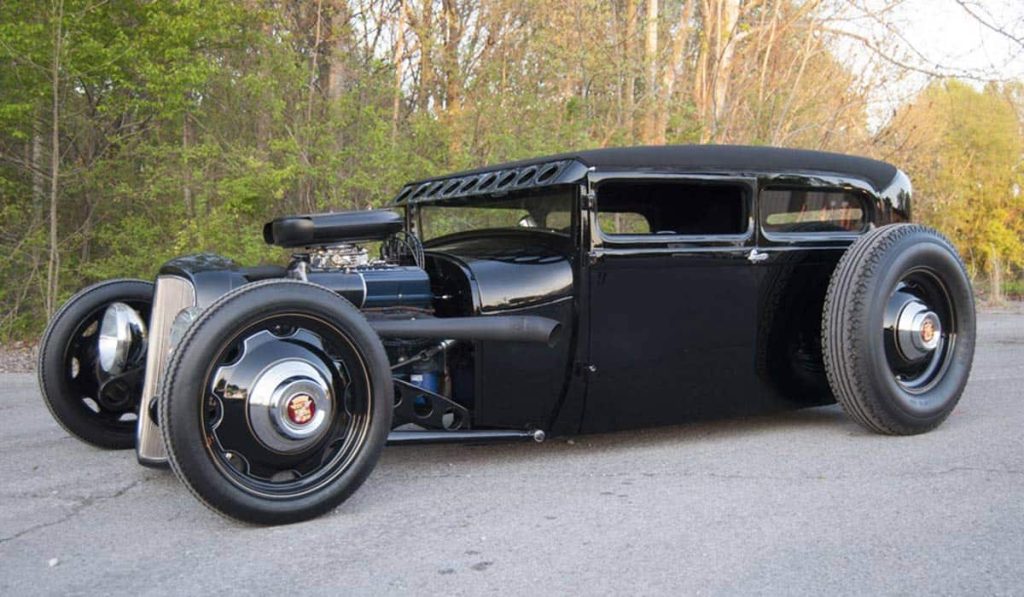 His dad heavily modified the old vehicle with a 340 six-pack V8 engine, and it ran for some years on that block. The resultant rat rod was a 304 cubic inch flathead engine that he extracted from a 1949 Ford. The body has seen a few inches chopped off and shortened to trim it into a rat rod shape.
Steam Punk – Diesel Punk
The vehicle is reminiscent of our hopes for a less carbon-based automobile future when we can power our engines with pure steam. Maybe the rod was developed to symbolize what it could be like with cars producing steam rather than ozone-destroying fumes.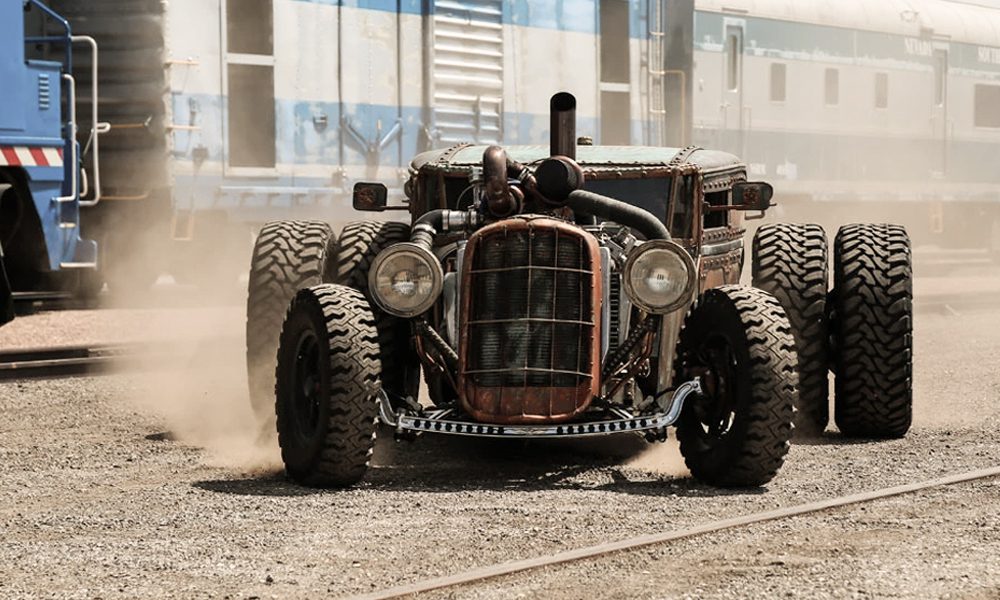 Its bodily design recaptures the looks of a pre-World War I automobile. Despite its shabby outward appearance, it's equipped with a powerful diesel engine that generates up to 1250 horsepower when used with regular fuel. With nitrous in the tank, it could reach up to 1600 horsepower.
Spaceship Rod
By looking at its bulbous head, which makes it look like an old jet fighter's cockpit, the name "Spaceship Rod" rings through from any angle. It might appear small, but the dome gives it a bit of an upper hand among other rat rods in terms of innovation.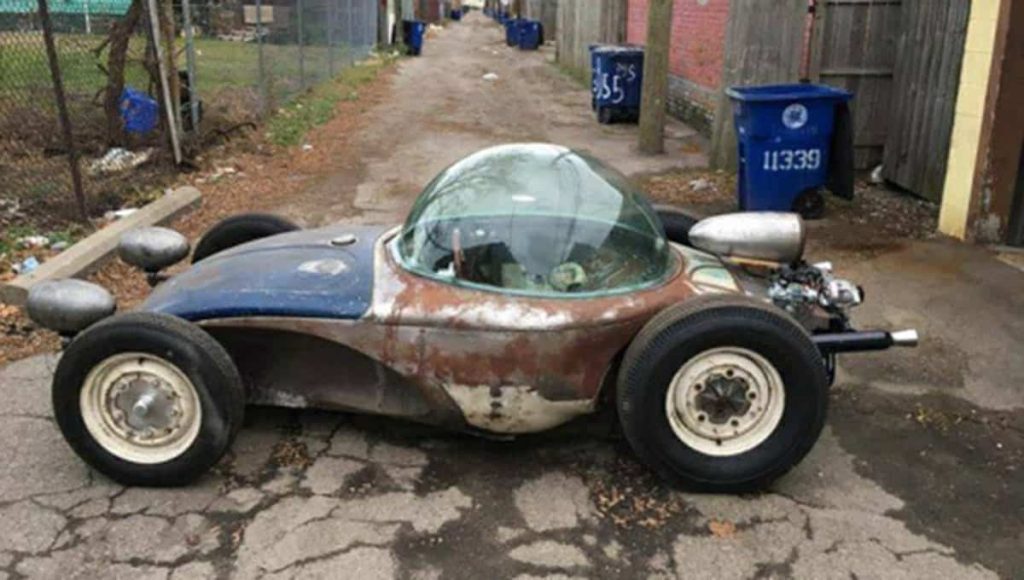 It is futuristic in design, excusing the rusted steel and blue paint faded hood. It was mainly referred to as a Beetle that landed here on Earth from outer space. Its major components were derived from an old Volkswagen Bug car. The style is impressive despite the roughened old body.
1954 Kaiser Manhattan "Voodoo Sahara"
The Chevrolet Corvette is an incredible sight to see speeding down the tracks. Many would say that they would love to see the 1954 Kaiser Manhattan speeding down a well-lit highway in the middle of the night. We'd certainly love to see this pale rider cruising down the road.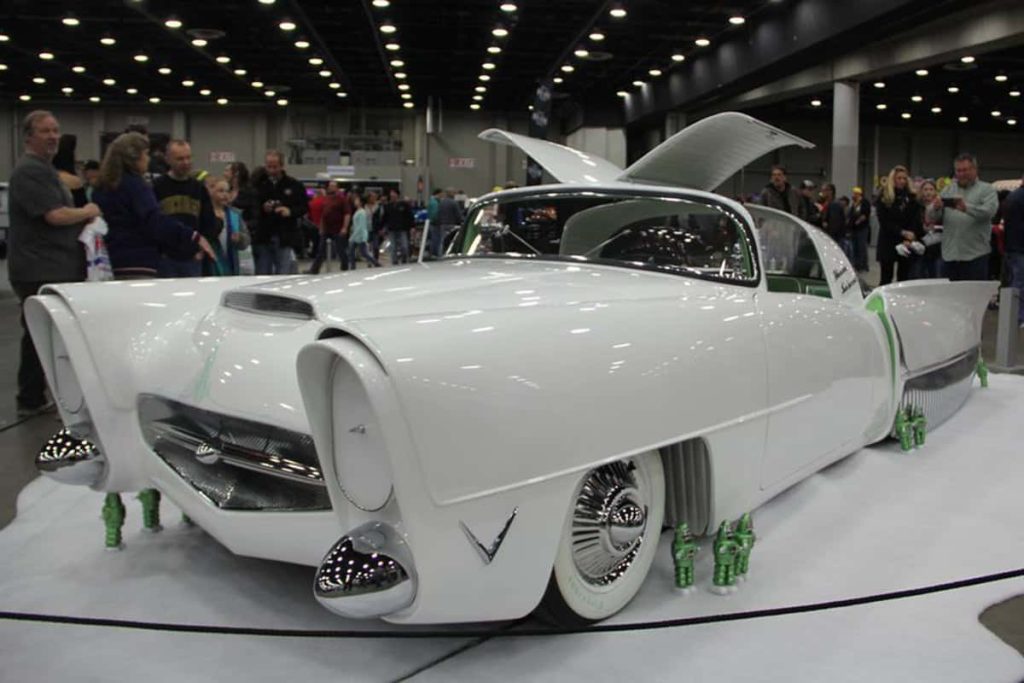 It is a fully customized rat rod with headlights from 1960 Corvair attached to 1935 Ford buckets, a 1955 Chevy windshield, and the rear end of a 1977 Nova. The taillights were from a 1958 Mercury. The engine is a small 1969 V8 block, and its interior is reminiscent of the 1950s with a TV, telephone, and microphone.
1941 Ford Pickup "Gold Standard"
Ever heard the story of "King Midas?" You know, the mythical king who consulted with the gods and requested that everything he touches turns to gold? We think if he had a car and got behind its wheel, it would be this 1941 Ford Pickup rat rod.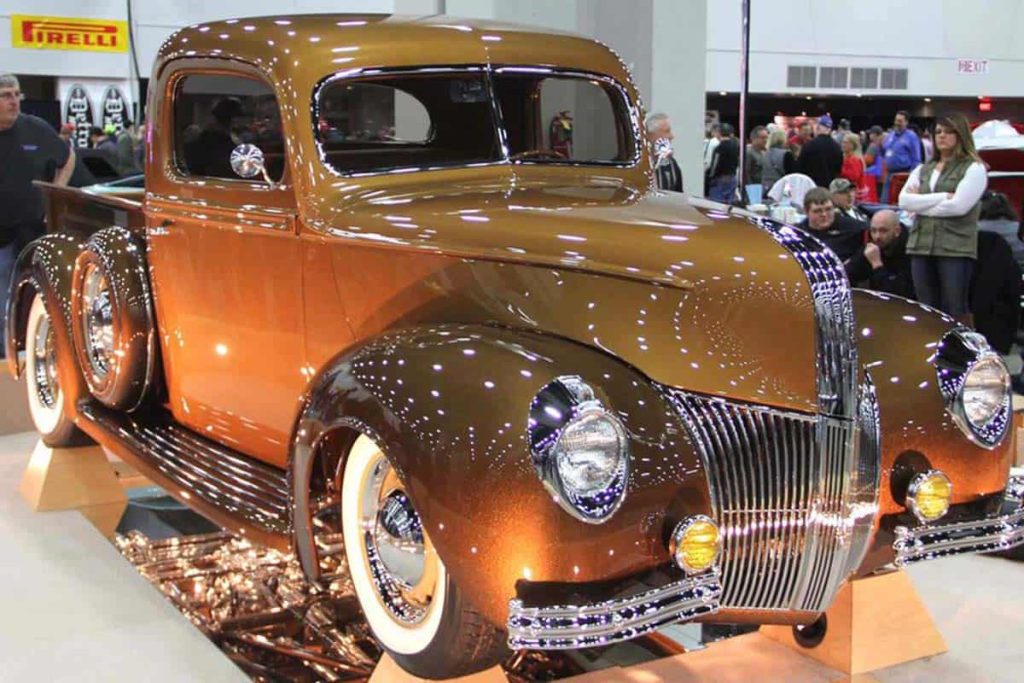 The owner of the 1941 Ford, Ed Sears, thought it beautiful enough to be customized. He consulted the services of the East Coast Hot Rod Garage for a significant modification of the car. They first treated it with acid and then restored it with a 284-cubic 1953 Ford block. The current look was the result of the experiment.
Rolls-Rod
Here is a rat rod of a Rolls-Royce, which is unsurprising after all; we have seen rods built out of a wheelbarrow, a semi, or a tank. A slick bad boy will get you rambling down the tracks. It would be thrilling to drive in this classic piece of Rolls-Royce.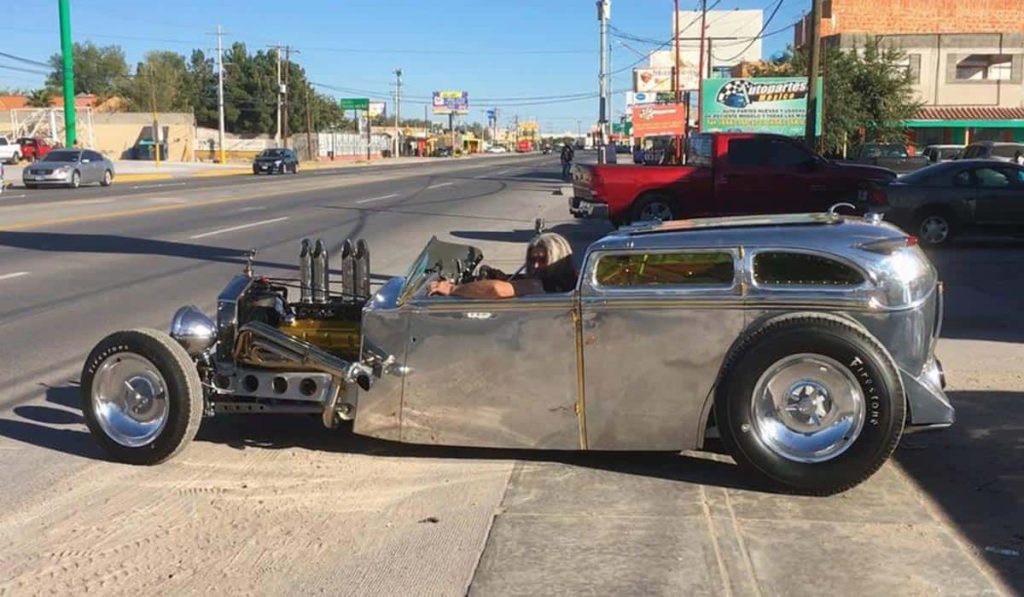 Unlike the famously expensive Rolls-Royce cars, this one doesn't seem to fit in with the stereotype. It's a mix of the old 1934 Rolls-Royce Phantom hooded with the roof of a Mercedes. The chassis has been cut down in the front and at the rear ends to trim it down to look like an actual rat rod.
1950 Dodge D-100
The 1950 Dodge D-100 rat rod was modified with a Chrysler 392 crate engine powered by a six-speed manual transmission. It might look like a piece of scrap, and it possesses a drive train that can go as far as 485 horsepower. I guess this is what you get for putting a new engine in an old body.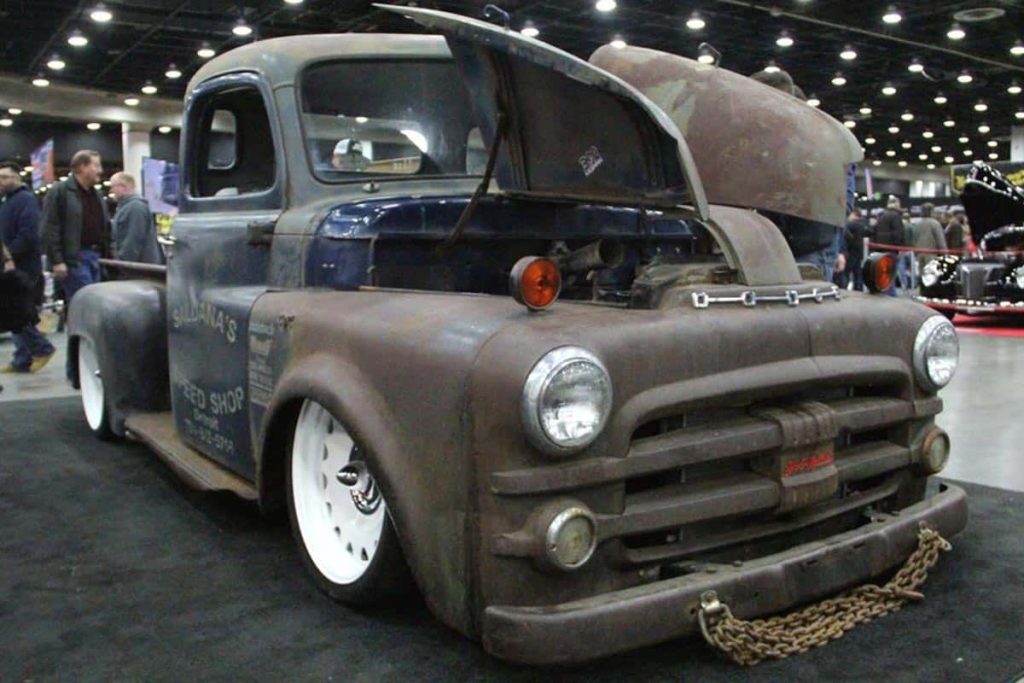 It can be a real piece of art when it rolls off the track. The truck's bed, which is about 92 years old, was taken from an old car. The rod's functionality ultimately beats the original vehicle with diverse parts such as an exhaust and custom headers.
1954 Chevrolet Corvette
Corvettes have always been a fan favorite and are an all-time fave in the history of an American sports car. It is downright gorgeous, and its red paint gives it a fiery look, and you can sense it brimming with some nitro. However, the red paint job is the same as the original Corvette's body.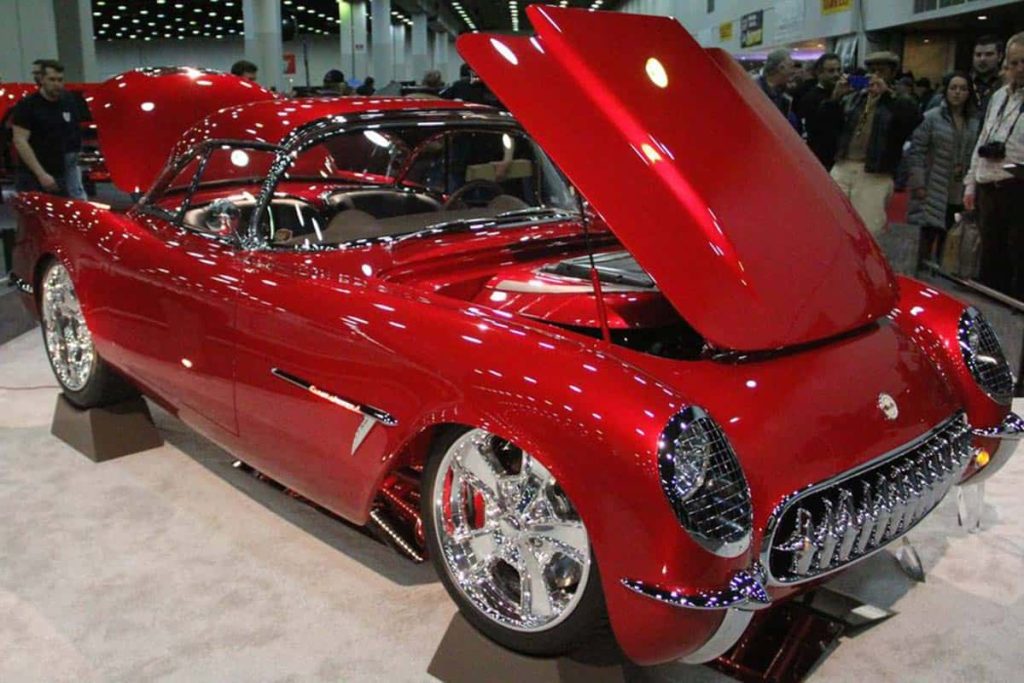 Its supercharged V-8 engine contributes massively to the speed and the light body. Some of the modifications include adding a much later version of the Corvette's windshield and a hardtop. The new engine is much better than the old one, which had a six-cylinder engine with a two-speed automatic. The upgrades have upended its market price from our perspective.
1933 Dodge
This old dodge rod is impressive to watch when it roars down the tracks powered by a Chevy 427 engine, which is on full display with the hood off. Even on a street loaded with speed bumps, it is not much of a challenge, given that the engine is far enough from the ground.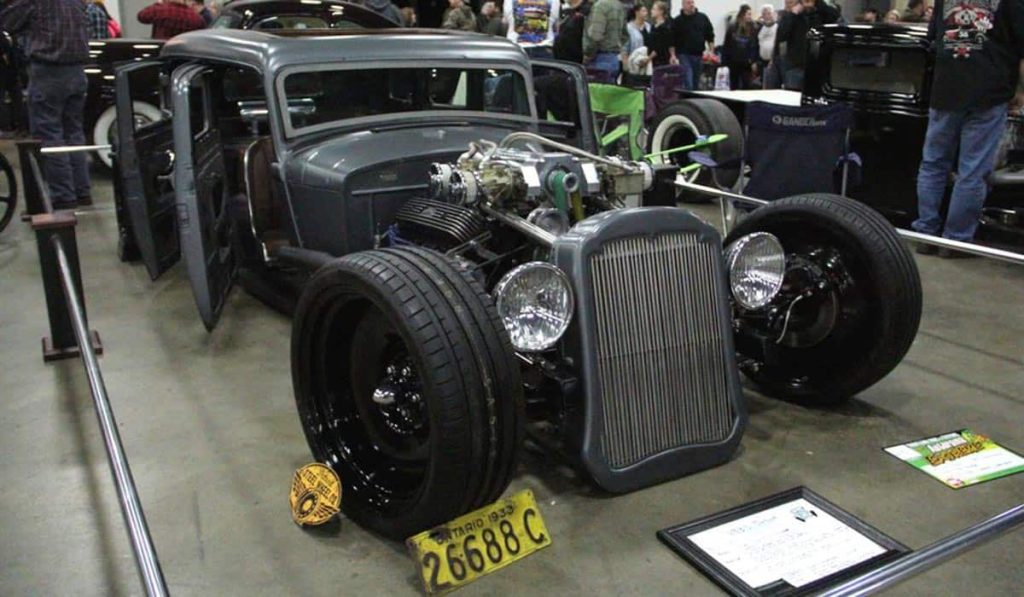 This car is a winner with its efficient turbo 400 engine transmission and a rear-mounted radiator that gives off the vibe of a speed monster. It is a competitive car and one you want to be in for a street race. At a glance, your opponent would know that you've got the win in the bag.
1933 Ford Renaissance Roadster
Well, look at this beauty! You cannot seem to find any fault in its impressive design. When it went on display at the Detroit Autorama in 2017, it was everyone's heartthrob. It gleamed on that night like it was in the sunlight, and its designers at Stee's Auto Restorations were beaming with smiles filled with pride.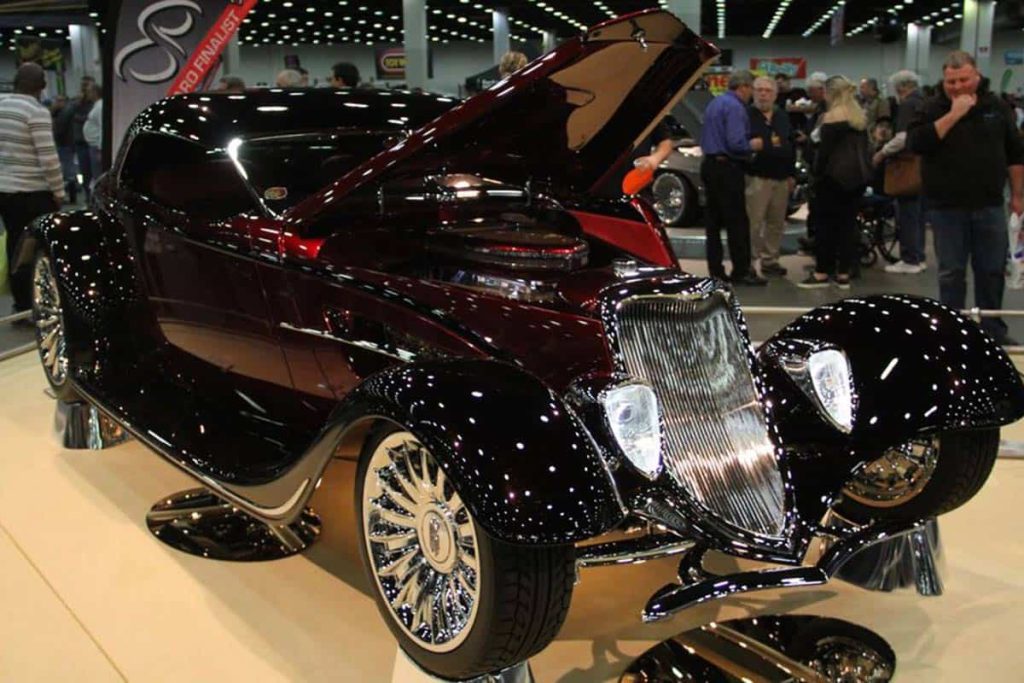 The rat rod is powered by a GM 4L60 transmission in a GM Performance engine. It's not every day that you see a Ford and GM merged together, but that's what they did with this custom job. Everything appears to be customized, such as the rear bumper and headlights. It has an aluminum driveshaft and a smoothed case.