Rare And Unique Whips From Jay Leno's Impressive Car Garage
By Arvyn B January 5, 2022
---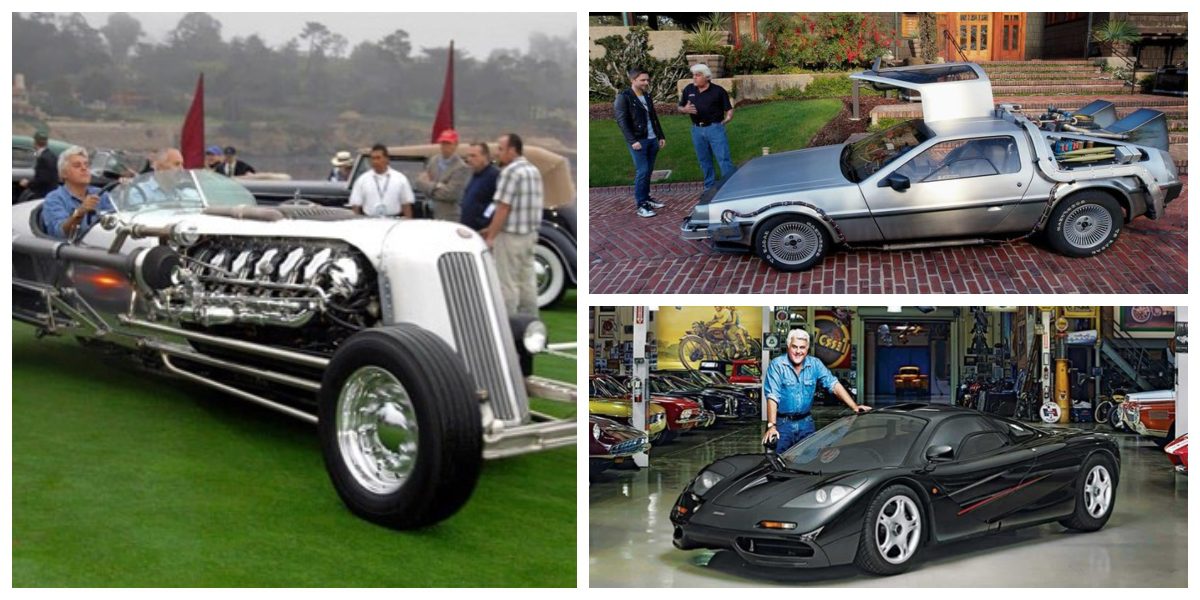 Jay Leno is easily one of the most famous television hosts around. Over his 30+ year career, he has been known for being an actor, TV host, producer, writer, comedian, and so much more. One thing that has remained the same during his career is his love for cool and unique cars! Some of Jay Leno's programs have helped him to show off his love for his extensive car collection, such as the TV program Jay Leno's Garage. So, it should come as no surprise that he owns over 275 cars! They are all different when it comes to brand, styles, and mechanics, but you can be confident that Jay Leno loves them all. Here are just a few of the top 40 cars he has in his impressive collection.
1967 Miura P400
This Italian sports car has quite a famous history. Before Jay managed to get his hands on it, it was owned by another famous face. It belonged to the singer Dean Martin! When it was released, the car was one-of-a-kind.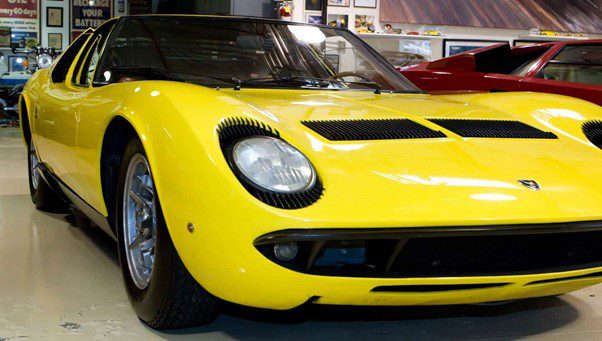 It was one of the very first vehicles to be called a "supercar" because of its speed and features, which were very futuristic at the time. This caused other carmakers to improve their cars to allow them to compete.
The Panthermobile
If you have ever seen The Pink Panther TV show, you should definitely recognize this vehicle. It was built especially for the title sequence of the show! That is a pretty remarkable feat – and an expensive one, too.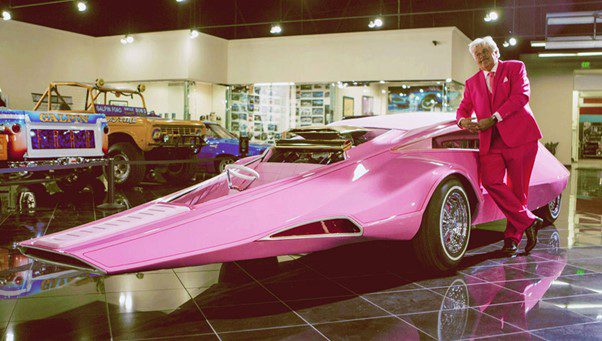 The creator of the car, Ed Newton, decided to use the chassis from an Oldsmobile Toronado to build this gorgeous vehicle. That did not stop it from being pricey – the whole thing cost roughly $100,000. What a hefty price tag!
1932 Morgan
This is one of the older cars in Jay Leno's collection, and we reckon that he is probably very proud of having this one. This car is different from most modern cars because it only has three wheels instead of four.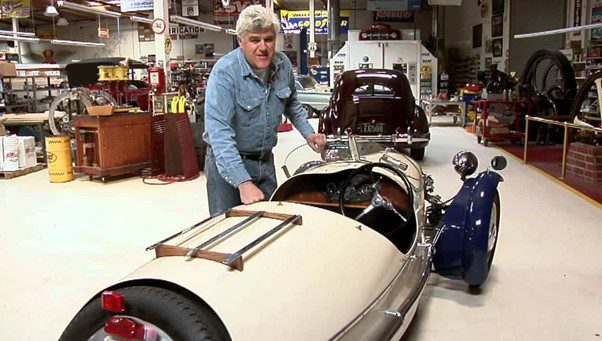 Even so, this car set a significant legacy for the ones that followed. Its cooler system uses water instead of a fan, which is something that Ford followed up on with their Model T car. It's an oldie, but a goodie!
1966 Lincoln Continental
This car might not be in perfect condition, but it is close enough that we think Jay Leno admires it all the same. There are just a couple of marks on it that give it a vintage weathered look.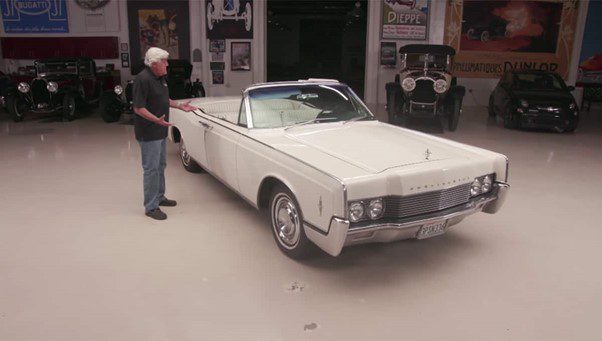 Even so, this car is pretty unique because there were only ever 21,347 cars made like this. We are not sure why, since we think that it looks so classic and perfect! Hopefully, it is just as fun to drive.
427 Shelby Cobra
It is time for another iconic car now. The 427 Shelby Cobra is one that Jay Leno personally loves the most, and he is often seen driving around with it. We can see why, as the car looks gorgeous!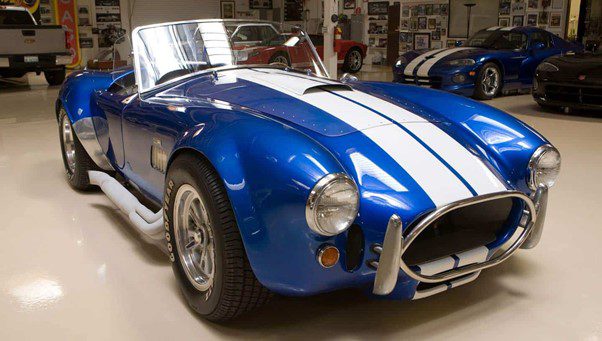 You might know about this car for different reasons, however. This vehicle was actually redesigned and refitted a few years ago as part of a fully electric Tesla vehicle. However, we prefer the original design – it is just so sleek.
2017 Ford GT
This car is one of the more recent entries on this list, but that does not stop it from being very special. It was first shown off in 2015 at the Detroit Auto Show, where Jay Leno fell in love.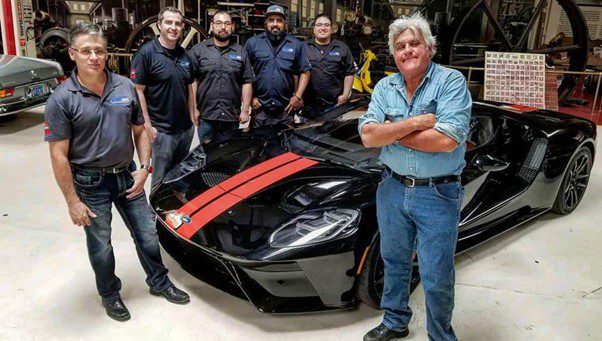 Unfortunately, it was not so simple to purchase the car. Anyone who wanted it had to go through a pretty strict application process, including Jay. Even his long relationship with Ford did not make things any quicker or easier.
1969 Lamborghini Espada
The following car on our list is pretty special for Jay, but not for the reasons that you might think. Sure, we agree that it looks pretty retro and is definitely a classic car. Can you guess why it is special?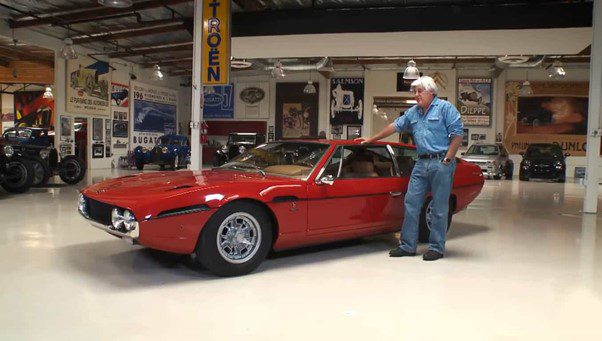 The reason for that is because, during his very early career, this car was the only one that he had! He has now racked up hundreds of miles on the vehicle and still seems to be pretty proud of it.
2006 GM EcoJet
It was pretty ground-breaking when this car was first revealed at a car show in Las Vegas. After all, this car used a jet turbine for its engine and could go as fast as 150 miles per hour!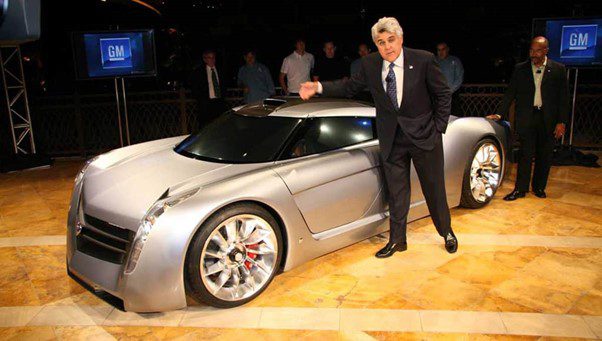 Sadly, it did not really catch on and was soon forgotten. It seems that only car fanatics like Jay Leno can remember this vehicle, mainly because of its somewhat dated design. You can tell it is from the 2000s!
1941 Plymouth Special Deluxe Business Coupe
This car is another classic vehicle from the times before modern safety measures existed. For example, it does not have power steering or even brakes! It would have been a real challenge to drive this retro vehicle on the road.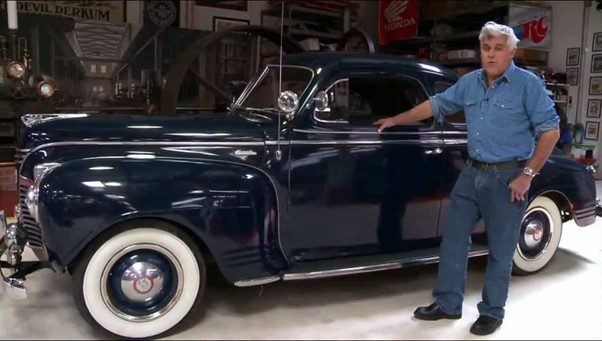 Still, that did not stop Jay from adding it to his collection. With a few licks of paint and a change of tires, Jay was able to restore the vehicle to its former glory. We still would not drive it, though!
1964 Honda S600
If you drove this car on a highway today, you might get a few looks from other drivers because of how dated this car looks. Do not worry, though, because people stared at it when it was first released, too!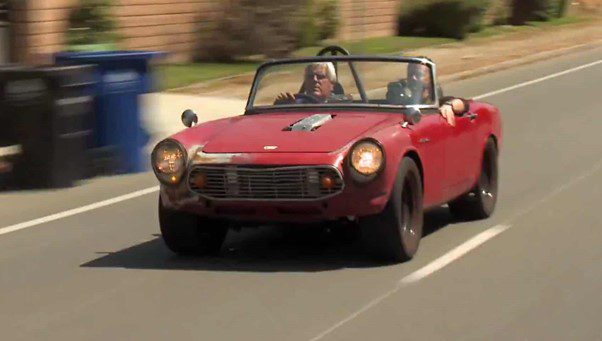 That is because this car is has a fairly small engine and looked even tinier in the 1960s next to the other huge cars on the highway. Its size means that it is definitely not one built for grocery shopping.
1952 MG TD Hot Rod
When you first look at this vehicle, you might just think that it is a regular car from the 1950s – and you would be mostly right. But if you take a look at the back, you might think slightly differently…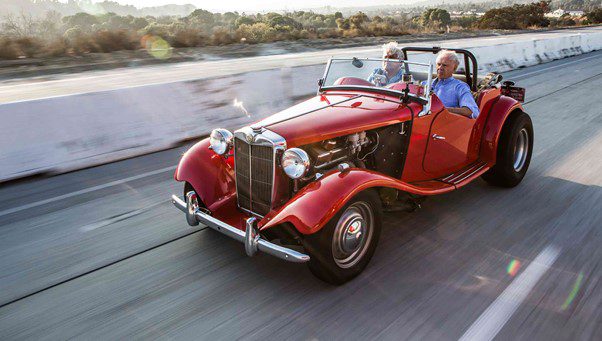 This car's back tires are enormous compared to the front! We are not sure why they were built so big, but we reckon it helps with the speed of the car. This vehicle runs at 340 horsepower, which is impressive.
1906 Stanley Steamer Vanderbilt Cup Racer
This vehicle is another pretty old one, dating at over 100 years old. This vehicle is entirely steam-powered, which was pretty normal for its time. In 2007, Jay decided to rebuild the vehicle but had numerous problems during the process.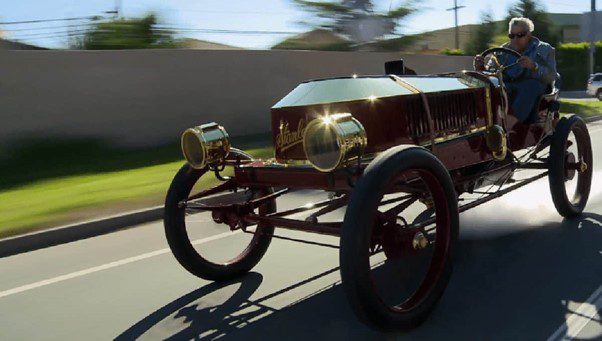 Thankfully, the problems were resolved, and Jay was able to put it back together in its former glory, though with a few additions to make it a little easier to run. It still looks pretty unsafe to us, though!
1969 Miura S
Here's another car that might trick you if you give it a quick glance. This vehicle looks like a normal Italian supercar – nothing too special from its appearance. In reality, it has up to 375 horsepower with a four-liter engine.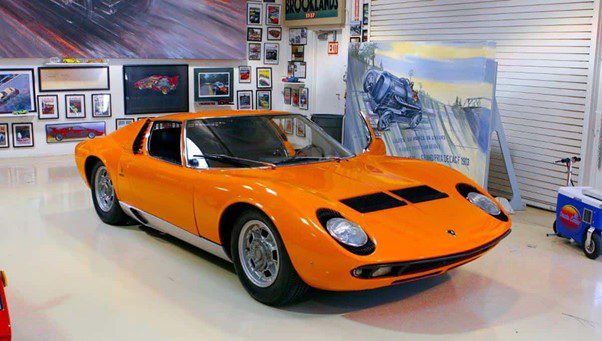 Many people also consider it to be one the most beautiful cars around, which is all thanks to the creator, Bertone Design House. We have to agree with this assessment. This vehicle looks stunning, even in that shade of orange!
1989 Bentley Turbo R
When this car was first revealed in 1985 at the Geneva Auto Show, it would be a while before any Americans could actually buy it – 3 years, in fact. However, those years seem to have been worth it.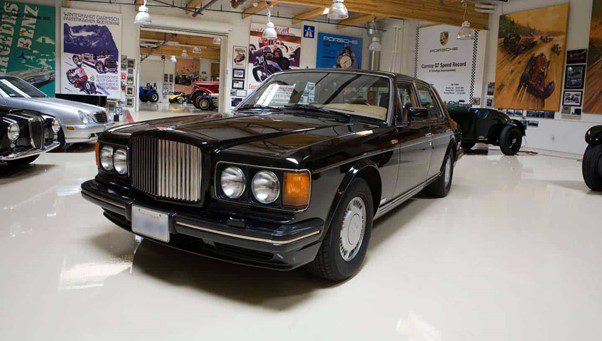 The car features four doors and drives up to 145 miles per hour, which is pretty impressive given that it has just under a 7-liter engine. We can see why Jay would want this ground-breaking vehicle in his collection.
1950 Mercedes Transporter
This car is probably one of the ugliest ones on this list, but that does not stop Jay Leno from loving it! Mercedes built it to help give cars a tune-up during races, so looks were not on top of the priority list.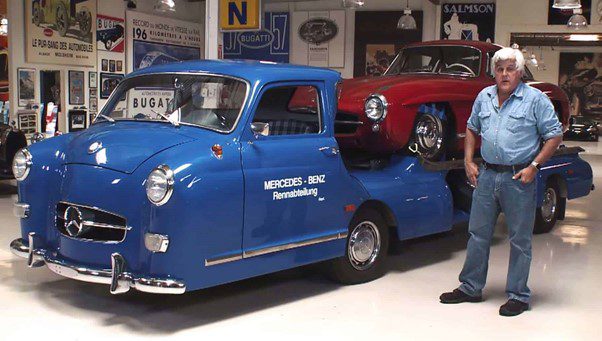 You might not believe it, but this cab is actually capable of traveling over 105 miles per hour! It makes sense, though, since the cars it would be fixing would be going so much faster than this one ever could.
2015 BAC Mono
We are jumping back to the modern-day cars with this vehicle from 2015. This car was built for Formula races and travels super fast, but we think that it would still look pretty stylish on the roads, as well.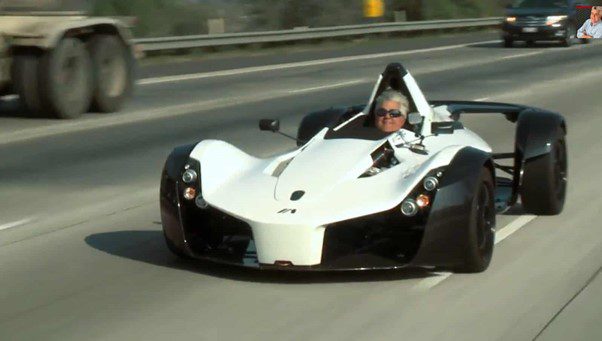 It has a number of different features, such as a carbon chassis and pushrod suspension that help to give the car its 280 horsepower. This is built purely for the fun of driving as there is only one seat!
1966 Oldsmobile Toronado
This entry is very similar to another on this list, but there are a few features that set it apart. For example, this vehicle has a 7 liter and 8-cylinder engine. It runs at a top speed of 135 mph.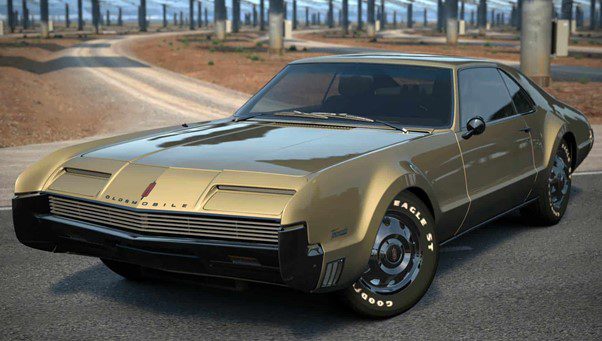 It should come as no surprise that Jay Leno decided to give the car a bit more personality to it. He changed the front seats into bucket seats to ensure there was space for the chassis tunnel in the back.
Blastolene Special
We think this car looks particularly dangerous! This car was not made publicly available, as it was actually a custom build by Randy Grubb, who is a famous car enthusiast. It is a pretty heavy vehicle at 8500 pounds!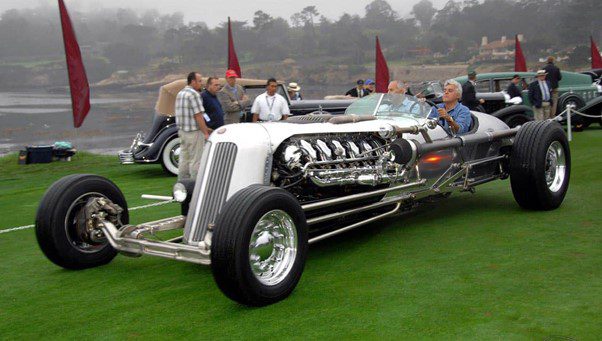 You might catch Jay driving this car down the street because it is one of his favorite vehicles. The car actually started life as an American military tank and still has the engine of one. What a strange feat!
1955 Mercedes 300SL
When this car was first released, people did not realize how ground-breaking this vehicle actually was. After all, it has gullwing doors and fuel injection, as well as an independent suspension system. Jay Leno could not resist buying it!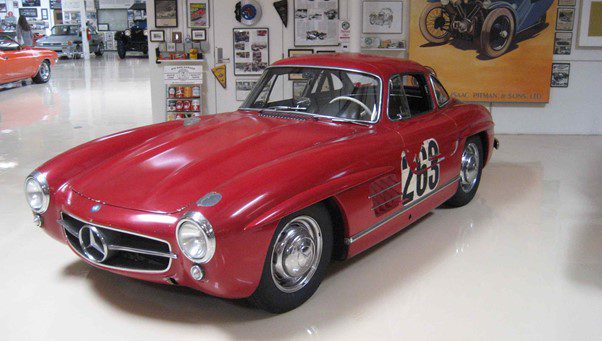 He only needed to make a few modifications to it, mainly in terms of the engine and making it more suitable for the modern-day. The rest of the car is completely untouched, as you can see from the pictures.
1934 Rolls-Royce Phantom II
This car is probably one of the most powerful ones on this list, clocking in at 1000 horsepower. That should come as no surprise since it has a Merlin v-12 engine under its hood. The pictures don't do it justice!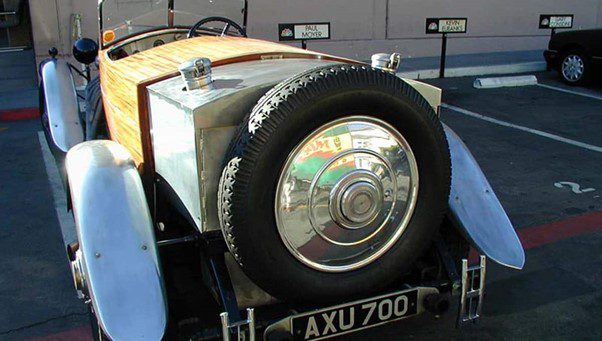 If that was not enough, the car actually creates over 1800 pounds of torque when someone drives it. We reckon that with a bit more paint and fitted wheels, this could be transformed into an absolute beauty of a vehicle.
1928 Bugatti Type 37A
Here is another vehicle that is built for single riders and not families. You might catch Jay Leno driving this vehicle along the highway, as it can reach speeds of 100 miles per hour pretty easily. What an absolute beast!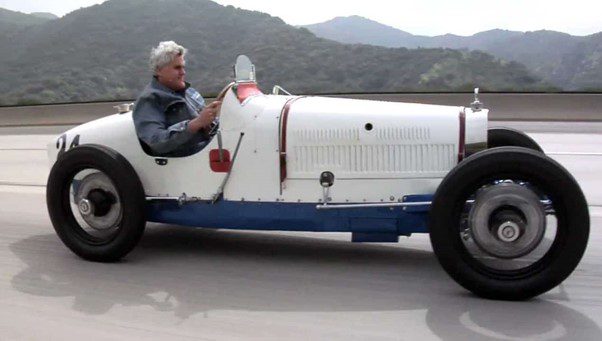 That is pretty surprising since the car is almost 100 years old! The vehicle features a driveshaft that runs from the flywheel to the gearbox, which really helps to make it go at such fast speeds. We are seriously impressed!
1993 LCC Rocket
Here is yet another car that Jay just cannot resist taking onto the streets of LA. You might be wondering why it is named the "rocket." Take a look at the picture, and it should be pretty clear as to why!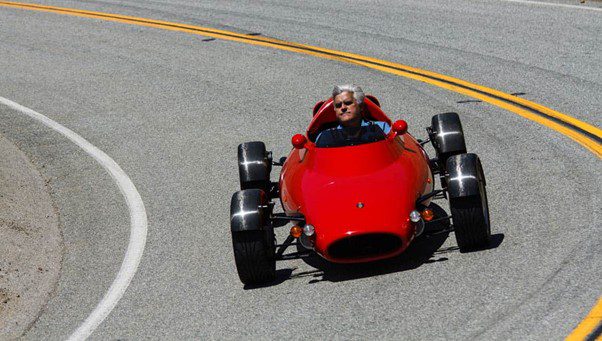 It might not look like the most comfortable ride, but it actually only weighs approximately 850 pounds and is fairly well-suited for driving. It also has 165 horsepower and uses a Yamaha engine to help it reach these speeds.
1972 Mercedes 600 Kompressor
Hydraulics is the name of the game with this classic car, as almost everything inside it uses a hydraulics system. That includes the windows, which was a pretty forward-thinking achievement at the time that the car was first created.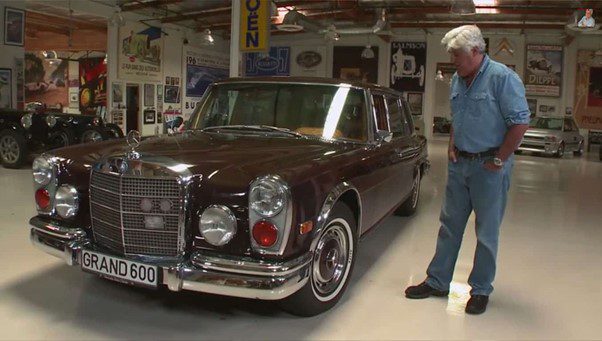 Unsurprisingly, this car is the forefather of many iconic vehicles today, such as the S Class. However, this car is nowhere near as easy to look after, as it requires a lot of maintenance to keep it running smoothly.
Jet-Mobile
Looking at the picture of this car, it should be pretty easy to see where it got its name from. Its looks almost like a jet plane with the shape of its wings! It's not the easiest to drive, however.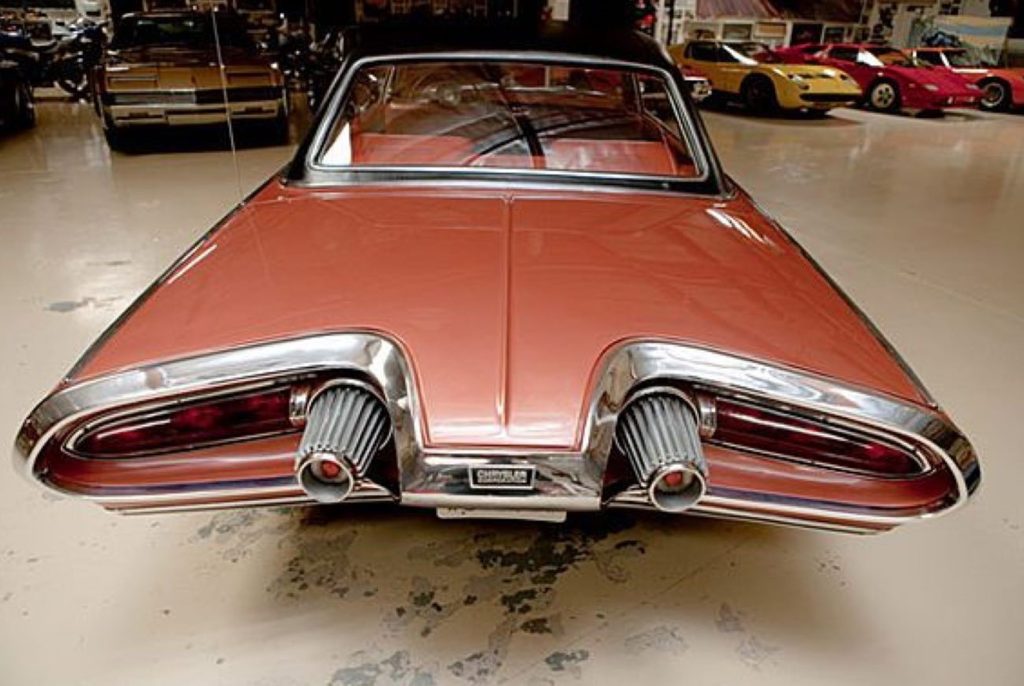 Given Jay Leno's love for cars, there is absolutely no way that he could refuse picking up a vehicle that looks this strange. It might not be the best drive, but it is certainly unique to look at it!
1963 Jaguar E-Type
For a lot of cars on this list, it took quite a bit of time for Jay Leno and his team to restore them eventually. This car is no exception – it took a whopping 3000 hours to restore it all!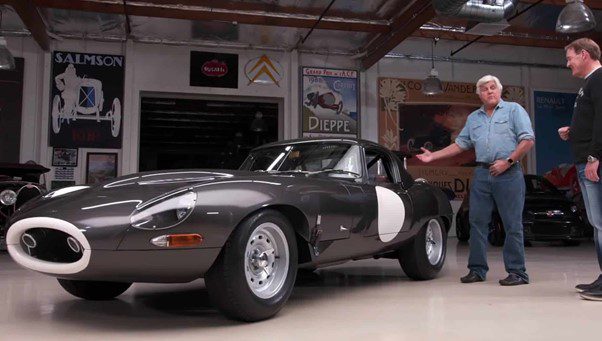 We think that it was definitely worth it, though, as the car is simply stunning, and the sleek look is so iconic. To make the car a little lighter, Jay Leno's team switched the metal in the body for aluminum.
2012 McLaren MP4-12C
This vehicle is another one of Jay's favorites. He went absolutely crazy when he finally picked up the keys for it! So, you should not be surprised to see Jay driving around town in the McLaren with a huge grin.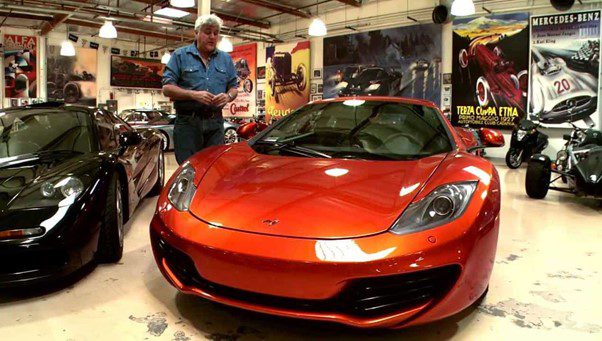 This car was custom-built specifically for Jay, and they gave him the chance to take it for a test drive in Britain. He took the opportunity and the rest, as they say, is history! We think it was worth it.
1962 Maserati 3500 GTi
It can be pretty fruitful to go to a storage locker to see what you can find. Sometimes, you can end up getting quite a treasure, just like Jay did with this one. He bought a storage locker for $25,000.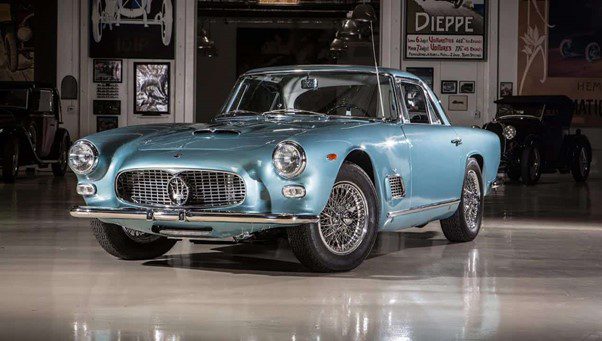 Although he was actually looking for a different car, he ended up getting this Maserati that had clocked up 100,000 miles. Thankfully, the car was in pretty great condition, and it was definitely worth the hefty purchase for him.
2017 Acura NSX
It is time for another modern entry for this list, and this time, it is a vehicle from 2017. However, this is a little different from the other cars on this list, as this car has a hybrid engine.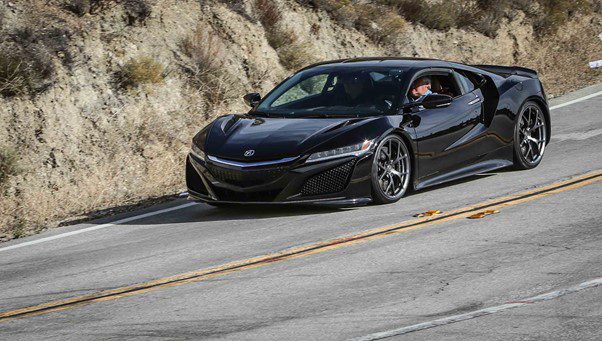 If you did not know, this means that the vehicle is partly electric and partly uses fuel, giving the car 573 horsepower – pretty powerful stuff! As well as this, the car allows you to control all of the wheels.
1981 DeLorean DMC-12
From car flops to famous vehicles, this one is probably the most iconic one on this list. It should not be too difficult to recognize the DeLorean time-traveling car from Back to the Future. It looks so amazing!
This is the original vehicle that was used in the movie, and it's worth quite a bit. We are not surprised that Jay bought this car, as we would definitely do the same if we had the money for it.
1963 Corvette Split-Window Coupe Fuelie
At first glance, you might think that this is just another Corvette. However, those eagle-eyed readers or anyone who is a real Corvette fan will be able to spot the differences. Can you see what they are? Look closely…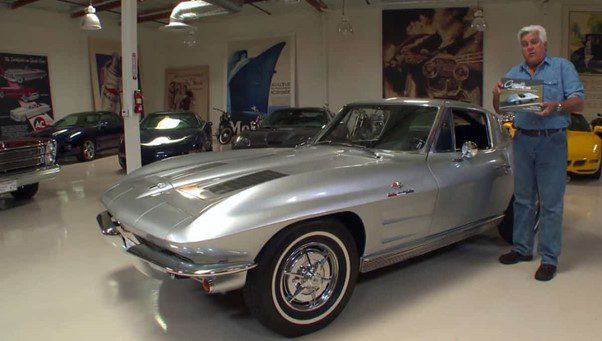 The mirrors, wheel covers, screw, and hood are all exclusive to this model of Corvette from 1963. This makes it a pretty rare car, which is clear from the way the windows are split, too. What a gorgeous vehicle!
2017 Audi R8 Spyder
This car is yet another recent creation, but it is still a pretty good one. The car itself is unique since the engine was changed during the creation process into a v-10 engine. The transmission was also changed to automatic.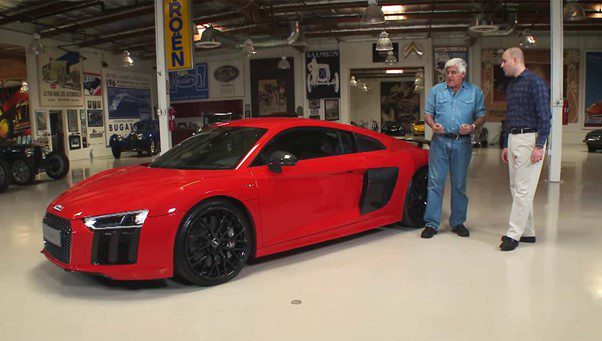 All of these changes ended up delaying the car by two years, finally being released in 2017. Even with all those problems, Jay Leno was still determined to get his hands on the vehicle and put it in his garage!
1963 Chrysler Turbine
This car was so impressive when it was first revealed that it actually became part of the 1964 World's Fair held in New York! There were a few teething issues, like the turbine's loud noise and the use of diesel.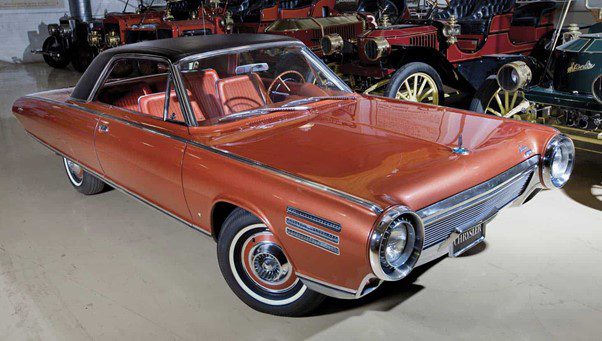 At the time, this made it a lot harder to use because leaded gas was much cheaper and easier to find. Sadly, the car was not the hit it was meant to be, and many drivers chose not to purchase.
1994 McLaren F1
Imagine you have a car from 1994. How much do you reckon this vehicle is worth? Could you guess that it would be around a staggering $12 million?! That is precisely what Jay paid for this rare McLaren car!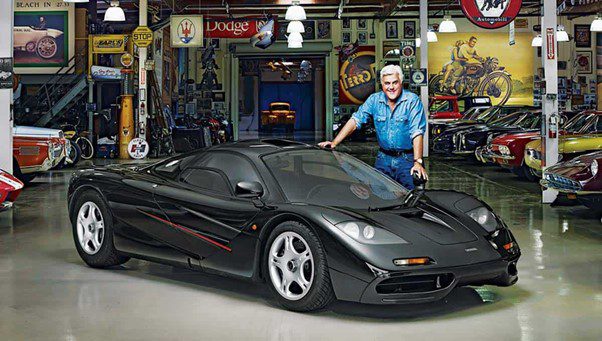 So, it makes a lot of sense that Jay Leno said that this car is the first vehicle that he would save from his garage if there were a disaster. We sincerely hope that it never comes to that.
1950 Nash Ambassador
Here is another pretty revolutionary car. We might consider many of its features to be fairly standard today, but for the time, these were pretty state-of-the-art. These include a new type of air conditioning system and ultramatic transmission that was praised at the time.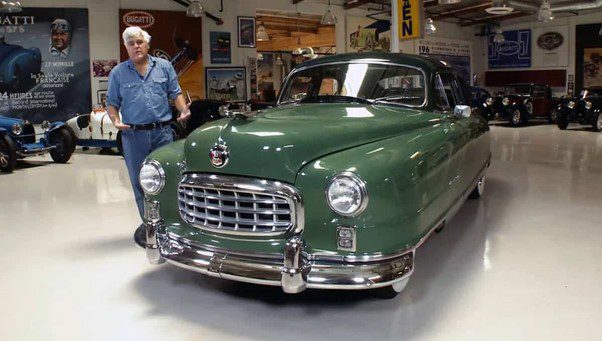 Jay did not do anything to change this vehicle, and it remains in all of its original glory. The only thing he gave it was a good polish! This car is a real piece of history to be kept safe.
1931 Shotwell
There are quite a few super impressive things about this vehicle. No, it is not the car's age, although that is pretty cool. It is actually the fact that the vehicle has three wheels and was created by a 17-year-old boy!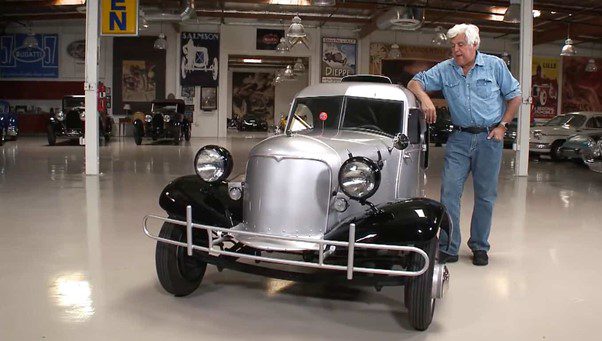 The whole thing was created by Bob Shotwell, who made it in his garage using an Indian motorcycle engine. Jay added a few changes to the vehicle, namely a fuel pump and cooling system, to help it go somewhat faster.
1969 Lotus Elan
When Jay first got this car, it was in absolutely awful condition. The inside was a mess, and the outside was not only ugly, but it was also full of dents! Surprisingly, it only took 18 months to repair.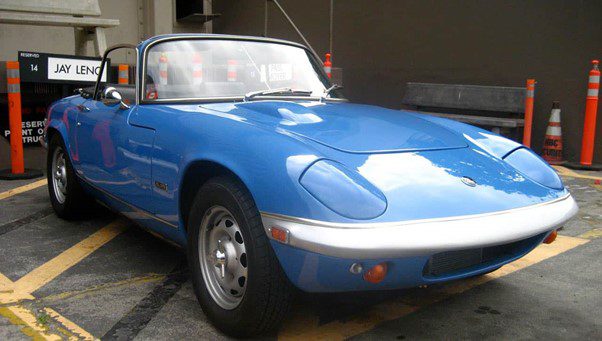 Jay said that his aim for the vehicle was for it to be the "ultimate Lotus" car. We think that it is pretty safe to say that he achieved this dream, as the car looks much better now than ever before!
1913 Merce Raceabout
No, your eyes are not fooling you – this is definitely a car, not a tractor! It is easy to make this mistake, as the bright yellow car and the vehicle's lack of any outside shell make it seem pretty strange.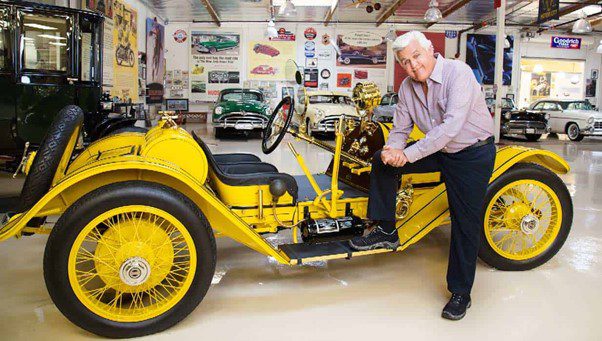 You definitely could not drive this one on the road today! Still, it was one of the first sports cars and a popular one to boot. It can even reach around 100 miles per hour if you are lucky.
2012 Tato Nano
For someone as rich as Jay Leno, it feels like money would never be an objection. However, that does not stop him from buying cars like the Tato Nano, which is known as the "world's cheapest car" at $3,400.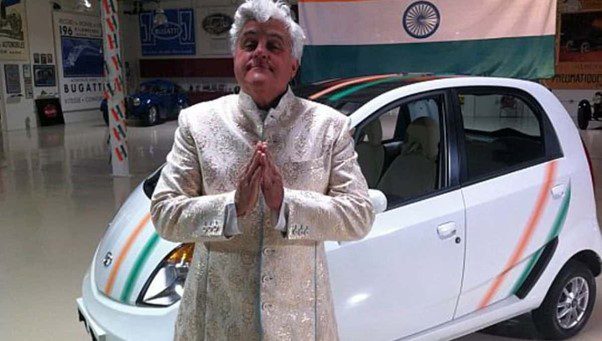 What a steal! It might be tiny, but the vehicle has 38 horsepower. Of course, Jay could not resist upgrading it slightly by giving the vehicle alloy wheels. We think it is probably worth a lot more now that he's touched it.
1918 Pierce-Arrow Model 66
This is another one of the cars on this list that Jay has chosen not to restore at all, so it remains in its former glory. There is a good reason for this decision to keep the 14-liter engine.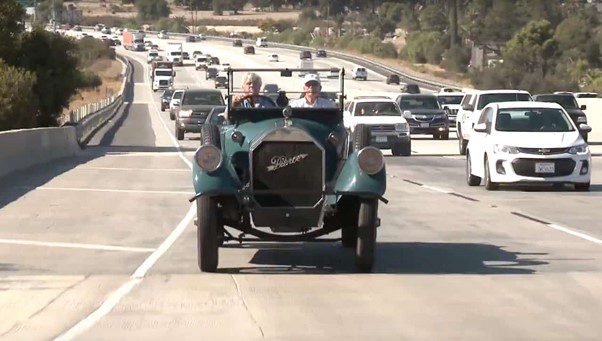 The car is one of the last ones to be created from the original 1916 production line, so Jay was desperate to keep it in near original condition. Of course, it did require a little polishing and cleaning to look beautiful.
1959 Oldsmobile Super 88
This vehicle might have a particularly strange name, but do not let that fool you – it is a beast under the hood! The car has 315 horsepower and is so noisy that everyone will hear you driving around.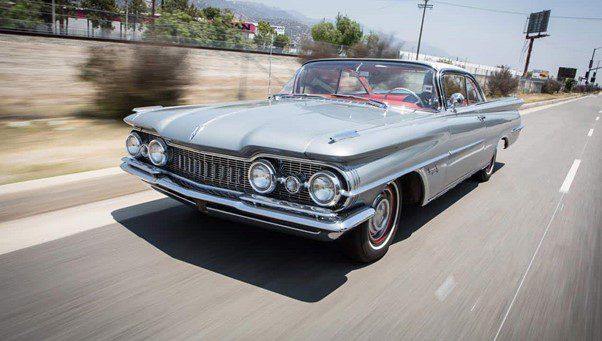 If that was not enough, the size of the trunk and the brightness of the lights are enough to catch anybody's eye. Next time you see this vehicle whizzing down the highway, make sure that you check it out.