Good For More Than Plumbing Problems – Here Are Some Innovative Things To Do With PVC Piping
By Harpreet K February 6, 2022
---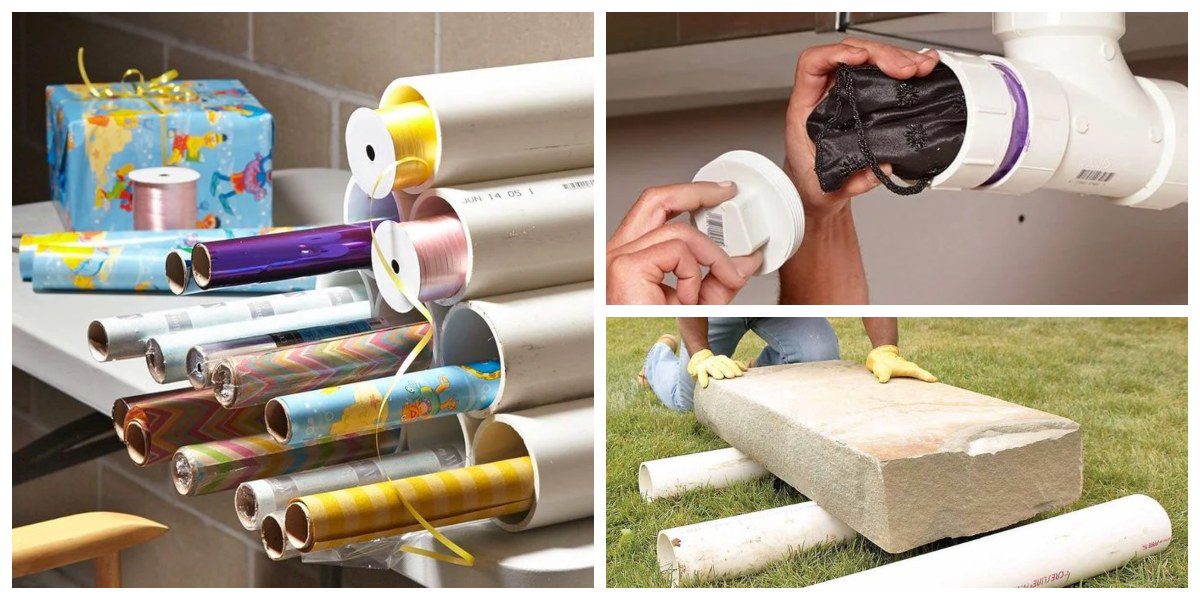 Polyvinyl chloride pipes, or PVC pipes as we call them, are undeniably one of the most used plastics because of their unique qualities like durability, availability, and low cost. If you think that they only come in the solid form we are all accustomed to, then you are in for a bit of a surprise. PVC pipes can be easily molded into various shapes, making them multi-usable. Aside from these benefits, this material is also sustainable and recyclable, making it all the better. Although these are generally used as drainage and plumbing pipes, in this article, you will learn that it has a plethora of other uses. Below mentioned are 45 incredible everyday ways you can use PVC pipes at home.
1. DIY Clamps
You know those colorful paper clips and how useful they are to hold tons of pages together? What if we said that we can help you make a more durable clamp that can hold not just pages but many other things as well? Sounds great, right?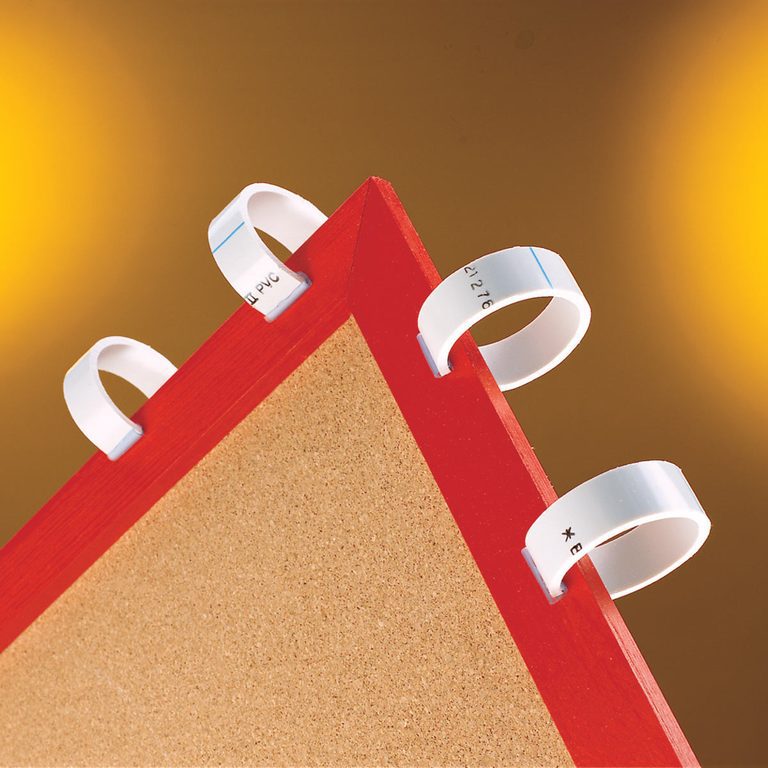 The only requirement is a PVC pipe. Take 3-inch diameter pipes and cut them into small pieces. Also, make a slight slit that will hold your material together. No need to buy clamps anymore; just make it this easily yourself.
2. Scattered Dowels No More
You can find numerous tools and such in a handyman's house, which usually includes a bunch of dowels. They are extremely helpful in building projects. But, they tend to spread out everywhere and take the place over if you don't have a designated spot for them.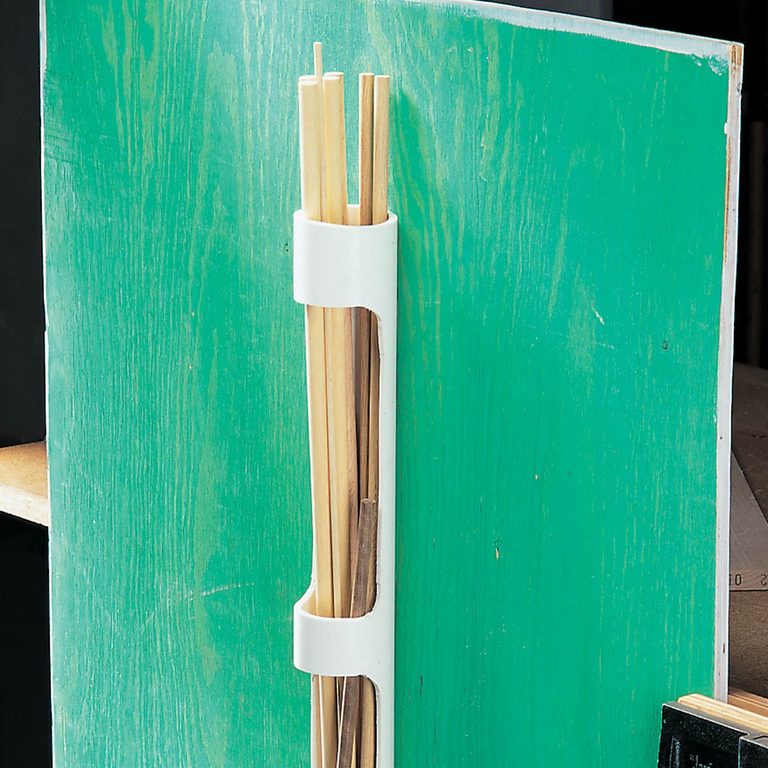 You can make your own dowel holder with PVC pipes. Take a 30-inch long PVC, cut the notches according to the measurements of the dowels, glue a cap to the hole on the bottom, and mount the holder to the wall.
3. DIY Towel Rack
Who doesn't love a fancy towel rack for those fun in the sun days by the pool? The heart wants what it wants, and if you wish for a towel rack but don't wish to spend an unreasonable amount on it, we have a solution.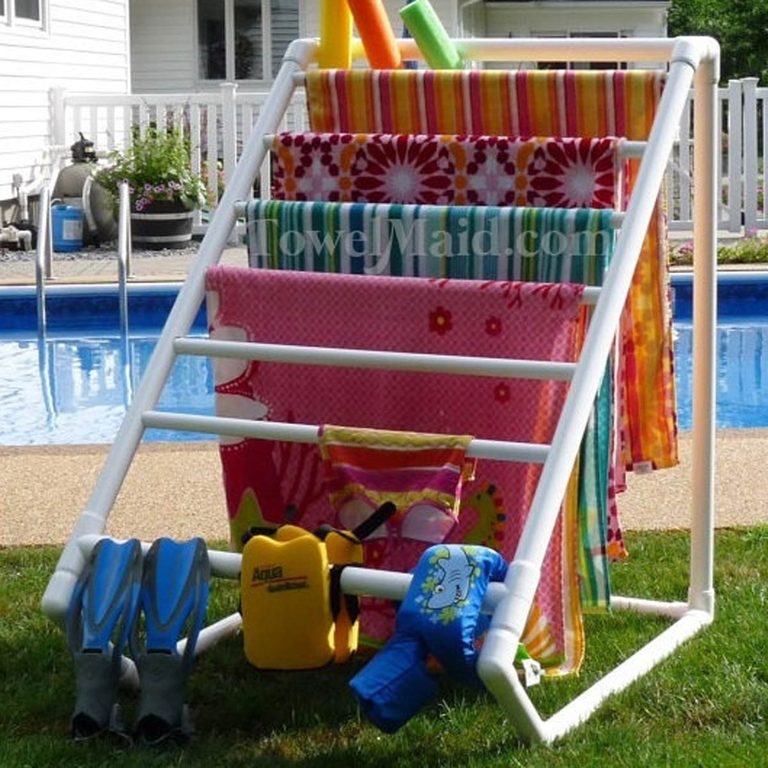 Don't worry; these PVC pipes got you. Take a few pieces based on the desired size of the rack, then just set those pipes in a similar way you set up a puzzle. You can use this picture as your inspiration or make your own design.
4. Say No To The Dust
What do you picture when you hear the word vacuum? Let us take a wild guess and say "dust." We know that the vacuum cleaners we get in the market can be costly, and not everyone wants to upgrade every time a new model comes out.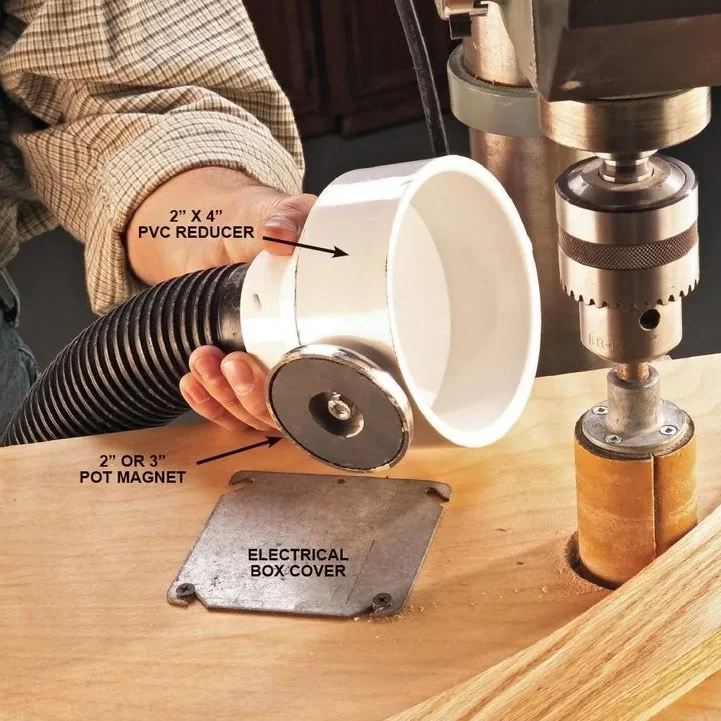 Here we have the simplest way to make an inexpensive dust cleaner for you. You'll need a 2-inch circular magnet along with 4-inch by 2-inch PVC pipe reducer for this. Just connect the two pieces and see the dust-destroying magic.
5. Extra Storage Never Hurts
It is always good to maximize your space. Here we have a special hack to create more space in your garage to organize the extra stuff you probably have lying around. Think: wrapping paper and fishing poles and other things that are too long to have a proper spot in the house.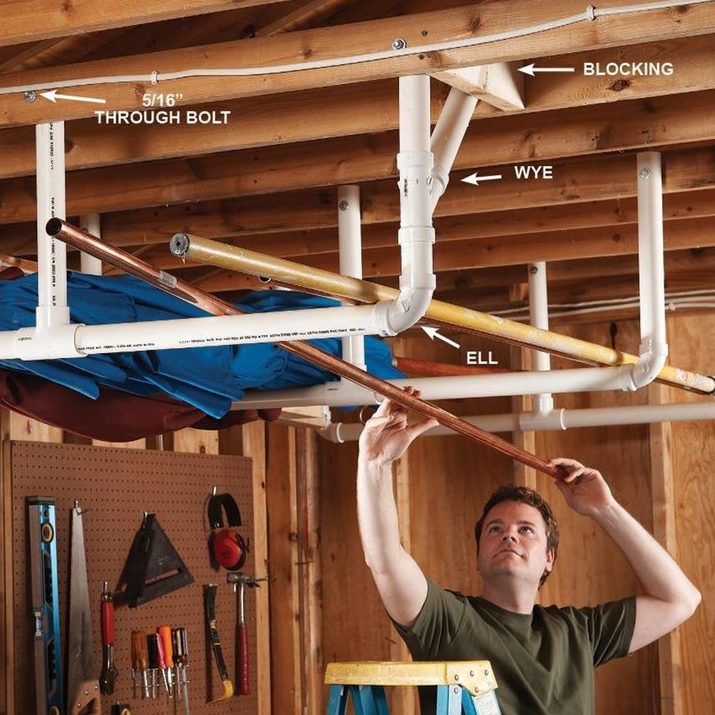 Take 2-inch PVC pipes and, with the help of bolts, fit those pipes to the ceiling tightly. A Wye fitting would help keep it stable and sturdy. You can lay a board across the slats if you want to be able to store boxes and other smaller items. Just be sure your frame is strong enough to handle the weight.
6. Shoveling Made Easy
You probably agree with us that holding anything gets more manageable if you get a proper grip on it – it sounds almost silly to say, right? Shoveling is already a difficult task, and attempting to dig a hole without grips is just a hassle.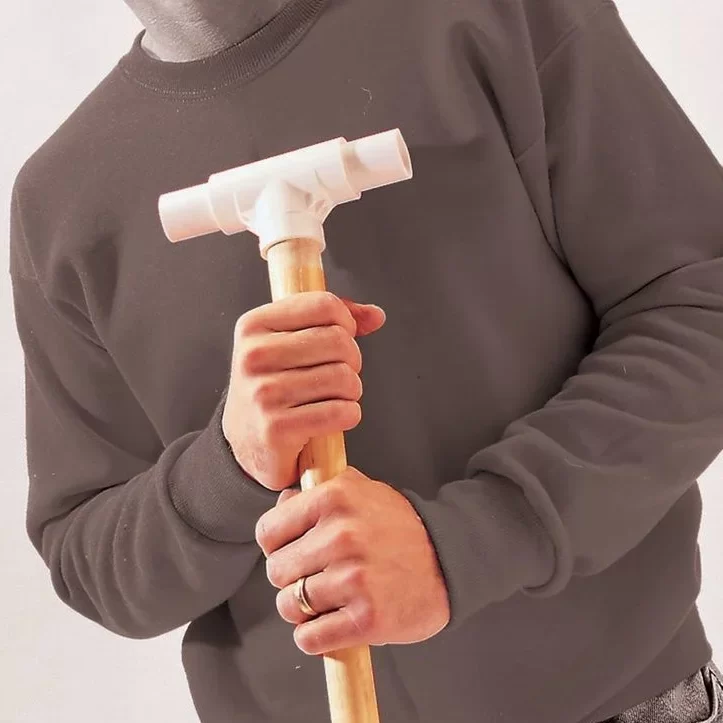 Why not make that grip yourselves? We bet that this is the easiest hack you will ever see. Just attach one PVC tee to the end of the shovel. Secure it with the proper adhesive, and that's it; you are all ready to dig away.
7. Happy Neighbor, Happy Life
We are aware that it is mandated to have the red warning lights around your house to keep your family safe from any mishap. But, while it is a safety concern for you, for your neighbors, that bright red light might be a serious annoyance.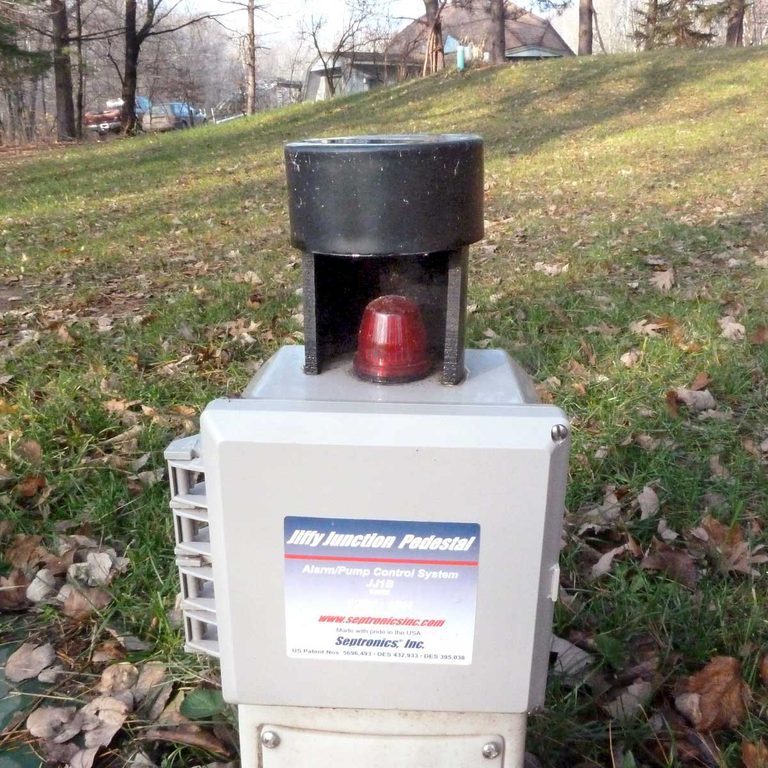 To save the neighbors from trouble, you just have to make a shield surrounding the light with a 3-inch PVC pipe. Cut it well, place it around the light, and cover it with a cap. You are done, and the neighbors are happy.
8. Special Hammer Holders
A tool belt is essential for any handyman. Just like you keep your keys with yourself all the time because you don't know when you will need them, the same goes for a tool kit that carries all those essential items.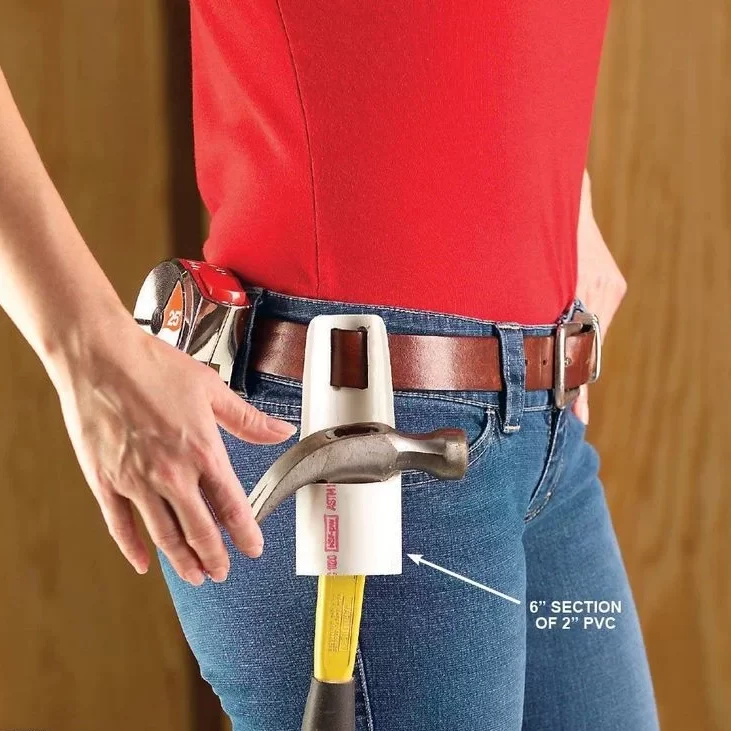 If you don't wish to spend the extra money on a toolbelt, make one at home. Take a 6-inch-long PVC pipe, and cutting from the middle, make a "handle." Cut two slits in this section and attach the pipe to your belt.
9. Hanging Tool Holder
You must have seen a tool kit. But have you seen a tool holder that would stick to your wall? Imagine how easier it would be to find your tools if you have this unique wall-mounted organizer. Nothing would get lost in the abyss of the toolbox.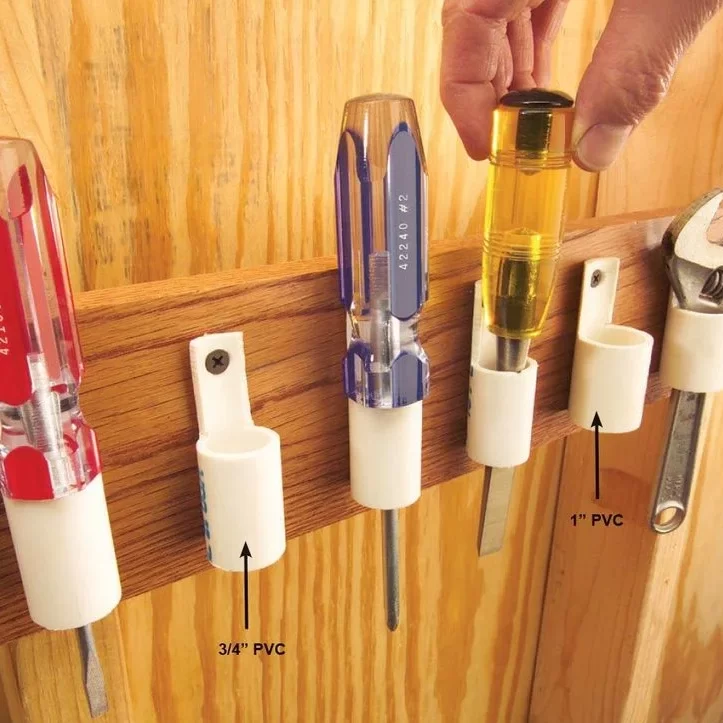 Grab PVC pipes that are 3-inch in length and cut them short by about ¾-inch according to your tools measurement. Keep in mind the breadth of your pipes. Cut it so that you have a tab to drill to the wall.
10. Table's Substitute
Tired of using chairs while cleaning to reach the tricky corners? How about those places that even your tallest step ladder can't get to? Keep your feet firmly on the ground and use this clever hack to solve both of these problems.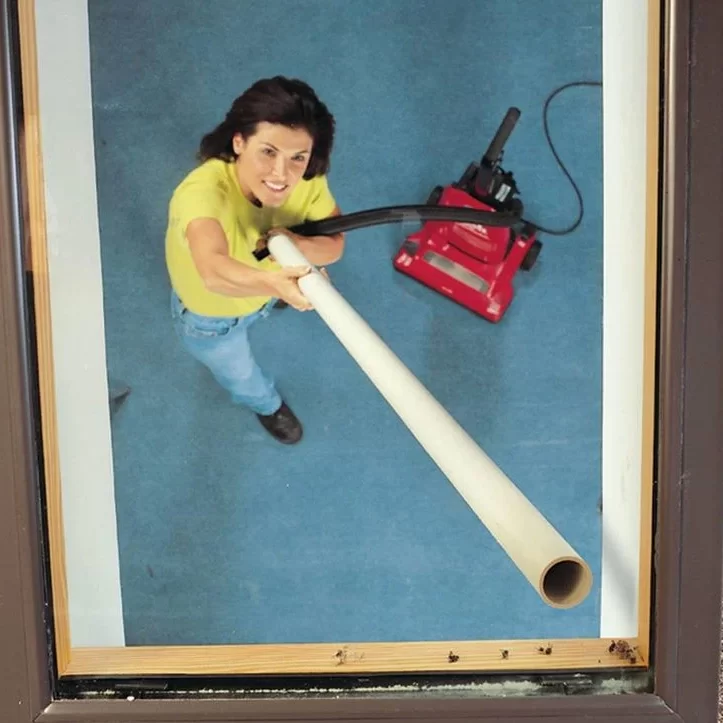 Obviously, you would not want to have dust take over that corner. You can extend the suction tube of your machine by attaching a long PVC pipe with the help of a rubber reducer. This might be the most useful hack on this list.
11. Fishing Just Got Easier
Going fishing can be tricky sometimes when you do not have your essentials organized. At the moment you want to get going, you might not be able to find the one you need, and you'll waste precious time trying to find and detangle everything.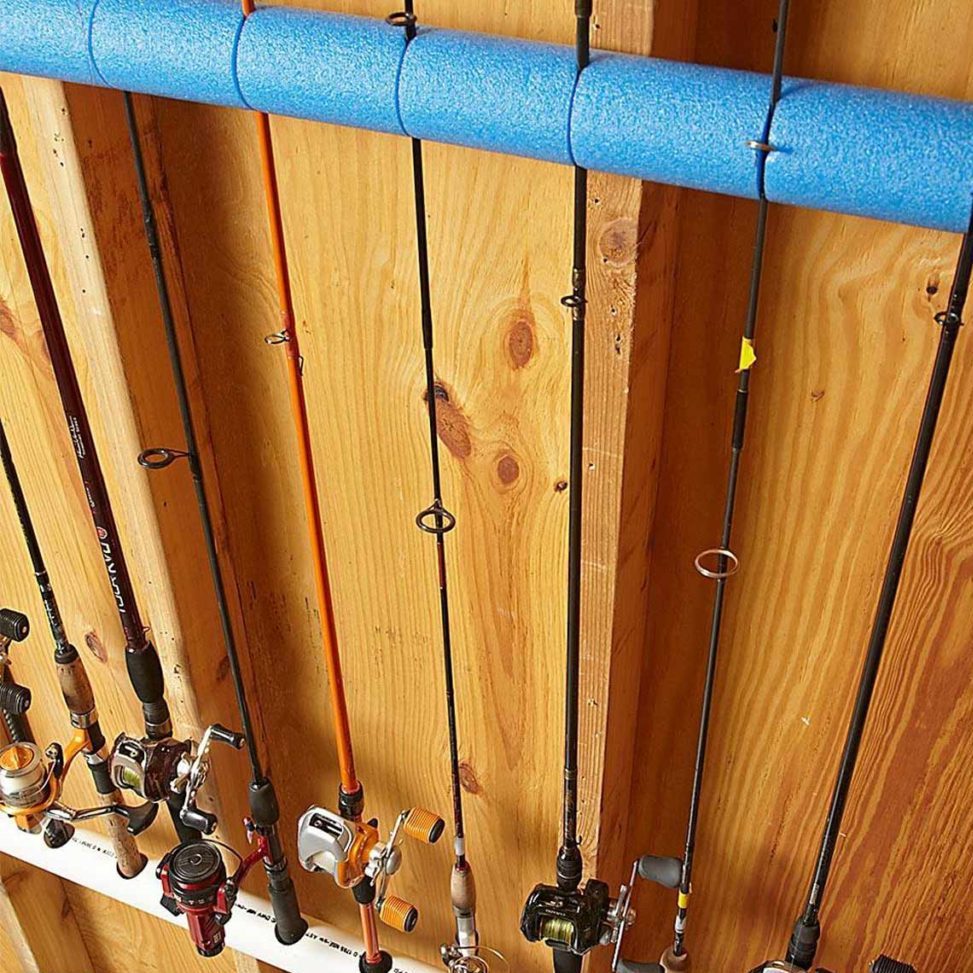 To avoid that, take a PVC pipe precisely 3-inch diameter, carefully make holes of 1 inch in gaps, attach a foam noodle to the wall above the pipe. Then make slits in them, and organize the pipes. And your fishing gear will be sorted.
12. For All The Handymen
This particular trick will come in handy for all our hard-working handymen out there. We understand that you likely have a dozen tools, and even more bits, nails, washers, etc. It might get difficult at times to find what you need.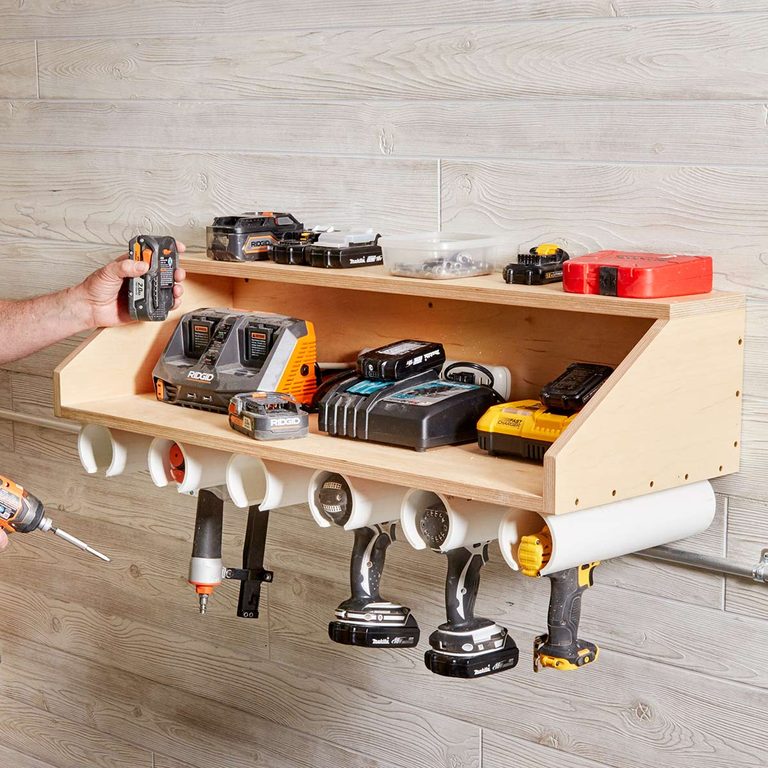 All you have to do is build a rack with PVC pipes. The top shelf will hold your tiny tools, the middle one for bigger equipment, and just attach a few 3-inch pipes to the bottom of the shelf, which will hold your drills.
13. Let's Get Adventurous
Looking forward to a fun trip but are clueless about carrying some of the equipment you will surely need? Worry no more because PVC pipes can certainly solve your problem in the blink of an eye. Adventuring just got a lot easier.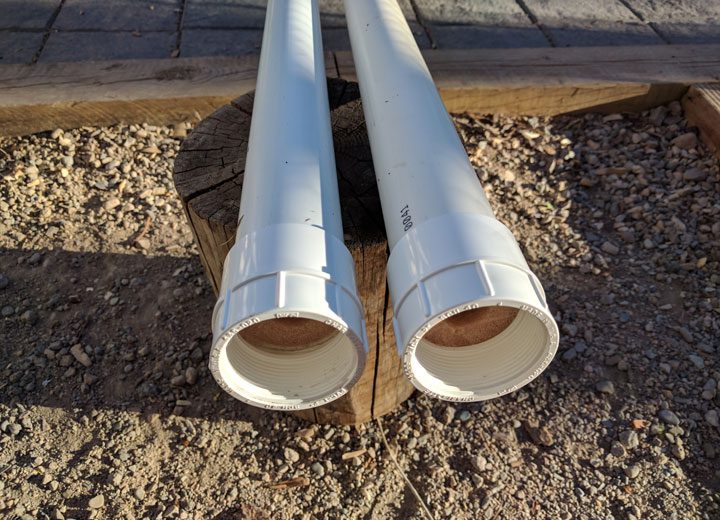 Grab a PVC pipe, cut it up to the length of your equipment, fix a cap to the bottom end and an adapter to the other one with the help of some solvent cement. We swear it doesn't get any easier than this.
14. Handy Drying Racks
Everyone will agree that winter is a season that requires many of us to bundle up. One thing that certainly gets on everyone's nerves is the wet gloves, and we all know that even if we try to get waterproof ones, they aren't always as advertised.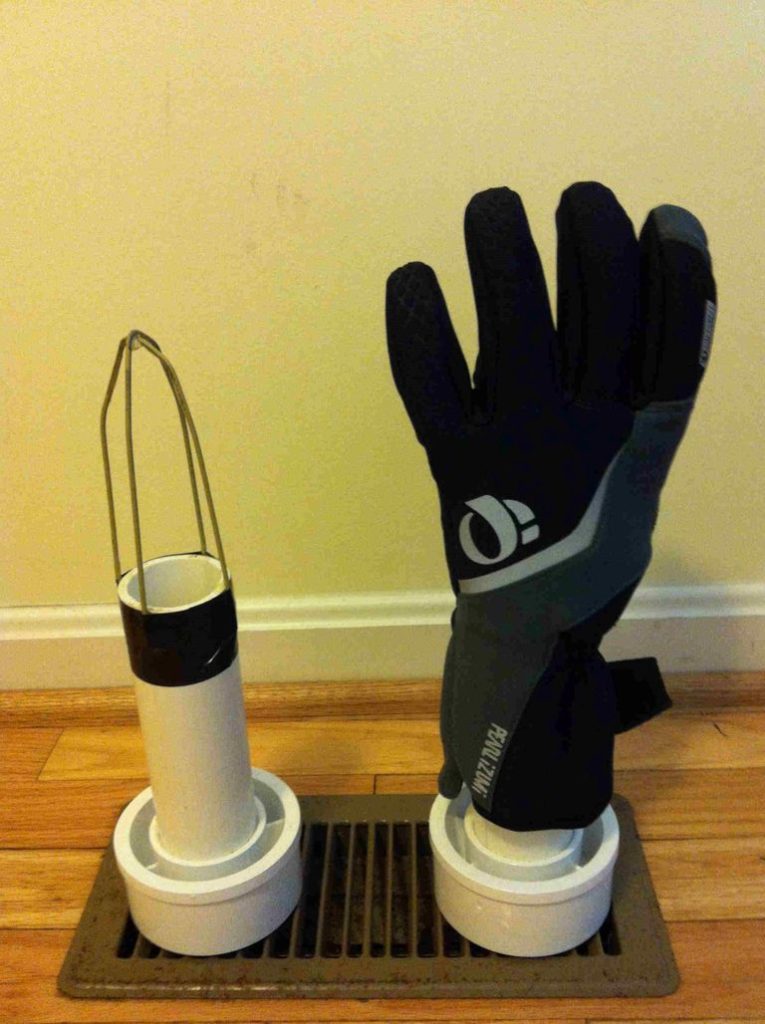 We have come to you with the most compact drying rack. You just need glue, wire, electrical tape, and obviously PVC pipe. Take a base and fix the pipe to it. Now attach the wire with glue and hang your wet mittens on it. Set the whole thing over a vent or other heat source.
15. Made For Your Pipe Clamp
Pipe clamps are something that almost every household has in abundance. With their multi-purpose qualities, it is only logical. We bet most of you have those clamps scattered around the garage. Our goal is to make your life easier, and here we are with another hack.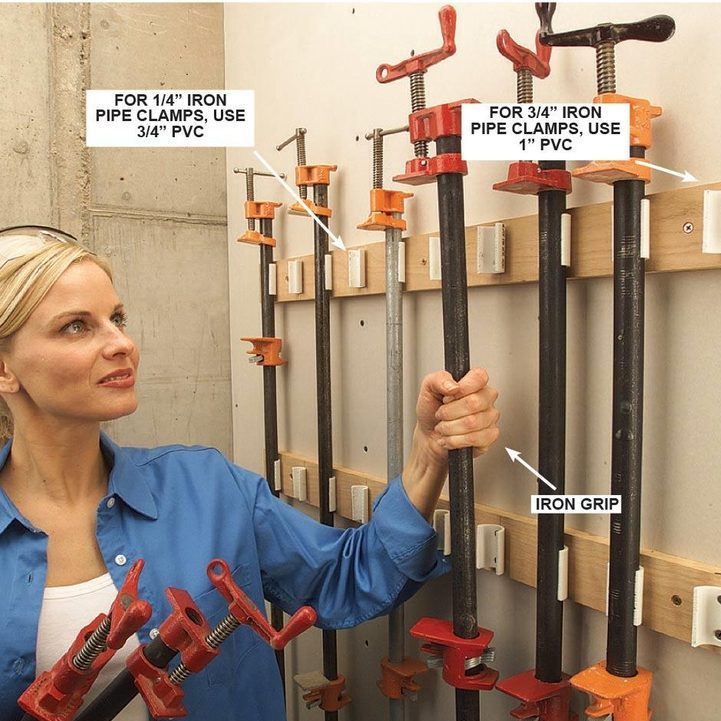 Cut numerous 3/16 inch pipes drill them parallelly to a wood panel that you attach to the wall. Now, take your iron grips with the pipe clamps, and place them in the rack. You are done and can enjoy the rest of your day.
16. Every Drop Counts
Anyone's hard-earned money or product purchased from that money should not go to waste, not even a drop of it. If you are tired of the extra oil left in the container, you can use PVC pipes to utilize every droplet.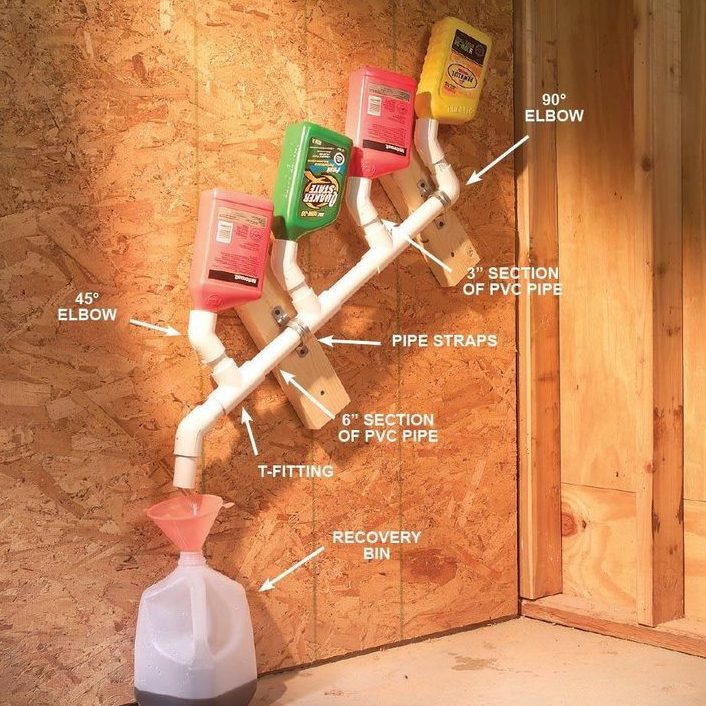 Take 6 inch and 3-inch pipes, as well as a few elbow fittings, and stick them to the wall in the exact way it is in the image. Keep a container on the floor and set the bottles of oil in the open pipes at the top.
17. Storage For Those Caulk Tubes
Let us all agree that having those huge bottles of caulking lying all over the work table is not pleasant to the eyes. Moreover, it is not safe for anyone if they fall and roll all over the floor. That's quite the tripping hazard.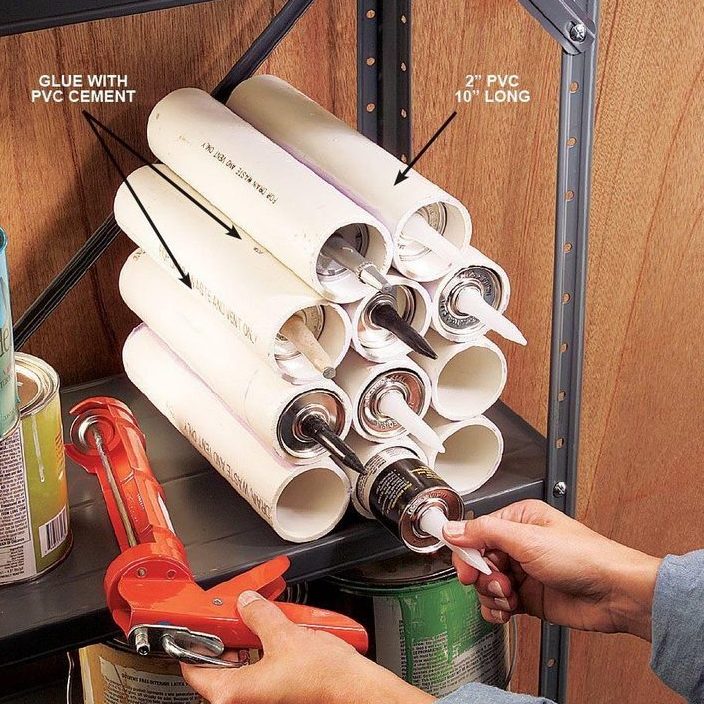 This special hack rack is the thing you never knew you needed. Gather 10-inch PVC pipes with a 2-inch diameter, glue them on the sides to hold other pipes above them, and put your tubes of caulk in the slots.
18. A Secret Space
If you ever thought that the plumbing in your house would be more useful if it had another function, you are on the right track. We are about to share with you a hack that few of us would have ever thought about.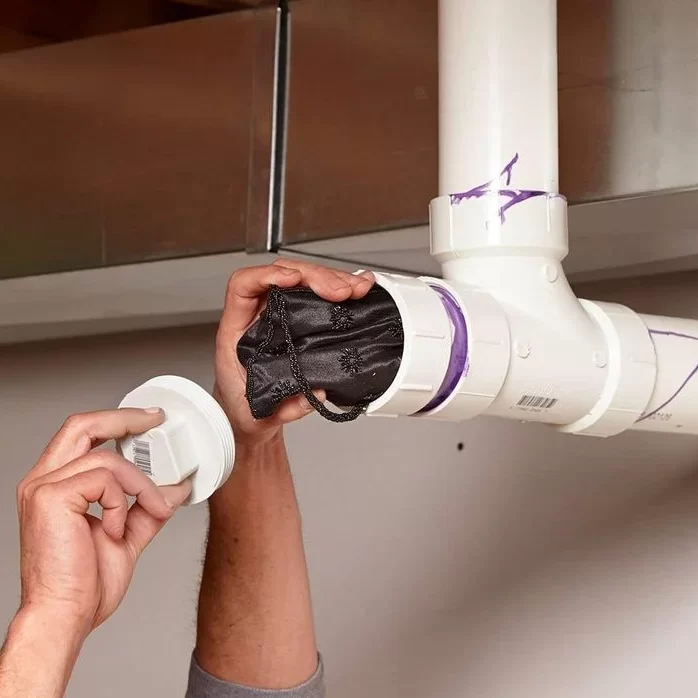 Want to hide your valuables somewhere no one would look? Or maybe you want to hide your chocolate. Whatever you want to keep secret, PVC is here for you. Attach a small extension like you see here to any spot in your house where it would blend in.
19. Underground Sprinkler System
Taking proper care of those plants in your lawn can be an involved process with many steps. Just putting them in the soil is not enough. You have to give them enough water to be healthy and green. Even if you only have grass in your yard, maintenance is essential.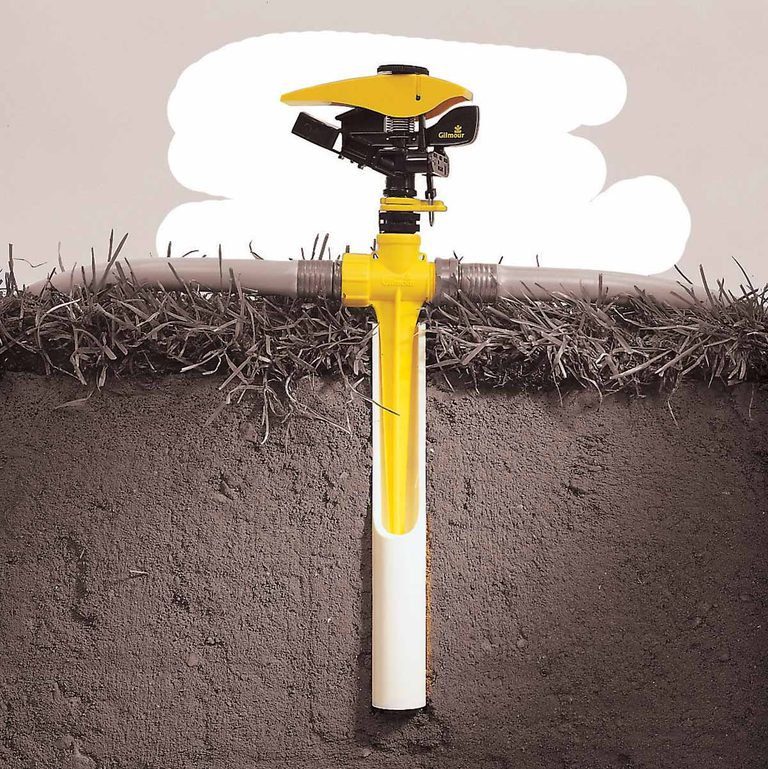 Let's talk sprinklers. Although they are helpful, keeping them in place can be an arduous task. You can quickly solve this problem by making a sprinkler socket with a PVC pipe of around 1 inch and placing that in the ground as a fitting for your sprinkler.
20. Safely Stored Nails And Screws
We all have a lot of screws lying around that need to be stored securely because anyone can prick their fingers while fumbling through the box for the items they need. The only thing that can help you is an organizer.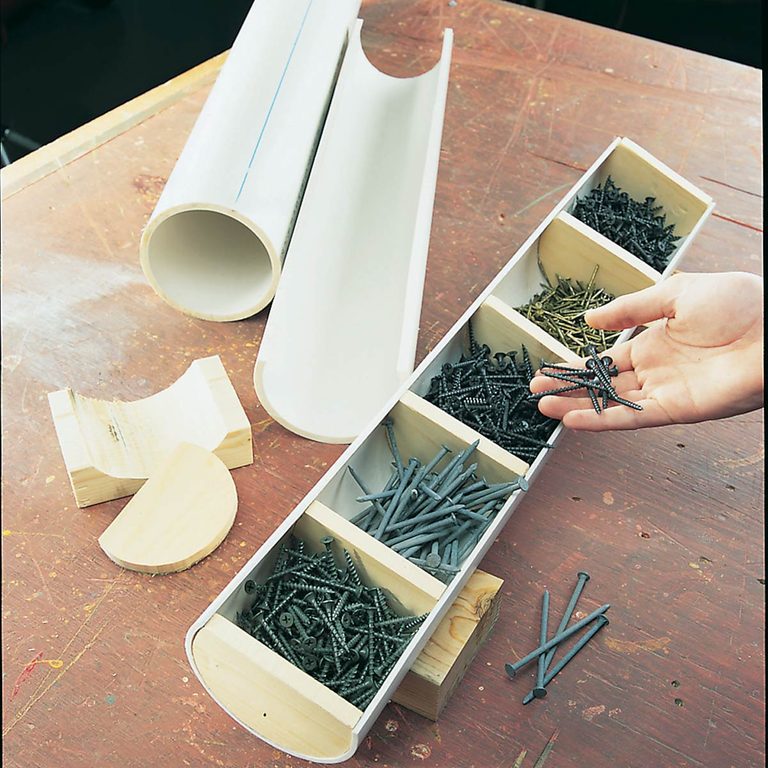 And you can make one with PVC pipes (of course). Take a pipe of the size you want and cut the upper portion of it from the middle. Then take square wood pieces, and stick them in the pipe to make sections.
21. Environment-Friendly Planter
You will be pleasantly surprised to know how valuable these PVC pipes are when it comes to gardening. In addition, they are also environmentally friendly, so you can use them as much as you want. You can even make a planter box.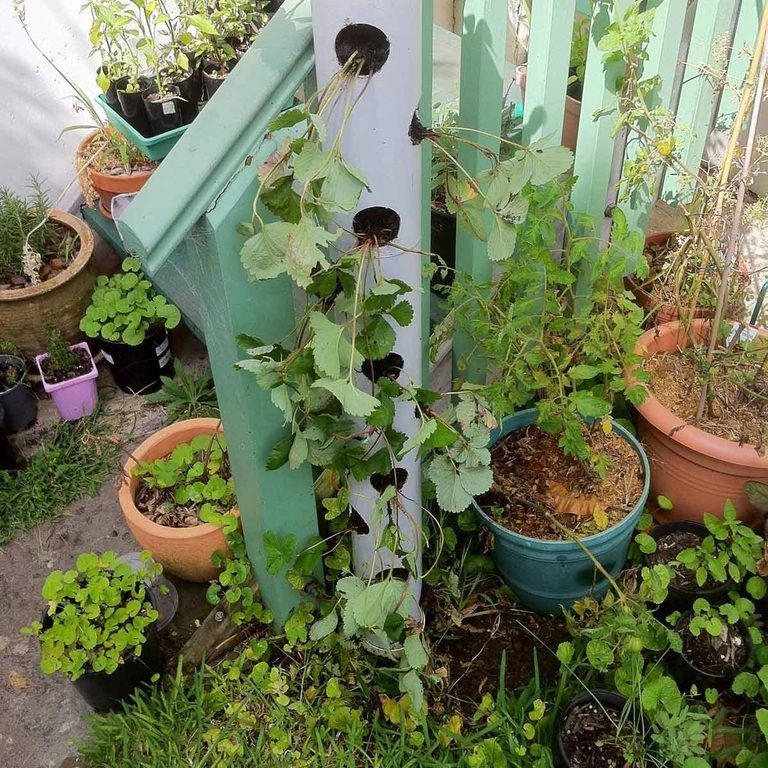 You need a long PVC pipe, an even longer watering tube, and a drill. First, make holes in the tube with proper spacing, then make holes in the pipe in the same places. Now, fix the tube under the pipe.
22. Compartment For The Saws
Saws can be dangerous, especially when there is no secure place to keep them. It is not something you should keep lying around. So, what do you do when you don't want to spend extra bucks just for a saw holder?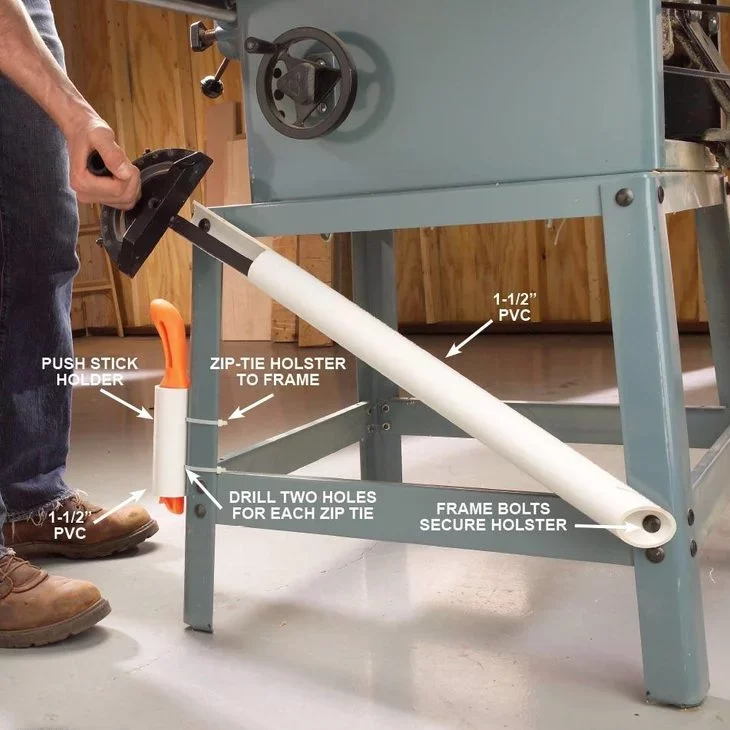 Simple, you DIY one. Get your hands on a 1 inch PVC pipe and drill them to the corner of your table saw, cover the bottom, and cut the top part of the PVC in a way that could efficiently insert your saw.
23. No More Messy Drawers
It is pretty easy to get irritated with all that clutter in your drawers. Plus, there is no upside to that because it neither looks nice nor is it organized. This means you spend forever looking for what you want. And, delays are never good.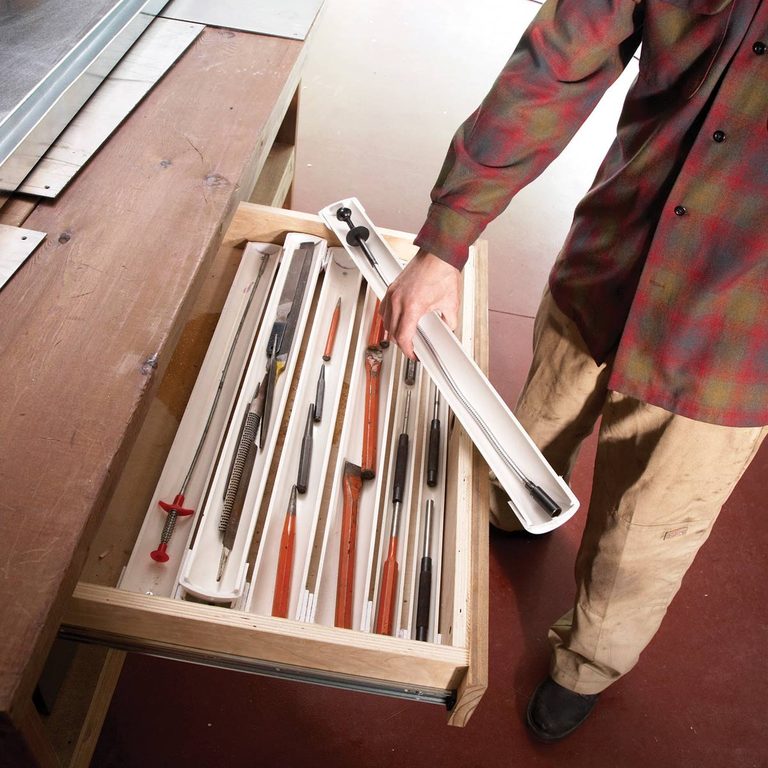 Want compartments in your drawer to help with the clutter? Look no further than this hack. Grab some PVC pipes, cut the upper half of it nicely from the middle and now store the equipment conveniently. Keep in mind the length of your tools when designing the layout.
24. DIY Bed Stand
It isn't that only we humans can get bored of a monotonous life; pets also get bored. We have cars and vacations and all sorts of ways to switch up our routines. But what about our dogs? They have to sleep in the same bed every day.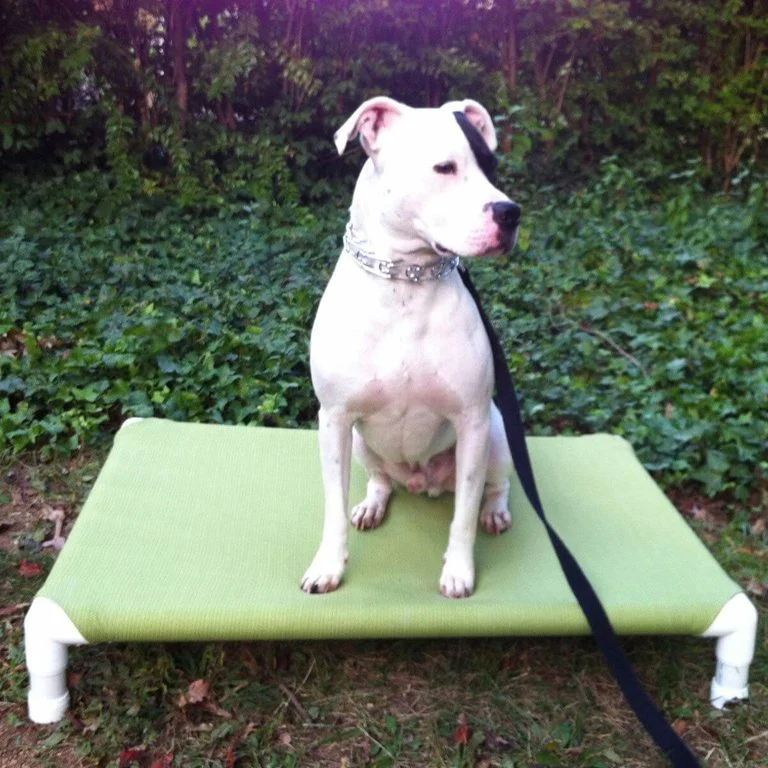 What if you could make an outside bed for your fur baby where they could rest when they are done playing? Utilize the strength factor of the PVC pipes and create a stable bed structure. Just put some padding or cushions on it when you are done.
25. Inexpensive & Durable Table
Those huge tables can get expensive. And we all know buying a fancy desk or dining room table isn't always necessary (thank you, DIY community). Try this brilliant trick to get a sturdy multipurpose table. Note that you can build it as big or small as you want.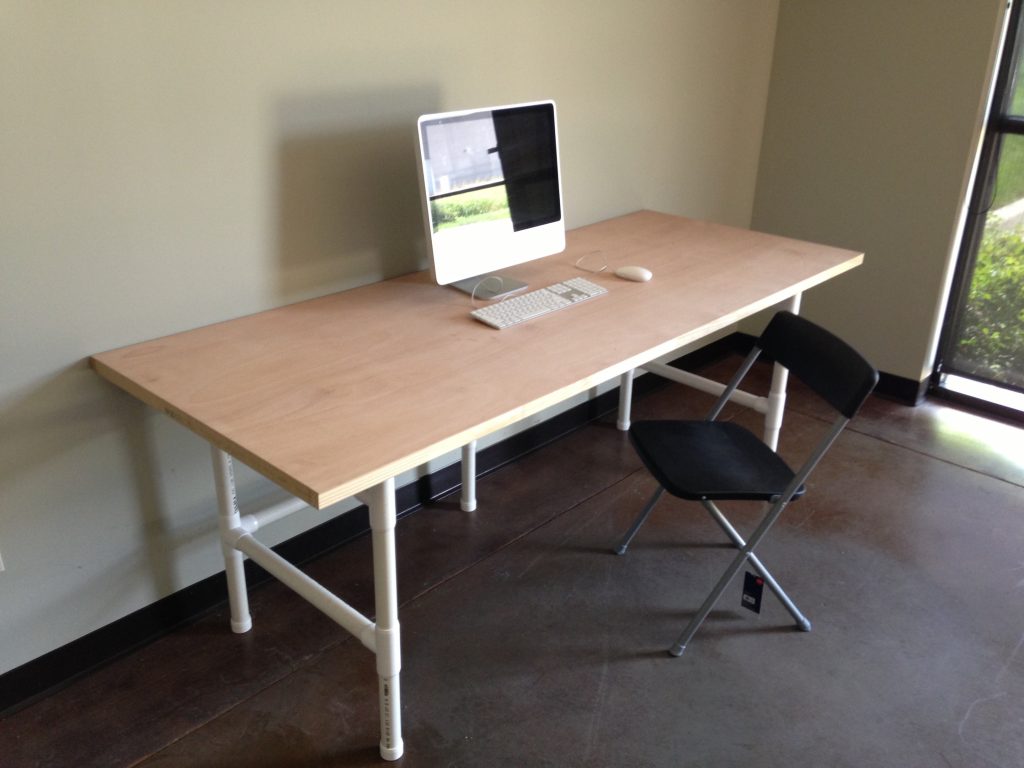 The only things you have to have is a wooden plank, PVC pipes, some flanges, and you have got yourself a table. Trust us with this; it's just as easy as it sounds. Just make sure to secure the flanges properly.
26. No To Grease Stains
Yes, yes, we know that grease guns are a lifesaver. Whether you are at your house and the doors don't shut nicely or at your workplace, your machines do not work smoothly. Grease guns do the job perfectly every time.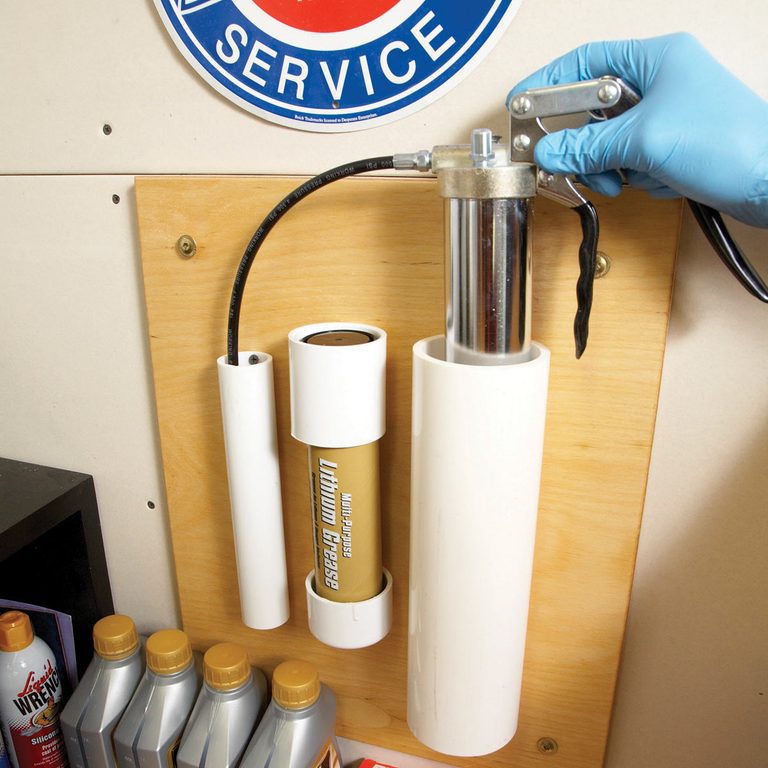 But storing these things? What a task. It can leave stains that are impossible to clean. Make a holder for them using PVC pipes and bolts. Cut a few pipes, attach them to the wall with bolts, and put a cap in the bottom.
27. Plastic Bag Storage
Plastic bags are undeniably useful. All your mothers must have a big plastic bag to store other plastic bags. It can certainly get messy if you don't keep some kind of order. We have something better than stuffing them all in a small space.
You can make a storage bin with a PVC pipe (ensure it has a sufficient diameter – you don't want to rip the bags trying to yank them through a tiny opening). Make a hole in the side of the pipe to easily take out what you want.
28. Cleansed Gutter Space
Gutters are the odd space near your roof that are meant to catch all the water and dirt and dispense it through the pipes. You have to make sure that the gunk should not build up or the water will have nowhere to go but your sidewalk.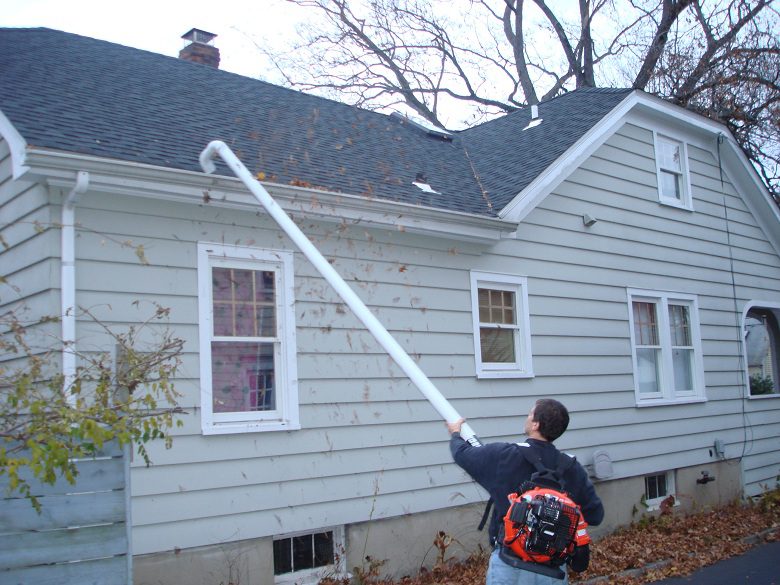 This hack will make the cleaning effortless, and guess what it includes? A PVC pipe. Take a long pipe – it should reach up to your gutter – secure the top with a cap by making holes, and fix the bottom with a ShopVac or whatever you use to blast or suck the leaves and dirt away.
29. Handmade Panpipe Rack
Panpipe racks are probably the best and the most compact storage for your tools. You can always purchase one from the hardware store, but if you want to try on your DIY skills, you can make one yourself pretty easily.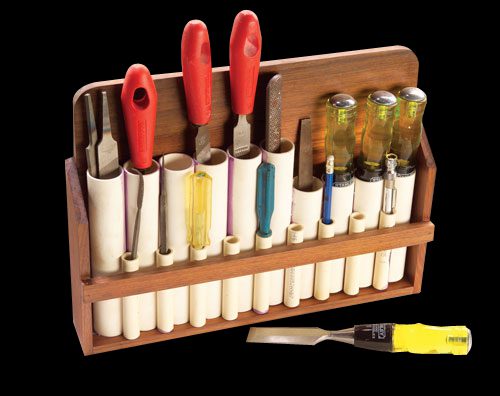 It looks like a tube rack you find in labs. Instead of chemicals, they will hold your tools. Take several PVC pipes with variations in length and diameter. Now stick the pipes in the exact way it is shown in the image above.
30. Fishy Entertainment
Fishes are pets that seem to have very little fun, but we can make things more exciting for them. Dogs can play around, but the fish must stay in their bowl. With this simple trick, you can make your little swimmer the happiest in the tank.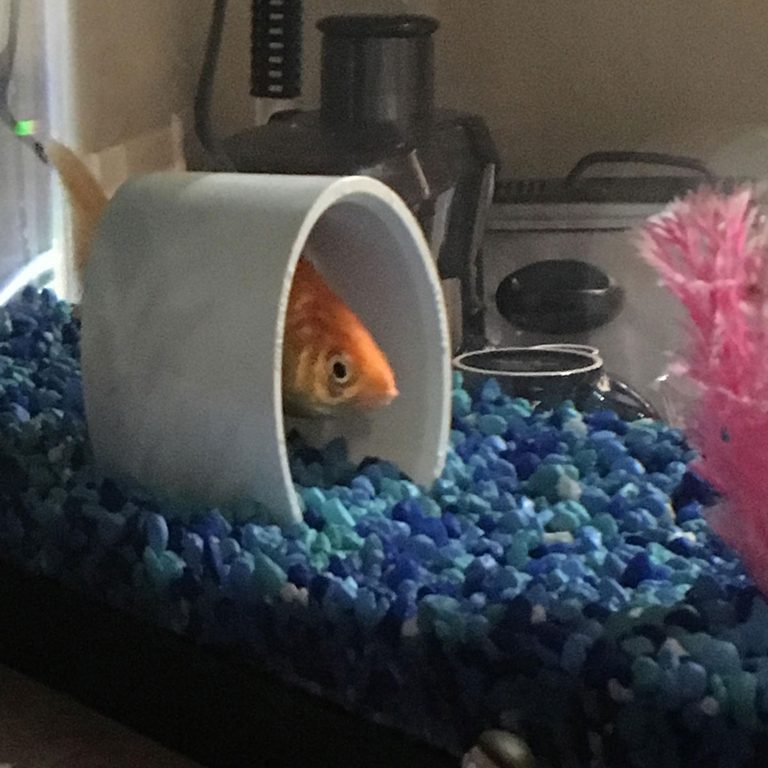 Take a PVC pipe big enough for your fish to pass through. You can start with one if your aquarium is small. The bigger the tank, the more elaborate you can get with your design. Your fish's life just got a lot more exciting.
31. Useful Pipe Cutter
For using the PVC pipes, you will need to cut them first, which is risky, considering that any slick, round object is always challenging to cut through. So how can you keep them stable to you are cutting straight and staying safe?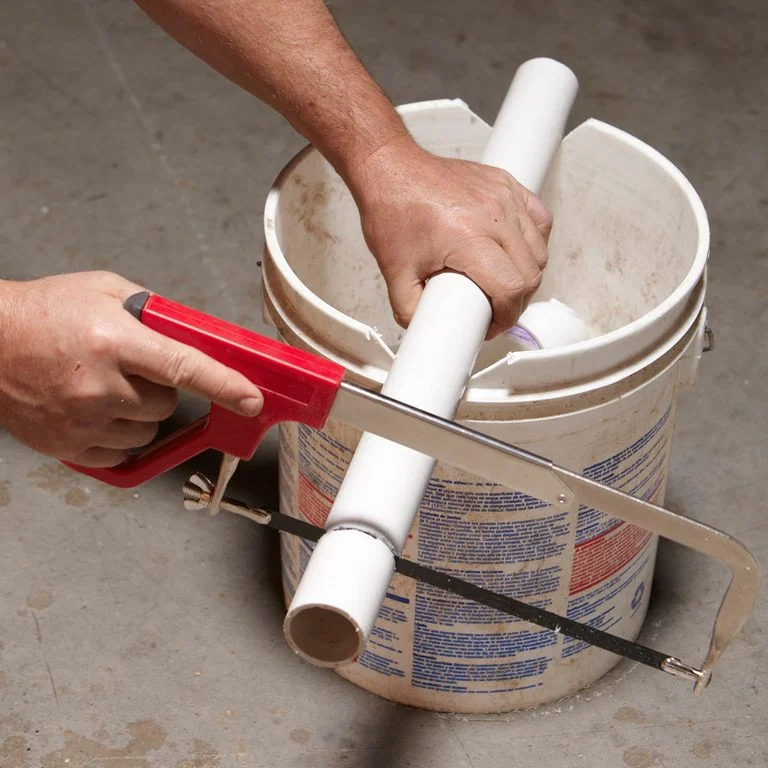 This tip is practically essential to start any of the other projects on this list. Make a pipe cutter stand to cut them safely. Take a sturdy bucket, cut two triangles on the opposite side of the rim, and lay the pipe in the slots.
32. A Rack For Gift Wraps
Everyone loves celebrations. Some of us are more creative gift-givers than others, but we all use wrapping paper. We have found storing them can be a challenge, and they often get squished and wrinkled in the closet. Here is a hack to solve both issues.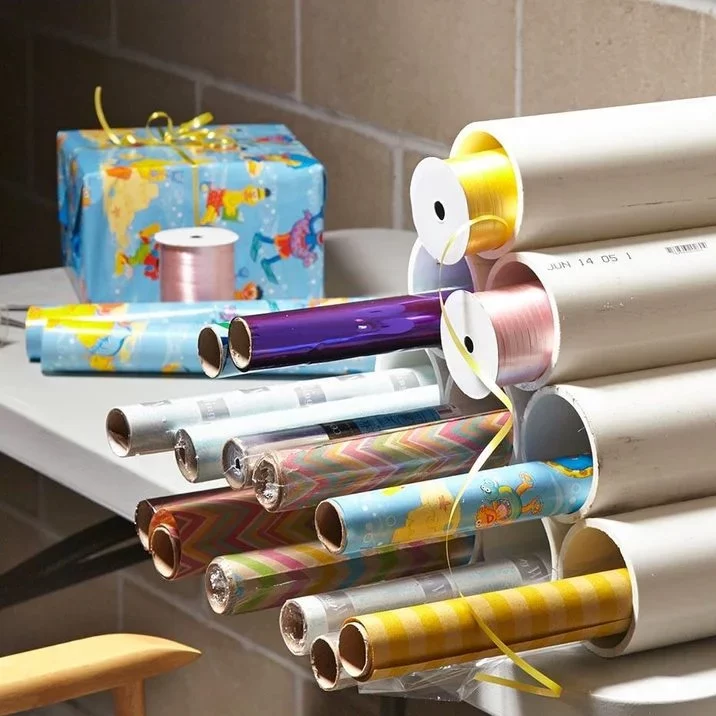 You can easily make this rack for your tubes of gift wrap. Glue a few 30-inch PVC pipes with 2-3 inch diameter together in a pyramid shape. And that's it; you are done. Assemble your wrapping in the pipes.
33. A PVC Tool Hanger
Hangers are inarguably one of the best creations of humankind. Raise your hands if you agree with us. We think you do. Were you of the assumption that hangers are made solely for your clothes? Well, we are here to change that.
Make a storage hanger with PVC pipes. It is even easier than it sounds. Cut the pipes in small lengths and scrape out a small portion which will be used to hang the tools. Now, drill those pipes into your wall.
34. Stationary Holder
Bored of using old mugs for your pens and need a fancy stationery holder for your stuff? We have a perfectly simple and quick way to make one. Do you want to know how? Obviously, PVC pipes are the most important material.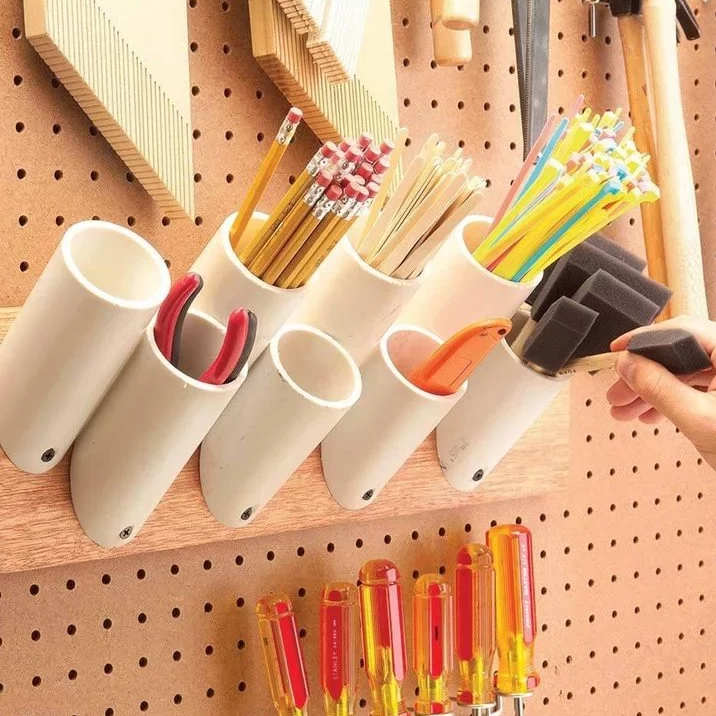 So, why the delay? Firstly, drill a wooden plank to the wall. Now, take a few PVC pipes, and cut them to the required length. The bottom should be cut in a slanting way. Attach them directly to the plank.
35. Cluttered Bike Area? Fixed!
The following hack will be appropriate for people who give classes or have a shop with numerous staff — basically, anyone who would require a cycle stand. You must have noticed that if there are bikes in a large number, they often get tangled up.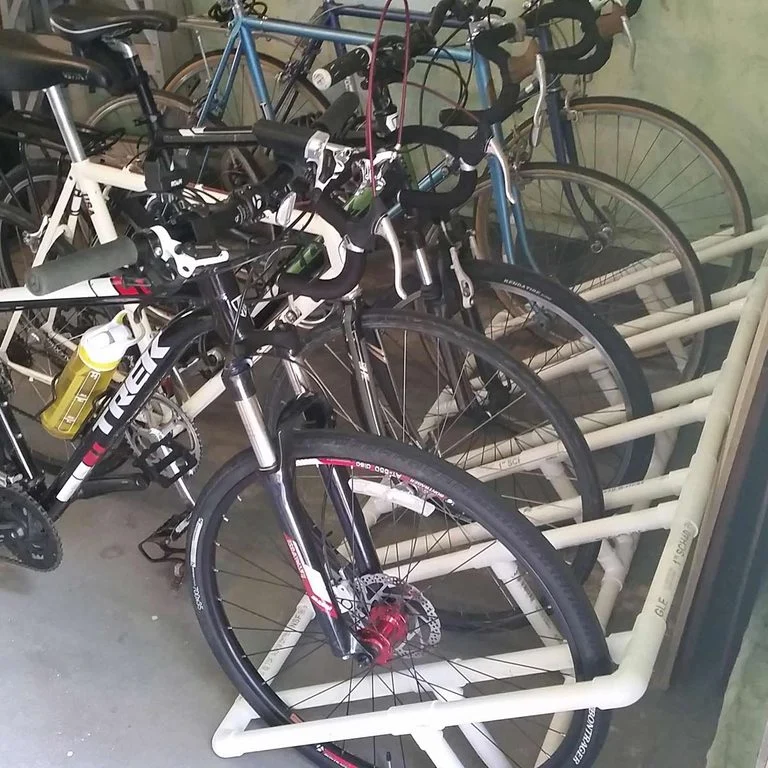 PVC pipes can solve this problem of yours within minutes. Take a bunch of pipes, place them, and adjust them in the same pattern as the picture depicts. You can change the dimensions according to the space the bikes require.
36. Handcrafted Sport Rack
Take it from us, this specific hack that we are about to share with you will be helpful for anyone from kids to professional athletes. We can't guess why we didn't have one of these things growing up. It's just too convenient!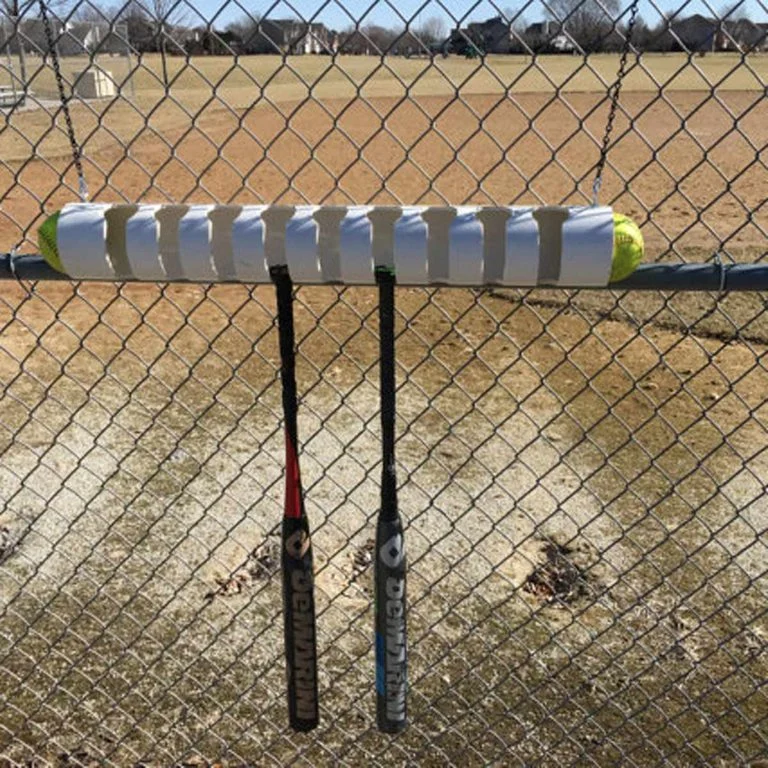 If you are fed up with having your sports equipment spread out, make this easy rack with the help of nothing but a PVC pipe. Take a pipe, make cuts in them as shown in the picture, and hang your bats on them. We recommend using a pipe wide enough to fit baseballs too.
37. Roll That Thing
Moving bulky objects can be pretty tough to begin with, but if you are alone, the whole process begins to feel like an impossible feat. What do we do when we can't rely on our buddies to come over and help us out?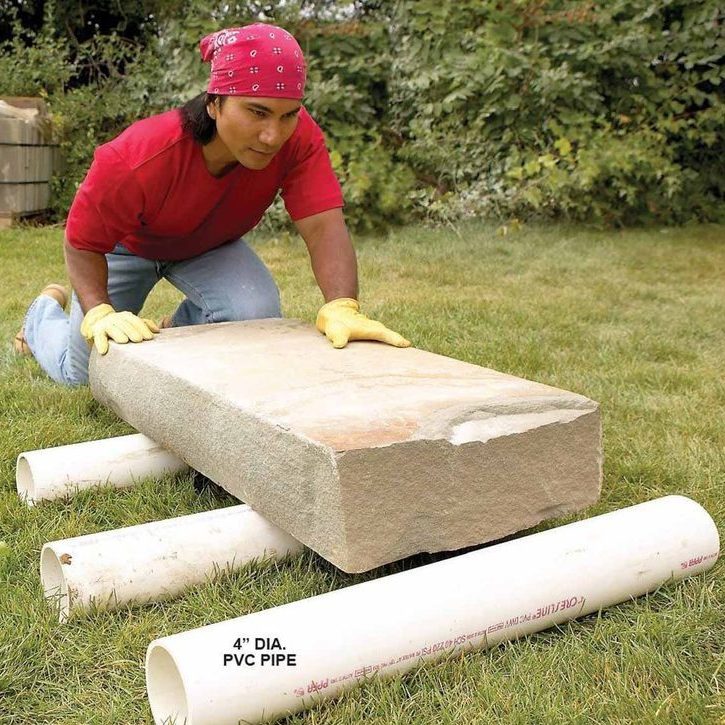 The easiest solution would be to cut three PVC pipes of 4 inches in diameter. Place two under the object, one near the front, the other in the middle, and the last in the back. Just slide it over your "wheels." You know the drill.
38. Pegboard Holders For The Win
Pegboards deserve a lot more love and attention. We find them more useful than boxes or bags. It is much more convenient and clean for us, and we have found they make the perfect craft supplies holders when paired with PVC pipes.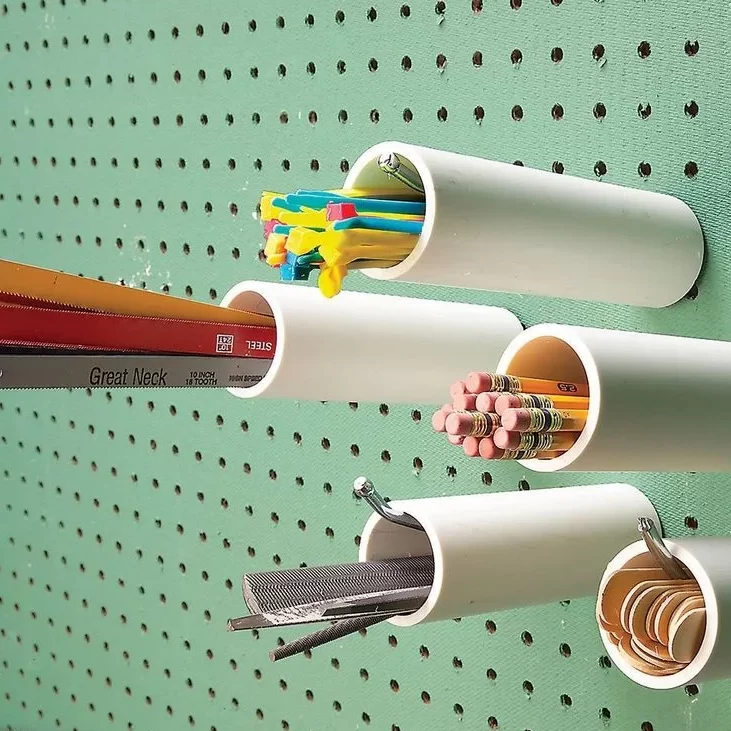 You can have separate compartments for every product. To make your life a bit more trouble-free, cut small lengths of PVC (but long enough that stuff won't fall out, of course). Fix them on the pegboard hooks, arrange your crafting supplies, and voila! You are done.
39. Don't Put In That Extra Effort
Cutting the grass can be hard work. Especially if you are doing a full-fledged mowing that will require many tools and even more water to keep you hydrated. It is not physically possible to carry all that stuff at once.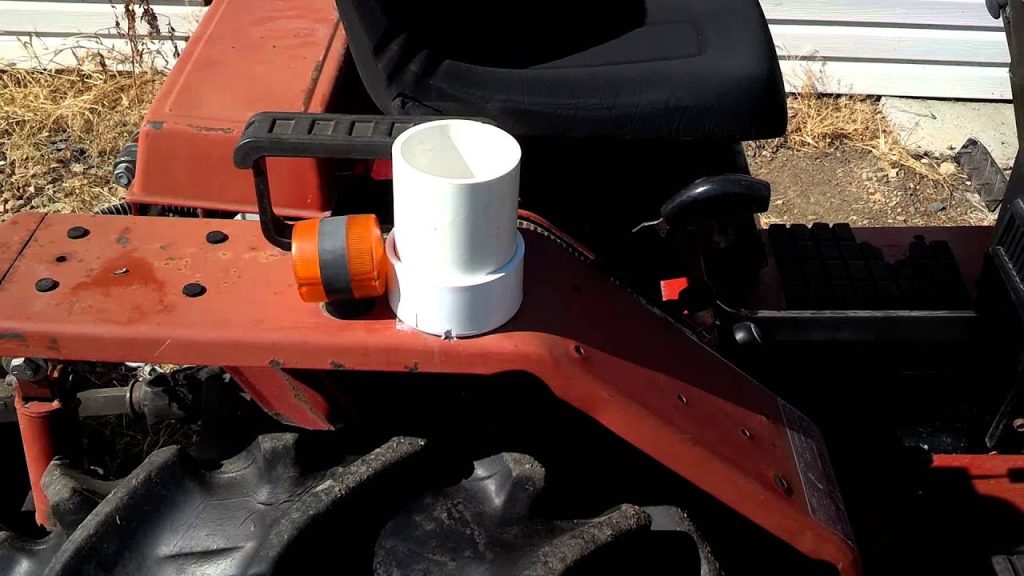 To make quick work of the task, you can use this trick. Attach short lengths of PVC pipe to the mower's handles to hold tools or water. This will mean no more trips back and forth to the house or garage to fetch what you need.
40. Special Curling Iron Storage
There comes a lot of responsibility with having a curling iron. You cannot lay them on your couch after using them because you will end up scorching the upholstery. Another issue girls face is how tangled the cords can get in the drawer.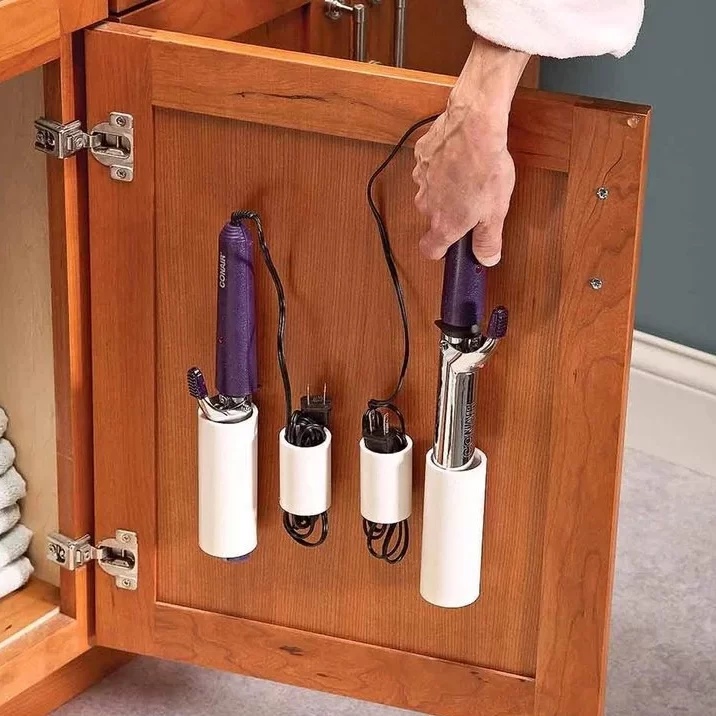 There is an easy solution to all these issues. Grab a few PVC pipes and cut them according to the length of your product. Similarly, cut another pipe that will store the wires, Drill it side by side to your cupboard door.
41. Multi-Usable Storage Box
How nice would it be if you could have just one decent storage box that could hold most of your belongings, from gift wrap to essential tools and much more? We can make this little dream of yours come true.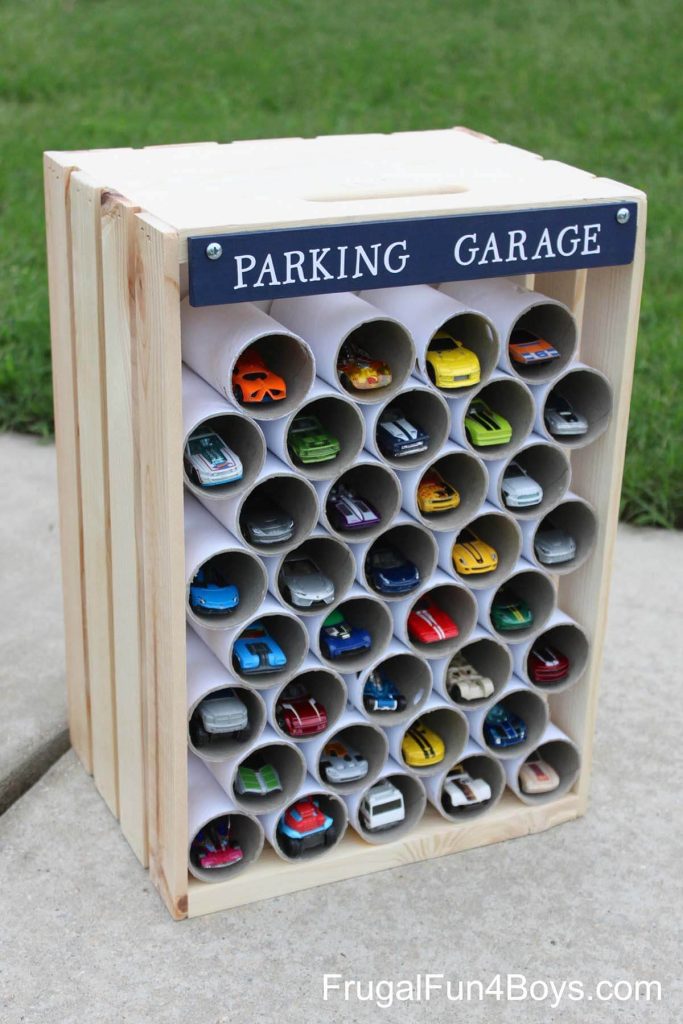 But, you will have to put in a little effort into it. Find a box of a size you like; it should be empty inside. Now take PVC pipes, securely glue them to the box, and make sure that they are correctly fitted.
42. Space For Vacuum Attachments
Many of our electrical appliances come with different types of attachments. Although some are not frequently used, they have their benefits and should not be cast aside. This is especially true of vacuum cleaners. We'd all love to keep those accessories better organized so we can easily find each piece.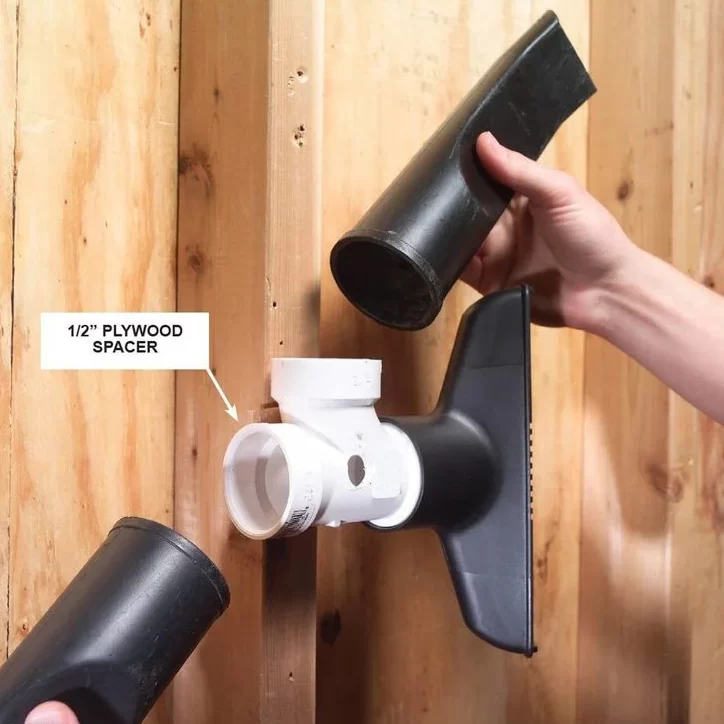 You can store them conveniently by making a storage unit with PVC pipes. Drill a hole to hold a screwdriver. Set a small spacer behind the tee. After mounting it to the wall, you can store your vacuum attachments, keeping them neat and within reach.
43. Knife Safety
There is no doubt that adequately stored utensils make your kitchen prettier and, at the same time, your life a bit easier. The ones that requires the most attention are your knives. This is especially true if you have little kids at home.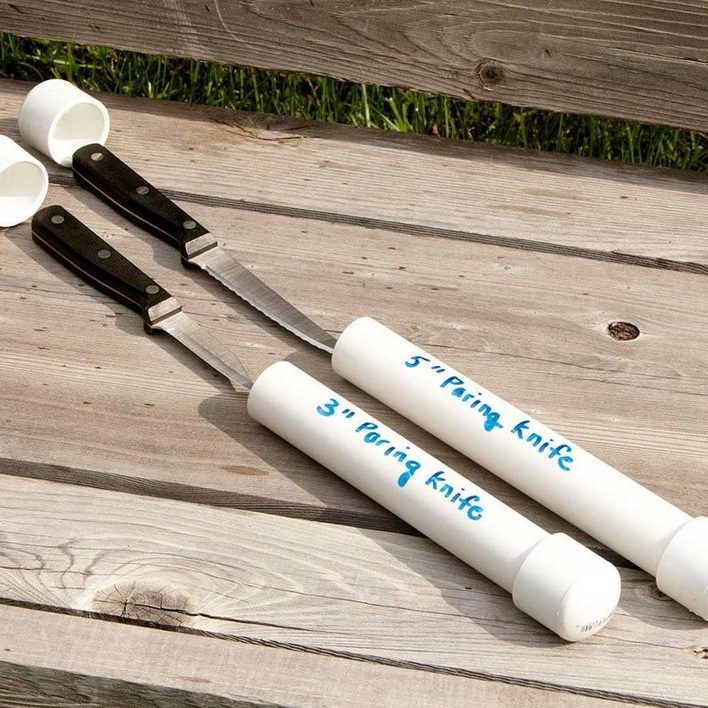 You will need some PVC pipes to make a secure storage space for those knives. Glue a lid on one end of the pipe and leave the other end open to store the knife and cover the top with another lid.
44. Uncomplicated Bungee Cords
We know how much of a task it is to have those bungee cords with you and no place to keep them. You will need a unique space to store those stubborn cords. And we have the perfect one for you.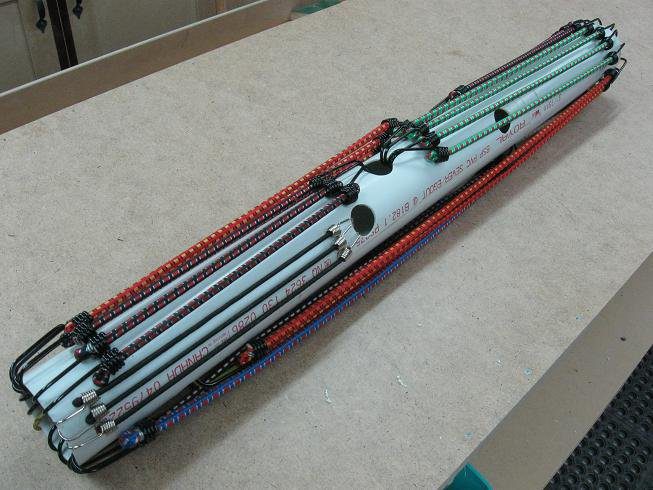 You will require a 3-inch PVC pipe, which will do the job. Drill a few holes in the middle, ensuring they are well spaced out. You can use the holes for shorter cords, and hook the longer ones across the length of the pipe.
45. Visible Gutter Space
Cleaning gutters can be challenging because some areas will inevitably be missed. To stop this from happening, you'd have to step onto the roof, where you'd have a better view, but this is risky. Here's a quick fix for you.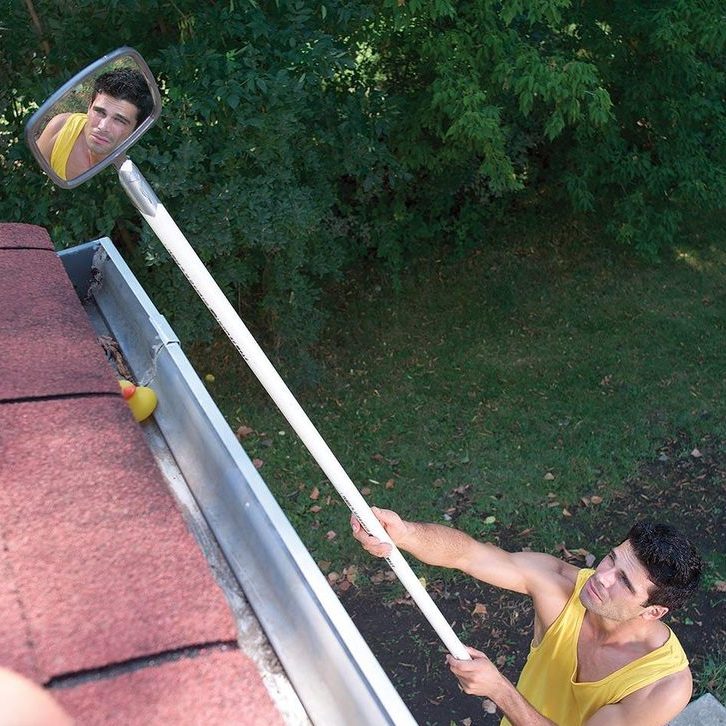 Make a 60-degree angle on the end of a PVC pipe and attach a hand mirror to it. Take the pipe with you when you have to clean the gutters and we promise you will do an amazing job every time.