When Uptown Goes Downtown: 30+ Celebs Spotted Riding The Subway Just Like We Normies Do
By Larissa C November 15, 2022
---
This article was originally published on
WhyThese
When we think of celebrities, we think of glamour, wealth, and fame. Indeed, superstars have all three things, and their lives are like fairytales — or at least that is what we think. Behind closed doors, there's no way for us to know what goes in a celebrity's life.
But once a superstar steps outside, the whole world watches their every move. And that includes the times they ride the subway. With all their money, you would think that celebrities would never use public transportation!
Whether it's for fun or because they genuinely want to use public transportation, lots of celebrities are often spotted at train stations, especially in metro areas like New York and London. If you don't believe us, here are 35 pictures of celebs "caught" riding the subway!
1. Ed Sheeran
Since debuting his hit song "Thinking Out Loud," Ed Sheeran has become a household name. He's sold over 80 million records, which is an impressive feat. The British singer is worth millions of dollars, hence why people were shocked to see him in the subway.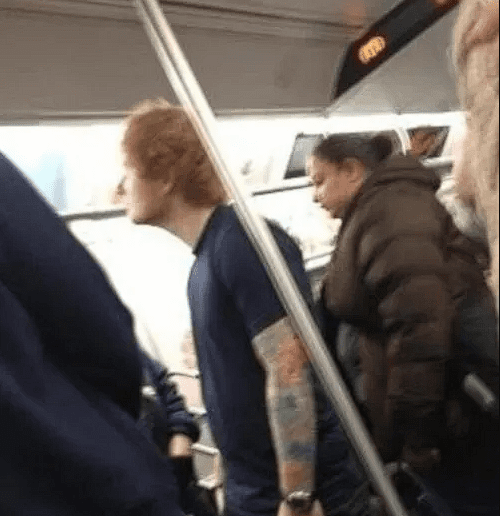 Imagine commuting to work and finding yourself standing right next to Ed Sheeran himself! Either the New Yorkers around him didn't recognize who he was, or they were simply used to seeing celebs everywhere. Regardless, the "Shape of You" singer looks pretty comfy riding the train.
2. Sarah Jessica Parker
SJP is the kind of actress that has "New York City" written all over her. The Sex and the City star was not born in the Big Apple, but she moved to the city at a very young age. As any true New Yorker, the star rides the subway regularly.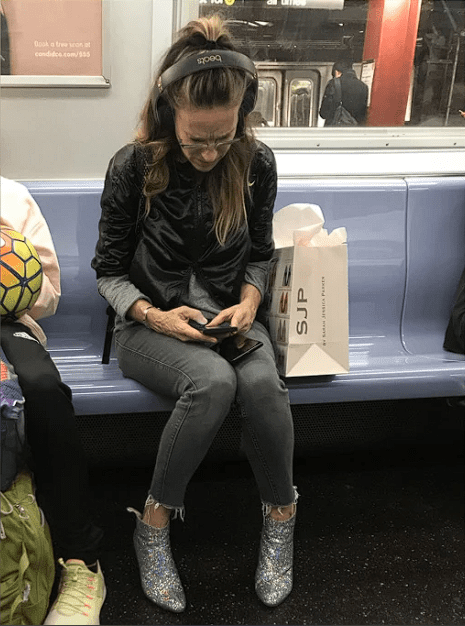 At first sight, anyone could've thought that this was just another rider. But if you take a close look at her sparkly shoes, you can immediately tell that Sarah Jessica Parker is not just another regular New Yorker — she's a star!
3. Andy Cohen
Truth be told, there's nothing glamorous about taking the train in a city where over eight million people live. During rush hour, subway cars get pretty crowded and most New Yorkers wish they didn't have to commute at these specific hours.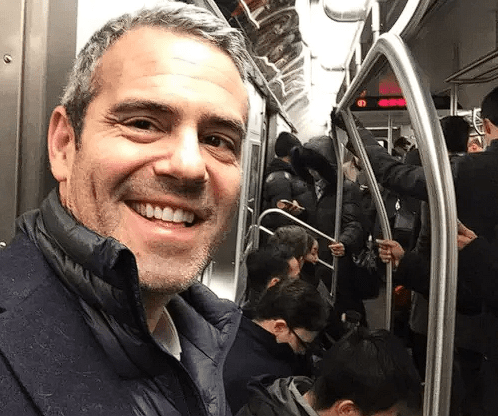 Well, it seems like Andy Cohen is not like everyone else. And we're not talking about the fact that he's a successful host and executive producer over at Bravo. We're talking about Andy's hilarious selfies in the subway. Who would smile like that when riding a crowded train?
4. Mariah Carey
Mariah Carey is a diva, and we mean that in the best way possible. She's a multi-talented superstar with a whistle register like no other. The "Without You" singer is the best-selling female artist of all time, so it's not surprising that she hasn't used public transportation in years.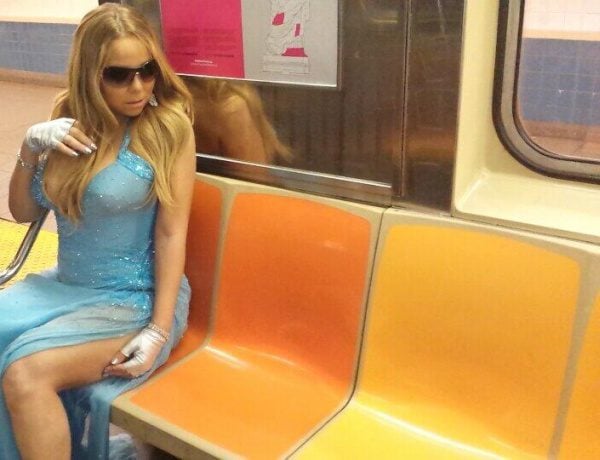 Back in 2014, the pop star rode the subway for the first time in years. She was going home after an event, which explains the fancy gown. The funniest thing here is that Mariah is staring at the seat with a look that says, "When was the last time somebody cleaned this thing?"
5. Bradley Cooper
Bradley Cooper may be a successful actor and director, but he is one of the few Hollywood stars who have managed to keep their lives private. The actor is really lowkey and fans mostly see him in paparazzi pics because the actor is not on social media.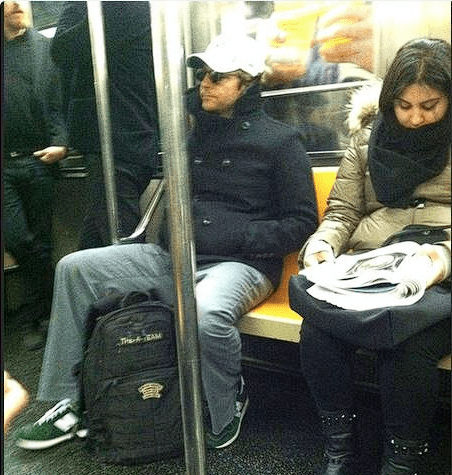 If we hadn't told you that this is Bradley Cooper, would you have recognized him? This is what we meant by "lowkey." Cooper looks just like any other New York resident, and maybe that's why no one is fretting over his presence in the subway car.
6. Tom Hanks
Do we really need to introduce Tom Hanks? The man is a national treasure! Hanks has starred in some of the most popular (and beloved) movies ever, but he never allowed the success to get to his head. Want proof of that?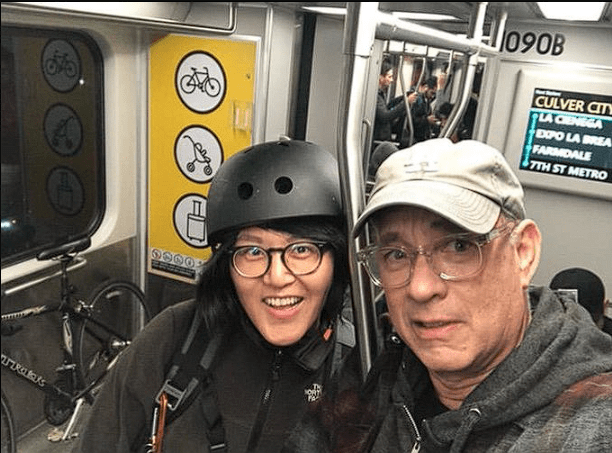 The second he stepped inside, this woman immediately recognized Tom Hanks. She obviously couldn't miss the opportunity to take a picture with the legendary actor. We genuinely wonder how come there isn't a long line of fans waiting to take their own selfies!
7. Keanu Reeves
If we're talking about lowkey, wholesome celebs, we definitely have to talk about Keanu Reeves. The movie star rose to global fame after his Matrix movies, and he's made a lot of money since the original trilogy (which just got a new installment) came out.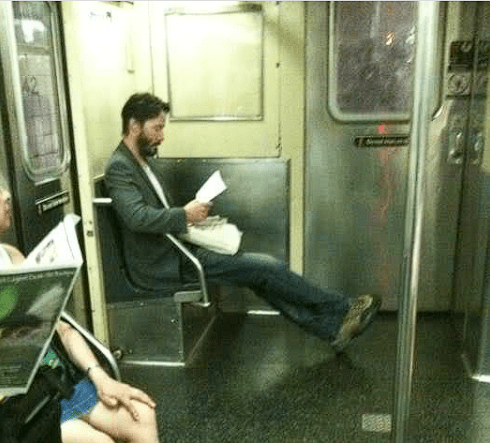 Keanu is easily one of the kindest and humblest celebs. The man doesn't seem to care about his $380 million net worth. He could have any car and hire any driver on the planet — but he chooses to chill in the subway while he reads the newspaper.
8. Harry Styles
Harry Styles is one of the biggest stars of this generation, but he had to work hard to get there. Before he became the apple in lots of girls' (and guys') eyes, the British star was just another starving artist trying to get his big break.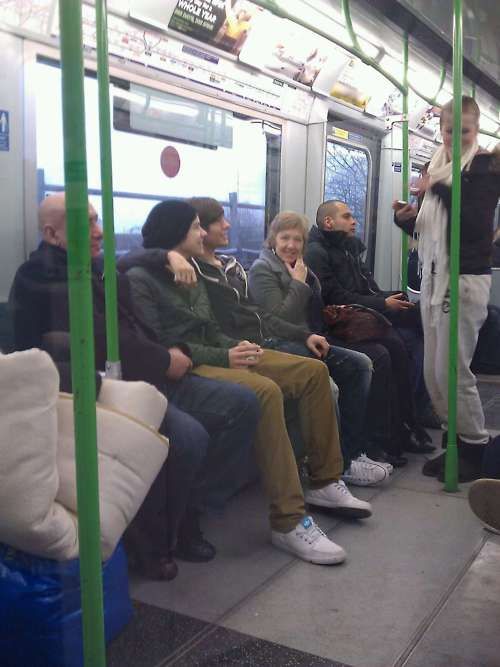 These days, you won't catch Harry using public transportation anymore, but he was often spotted on a train back in the early 1D days. In this picture, he's sitting next to bandmate Louis Tomlinson, and the two are happily chatting with the other riders.
9. Kim and Kourtney Kardashian
Kim Kardashian may have just recently called it quits with New York's own Pete Davidson, but her relationship with the city goes way back. Over a decade ago, Kim and her family were in NYC to shoot an episode of their hit reality TV series, KUWTK.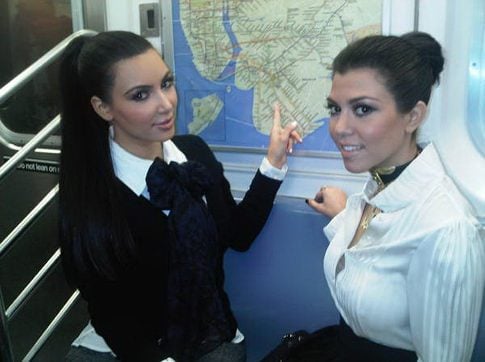 When the cameras were off, Kim and Kourtney spent most of the ride taking pictures while riding the subway. The entire "photo shoot" is hilarious, mainly because they look so out of place. Even the way Kim is posing is funny; it looks like this was her first time using public transportation!
10. Nicole Scherzinger
Every pop fan knows Nicole Scherzinger. How could they not? She was the lead singer of one of the most successful girl groups of the 2000s, after all. Yet, even with all the money she made with PCD, Nicole still appreciates riding the subway.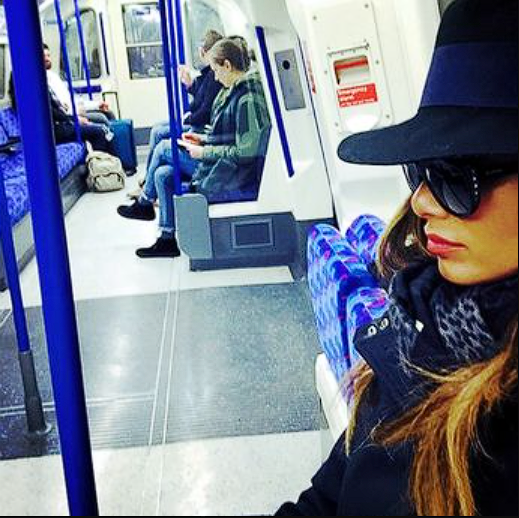 We don't need to tell you that this clean-looking train with comfy-looking seats is not in New York City. This photo was taken in London, back when Nicole was still dating Formula 1 icon, Lewis Hamilton. This was her first time riding the Tube, and she obviously tried to remain incognito while there.
11. J Cole
J Cole is the kind of legendary celeb who doesn't let fame get to his head. The rapper is one of the most popular of his generation, yet he's still as humble as he was at the beginning of his career.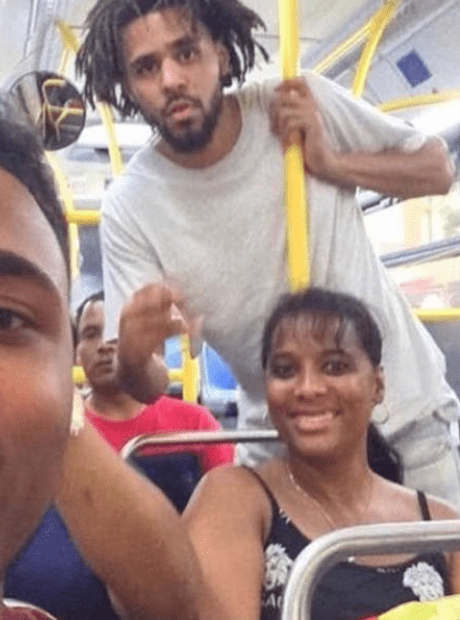 On top of being a nice guy, J Cole is also pretty lowkey, so imagine how surprised his fans were when the rapper hopped into this bus. This kid recognized him and was lucky enough to get a selfie with his mom and his idol.
12. Matthew Broderick
Matthew Broderick is a cinema and Broadway legend. The actor was born and raised in Manhattan, but we can't say he's pretty used to taking the train. That's because our dear Ferris Bueller is a nepo kid and probably had a driver growing up!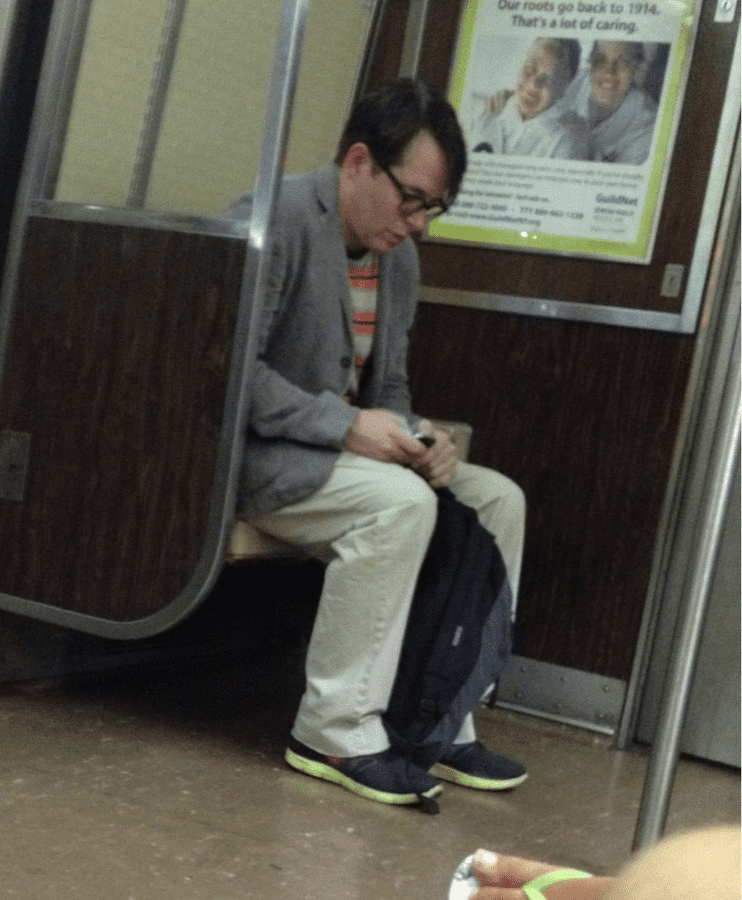 Well, those days are behind him now. Matthew, and his wife Sarah Jessica Parker, are often spotted around New York City, including taking the train from time to time. Good for him for choosing public transportation over a private car!
13. Allison Janney
While we may have this idea that most celebs are rich and live classy lives, they're not all the same. Some people star in lots of successful productions, win some of the most prestigious awards in the industry and still ride the train like regular human beings.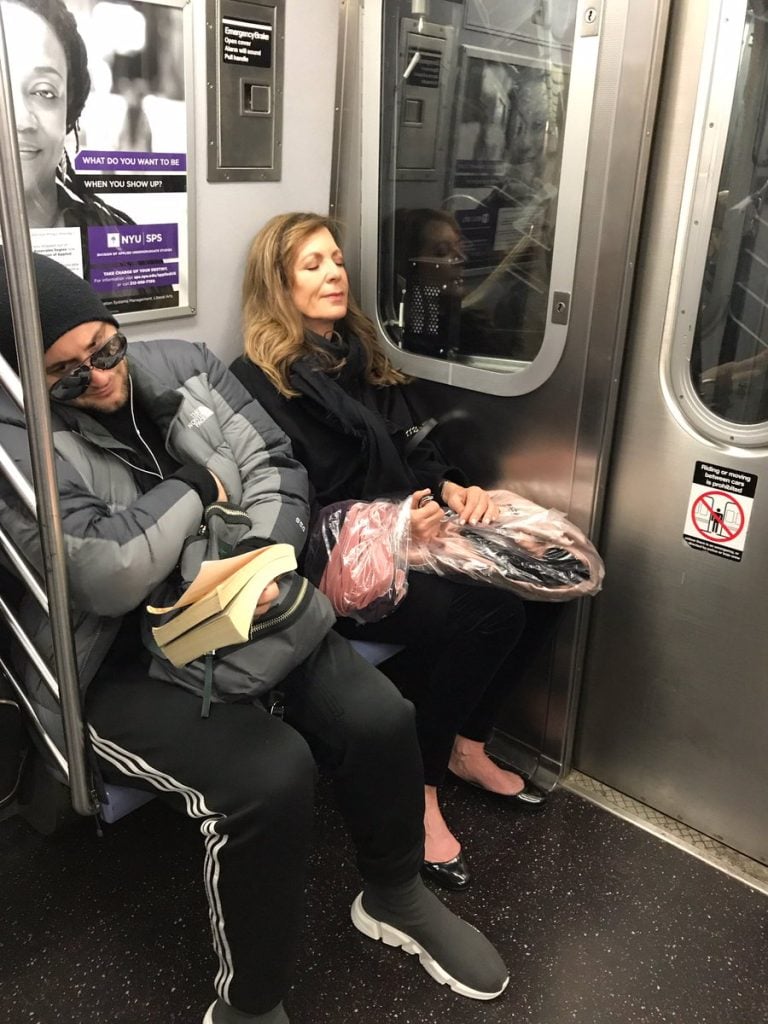 Alisson Janney is one of these people. The actress is only a G and T away from being an EGOT winner, yet she's totally humble. It's pretty funny to see Janney taking a quick nap on the train after a hard day's work!
14. Helen Mirren
What would your reaction be if you were riding the train home and sat directly across from a movie star? For us, this would be the best moment ever. But New Yorkers are probably used to that so they just snap a pic and go on about their days.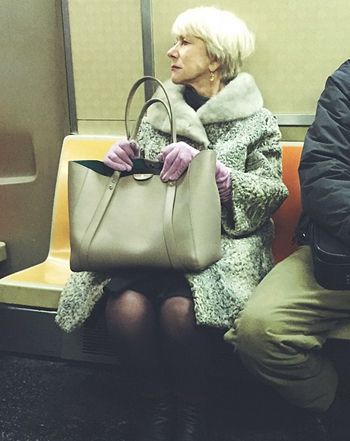 Helen Mirren is a dame, and even the most elegant of dames catches the train from time to time. We don't blame her for choosing the subway — it's definitely better than dealing with the traffic in Manhattan. Though we'd advise that she take the bus next time; they're comfier.
15. Drew Barrymore
Most Gen-Z kids know Drew Barrymore from her talk show and from her TikTok — after all, we've all seen her video going crazy during a rainstorm. But if you didn't know this, the star is part of the legendary Barrymore family and she's one of the stars in the iconic Charlie's Angels.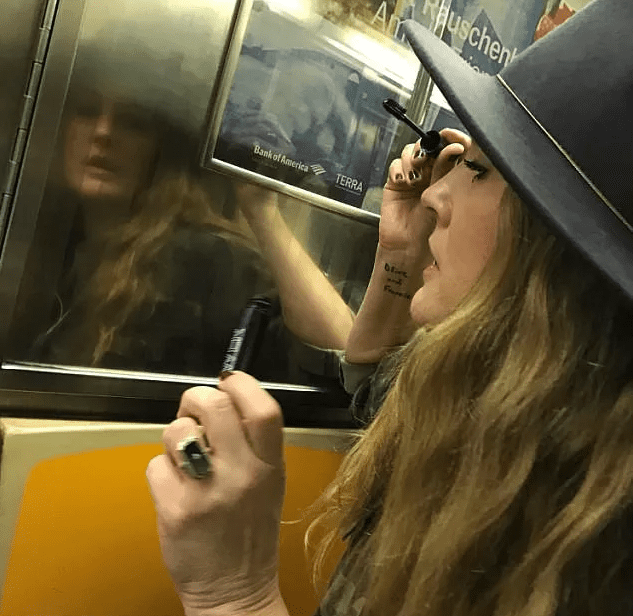 Above anything else, Drew Barrymore is a hilarious person. The actress has been famous since forever, so she doesn't need to put on airs to prove herself. At this point, she's just living life to the fullest. And that includes touching up her makeup in the subway!
16. Jay Z
Jay Z is the second-richest rapper on the planet, but all the money in the world couldn't keep him from riding the subway. Well, the guy was raised in Brooklyn, so he probably knows how to deal with public transportation.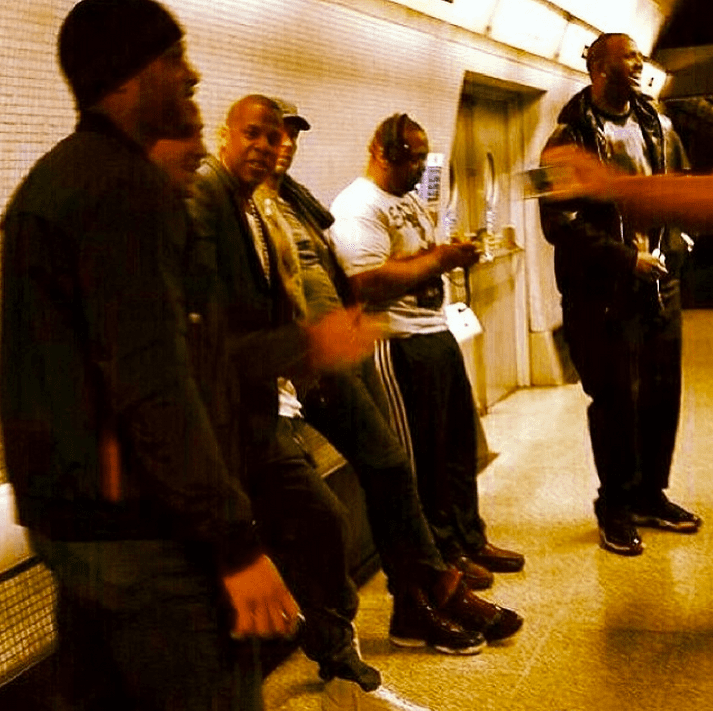 In this picture, Jay Z was waiting for the train in London and he looked like he was having a lot of fun. Who wouldn't be laughing and having a good time when they're standing right next to Coldplay's Chris Martin and Timbaland, right?
17. Andrew Garfield
Andrew Garfield was once the friendly hero of the neighborhood, but the responsibilities that came with his great power didn't keep him from using public transportation. These days, it's pretty hard to spot the actor, so this person was really lucky.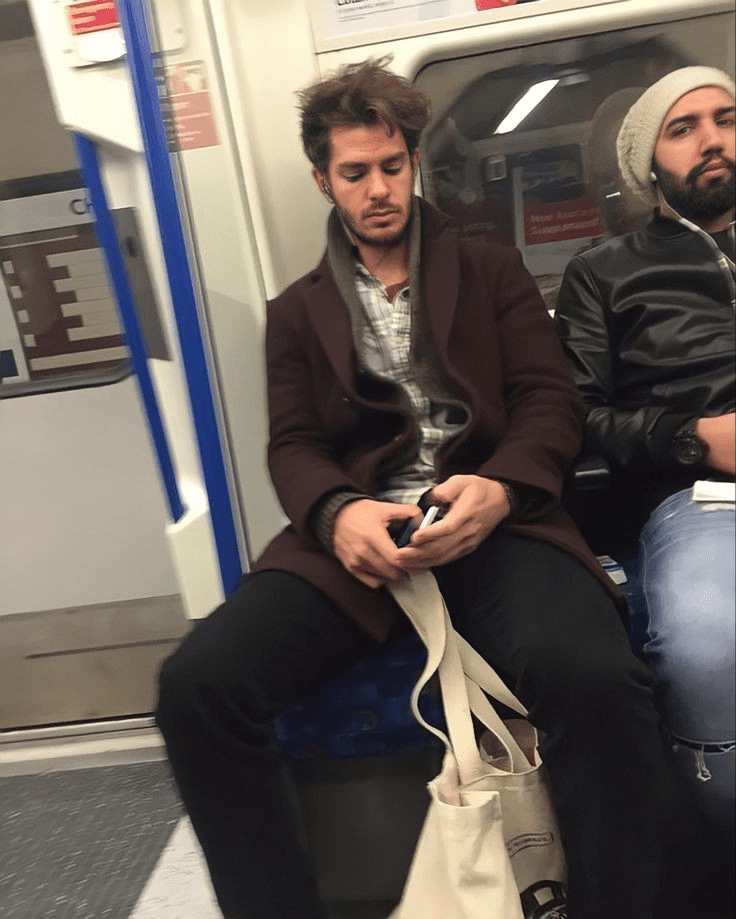 Actually, the guy sitting next to Andrew Garfield is the lucky one here. Judging by his relaxed stance, he probably doesn't even recognize the "tick, tick… BOOM!" star. It's always the people who don't follow celebs that get to be that close to them!
18. Dave Grohl
Dave Grohl is one of the few musicians who got lucky enough to move from one successful band to another. Not a lot of people can say they were a member of Nirvana and then founded one of the most successful rock bands of the 2000s.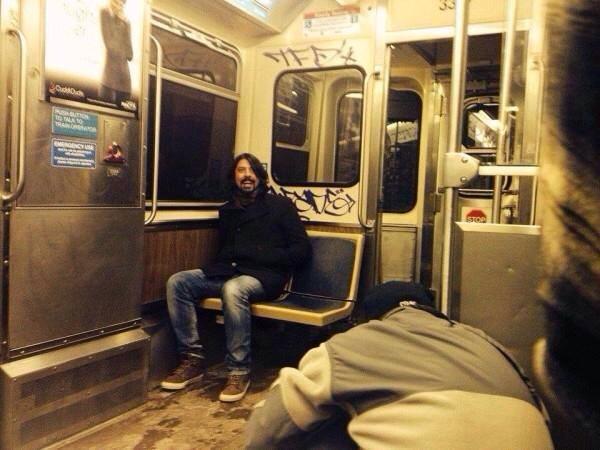 The Foo Fighters lead has enjoyed an iconic career in rock music, and his band can still draw almost 100,000 people to their concerts! With that in mind, it's not hard to understand why the singer looks so happy as he rides this messed-up train.
19. LeBron James
Ever since Michael Jordan retired from basketball, only one other athlete has enjoyed a similar "legend" status, and that athlete is LeBron James. He's won the NBA championship four times, with three different teams! And now he's crowned as the G.O.A.T. who uses public transportation.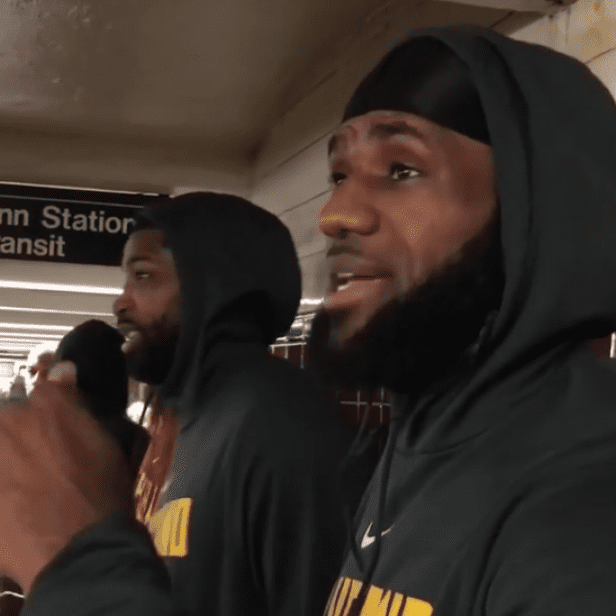 Well, we're pretty sure that LeBron would much rather ride his Ferrari or his Lamborghini, but this was a special occasion. Back when he played for the Cavs, LeBron and the team decided to ride the subway because it would get them to their game faster than the bus would!
20. Jennifer Lopez
Honestly, we would be shocked if Ms. "Jenny From The Block" was not featured on this list. J-Lo is a proud New Yorker, so it's only natural she would use public transportation in the city. And leave it to the pop star to look that good while waiting for the train!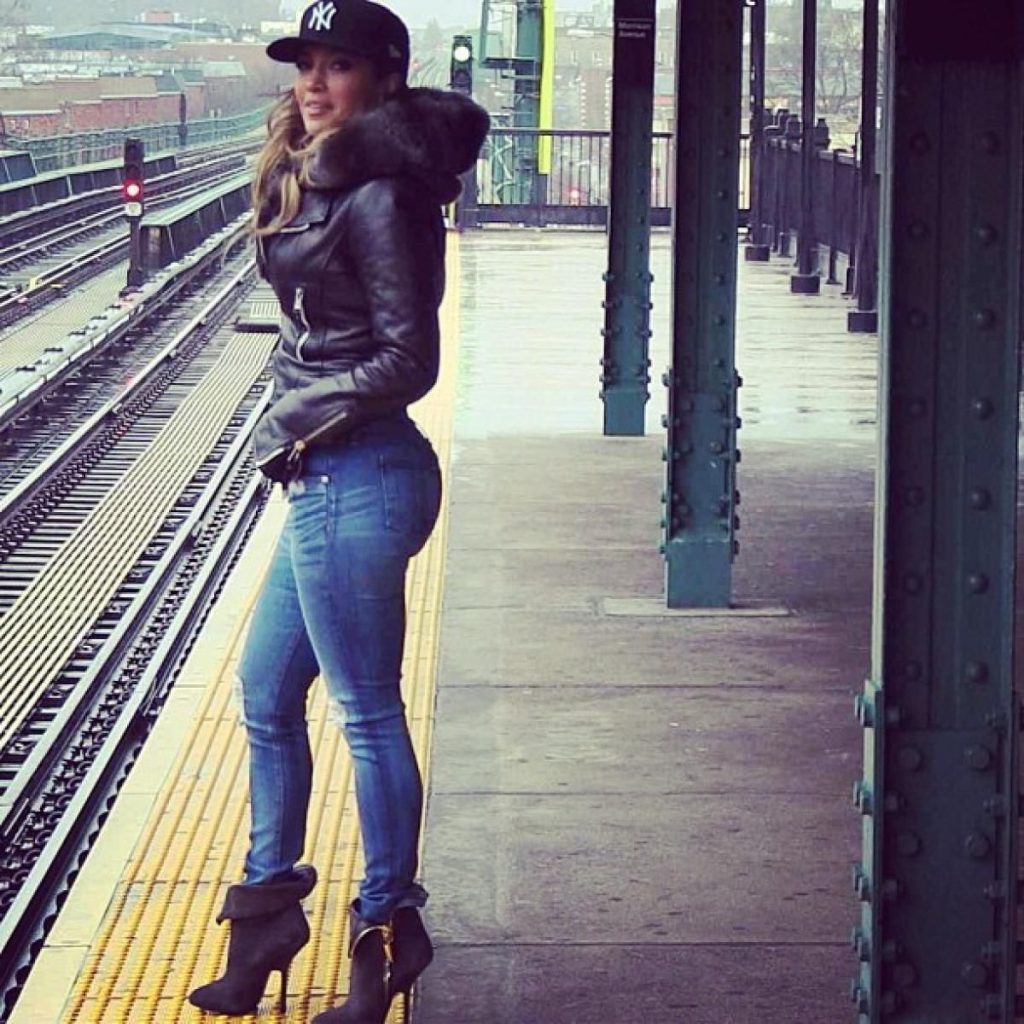 The road to stardom was not easy, but now Jennifer Lopez is one of the wealthiest stars in Hollywood. She rarely uses public transportation these days, but we don't really blame her. Who would trade the comfort of a nice car to ride the train?!
21. Jake Gyllenhaal
Well, well, well… if it isn't Mr. Jake Gyllenhaal riding the train on the East Coast with a blonde woman! Hey, we're just kidding. That's obviously not the blonde woman who you thought we were talking about — but that sure is Jake Gyllenhaal using public transportation.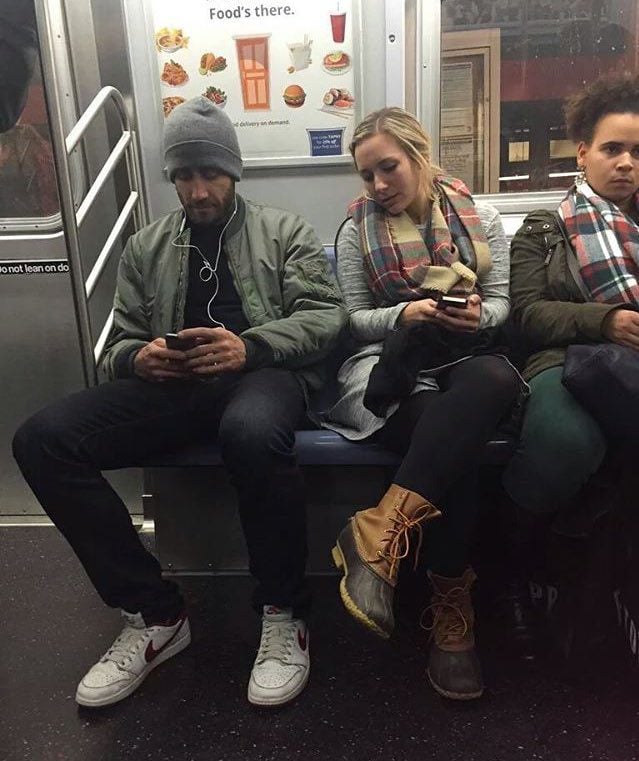 Jake bought an apartment in Tribeca for over eight million dollars, so it's not shocking that he's riding the train. He's probably trying to save some money after paying so much for an apartment. Now, the real question is: was that lady peeking at Jake's phone or checking her shoes?!
22. Jennifer Lawrence
Jennifer Lawrence rose to fame after starring in the iconic Hunger Games franchise, but she won the public's heart with her personality. Have you ever watched one of her interviews? She's so funny and charming you can't help falling for her!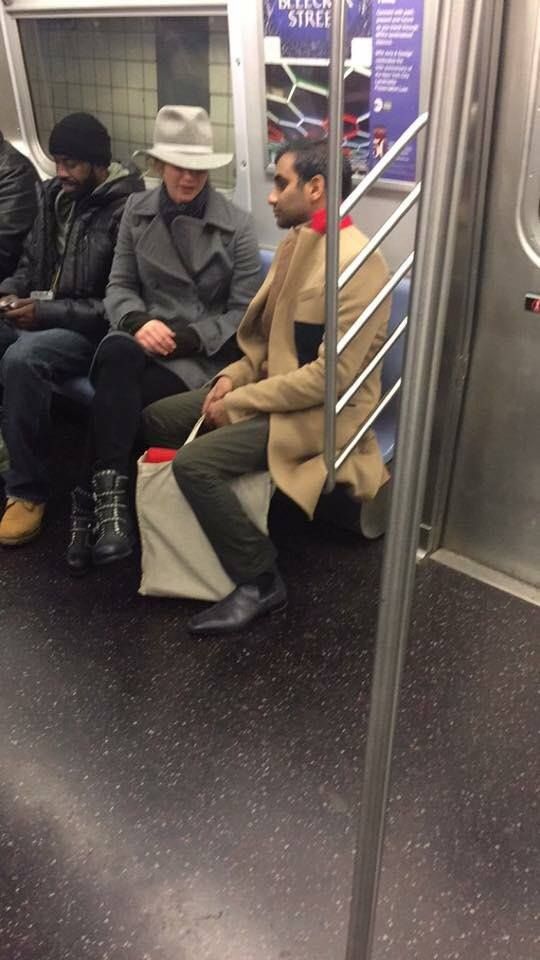 J-Law may be wearing that huge hat (at night), but we would recognize that lopsided smile anywhere. The actress lives in New York, but she's rarely spotted in the subway — Jennifer prefers to walk places. And yes, that's Aziz Ansari sitting next to her.
23. Paul McCartney
Few people in the world are as famous as the Beatles. The guys became globally famous over 60 years ago and the two members who are still alive as regarded as living legends. But that status doesn't stop Sir Paul McCartney from using public transportation in London.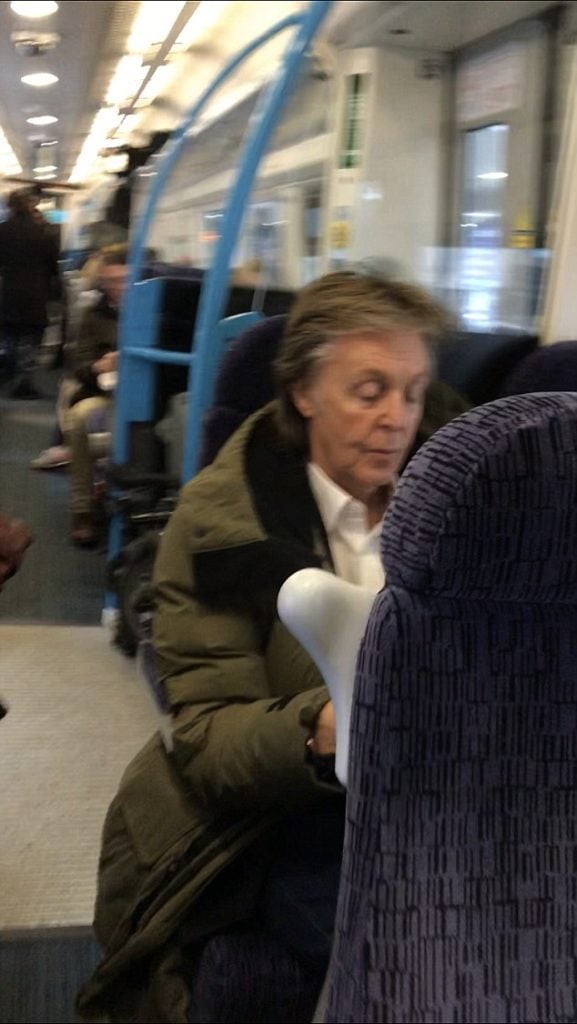 He looks so chill in this picture that it's kind of hard to tell that this is the Paul McCartney that attracted over 180,000 people to one of his concerts back in the '90s. It's surprising to see that the singer goes about his day without security men or his entourage keeping him company.
24. Cynthia Nixon
Everything Sex and the City-related reminds people of the Big Apple, and the leading actresses are no exception. Can you imagine Sarah Jessica Parker living anywhere else? Or Cynthia Nixon? In fact, Nixon was born, raised, and never left New York.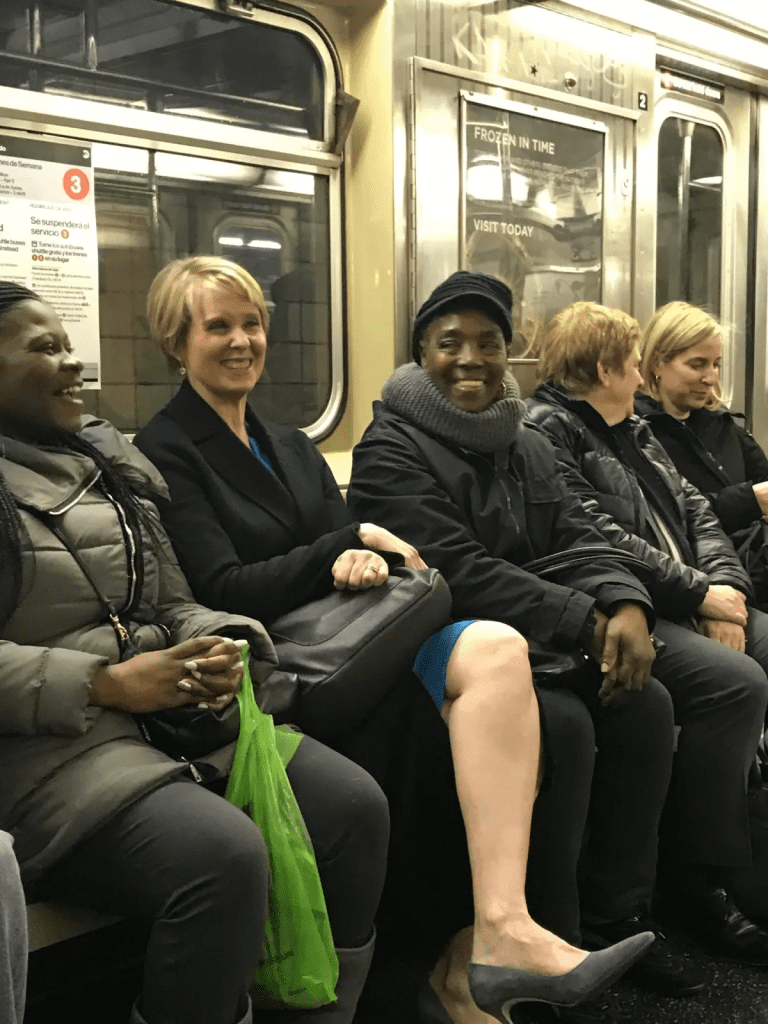 She looks pretty happy to be riding the train, but there's a very specific reason for the smiles. When somebody took this photo, Cynthia was running for governor. Hence the photo-op. The actress was just trying to relate to her voters!
25. Emma Watson
If the topic was "child stars who became immensely successful," we'd have to talk about the Harry Potter kids. Daniel, Rupert, and Emma made a lot of money with those movies, and they became famous globally thanks to the franchise.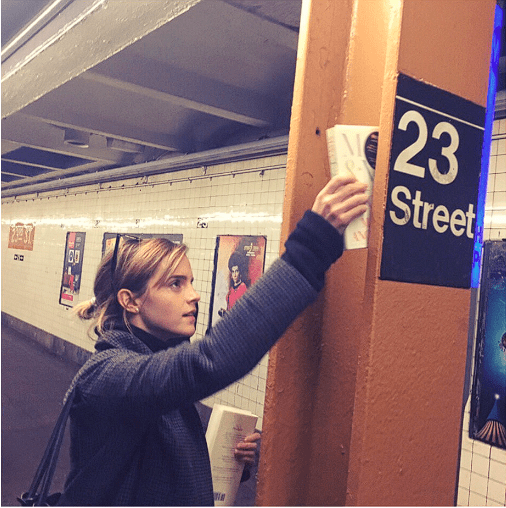 Ms. Watson is a humble celebrity who goes to college and rides the train just like the lot of us. And she's really nice for leaving books in the subway. The only thing that's disappointing in this photo is the fact that she's not on Platform 9 ¾.
26. Rihanna
When it comes to Rihanna, it's kind of hard to describe the multi-talented lady. Should we call her a singer, actress, or entrepreneur? It's been so long since she released new music or starred in a movie that it's difficult to decide!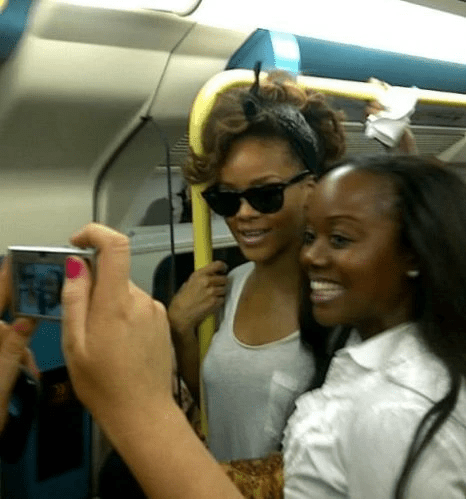 Before Rihanna was dedicating all of her time to her Fenty brand, she used to be a great performer. Jokes aside, the iconic celeb is one of the few superstars who are totally down to Earth. This photo was taken when Rihanna was riding the train on her way to an arena concert!
27. Katy Perry
In the early 2010s, Katy Perry could be seen or heard anywhere in the world. If you don't remember those years, that was around the time that Katy released one of the most iconic pop albums of all time, Teenage Dream.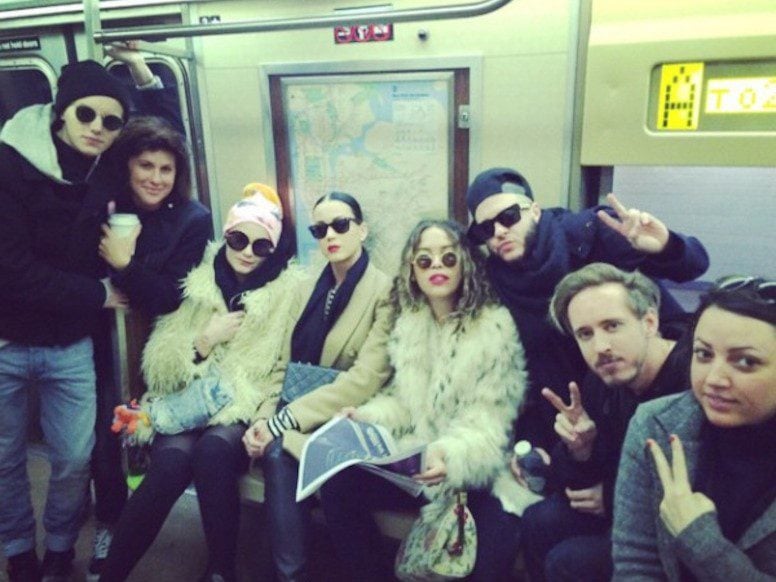 Not a lot of artists can say that they scored five number-one hits on the same album. Actually, it's only Katy Perry and Michael Jackson who have ever achieved that feat. And all the success in the world (plus three million album sales) didn't stop Katy Perry from using public transportation with her friends!
28. Lily Allen
Lily Allen has released lots of bops throughout her career, and we still jam to some of her old songs to this day. Oh, and we're also quite jealous of the British singer for being married to David Harbour. The guy looks amazing and seems like an overall great person.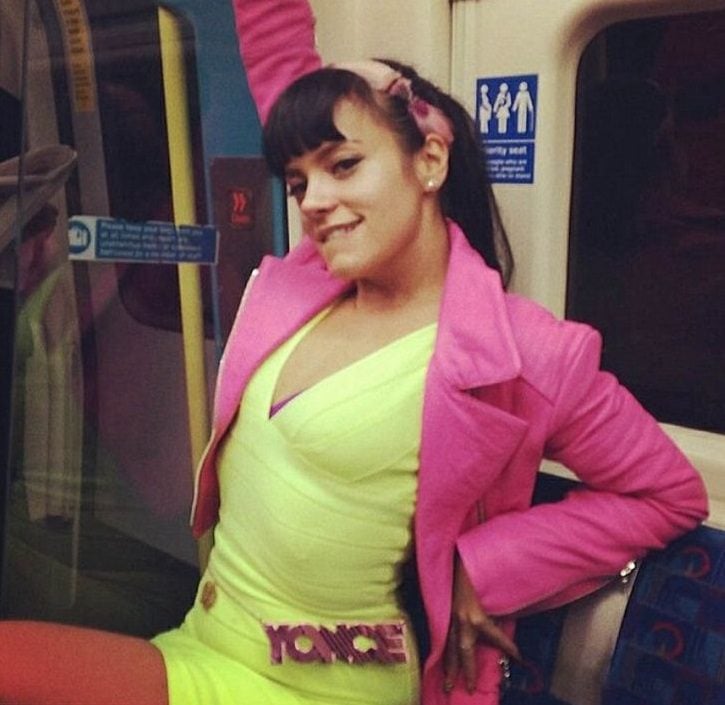 Lily Allen is one of the coolest celebs there is, so we're not as surprised to learn that she regularly uses public transportation. Whether she's in London or in New York, the singer is always taking the train — and she even makes it look cool!
29. Neil Patrick Harris
Honestly, who doesn't love Neil Patrick Harris? Not only is the actor incredibly good-looking and talented, but he is also really nice. If you haven't yet, you should totally check his IMDb page and check out how many incredible movies and TV shows he's been in.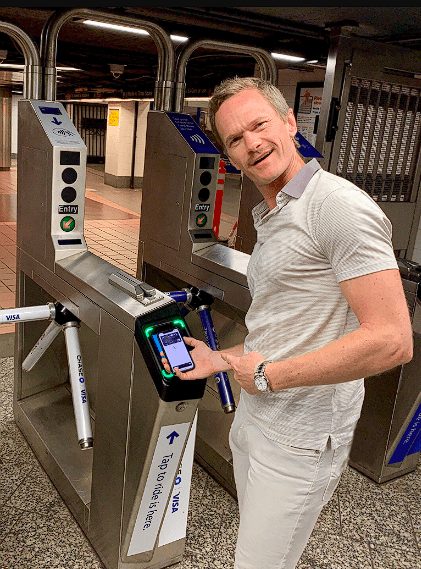 Like a bunch of other celebs, NPH lives in New York City and uses public transportation a lot of the time. In fact, he takes the train so often that he has his own MetroCard and posts selfies of himself paying for his ticket. He's so relatable!
30. Kendall Jenner
If you thought that Kim and Kourtney were the only members of the Kardashian-Jenner clan that used public transportation, you're mistaken. The eldest Jenner sister is not yet a billionaire like her entrepreneur baby sis, so she still rides the bus from time to time.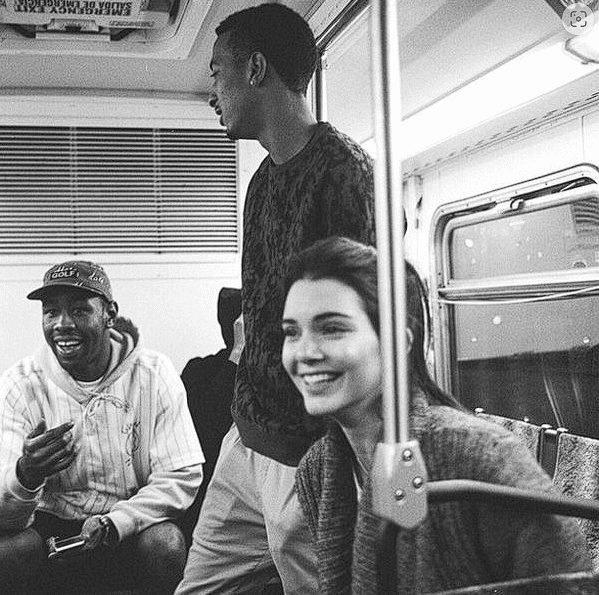 We're just kidding. Kendall is rarely spotted on the subway or on a bus, but this was a special occasion. She was hanging out with her friends, including Tyler, The Creator, and they dragged her along as they took a public bus. At least it seems like she's enjoying herself, right?
31. Tom Hiddleston
What is it about British men that makes them so charming and chic? Actually, we don't know about most British men, but Tom Hiddleston definitely deserves those adjectives. If you don't believe us, check out this next photo and think again.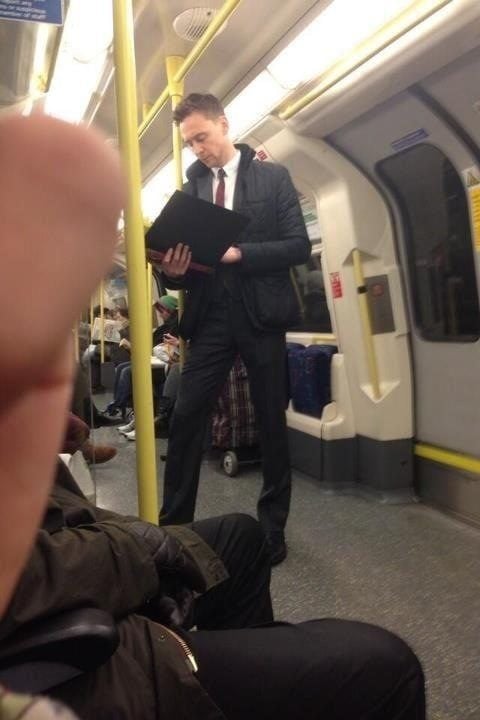 How many men can look that handsome while riding the Tube? The actor might be globally known for his role in the Marvel Cinematic Universe, but his success as Thor's brother Loki doesn't keep him from being eco-friendly and choosing the subway over a private vehicle!
32. Niall Horan
If you followed One Direction during the group's peak, you know just how famous those boys got. Actually, they had a massive following during their X-Factor days, before they even had a single hit song. That's why it's rather surprising to see this selfie of his.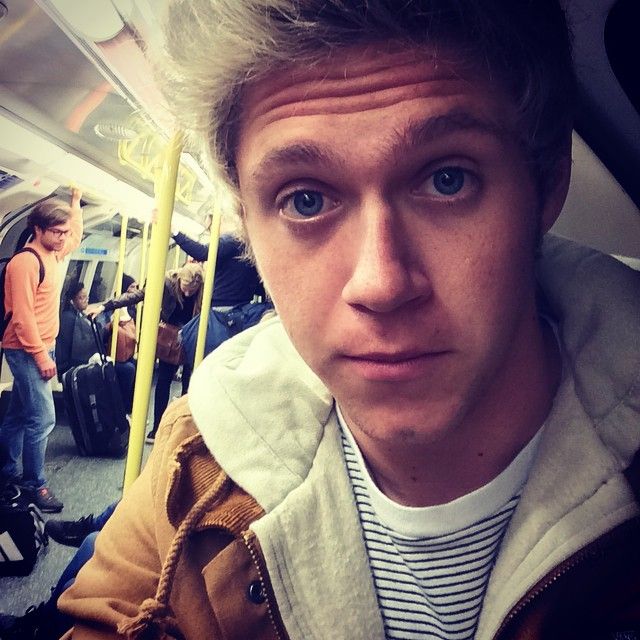 The fact that Niall Horan was able to take the Tube without having a crowd of young girls and teenagers following him around is impressive. Judging by the people in the background, it seems like nobody even recognized him, which he was probably grateful for!
33. Sebastian Stan
If you're a huge fan of the glamorous world of celebrities, you should probably move to New York City. You'll get to spot your favorite celebs as you take a walk around the block or ride the train to work.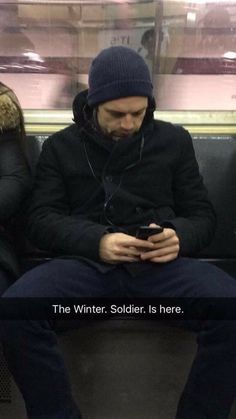 The person who took this photo immediately recognized The Winter Soldier, also known as Sebastian Stan, the second the actor stepped into the train. And it's clear that this fan was having a lucky day, considering that his favorite actor sat directly across from him!
34. Fergie
Fergie rose to global fame with the Black Eyed Peas, but the band's lead singer also enjoyed solo success for a while. Though we have to mention that had some tough moments in her career, namely the time when she sang the National Anthem and became a joke across the country.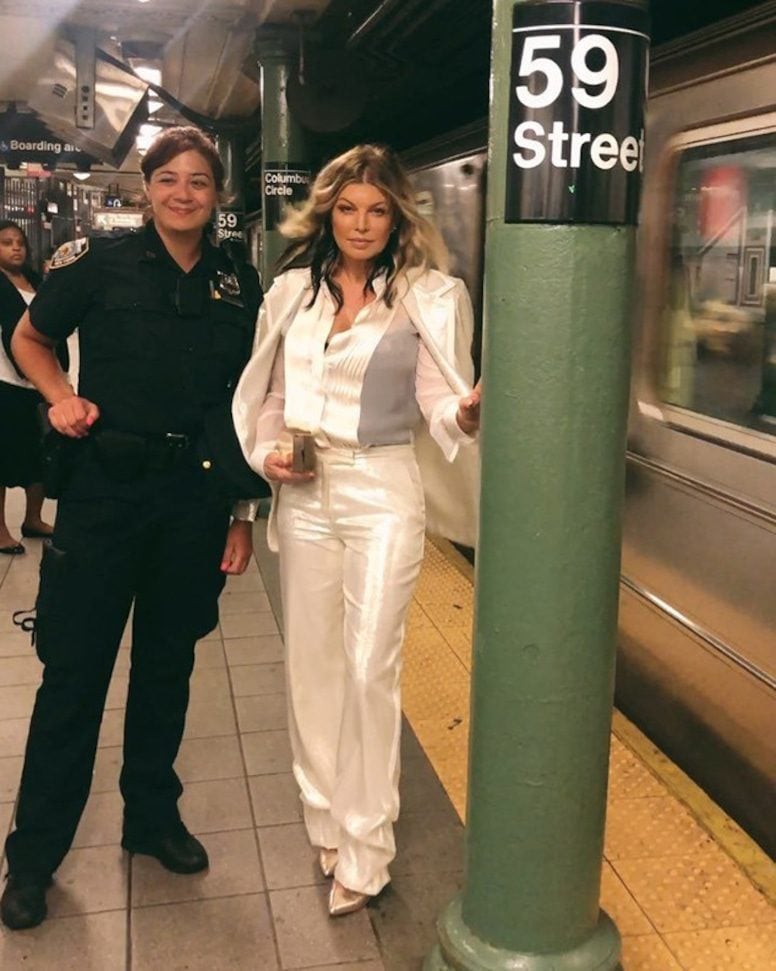 Fergie may fly first class, but she's definitely not riding first class. The singer took the subway in New York City and just had to share the moment with her followers. Say whatever you want about Fergie, but she's definitely a glamorous rider.