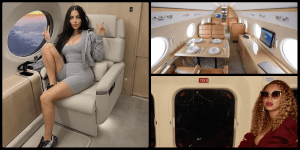 40+ Pics Of Celebrities With Their Private Jets We Can't Help But Be Jealous Of
By Hans A
---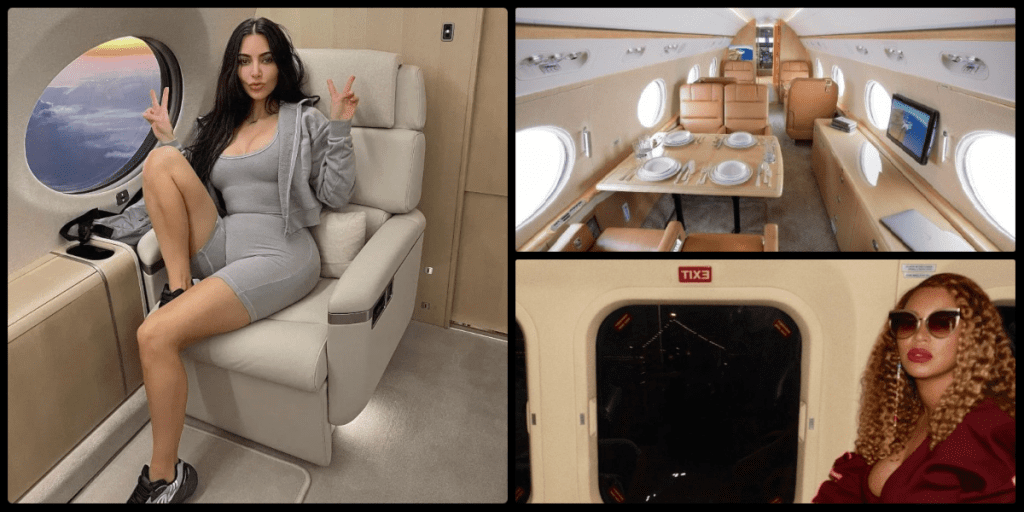 Let's face it, riding in style is always the best way to go, and nothing is more stylish than flying to your destination inside a sick jet. But there's one more thing better than that: flying in a jet that you actually own. It isn't all that practical to buy one under normal circumstances because of the steep price tag, but if you're working in a career that calls for you to be at many places at once, then it's a purchase that will make your life a lot easier. Whether you perform your music across the globe or film in different countries, then a private jet is the way to go, and these celebrities aren't afraid to flaunt it.
Rita Ora Doesn't Just Like Stylish Clothes; She Likes Riding in Style, Too
British artist Rita Ora has been known to make some daring fashion statements, to say the least. It's undeniable that she's confident with what she wears, and in this snap, she's seen sporting some cool digs while on her private jet.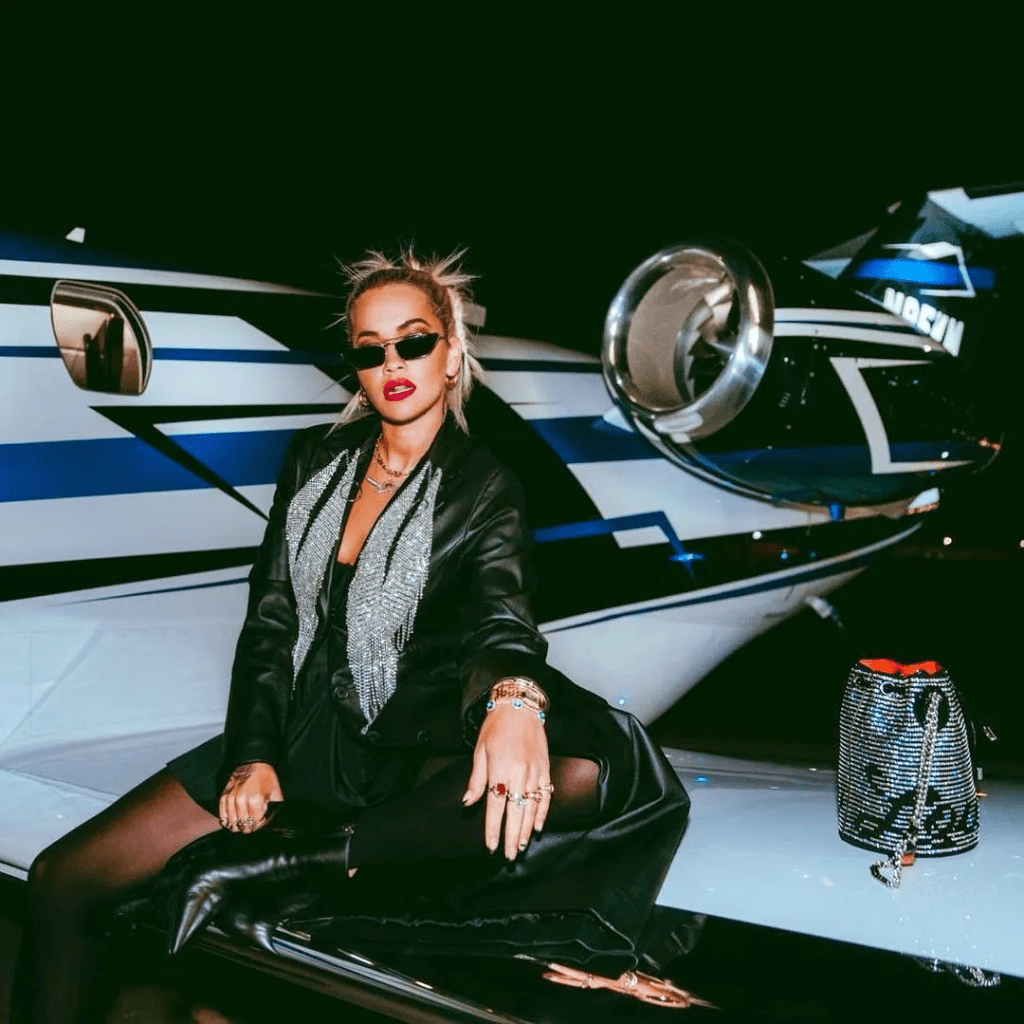 Posted on her social media pages, the artist is seen sitting atop her private jet sporting a Marie Jane bucket bag and a Luar jacket. If this picture doesn't make you scream in luxurious envy, then we don't know what will.
Rosie Huntington-Whiteley Blends Beauty and Motherhood in Private Jet Vacation Photos
In the realm of class, Transformers 3 star and fashion model Rosie Huntington-Whiteley is up there. Whether she's on the screen, on the runway, or even with her family on a private jet, there's something about her that just screams "expensive."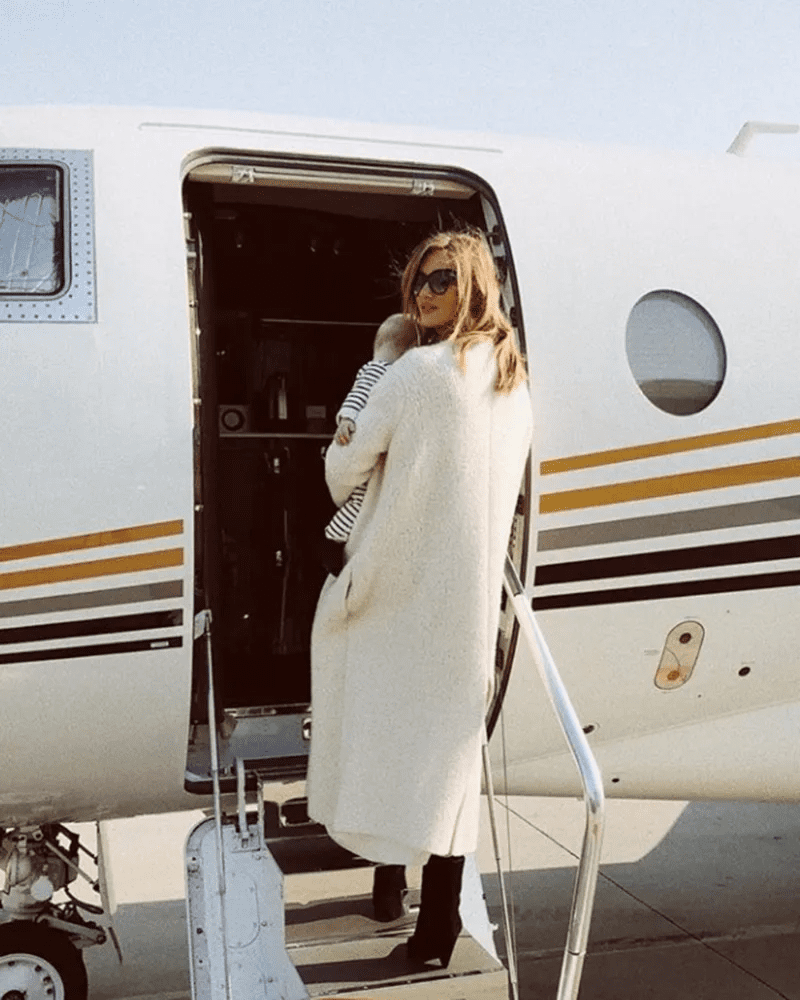 As with a lot of the snaps we're featuring, Rosie takes to Instagram to share a cute photo of her and her baby going up the stairs of their private jet, on the way to a family vacation. Yeah, we know, you wish you came along with them.
Devon Windsor's High-Life R&R is Just Plain Jealousy-Worthy
Not a lot of people can say that they spent their time relaxing from work on a private jet, but fashion model Devon Windsor certainly can. Wearing some pretty comfy clothes, the model takes to the sky and takes a break from everything going on down here.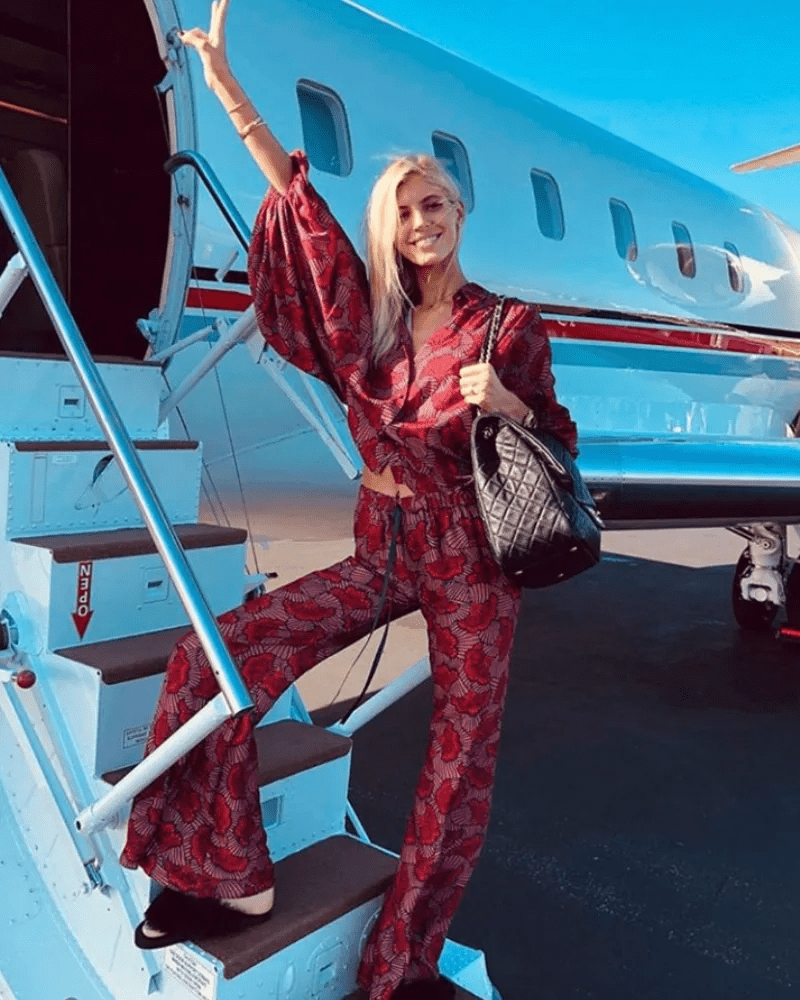 Posing in front of the jet for her Instagram fans, Devon shows her beauty and luxury before going on a trip to beautiful beaches with white sand and deep-blue waters. It's good that she has time for herself, but we all wish we could join her!
Sometimes The God of Thunder Likes Flying with a Group
We all know him: Chris Hemsworth, widely known for playing Thor, the God of Thunder. But even gods get lonely, so why not gather some of your friends and family members to get on your private jet and fly off like absolute bosses?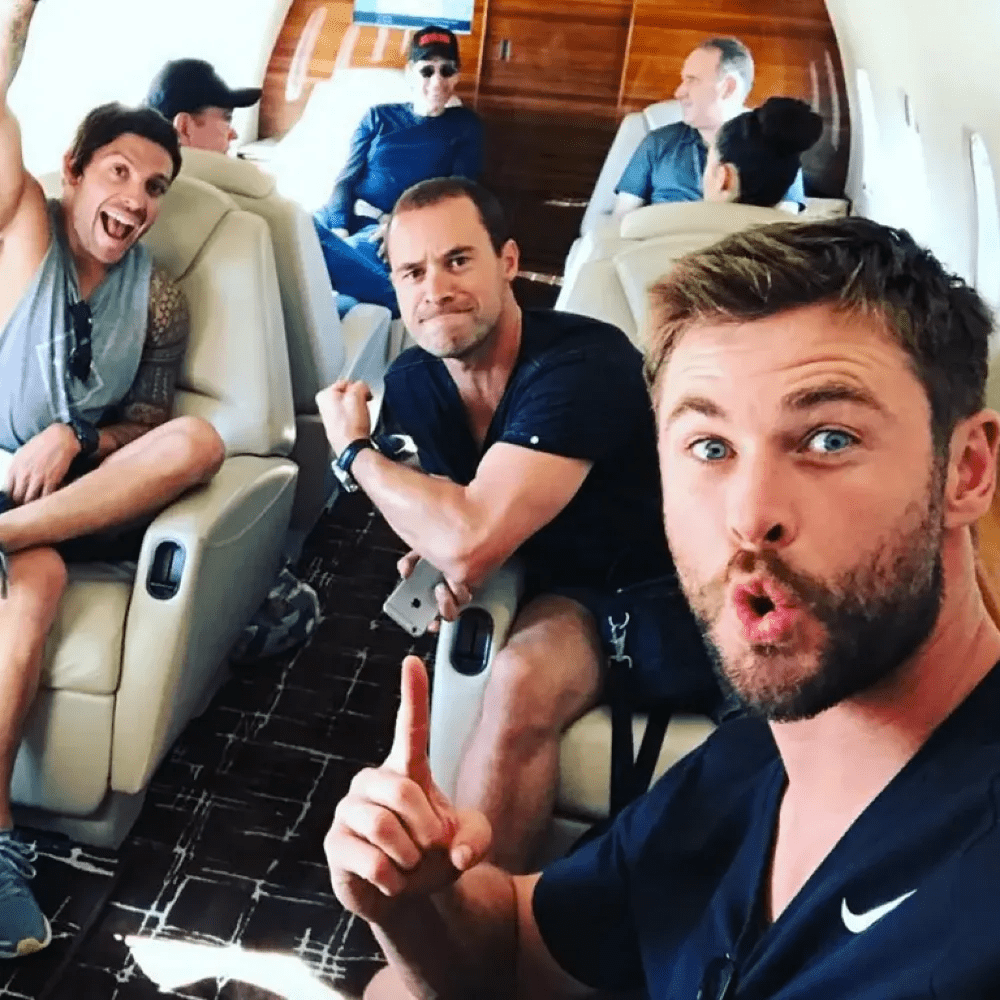 Maybe this is why we don't see the Aussie actor much in airports because he's too busy flying expensively on his private jet. Well, it certainly beats having to fly around with only your magic hammer to keep you company.
Father-Daughter Duo Lionel and Sofia Richie Prefer to Have Fun in Style
Lionel Ritchie is essentially an American national treasure. One of the best-selling musical artists of all time is bound to have the means to afford the pinnacle of luxury, and we think that if anyone deserves it, it's this man.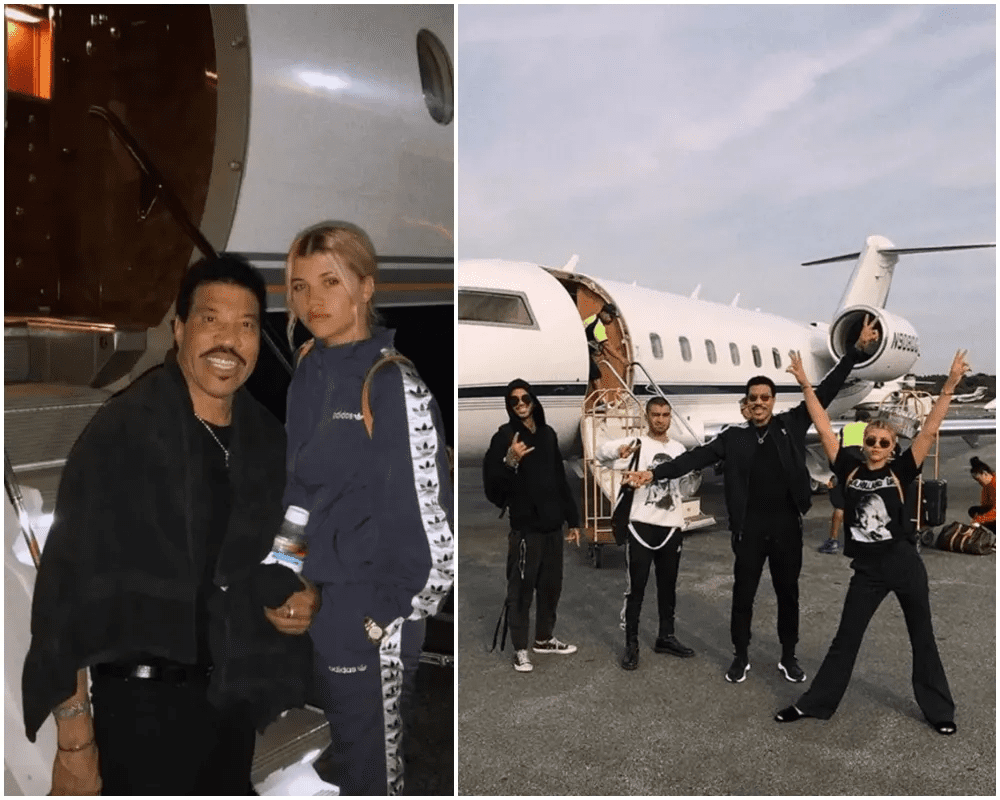 If you've started feeling insecure after taking a look at Sofia's Instagram posts of her and Lionel Richie in front of their private jet, don't worry, we are too. The photos were taken before their trip to NYC, as Sofia was set to make an appearance at New York Fashion Week.
Aboard Lewis Hamilton's Candy-Red Private Jet
Yep, you heard that right. Famous racecar driver Lewis Hamilton doesn't just have a private jet like the others, he has one in a very flattering color. Not only does the racer fly luxuriously, but he also has great taste.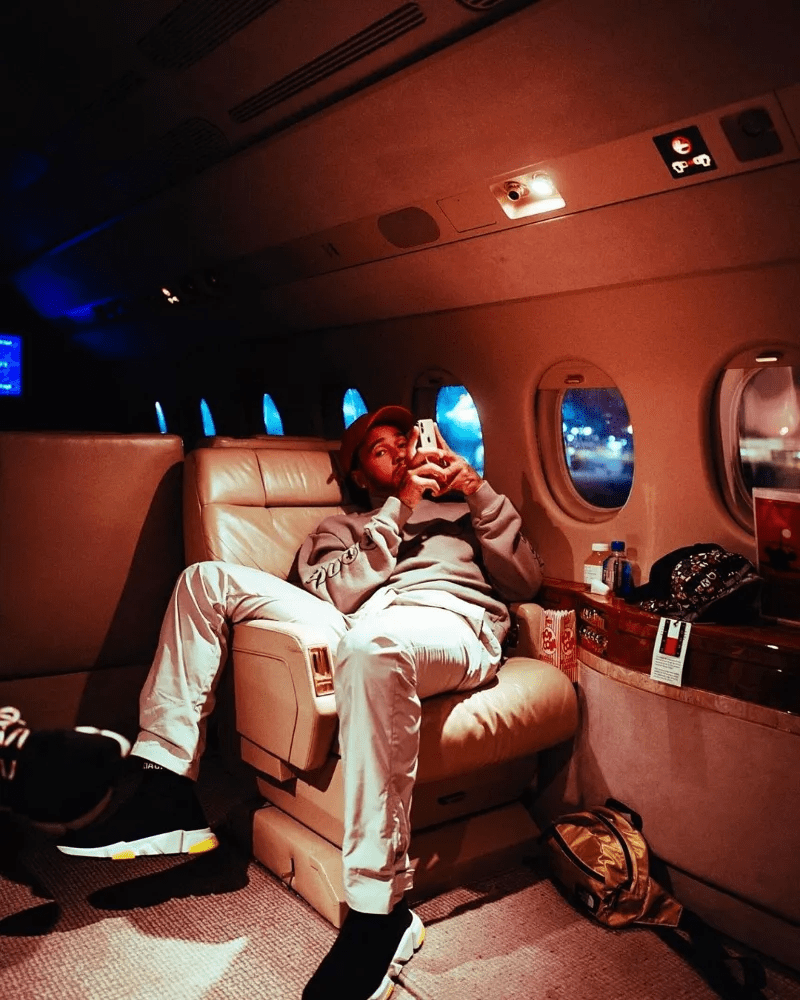 In the racer's photos inside his private jet, we see him chilling on some soft chairs beside the window, on his phone, enjoying life. Of course, he doesn't forget to show off his stylish shoes and red hat for the camera.
Yes, The Rock Has His Own Set of Wings
Well, not literally. In a photo that comes as a shock to absolutely no one, Dwayne Johnson, famously known for his wrestling stage name The Rock, is shown doing some work aboard his private jet. This isn't surprising at all seeing as he's one of the highest-paid actors in Hollywood.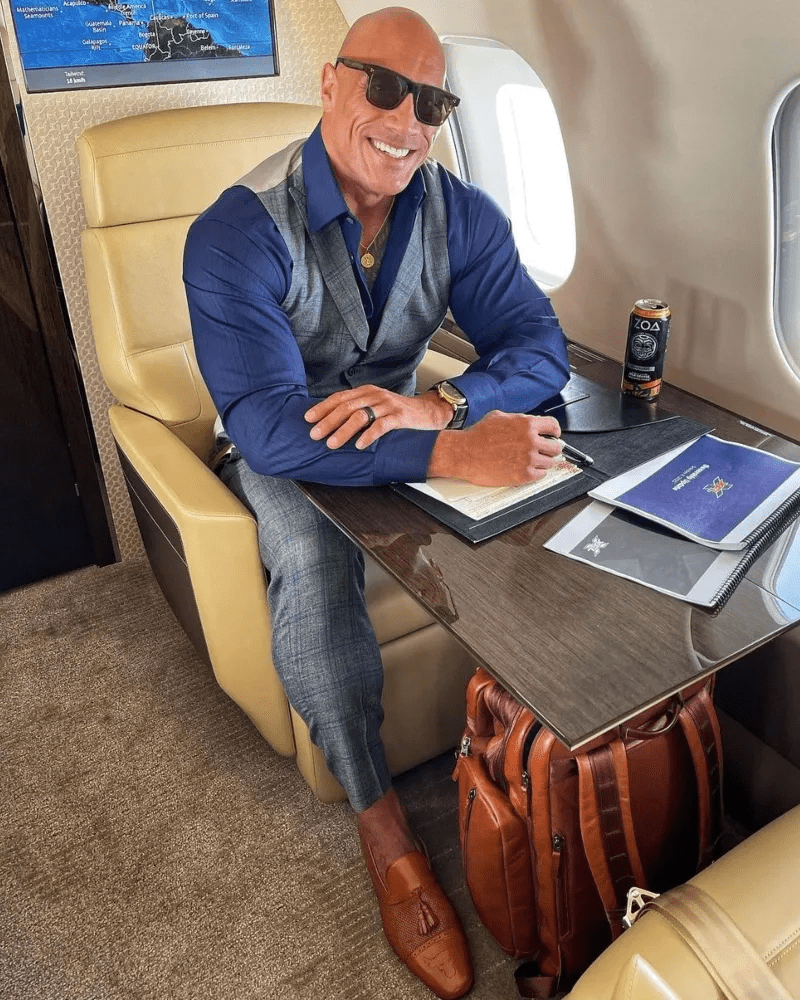 The Rock shows off how useful a private jet is: You're able to work on some documents and take pictures of your amazing outfit while on a trip to the Big Apple. Even though he doesn't throw crazy parties on it, the actor knows exactly how to put his private jet to good use.
It's All About the Destination for Eva Longoria
Having your flight interrupted by layovers and breaks isn't exactly peachy. Ever wonder what the answer to that is? Well, Desperate Housewives star Eva Longoria's solution is to get a private jet and fly to her destination by herself instead.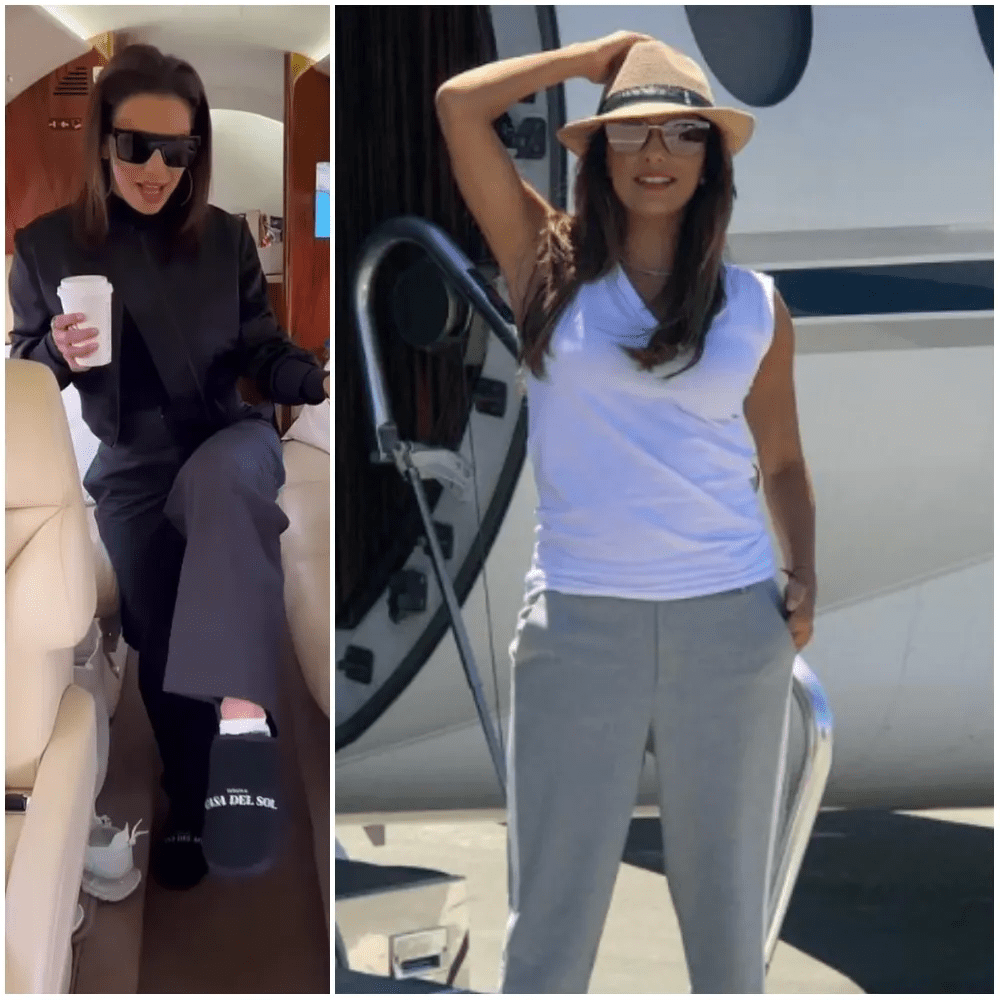 By having her jet, the actress skips all the normie problems like layovers and focuses on going straight to the goal. In her case, being able to go to places where normal flights aren't exactly being scheduled on the regular.
Posh Likes to Spice Up Her Travels with Luxury Slumber Parties
Victoria Beckham, known for her nickname Posh Spice while she was in the Spice Girls, isn't just a singer, fashion designer, and TV personality; she also knows how to throw parties in style. And that means taking the festivities with her aboard her private jet.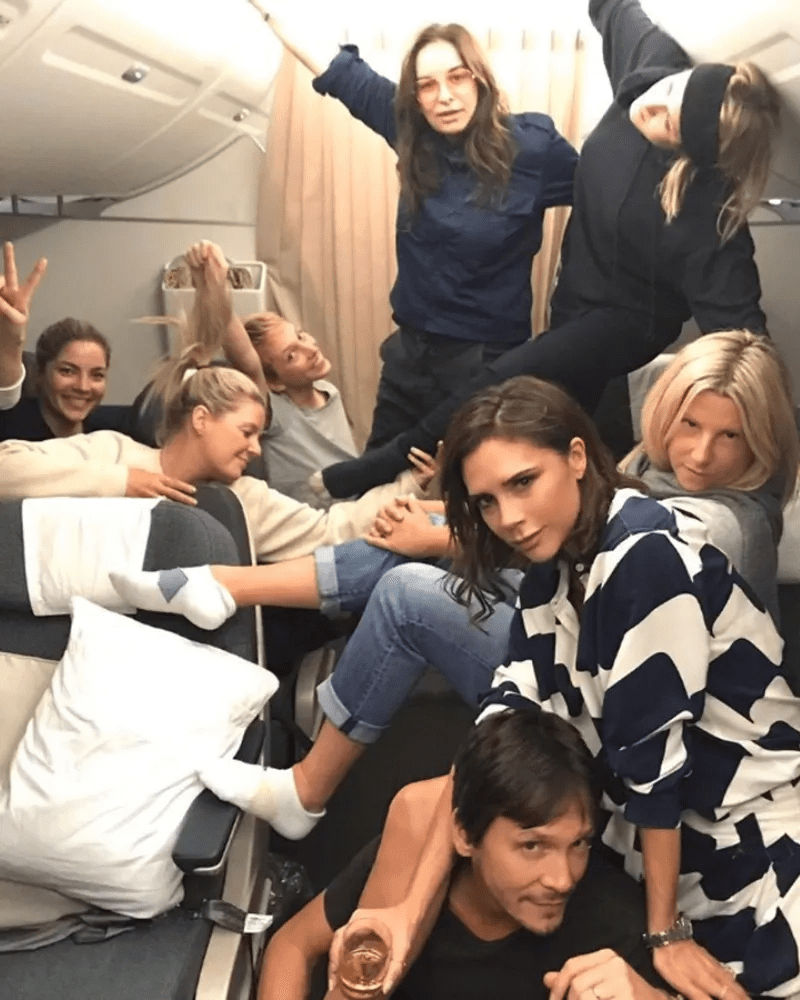 Posting this on her Instagram with the hashtag, #PoshPartyForOne, the ex-Spice Girl poses with her team on their way to the launch of her new makeup line in Asia. And what better way to celebrate this new launch than with a private jet slumber party?
Bella Hadid Has No Problem with Sudden Vacations
You have to admit, Bella Hadid is definitely not the type of girl who flies like we do. She knows it as much as we do, so it comes to no surprise that she has her own private jet on standby for her anytime.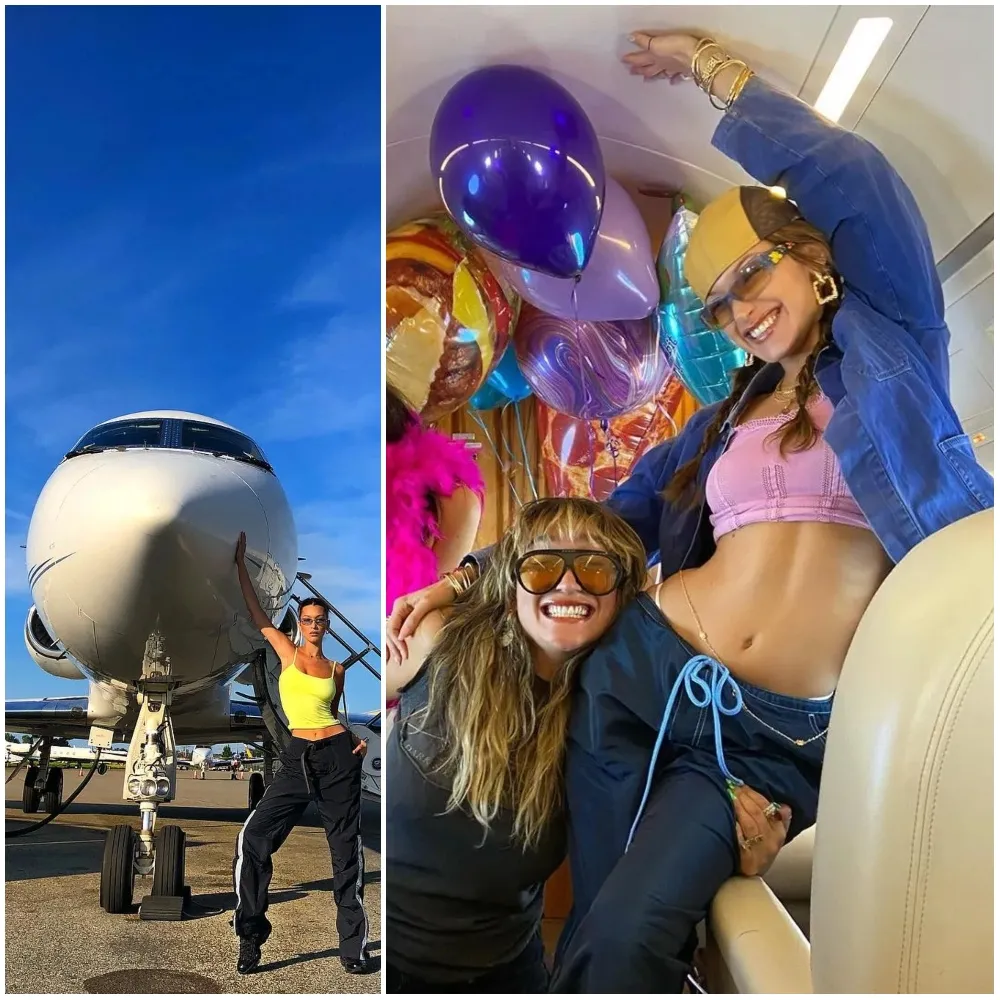 In the fun-filled photo above, Bella went on a spontaneous trip with her friends to Jamaica, on her private jet of course. Yeah, we also want to go to Jamaica, but it's way too expensive for people who have normal incomes.
Elsa Pataky Likes to Nap in Her Private Jet for Some R&R
The God of Thunder's wife herself, Elsa Pataky, is no stranger to luxury. Having your husband as the King of Asgard while being an actress yourself is gonna net you some pretty nice perks. One among them is your own private aircraft.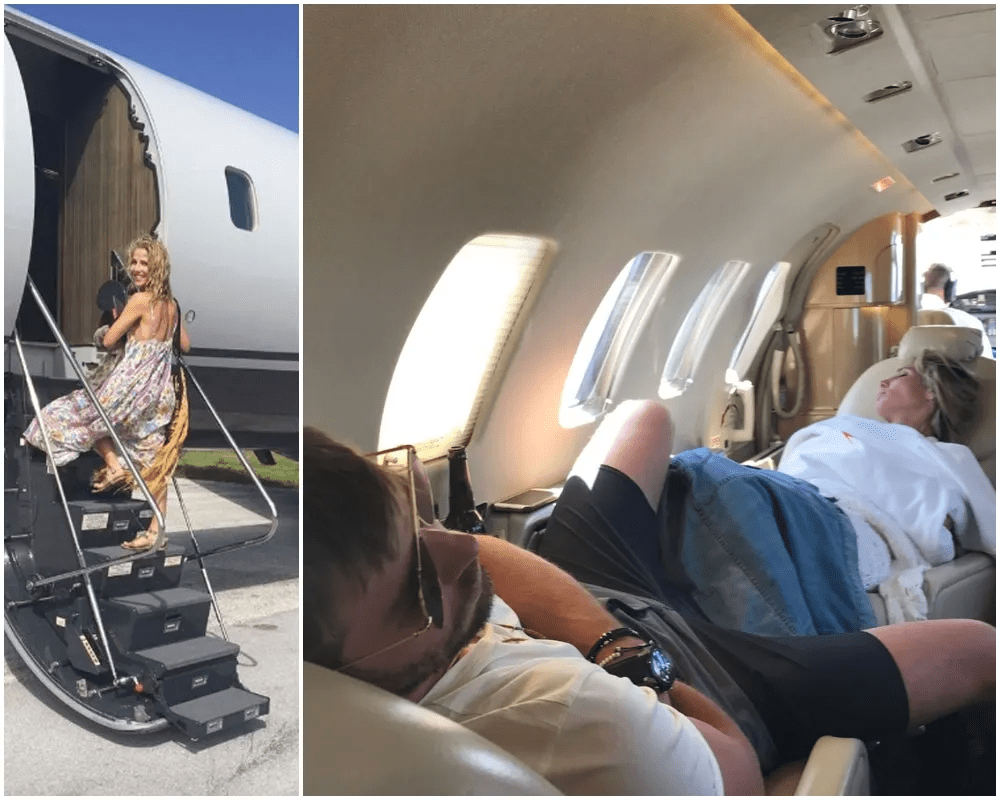 The photos above show that she isn't alone on these trips, though, since the actress loves flying with family, mainly her husband Chris Hemsworth and her adorable children. Talk about family goals! We'd love to be able to stretch our legs out on a flight, too.
Diddy Doesn't Think First Class is Enough
Sean Combs, also known as Diddy, is one of the richest rappers out there. From luxury clothing to cars, superyachts, and even a private jet, this man has it all. And it doesn't seem like that he has any plans on stopping soon.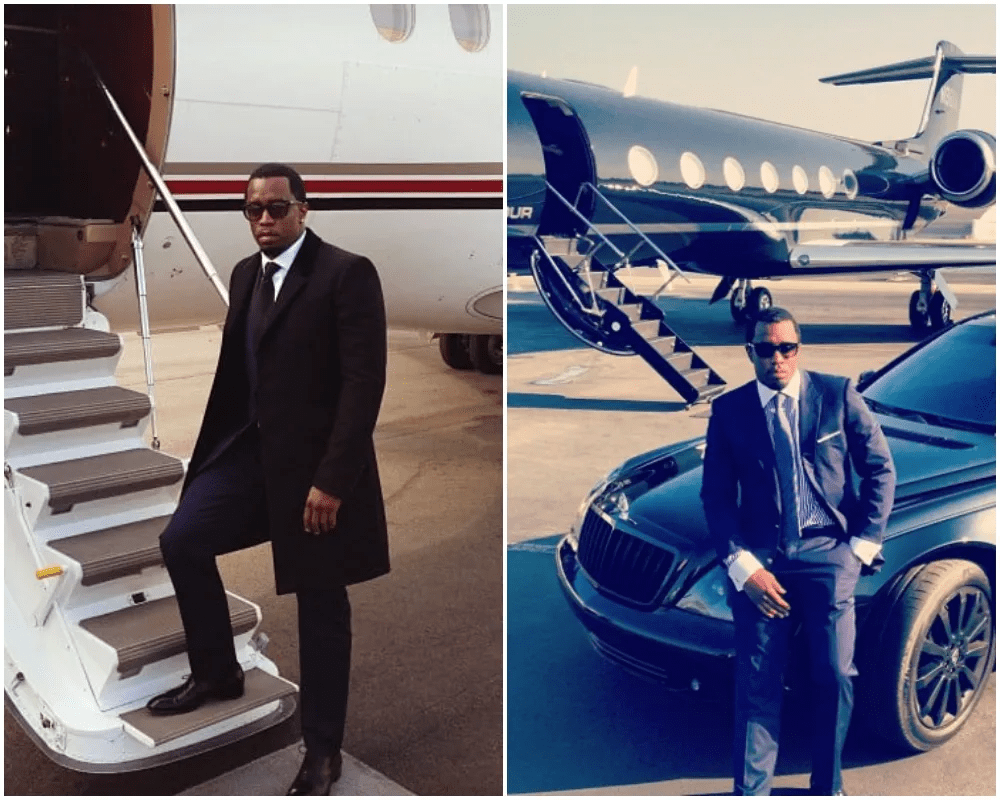 The Bad Boy Records owner didn't merely spend his Christmas back in 2016 on his yacht; after a few days he threw a New Year party in Vegas and of course landed in on his private jet. That's pretty insane, but with his money, you'd probably be doing it too.
Karlie Kloss Likes to Chill Thousands of Feet in the Air
Famous fashion model Karlie Kloss, like all of us, gets tired after a long week of work. So, it's only natural that after 2017's New York Fashion Week, she takes to the skies for a nice flight to St. Bart, even posting a pic of herself in the same dress she wore to Fashion Week.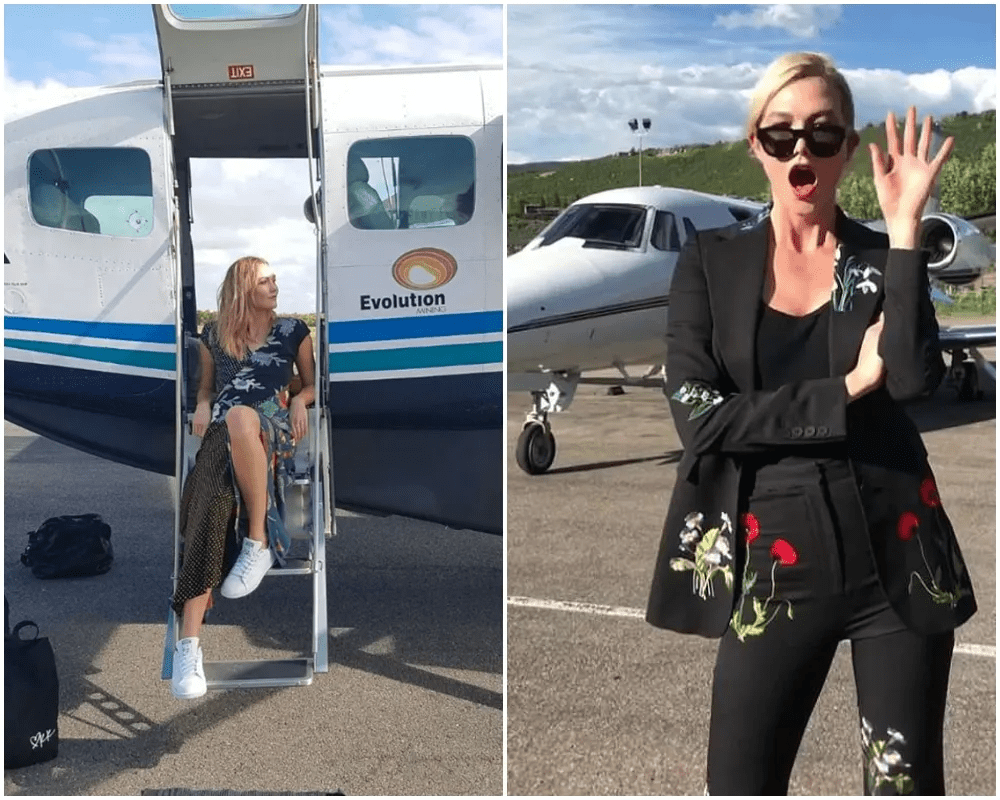 Considering all that, you could say that the model has some amazing energy. Well, you probably would too if working a week meant you could fly off to magical islands in the Caribbean for some much-needed rest and relaxation.
Beyoncé is a Goddess Living the High Life
Comparing anything to Beyoncé is just unfair. She's got it all: a loving family, a successful career, and she's also one of the most beautiful women to ever live. And, well, she also has a jet that's nicer than your own home.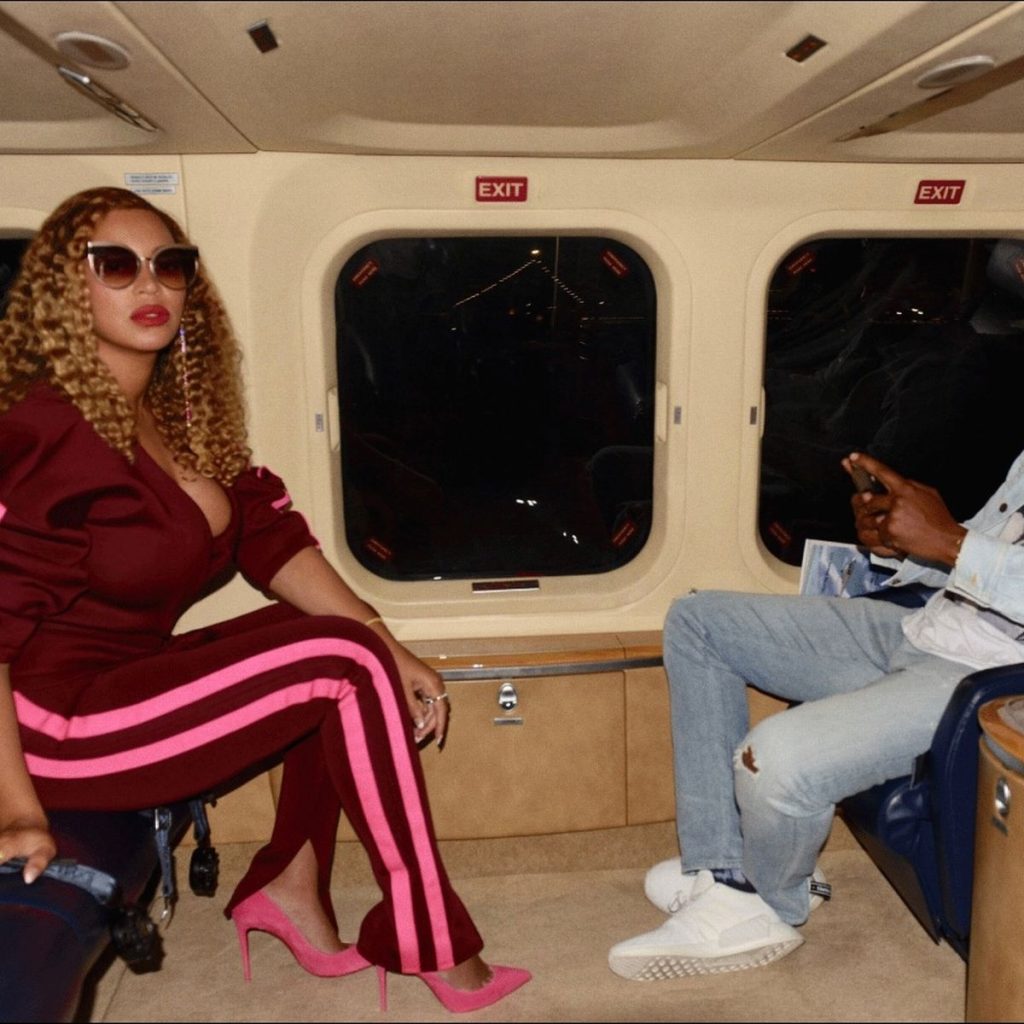 On a sky-high trip that's seemingly just for their leisure, Beyoncé takes to her Instagram and posts pictures of herself wearing a maroon jumpsuit and pink stilettos with her husband, and famous rapper Jay-Z. You can bet that these two weren't eating instant noodles for their in-flight dinner.
Father's Day on a Private Jet with Jay-Z
Given that he's one of the most successful rappers and producers to ever live, it's natural to think that Jay-Z and his family would have the best of the best. And to no one's surprise, that's exactly the case. Look at this picture of him and wife Beyonce coming off their private jet like royalty.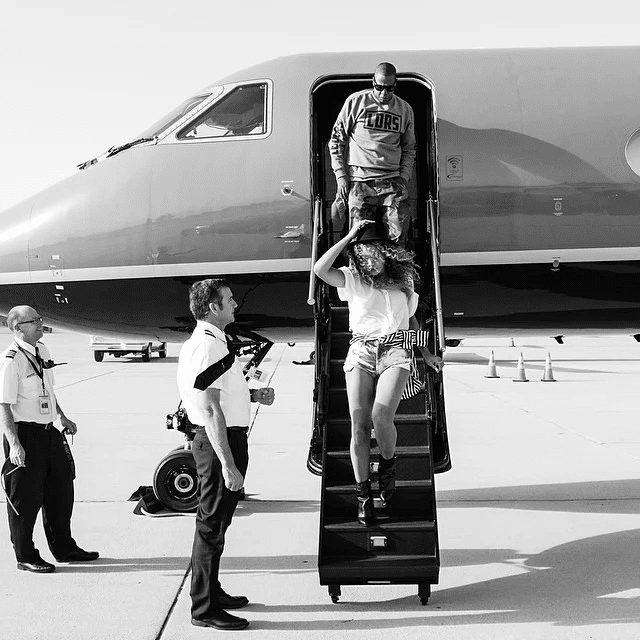 Not only is his wife one of the most beautiful women in the entire galaxy, but she also gifted him one of the best set of wings a person could ever wish for: a Bombardier Challenger 850 Learjet, which the couple usse on Father's Day trips to who-knows-where.
The Best Way to Rest after a Superyacht Vacation: on Kylie Jenner's Private Plane
During her 19th birthday, model and cosmetics business-owner Kylie Jenner invited a ton of other celebrities on her superyacht. How did she get home, you ask? Well, on her own private jet of course! How else should someone spend that time?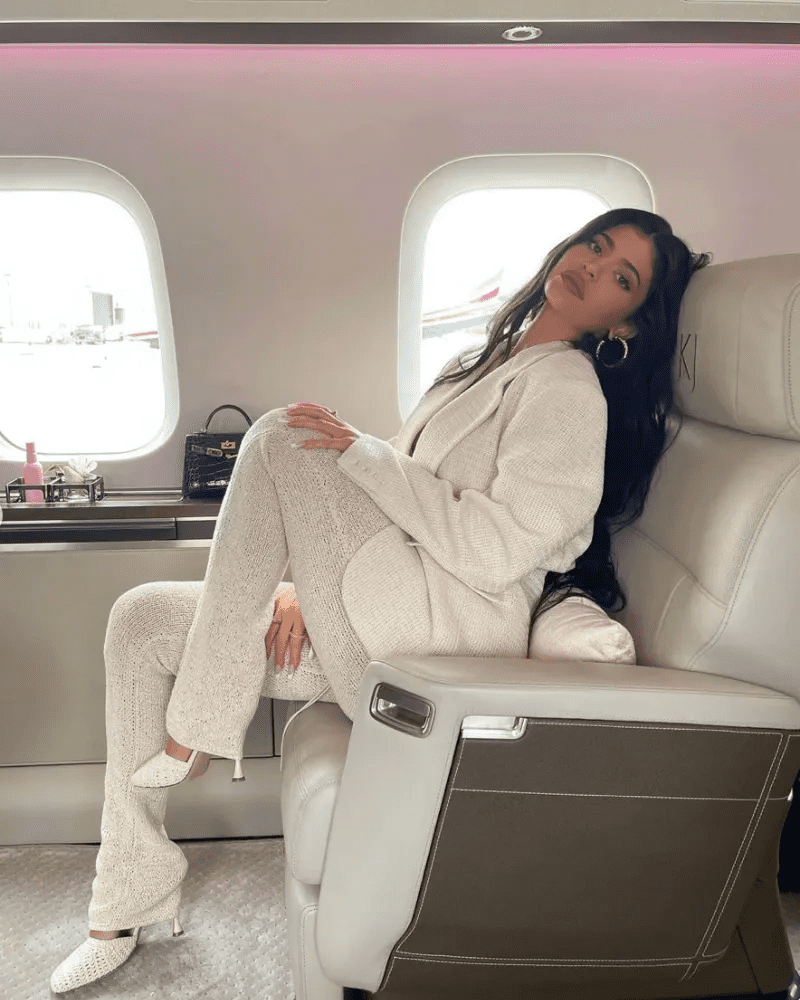 After greeting adulthood, you just have to spend a few days living on the lap of luxury, and a private jet is one of those luxury items that's basically a necessity. No, our 19th birthdays weren't spent like that either.
Celine Dion's Heart Will Definitely Go On, Aboard Her Private Jet
Superstar Celine Dion is a famous woman. Because of this, she's also pretty busy, and the best way to travel around would of course be on her private jet. Not only can she rest in peace without getting swarmed by fans, but she can also rehearse at the same time.
If you think a luxury house is the most you'll ever need in life, then you certainly seen this Canadian singer's private jet, which is literally a home in the sky with multiple bathrooms and even a kitchen. Now thatis what we call luxury.
If You Think One is Enough, Then Taylor Swift Thinks Otherwise
The premiere breakout superstar of the early 2010s just has to be Taylor Swift. Bringing country pop worldwide and making it famous has a ton of perks, mainly money, to go along with it. So, what do you do when you need to travel the world in style after winning so many awards? Get two private jets, of course!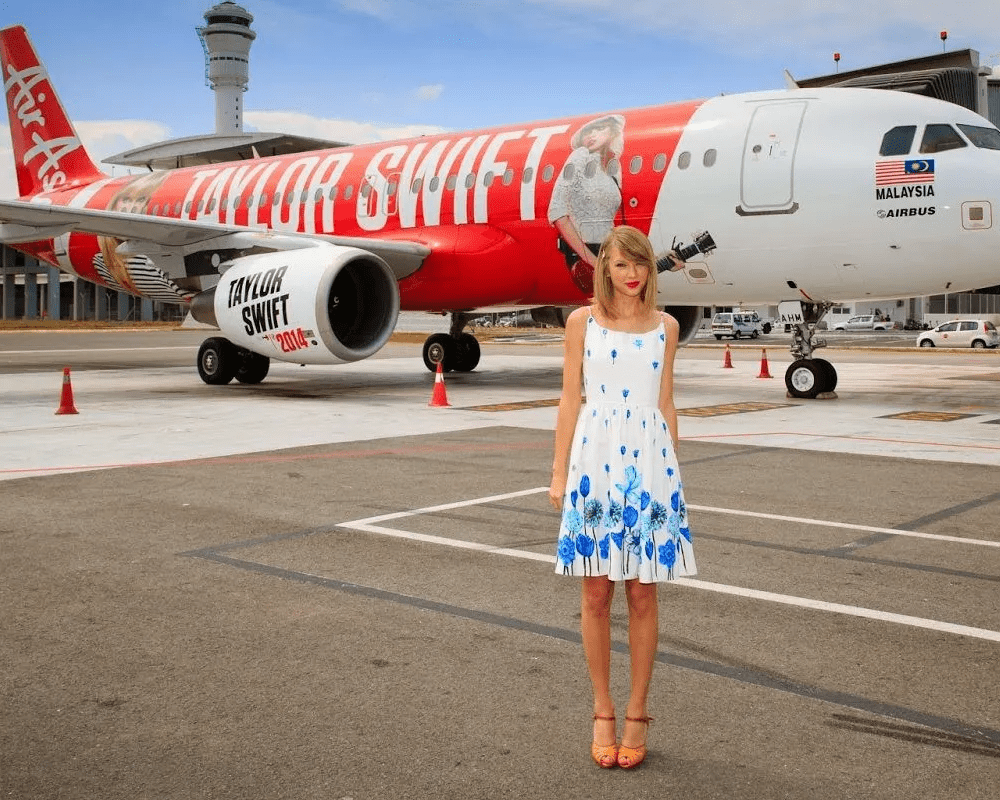 You heard that right: she doesn't have just one, but two private jets, a Falcon 50 and a Falcon 900. Maybe you think that's a bit excessive, but if you have the same work and fame as the Taylor, you'd want two of them, too.
Mariah Carey and Her Private Jet Truly Belong Together
No, we aren't done with these huge pop divas. Adding to the list of the people you'd never hope to see flying coach with you is Mariah Carey. After numerous platinum hits and tours across the entire world, you'd need a jet of your own to get around.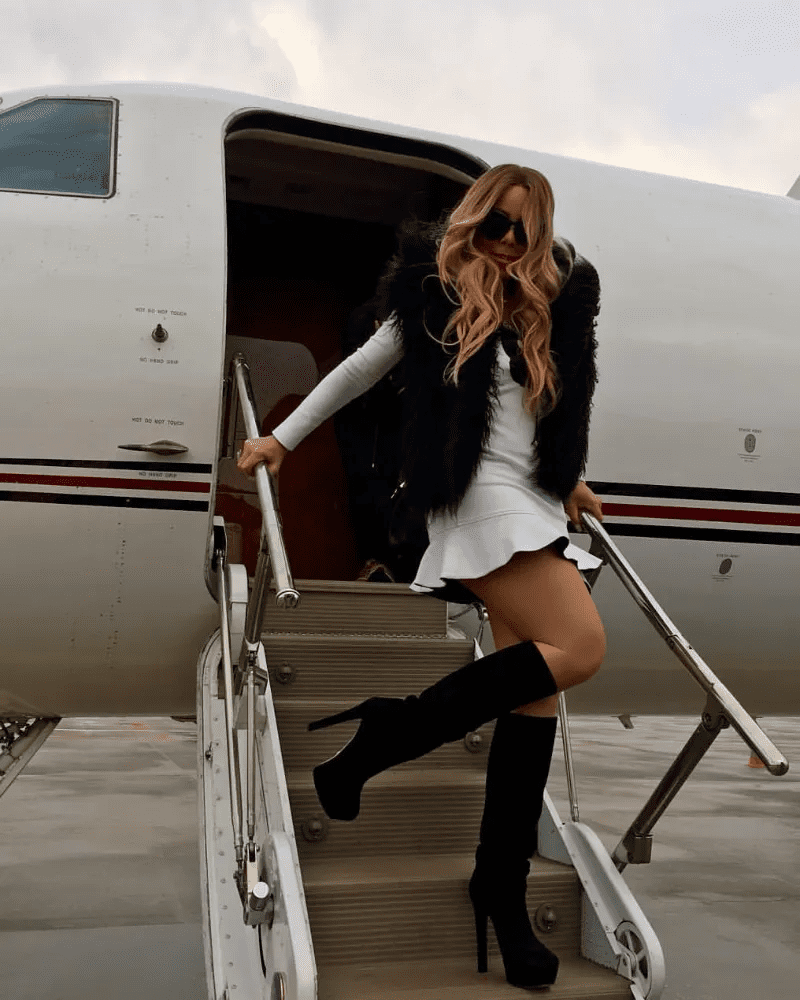 So if you're ever getting on a plane in America hoping to maybe sit next to your childhood crush Mariah Carey, then you should reevaluate your life goals, because this lady is in a whole other league from you, and she isn't ashamed of it.
Maverick Only Flies in Style
This is another one of those things that's just kind of a no-brainer. You might get jealous of him, but Top Gun star Tom Cruise doesn't just fly Air Force planes; he also has a private jet for his own leisure.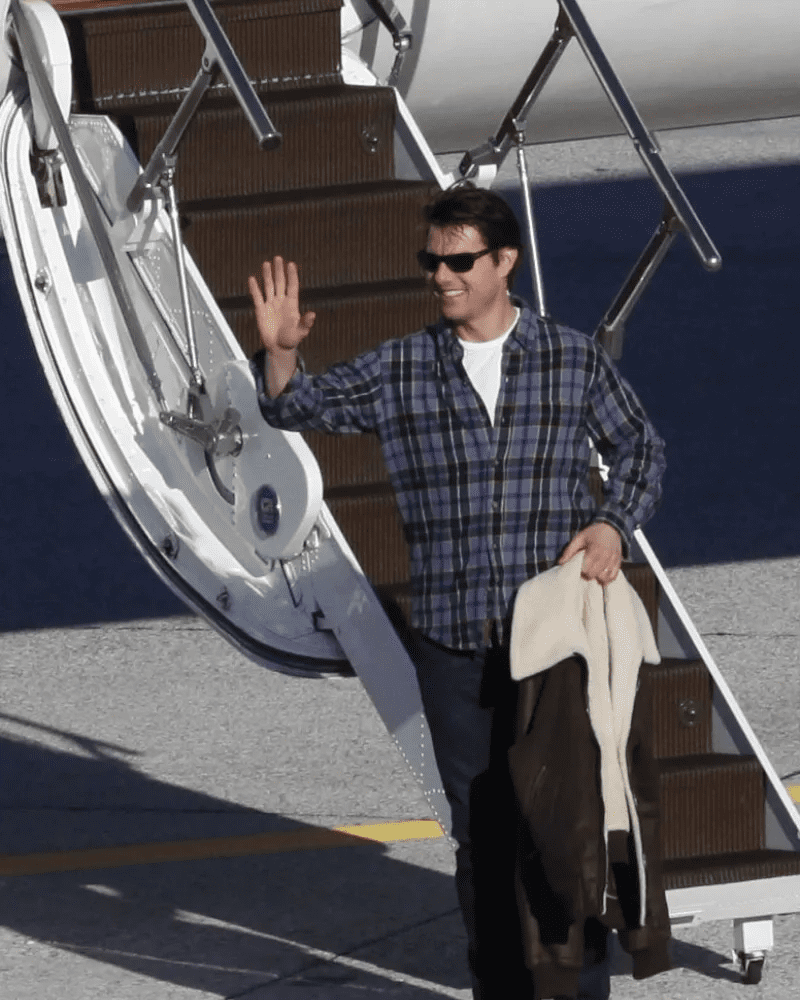 In the snap of him above, the critically-acclaimed actor is seen getting off from his customized Gulfstream IV in his signature sunglasses look. Well, maybe it's not that much of a signature, but how many times have you seen him in public without them?
Cristiano Ronaldo Wins in Life as Much as He Wins in Football
We can all agree that among the best players in football, Cristiano Ronaldo ranks near the top of the list. And yes, we may see him in more disciplined contexts most of the time, but our man knows how to party, too.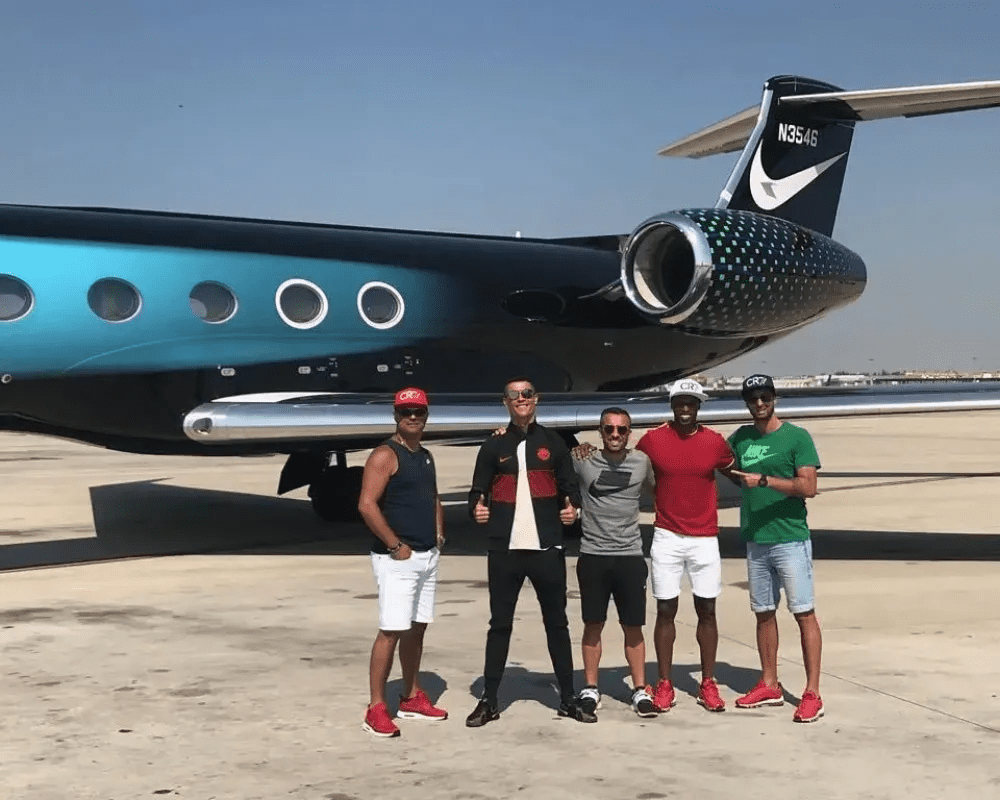 The football star's been known to hold extravagant parties on his yachts out on the sea, but he decided to hold a party on his private jet to celebrate their Champions League Win in 2016. Your little league soccer team's victory party ain't got nothing on this!
John Travolta is Not Just An Actor
What you may not have known about the Pulp Fiction star is that, aside from going guns blazing in movies and groovily dancing in the club, he actually loves flying. And no, we don't mean he loves going on flights as a passenger.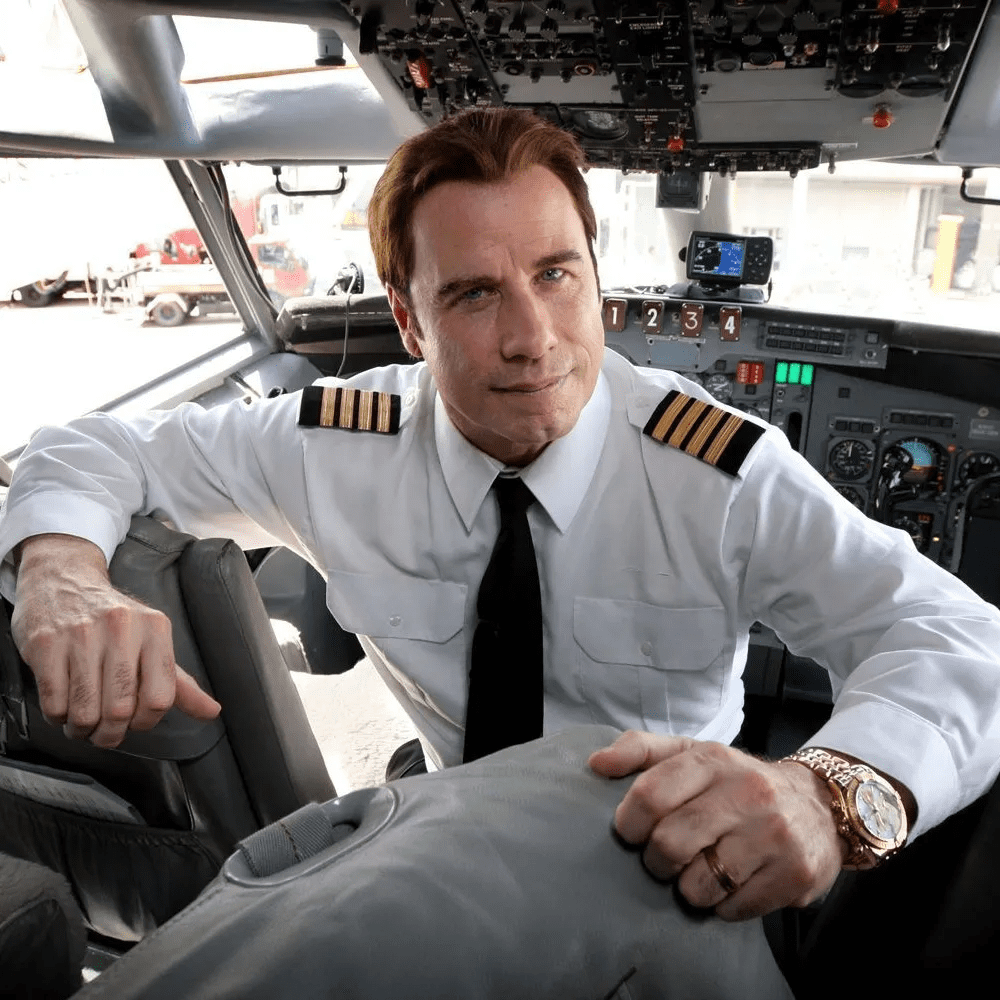 Yes, you saw it right. John Travolta himself is the one flying his private jet—a Boeing pricing in at over $55 million that normally accommodates 150 people. He customized it, too, reducing the passenger seats to only 15 for a ton of extra legroom.
Gigi Isn't Gonna Let Herself Be Beaten By Her Sister
Now, this isn't a contest, but Bella Hadid isn't the only Hadid sibling who's able to live the life on a private jet. Let's not forget that her sister, Gigi, is also a world-famous model, and as we all know, being on that level has a lot of perks.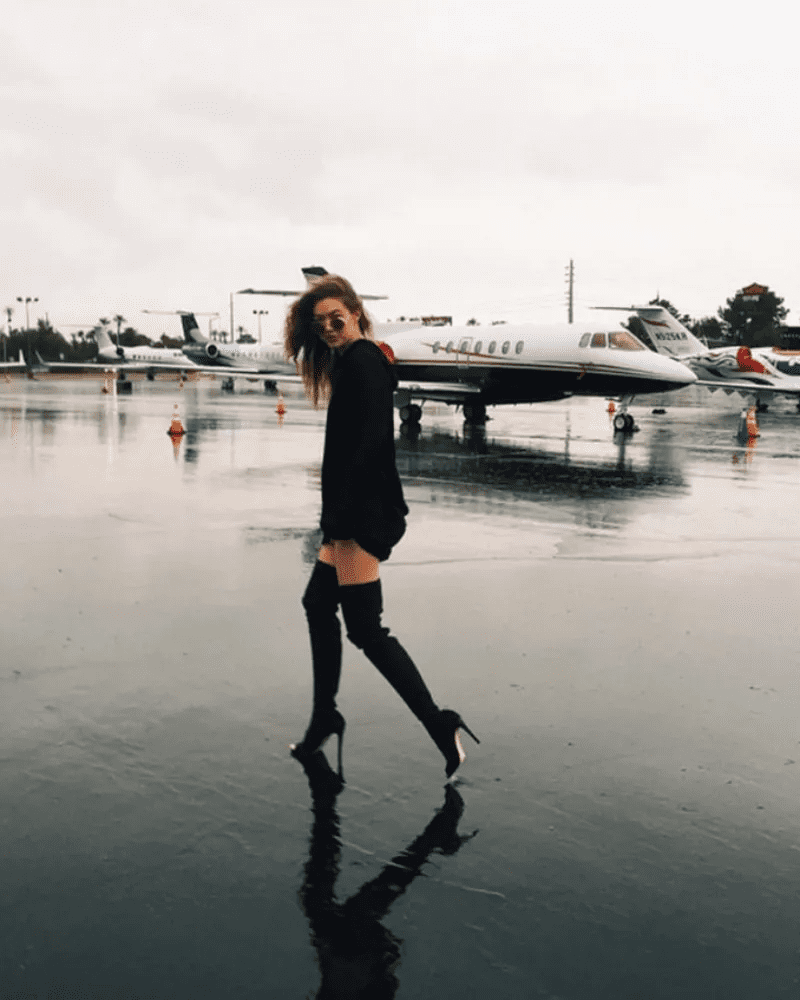 On her 21st birthday celebration, the model took to the skies to travel to her party in Las Vegas. And despite the stormy weather in the picture, Gigi definitely makes it look aesthetic enough to appreciate. What a way to celebrate a birthday!
Justin Bieber Doesn't Have To Say Sorry For Living In Luxury
Whether you love him or hate him, Justin Bieber is just one of those dudes who deserves his place at the top. And yes, we literally mean that he has a place at the top, right there in the sky. Get it? Because he has a private jet? Whatever.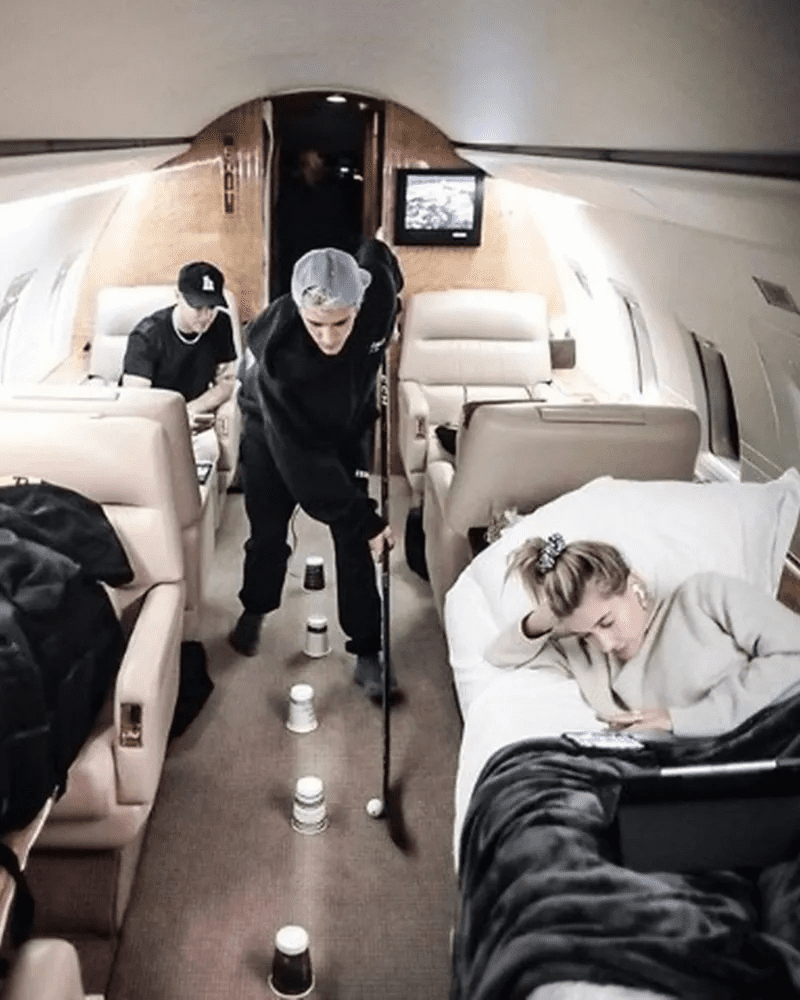 In this 2020 snap of him on his jet, Justin is seen playing a bit of hockey while his gorgeous wife, Hailey, relaxes. His jet even has a TV to watch your favorite shows on! Ah, what we would do to be able to compete against Justin in a game of plane hockey!
Keeping Up with Kim Kardashian
Now, we're all aware of how immensely successful and famous the Kardashians are, but we can all agree that Kim is definitely the most famous of the bunch. After all, you probably haven't seen a mother as pretty as her!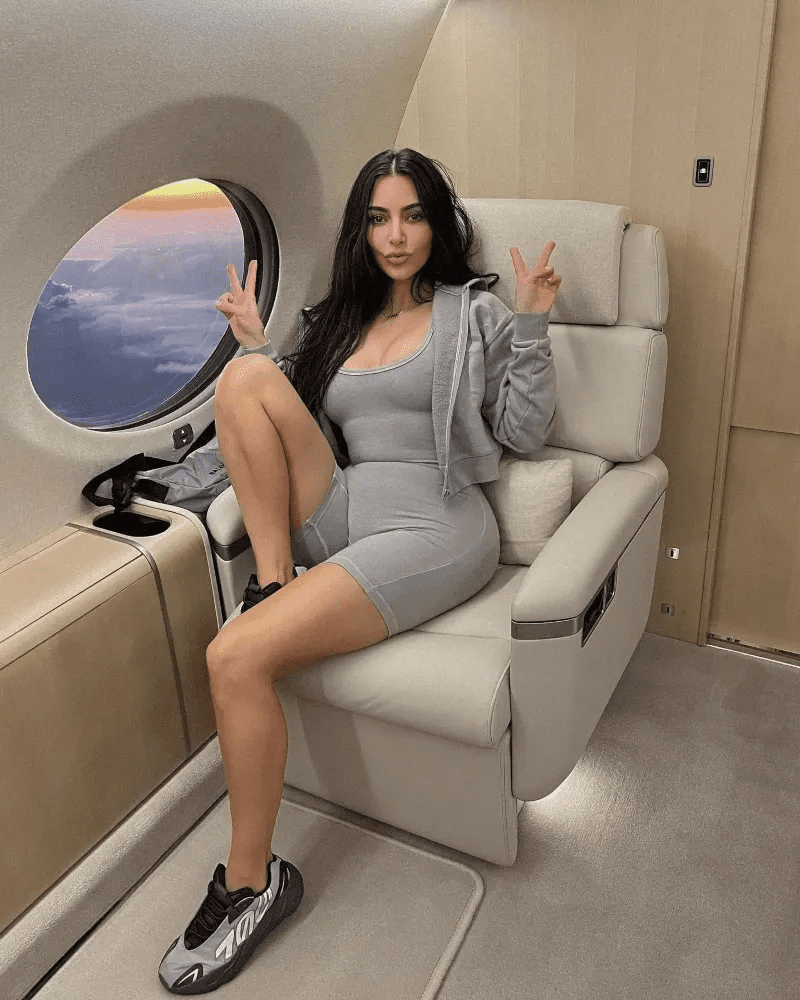 And to rub it in your face even more, Kim describes this trip of hers to the French Riviera as "cramped." Yeah, sometimes private jets get a bit too stuffy for her. But hey, we all still love her! Maybe just a bit less though, since she didn't bring us along with her…
What's The Best Way to Greet People Boarding Your Private Jet? A Bulldog Of Course!
British singer Ellie Goulding doesn't just have a beautiful singing voice, but she also has one of the most adorable doggies in the entire world! You could expect to be greeted by a lot of things when you board a plane, but a cute bulldog is one of the best-case scenarios for sure.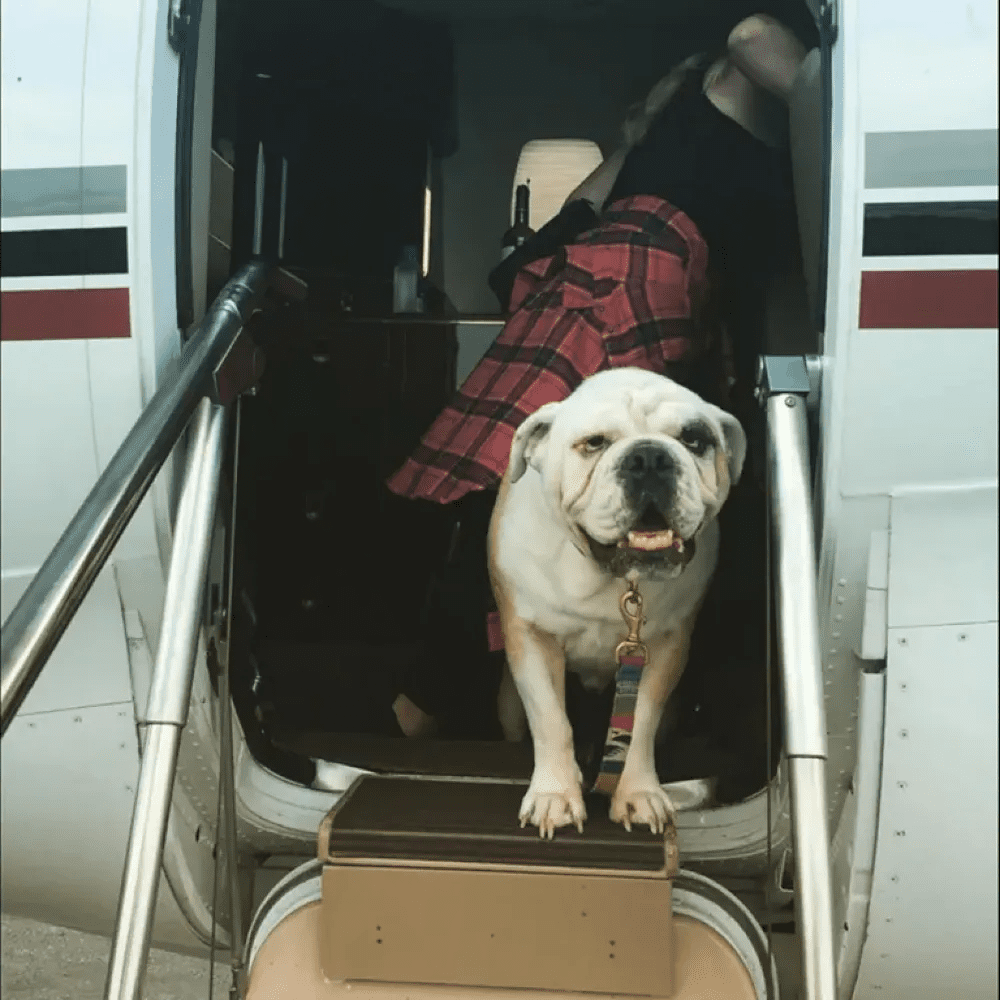 On her way to vacation on a luxury yacht, Ellie posted this pic of her bulldog right on the top of her private jet's steps. Now that's the right way to go on vacation! We just hope that the inside of the jet doesn't smell like a wet dog.
Kendall Jenner's Dog May Look Fierce, But Her Private Jet Is As Sleek As They Come
Another world-class model to add to our list: Kendall Jenner decides to bring a close friend of hers along whenever she's flying on her private jet. It's just not the kind of close friend that you'd expect! Or is it?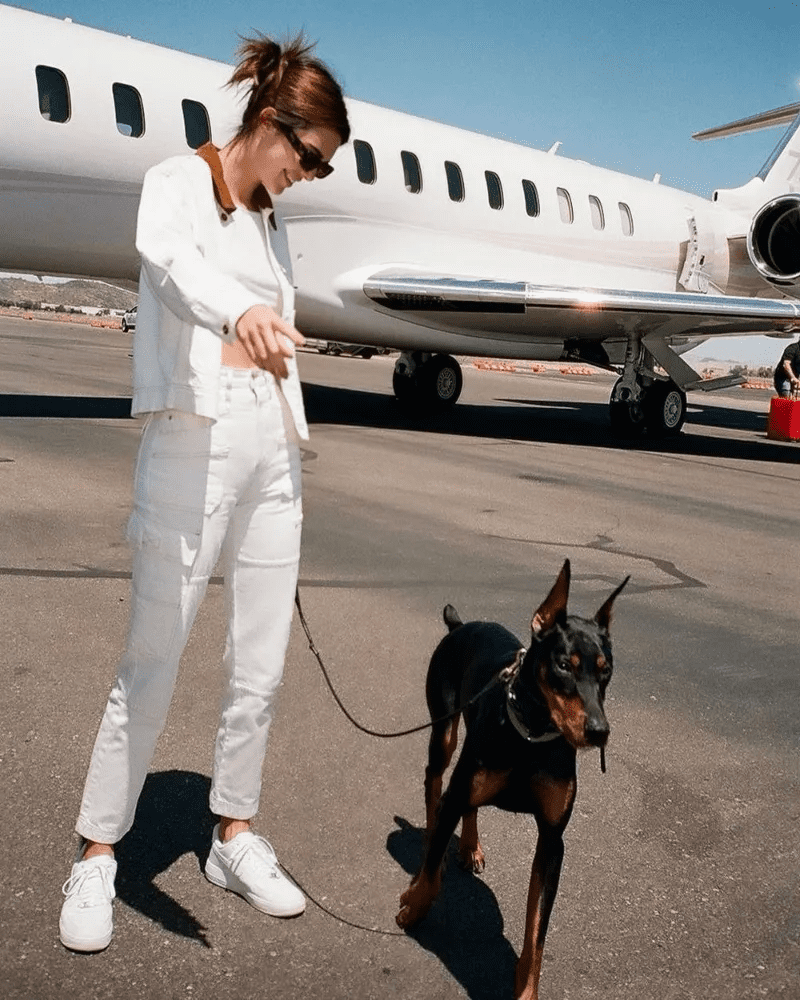 The photo above shows her and her black-and-brown doberman sporting the opposite colors, with Kendall's private jet right behind her. Now, we might regret saying this out loud, but this is one of those times where you wish you were born as a dog!
Paris Hilton Just Casually Chilling in the Cockpit
She may have been a topic of some controversy over the years, but Paris Hilton will never stop living her life in style! To be honest, this is probably normal for her since she has been flying in private jets since she was young.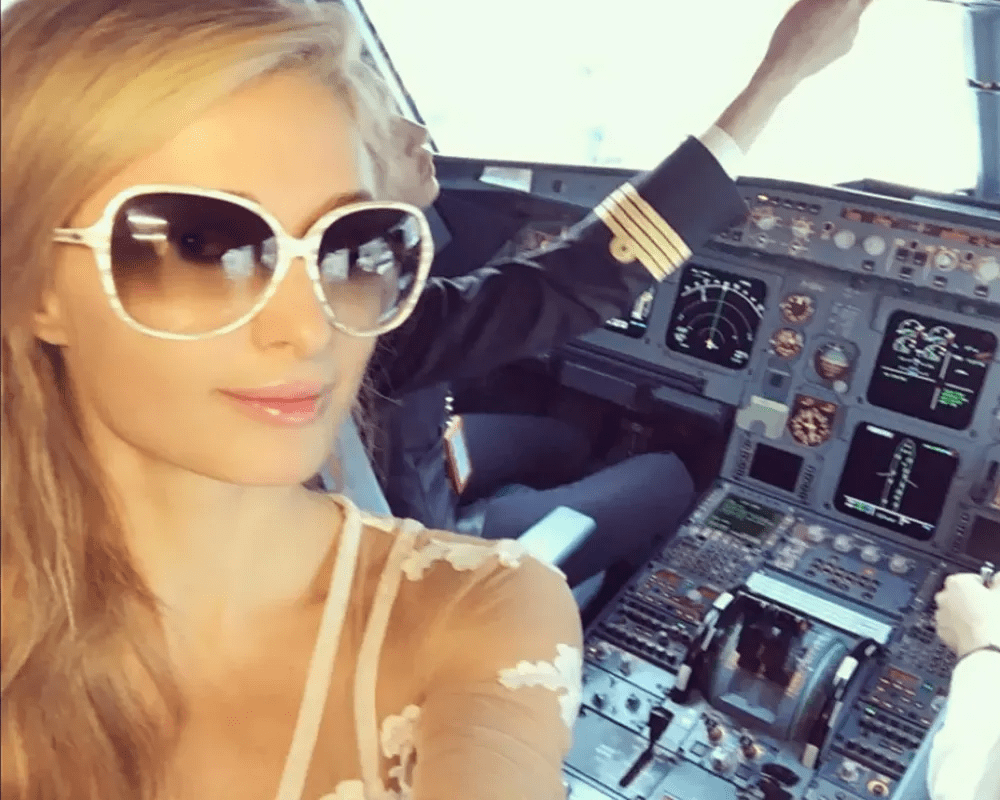 The entrepreneur and hotel heiress doesn't just sit idly around when she's on her flight. After all, planes make good selfie opportunities! To add to that, she was on her way to Cannes Film Festival in this pic. In Paris' case, though, it's probably just another weekend for her.
You Get a Jet, and You Get a Jet; Everybody Gets a Jet!
If that style of speaking is familiar to you, then you know exactly who this next one is about. It's none other than the TV superstar host herself, Oprah Winfrey. We'll just put it out there now: Oprah's jet is one of the biggest private aircrafts across the globe.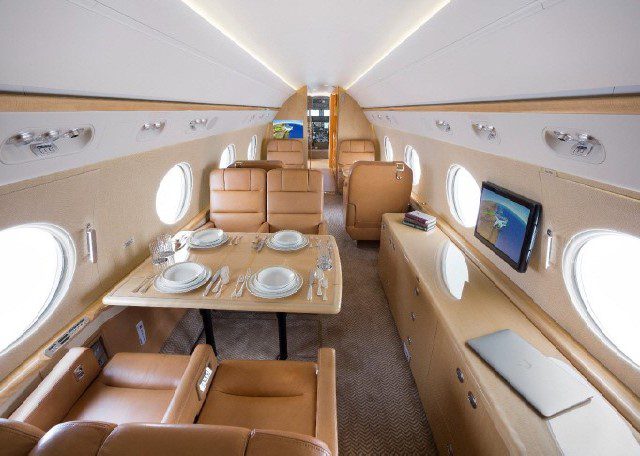 A jet like that doesn't come cheap—Oprah's particular model will run you a cool $42 million. To be honest, though, it's Oprah we're talking about here. Is it even that big of a surprise to have your own huge private jet when you're one of the biggest symbols of women's empowerment?
Being A Fashion Powerhouse Has Its Merits
Italian fashion mogul Valentino Garavani is one of those people whose image just screams the word "luxury." If it isn't already apparent by the clothes that he makes, then you can surely see it with the man himself. And man, does he flaunt.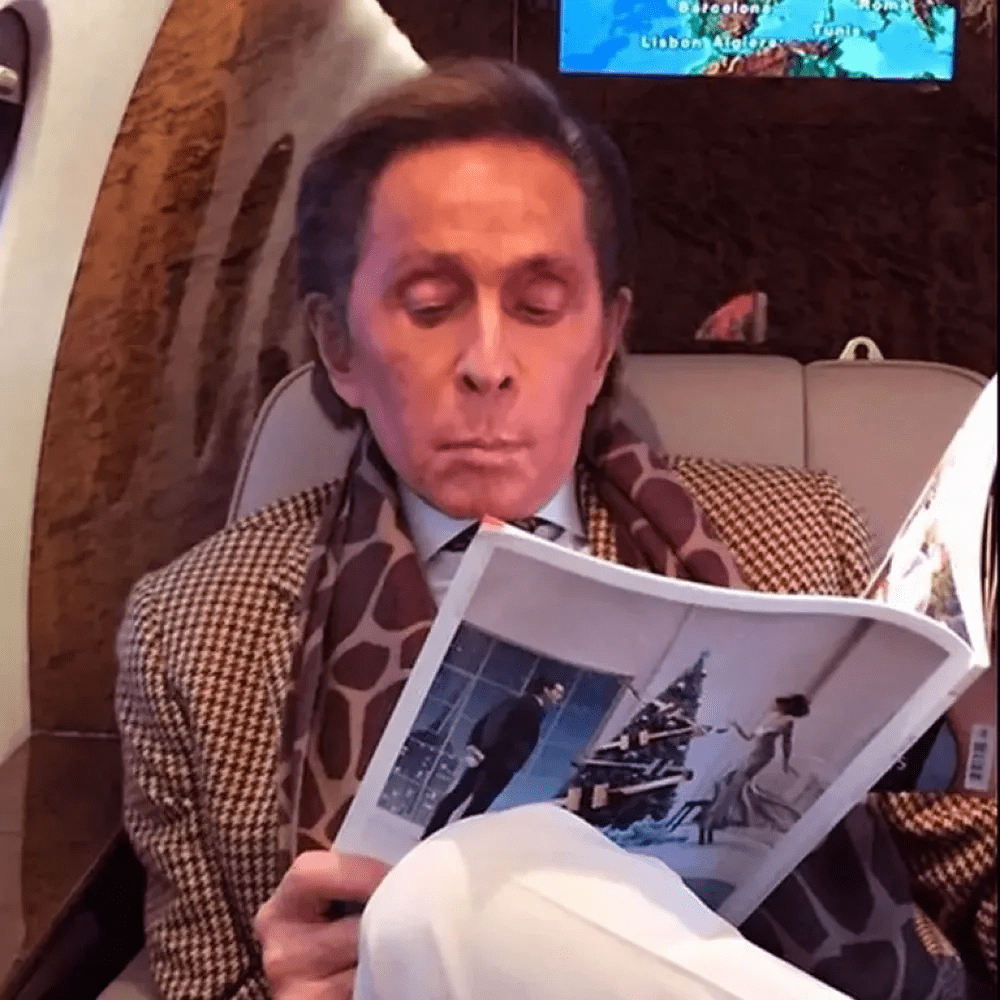 Giancarlo Giammetti, Garavani's partner, took this photo of Valentino chilling in his private jet and catching up on his reading. You probably wouldn't be looking at anything else if you were on a luxury private aircraft, but that'swhat separates you from this fashion designer.
Star-Lord is Out of His Jet Boots
Chris Pratt is one of those actors who went from just another comedic character in a typical American sitcom to one of the breakout superstars of the last decade. So, it comes as no surprise that he's gonna be flying in style like the big boys.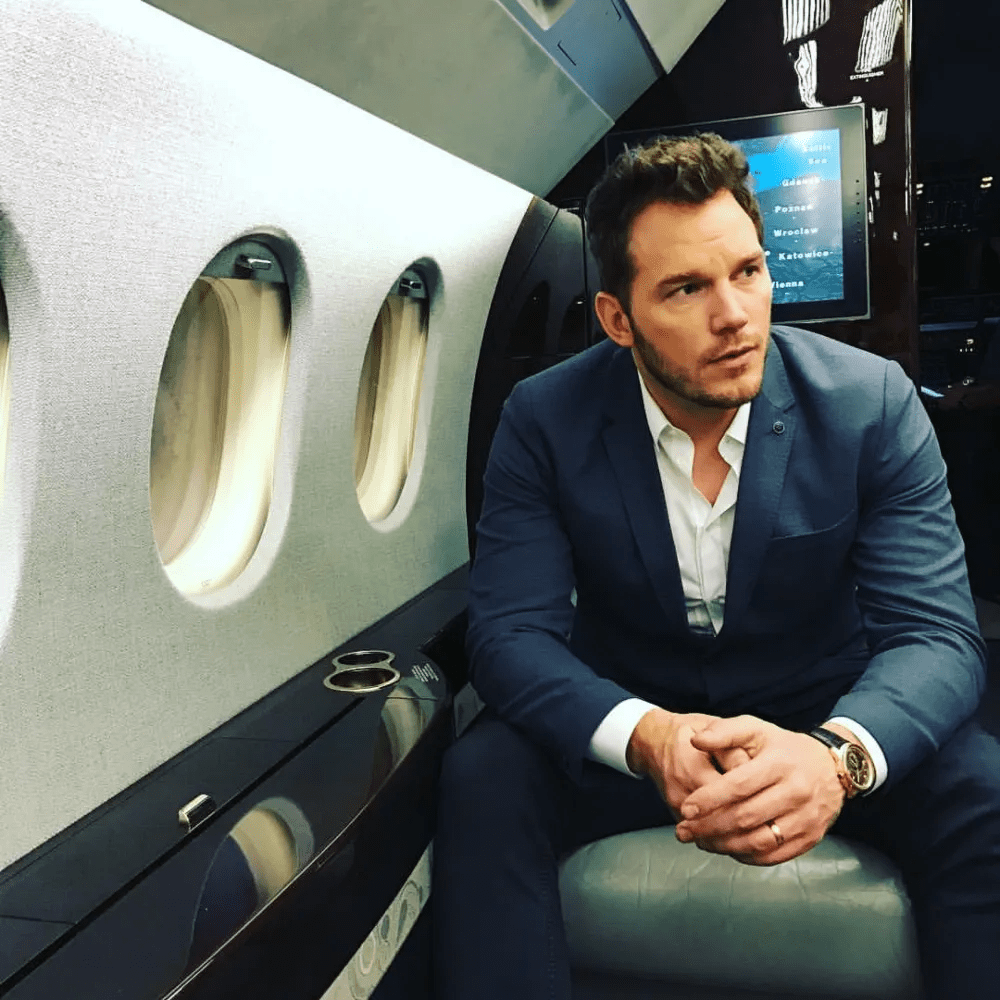 This snazzy photo of him mid-flight is one for the books indeed. Who knows where he's off to? A party, a press release, maybe both? All we know is this man is absolutely badass and so is his private jet.
Jackie Chan's Private Jet is Probably the Only Thing That He Can't Use As A Weapon
Nunchakus aren't the only things that this kung-fu star loves. Jackie Chan is also into Embraer planes, so it's only normal for him to buy two of them. Yes, two. The actor bought both a Legacy 650 and a Legacy 500.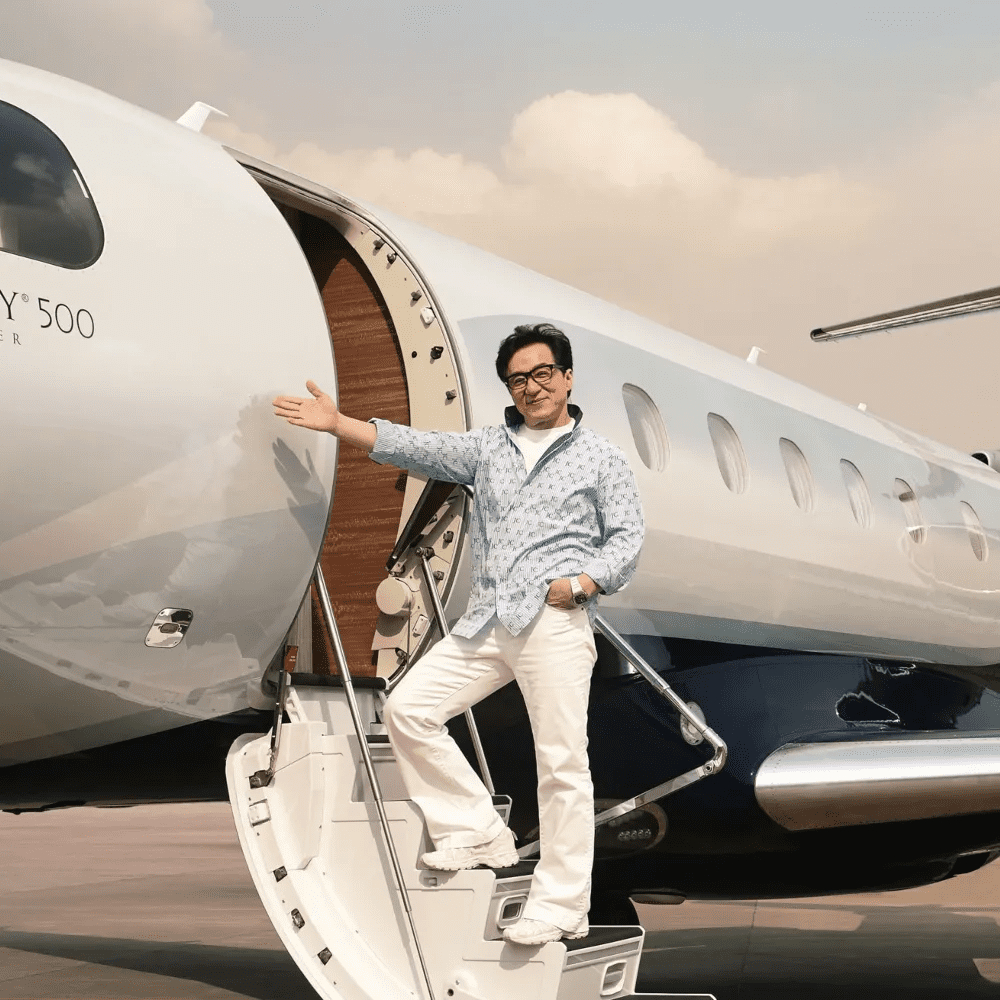 In total, that's a receipt of over $50 million. But don't worry, the guy knows how to put both aircraft to good use! The Legacy 650 is for long trips across the globe, while the Legacy 500 is for those in-country flights. It's always good to have options.
Yeezus Isn't Flying Coach
Semi-reclusive rapper Kanye West is an enigma, to say the least. But one thing that he knows is how to live in luxury. To buy a Boeing 747 outfitted with a lounge, bathrooms, and guest rooms is just to cross another item off the list for him.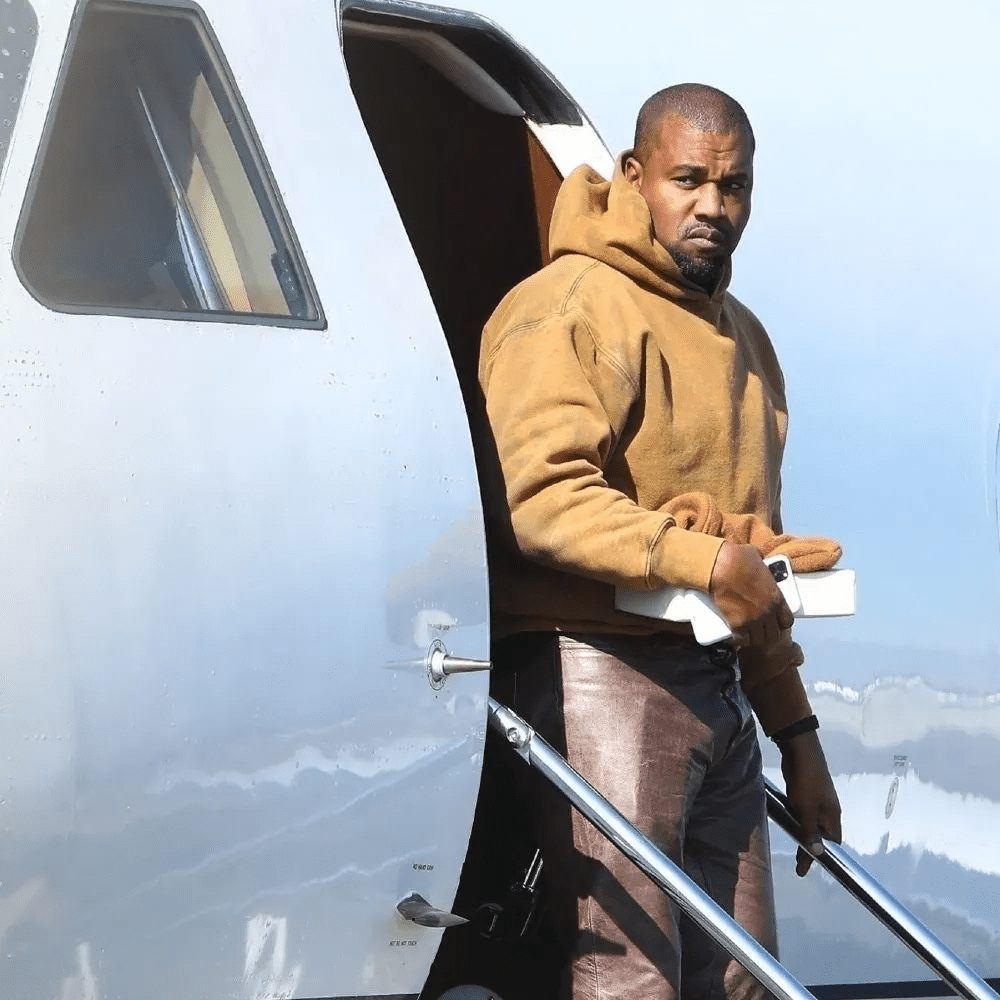 Despite the annoyed look on his face, the rapper is probably just going through the motions of another normal day. Also, there are rumors that Adidas themselves gifted this flight to him. We don't think anyone would be mad about that—not even the old Kanye.
Drake Really Knows How To Get In The Heights
How many times can you say that you bought an extremely expensive private plane in order to brand it with your name? We haven't ever, at least. On the other hand, the Champagne Papi himself, Drake, has been there, done that.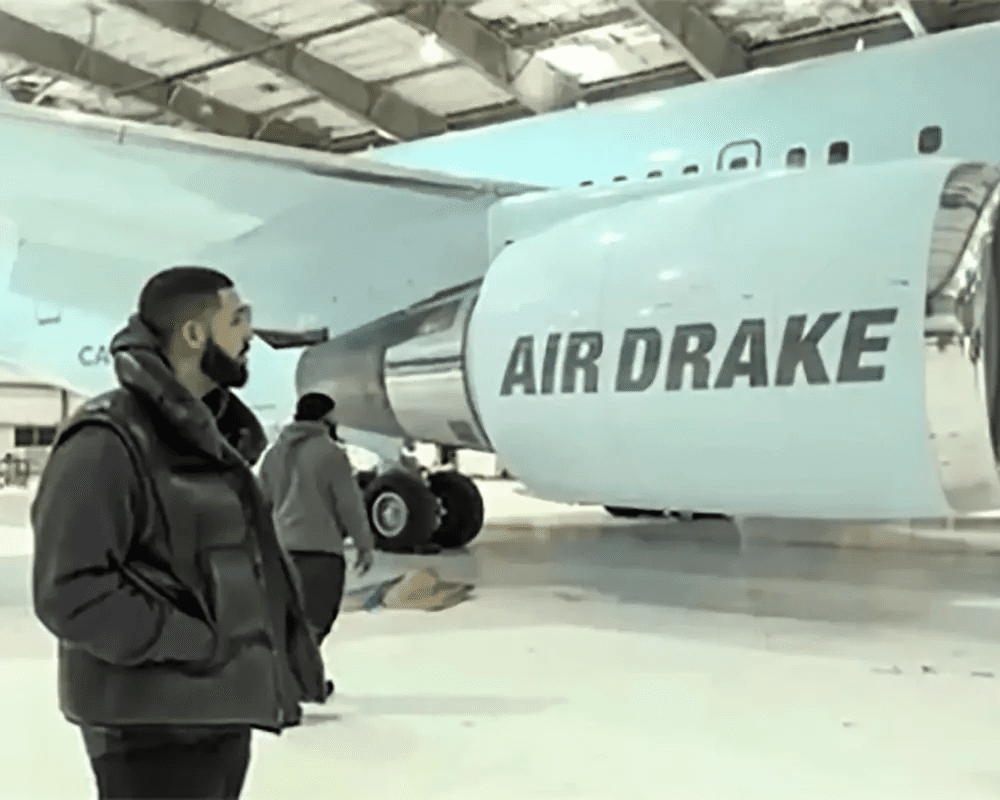 The personalized jet is worth $200 million, which is coincidentally a whole $20 million more than his actual net worth of $180 million. Yes, you heard that right, the man bought something more expensive than himself. How is that possible?
Cardi's Living in Luxury
She's a famous rapper, she's beautiful, and she also has one of the snazziest private planes out there. In summary, Cardi B has pretty much everything. The thing about the snazzy private jet isn't a joke too, because the rapper often posts snaps of her inside it and boy, is it a treat.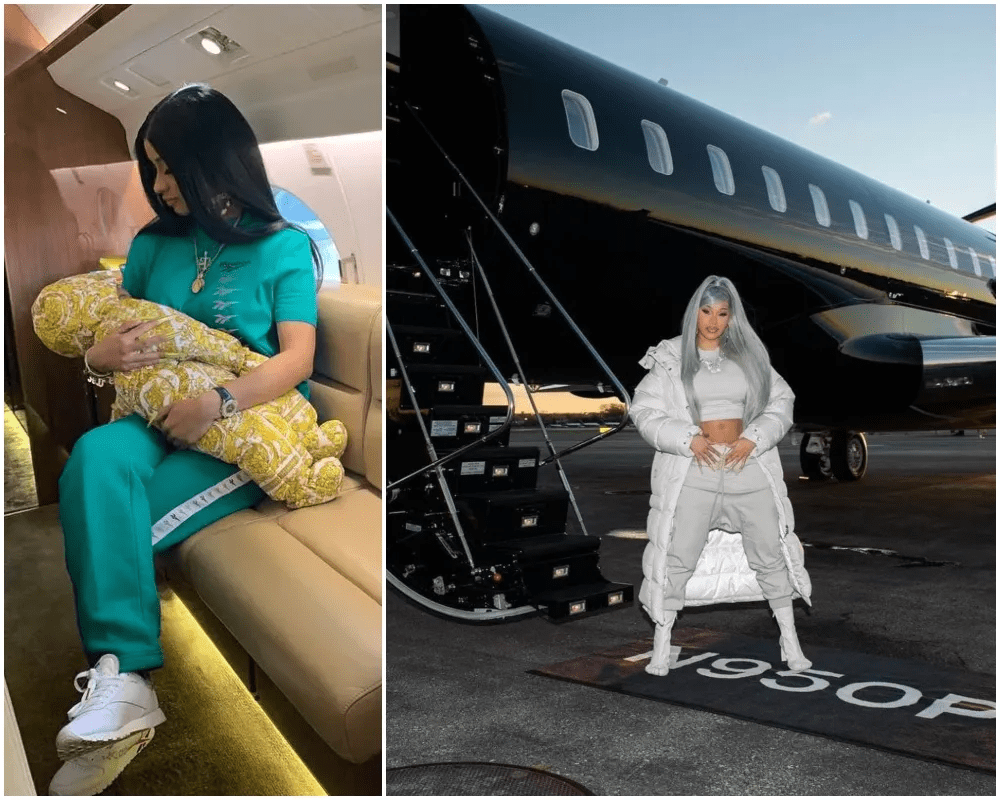 The jet is outfitted with a large TV, a full bed, custom leather upholstery for the seats, and, since she's in the music business, a high-quality sound system. That sounds like a lot, but you can't forget about the non-stop food trip that goes around inside the jet as well!
The Best Way To Lug Around a National Treasure
When you're out stealing the official draft of the Declaration of Independence, you're gonna need to have a consistent way to smuggle it out with you. So of course, you'll need a private jet to keep it safe from the clutches of those who would seek to take it from your grasp.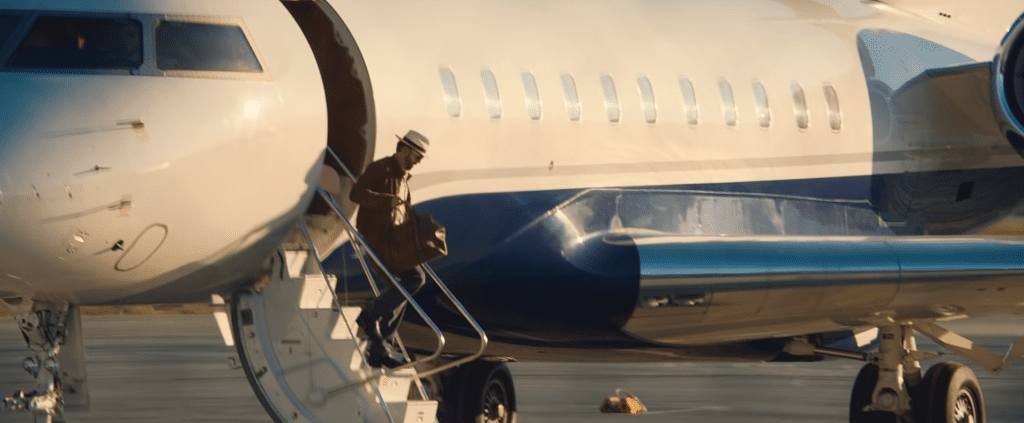 All film references aside, Nicholas Cage actually has a private jet—a Gulfstream G550, to be exact. The above photo shows the actor coming off the plane looking as stylish as ever with his fedora and leather duffel bag. Now that, is how you do it.
Private Spaceships Aren't a Thing Yet, so Private Jets Will Do
Tesla founder Elon Musk is known for a lot of his projects. From sedans, to very "different" pickup trucks, to everybody's favorite space rockets, the guy is able to do it all. And yes, that includes being able to buy numerous private jets.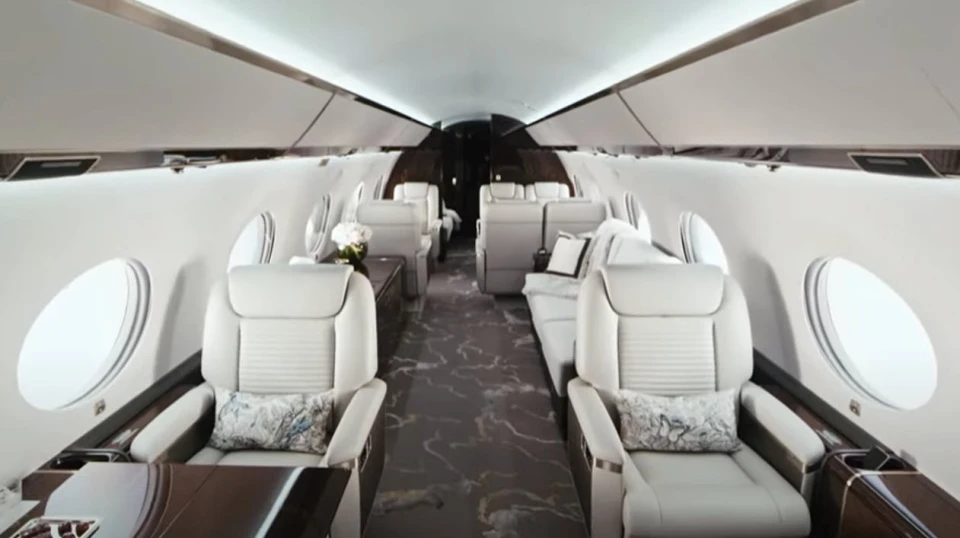 Every year, he flies around 150,000 miles on the G550 that he bought last 2008. If you're handling manufacturing chains and businesses all over the world, then you'd best believe that you'd be using a private jet to go everywhere.
George Clooney Has Some Serious Bestie Goals
Even though George Clooney is an advocate and promoter of environmental movements like carbon footprint reduction, the 1997 Batman star uses his expensive private aircraft on a regular basis. A man's got to have some way to enjoy himself, right?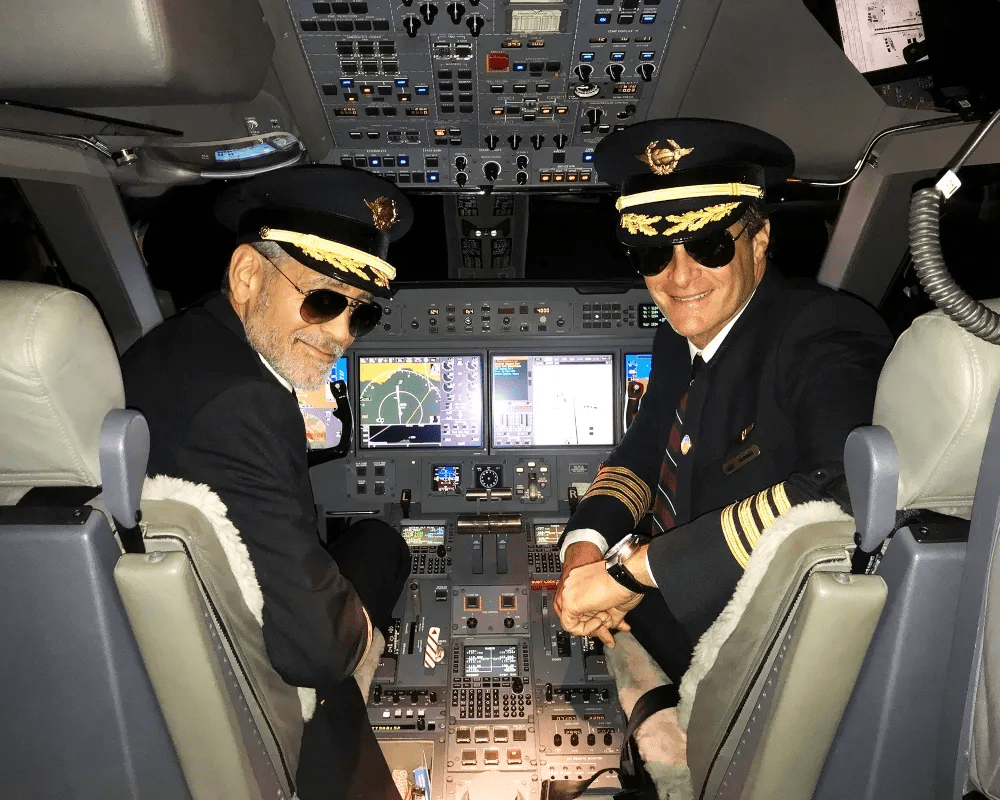 And Clooney knows the importance of having a copilot, which is why he regularly invites people to fly with him. In the above case, it was Rande Gerber. If you think that's impressive, then wait until you hear about his inviting Prince Harry and wife Meghan Markle for ae ride a few times.
These Angels Like To Fly In The Clouds
Victoria Secret models Chanel Iman and Shanina Shaik are two of the world's finest models. In their line of work, it's only natural for you to be close friends with your coworkers. So, going on a little vacay with them is a fun time for all.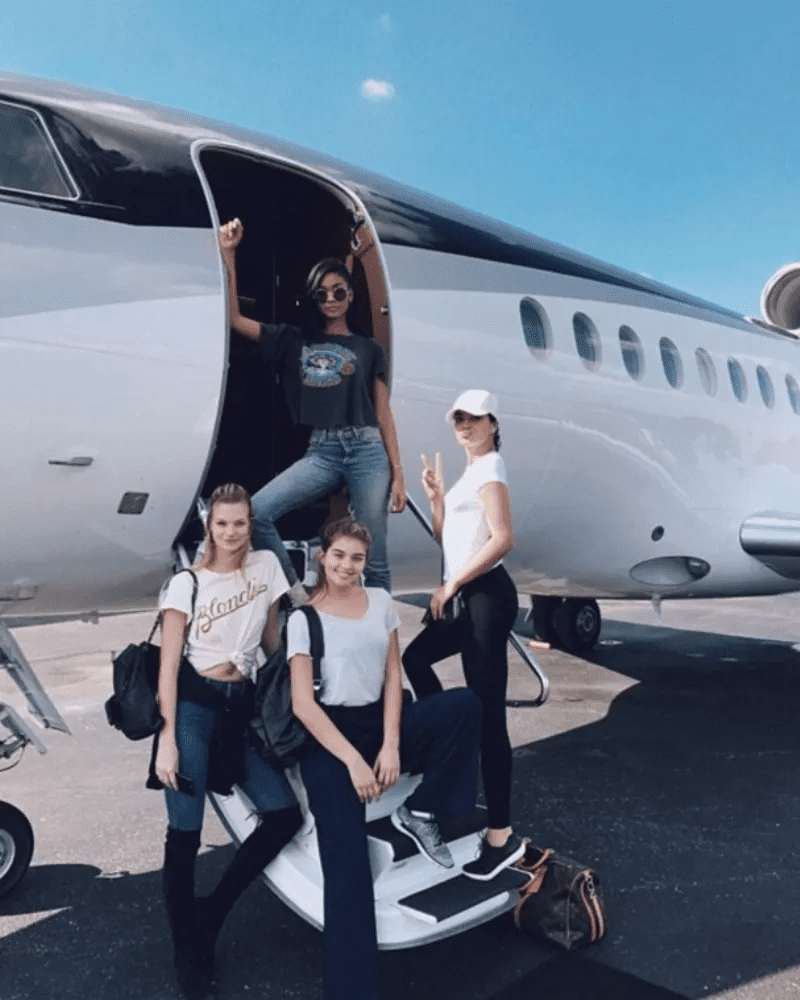 Along with their fellow models Daniela Lopez Osorio and Nadine Leopold, the girls flew off to the Bahamas for a pleasant getaway from work, and probably to snag some nice snaps of each other under the sun! Celebrities are just built different.
Ludacris's Private Jet is Just…Ludacris
We apologize for the pun, but looking at the photo that follows is gonna give you that reaction either way. The rapper and Fast and Furious star knows style, and that's why he chose to get himself a Hawker 700 that costs a whopping $20 million.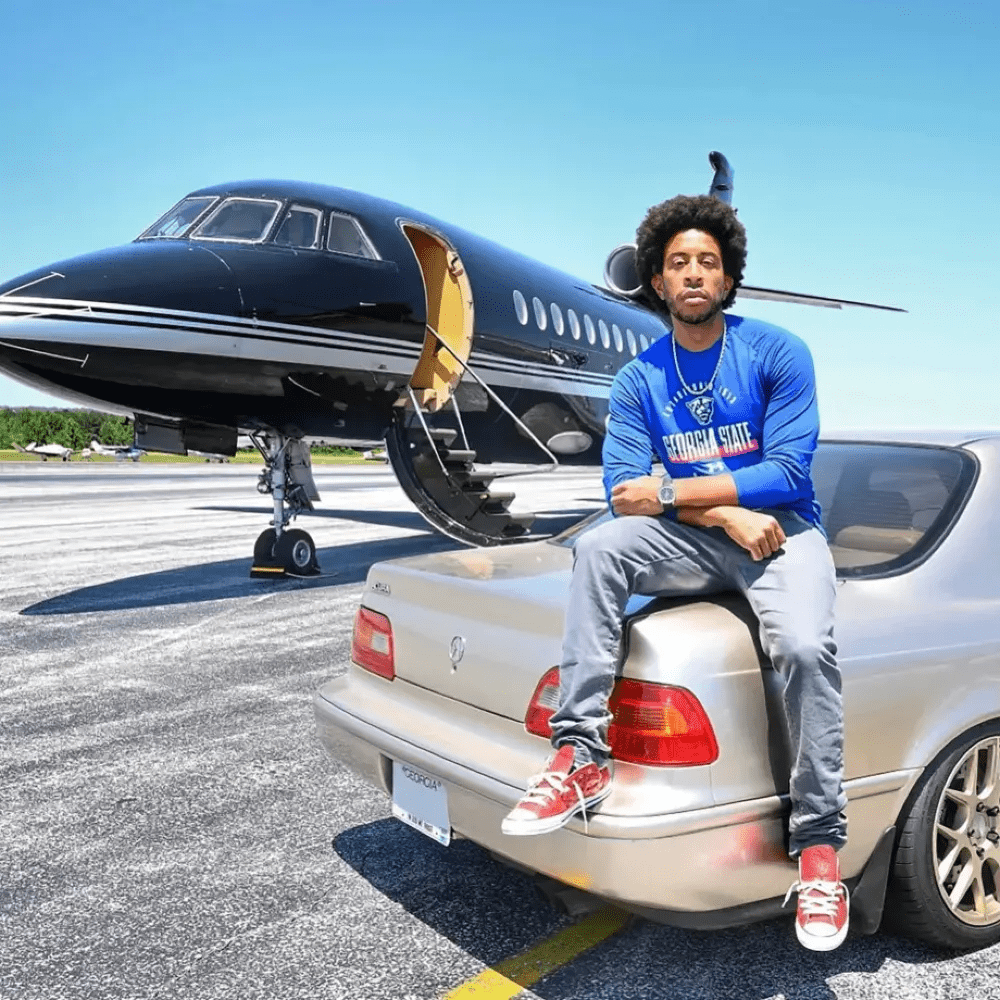 Also, did we mention that the rapper is a licensed pilot? Yeah, he doesn't just race in fast cars with Vin Diesel; he also knows how to fly. And here we are, struggling with acing our driver's license exams at the DMV.
Kylie Minogue Travels Around The World In Luxury
Being a worldwide icon is a difficult job, especially if you're faced with a world tour and a very busy schedule. Because of that, you're gonna need a set of wheels that can stick with you for the entire trip—or, even better, a set of wings.
The photo above is from her trip back to the UK in March of 2017. It may have been tiring for her, but she definitely didn't show it! Just imagine the amount of energy you'd need for a tour of that caliber without a private plane.
Angelina Jolie Does Everything To Make Her Children Happy
Most mothers would probably get their kids a new video game console; maybe a mom would buy her child tickets to a Coldplay concert. But Angeline Jolie is not like other mothers. When her son took an interest in planes as a toddler back in 2004, she took up flying as a hobby.
She even went as far as to get a pilot's license in the process, because why the heck not? Her aforementioned son, Maddox, who is now an adult, can enjoy flying lessons with his mother. Now that's a super mom!
It Ain't No Millennium Falcon, But It'll Do
It's been a long time since the first Star Wars and Indiana Jones films, but Harrison Ford still has that youthful vigor when engaging in exhilarating activities. What activities, you ask? Well, just flying, no big deal really.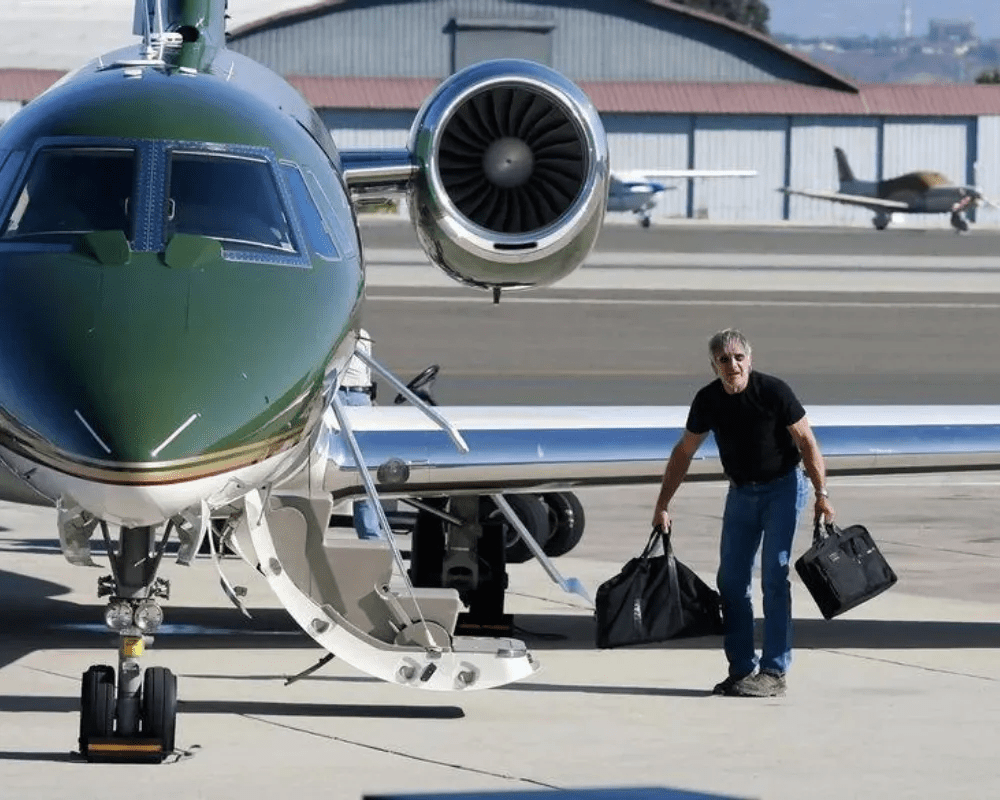 He doesn't only fly his two private planes, though—Han Solo also owns a helicopter! And yes, if you still don't believe us, he flies all of them on his own. He says that he prefers flying himself because the experience is far more exciting.