Revving Up The Streets: Exploring Incredible Custom Car Wrap Designs
By Israel O September 11, 2023
---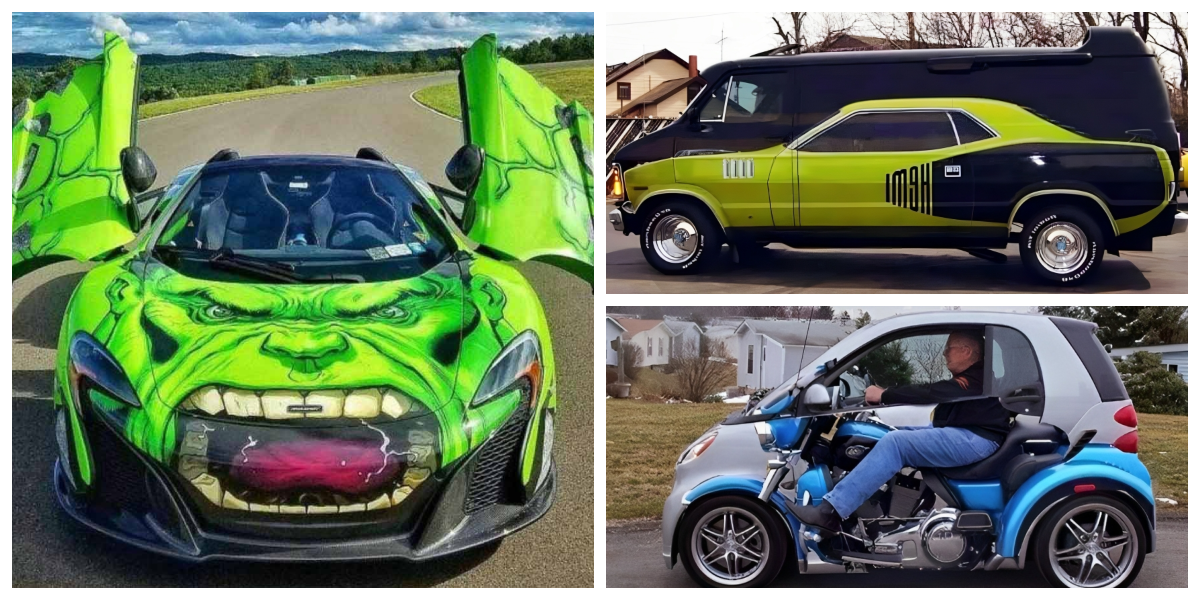 Custom car wraps have revolutionized the way we perceive and personalize our vehicles. These extraordinary creations, often bordering on artistic marvels, transcend the boundaries of traditional car aesthetics. With the power of imagination and cutting-edge design, they transform ordinary automobiles into jaw-dropping, head-turning spectacles. From breathtaking landscapes to intricate patterns and pop culture tributes, these wraps are a testament to boundless creativity.
In this exploration of incredible custom car wraps, we will take you on a journey through a world where vehicles become canvases where artists transform the mundane into something extraordinary. So, the next time you see something resembling corn on the cob with wheels drive past you, relax. It's only one of these creations. Buckle up your seat belts, and let's enjoy the ride.
Not Porsche
The iconic Porsche sports car imagery adorns this spacious van in a car wrap, creating a captivating contrast. It's a statement of versatility, where the elegance of a Porsche meets the functionality of a van, proving that anything can be found in unexpected places.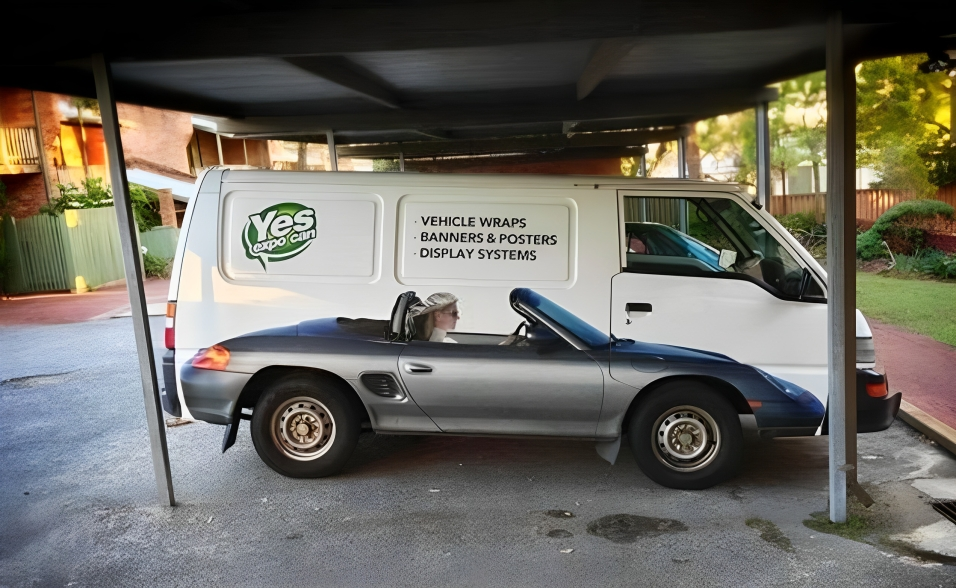 We won't blame you if, after viewing this, you had to see your doctor to check your eyesight. However, you shouldn't blame us for this; we just thought to share. Truth be told, we also had a tough time unseeing this.
Into The Spider-Verse
Do you know how the craze for anything Spider-Man started in 2002, shortly after the first movie was released? To be in vogue, you had to have a Spider-Man costume or something to show you were also up-to-date. Nobody wanted to be left out.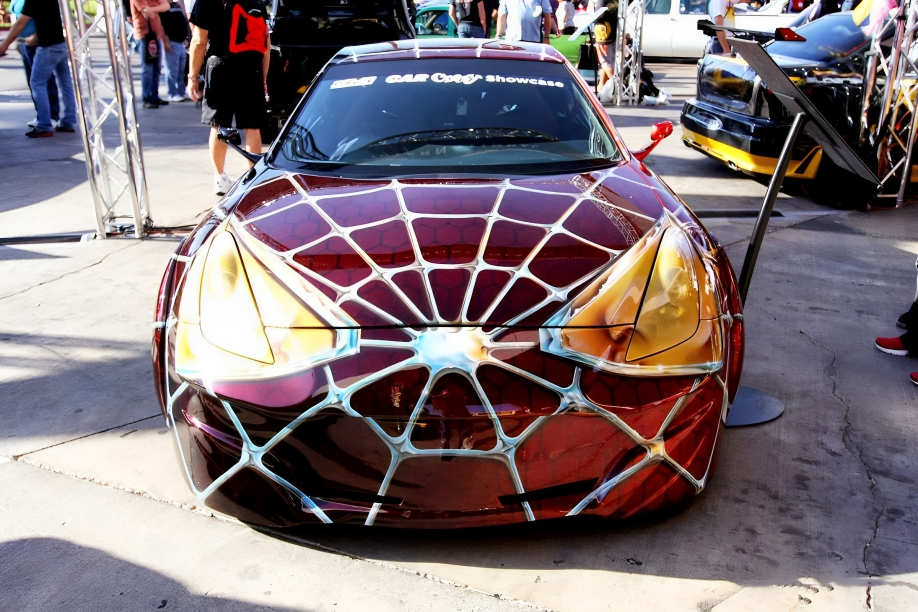 We also love our friendly neighborhood hero, so we approve of this. Here, we have a 2000 Toyota Celica with a unique wrap and an added custom Spider-Man wide-body kit. We hope this one releases spiderwebs, too, because that would indeed up the cool factor.
Cool School Bus
Yeah, it is an incredible school bus. Whoever thought of this wrap is one creative fellow, and this is proof that the size of a car doesn't matter sometimes. School buses are meant to be big and spacious, but this small car looks fantastic with the yellow wrap.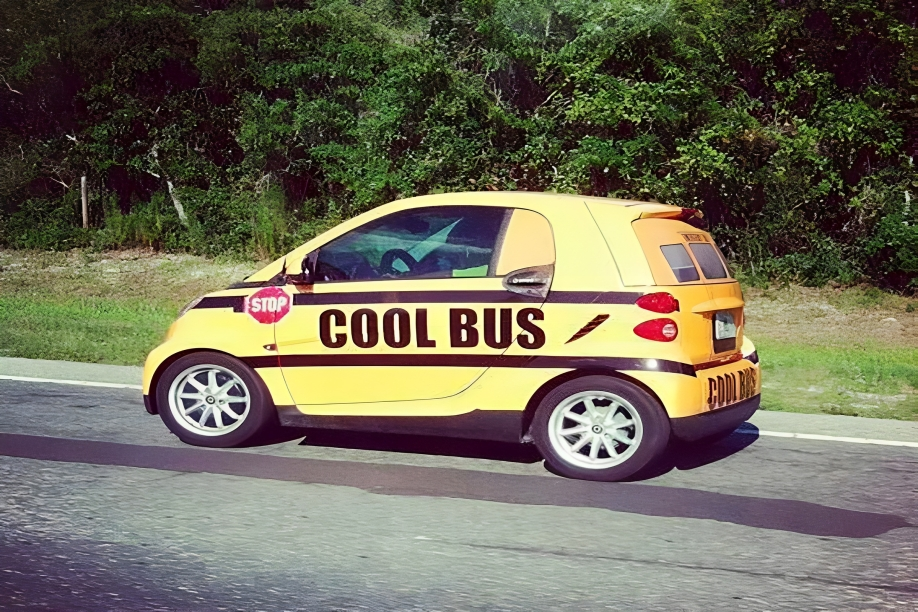 It even has the stop sign on it. Whoever owns this vehicle must be causing a lot of frenzy wherever he goes. This wrap must have promoted him to the coolest kid on the block because it's impossible not to be fascinated by this.
Nissan Cube
Whoever said that not much could be done with a Nissan Cube is mistaken, and here's proof. This vehicle has been turned into a Rubik's Cube, and our hands are itching to pick up the car and flip those sides around until all the colors match.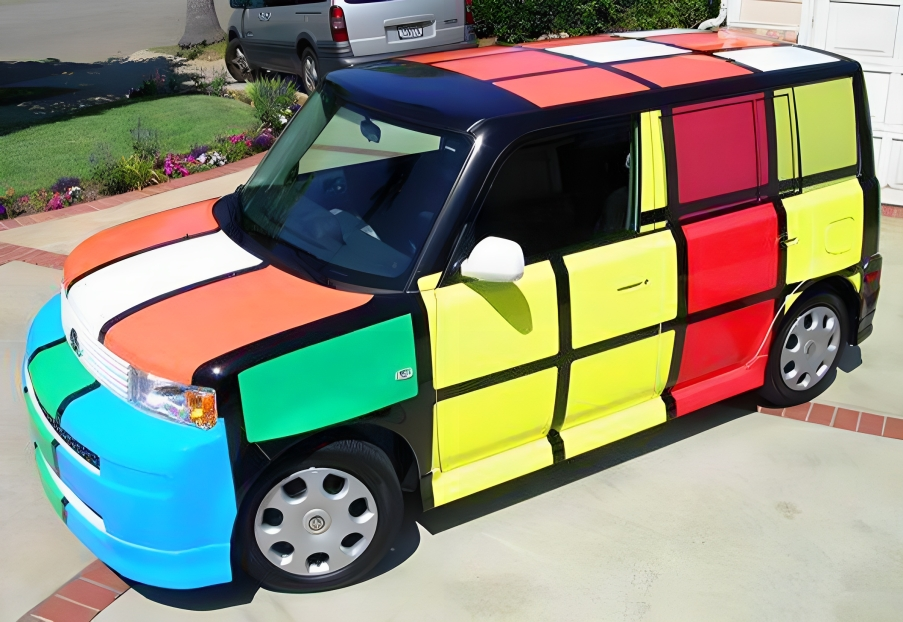 If you're a fan of the toy and have been looking for a way to show it off, we suggest you have a wrap like this. Well, that is if you have the confidence to rock such a look. People will definitely stop and stare.
SpongeBob Wrap
Many people's favorite cartoon growing up was SpongeBob, the 1999 hit cartoon from Nickelodeon. It is hard not to love the yellow guy and all his friends from the sea. They do funny things to ensure you have a good laugh.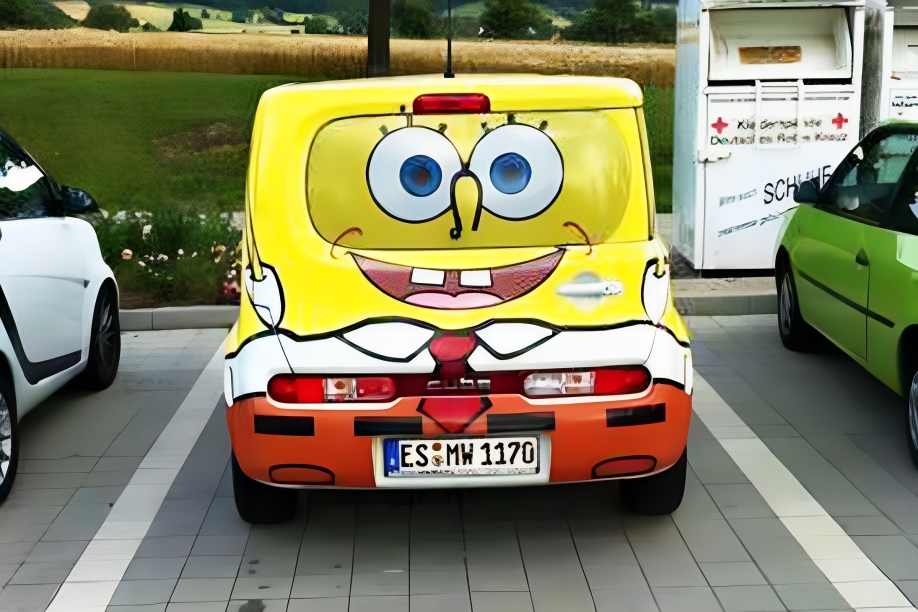 You've been living under a pineapple if you haven't seen it. The car is square-shaped, and so is our favorite character from Bikini Bottom, making them perfect for each other. We're certain this car wrap brings waves of nostalgia wherever it drives.
Cecil The Turtle
Turtle Transit, the industry's leading fabricators of mobile marketing, produced this wrap; they called it Cecil the Turtle, and it's perfect in every way. We can only imagine all the work that went into conceptualizing this gem, but the result is worth it.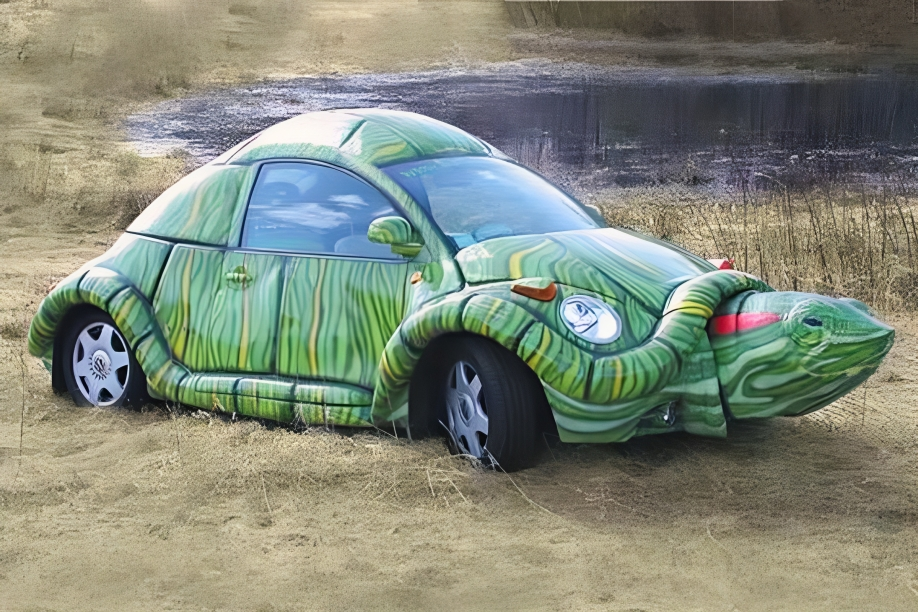 The level of creativity you can achieve on a Volkswagen Beetle is endless. Looking at this long and hard, you can imagine it being a real-life turtle. But instead of being out and about on the beach, it's cruising down the road.
Toilet Wrap
This is an amusing car wrap, one guaranteed to make you chuckle during your morning drive. We wonder if this marketing strategy scared people away or brought in a large influx of customers. However, we have a feeling that those with claustrophobia wouldn't want anything to do with a car like this.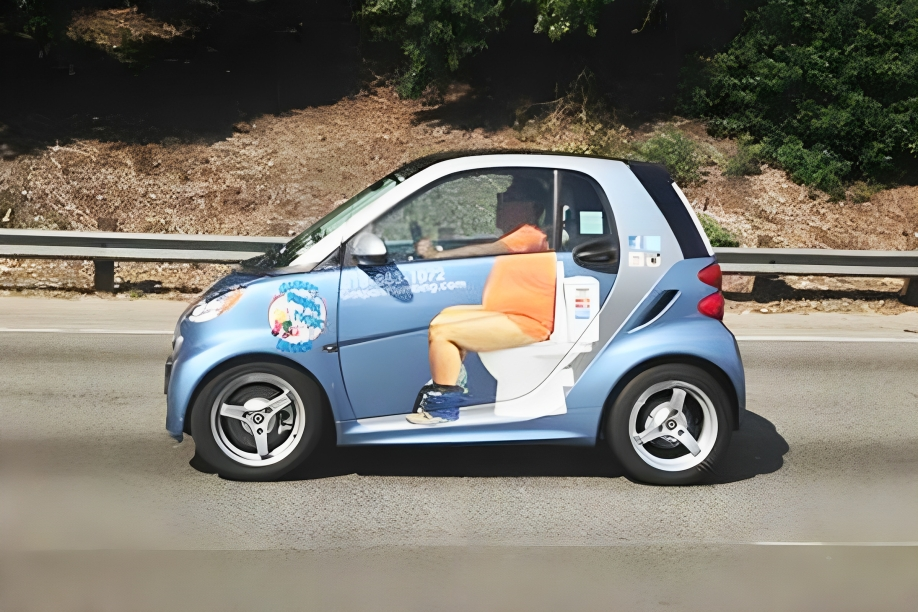 We don't care what others say; this is an awesome idea in our books. Who said you couldn't go to the toilet while driving? The amusing part is that the person behind the wheels also wears the same shirt color as the man on the wrap. 
Ferrari In Plaid
Why wrap a Ferrari in plaid, you ask? Ferraris, known for their sleek lines and unapologetic elegance, are the epitome of automotive luxury. So it's hard for us to understand why someone decided to wrap such an expensive luxury vehicle in something plain.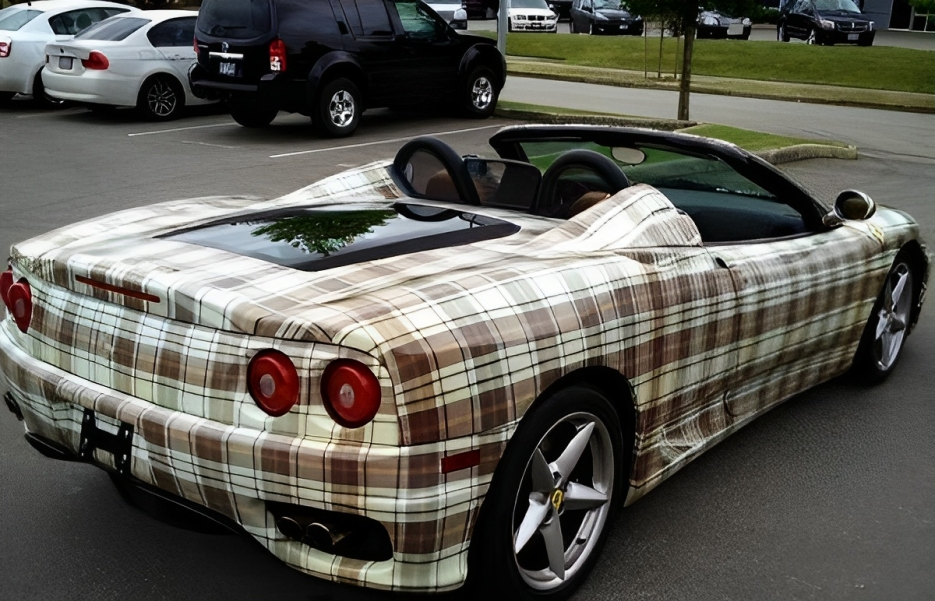 Such an action could be a declaration that you can do what you want as long as you're the owner of the car. Ferrari's classic design and reputation may lead many enthusiasts like this to opt for more unconventional customization options.
Crazy Taxi
Platinum Motors Cars dealer Jonathan Smith has helped us live out one of our childhood fantasies by bringing our favorite childhood arcade game, Crazy Taxi, to life, which was first available as an arcade video game in 1999. We know, we're old.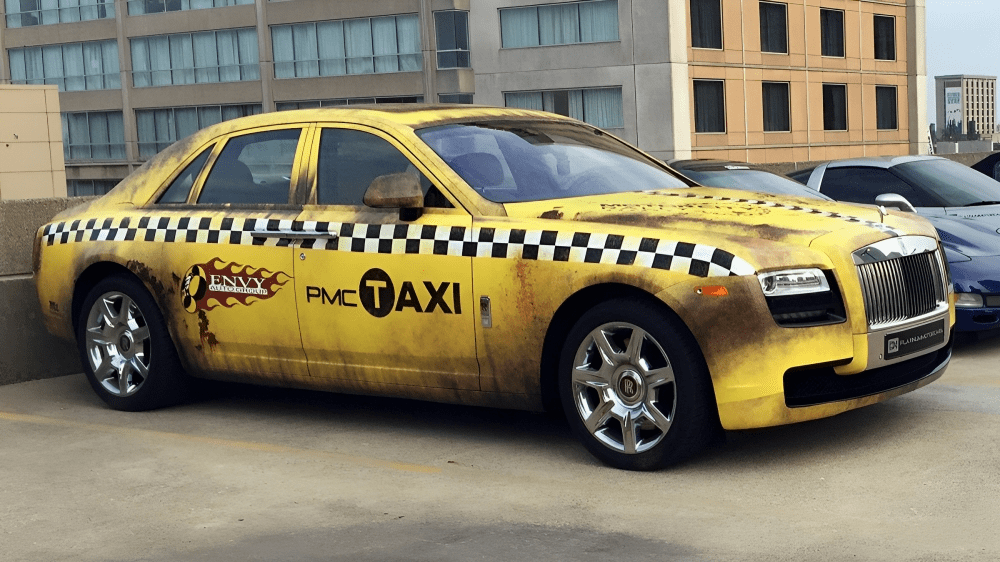 Jonathan designed this car wrap for several cross-country rallies, and it looks perfect with the dirty patches. However, if the owner decides to use this Rolls Royce Ghost as a cab, would you jump at the chance to be a passenger?
Optical Illusion
There is always something about optical illusions that makes them captivating. Apart from the fact that it looks like it's two cars parked side by side, the van's owner can deceive people into thinking he owns a sports car. What a great way to save money.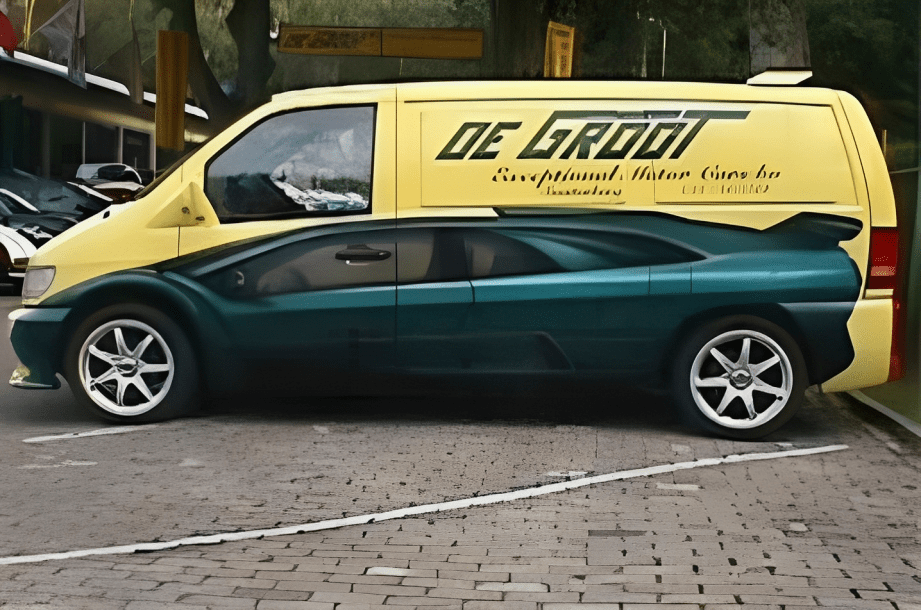 We love how they used the optical illusion to advertise what's written on the van. People must have stopped and stared for a long time to be sure they didn't imagine the sports car—a great way to increase sales. Their profits must have skyrocketed after this.
Bass Automobile
In the world of car enthusiasts, a handful dare to be different and take their passion for cars to a new level. Some choose to follow the rest and do what's expected, but a brave few aren't afraid to stand out.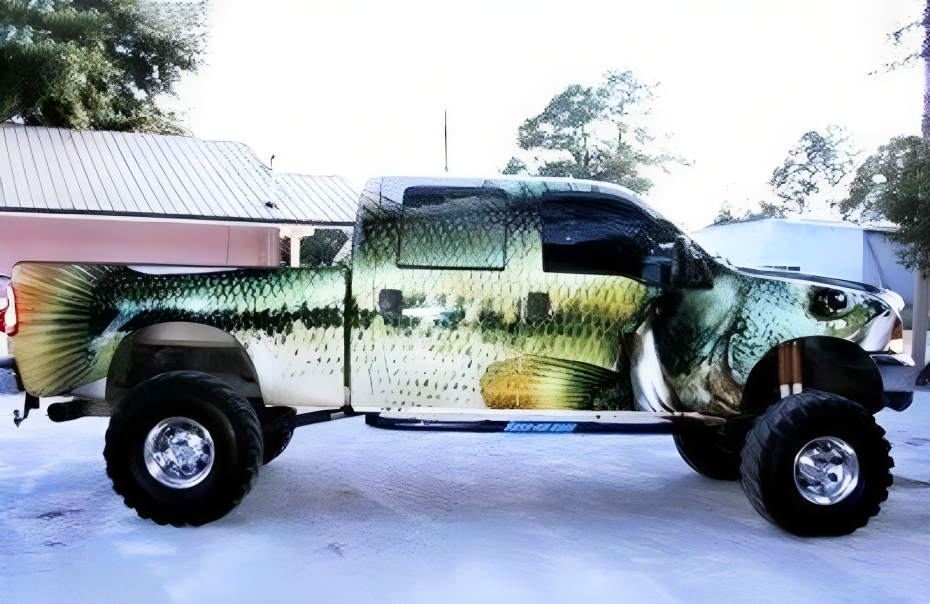 Then there's someone who wrapped their car like a bass fish. His audacity, creativity, and love for the unique have set him apart from the rest. This fellow is probably a fisherman, so he got a wrap to remind him of sea creatures.
Louis Vuitton Wrap
This person must not have heard of quiet luxury. We know it's a fairly new concept, but we're behind it. However, you can hardly expect someone who owns a Bugatti Chiron not to want the world to know about it, right?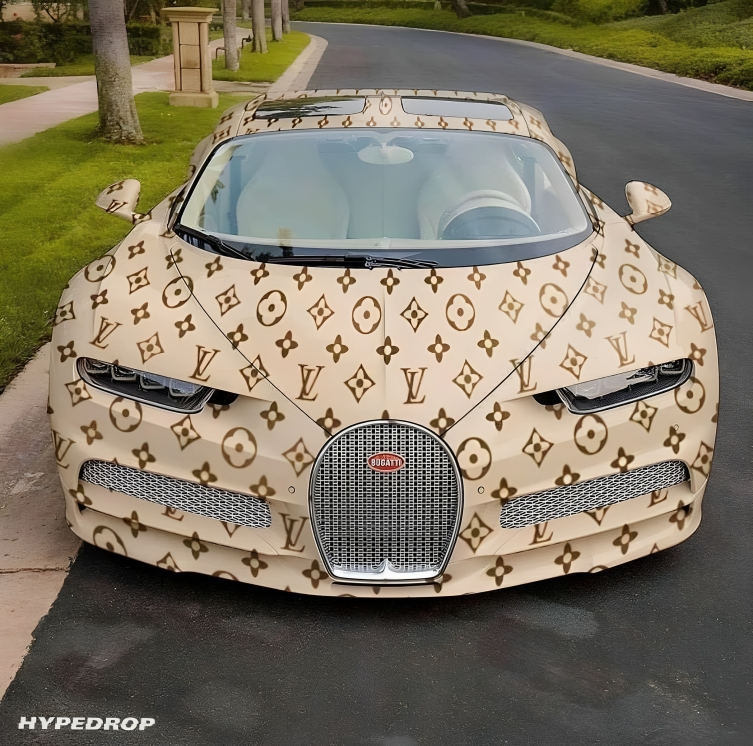 He transformed his already phenomenal Bugatti into a rolling work of art that effortlessly blends fashion, craftsmanship, and automotive excellence by having it wrapped in Louis Vuitton logos. This is proof that you can do almost anything when money is not an issue.
Clownfish Fiat 500
This is a Fiat 500 that has been transformed into a clownfish. Yes, it resembles Nemo because he is a clownfish. If you enjoy swimming through traffic, you can wrap your vehicle like this. If you're going to be stuck on the road, you might as well do it in vivid colors.
Given that the Fiat 500 resembles a clown car in certain ways, it makes sense that they chose such a design. Would you be daring enough to try such a design? Or would you shy away from something as bold as this?
PizzaMan Dan
You will want an appropriate mode of transportation if you go by the name PizzaMan Dan and own a pizzeria with that name. The Pepperoni Corvette, spotted at the 31st Annual International Pizza Expo in Las Vegas, is a pizza lover's fantasy.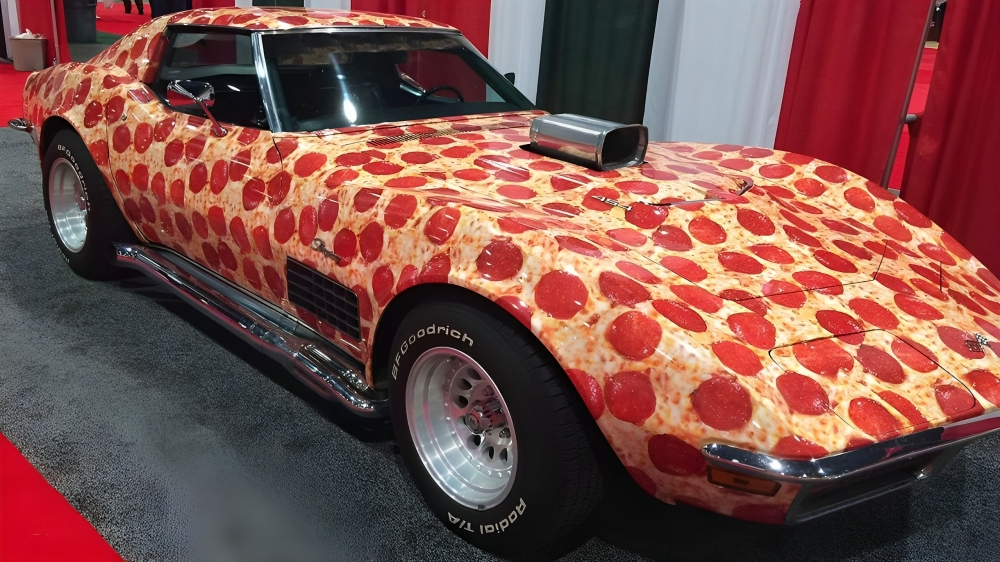 Owner Dan Collier runs the PizzaMan Dan's restaurant business in Ventura County. This wrap was for promotional purposes, but we can tell that Mr. Dan's love for Italian food runs very deep. We are sure he must have a bedding and sofa with the same design.
Jurassic Park
We can't think of anyone who hates Jurassic Park, and a true fan would recognize this vehicle immediately without even reading the inscription on the car. This Ford Explorer Tour Vehicle might be familiar because it was prominent in Jurassic Park movies.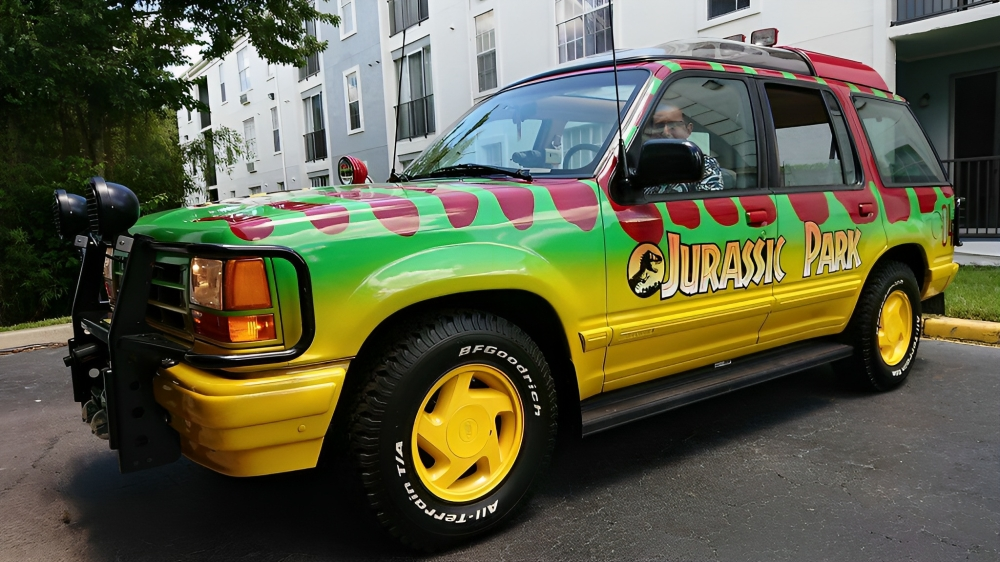 At the beginning of the movie, the Explorer 04 was destroyed by the T-Rex. Whoever designed this wrap did an excellent job; it looks similar to that in the film. Would you fancy driving this around town? You'd certainly catch people's attention.
Snake On A Car
This is not a Mercedes Benz but a Mercedes Snake C-Class. This model looks like a serpent, and portraying it with a convincing car wrap makes sense. We especially love the excellent job of turning the headlights into reptilian eyes.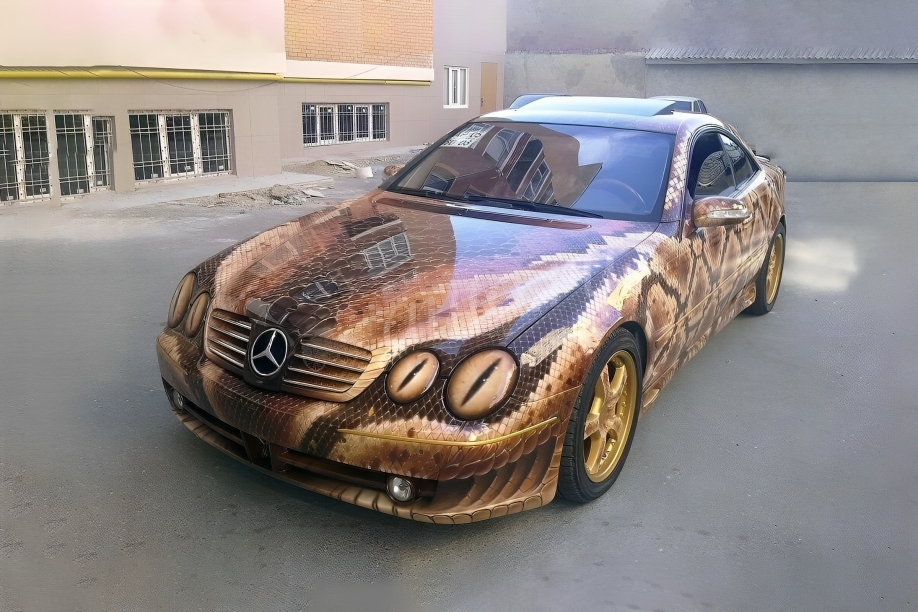 The detailing is top-notch with the scales and patterns, and it's easy to guess that this is a python. The only thing missing is its fangs. You can easily tell that whoever commissioned this must have been very satisfied with the work done.
Watermelon Sugar
Our favorite juicy fruit is the watermelon. It's hard to overlook its juicy goodness. It is also highly enriched with potassium, which supports nerve functioning and lowers blood pressure. This car's owner must love the fruit as much as we do.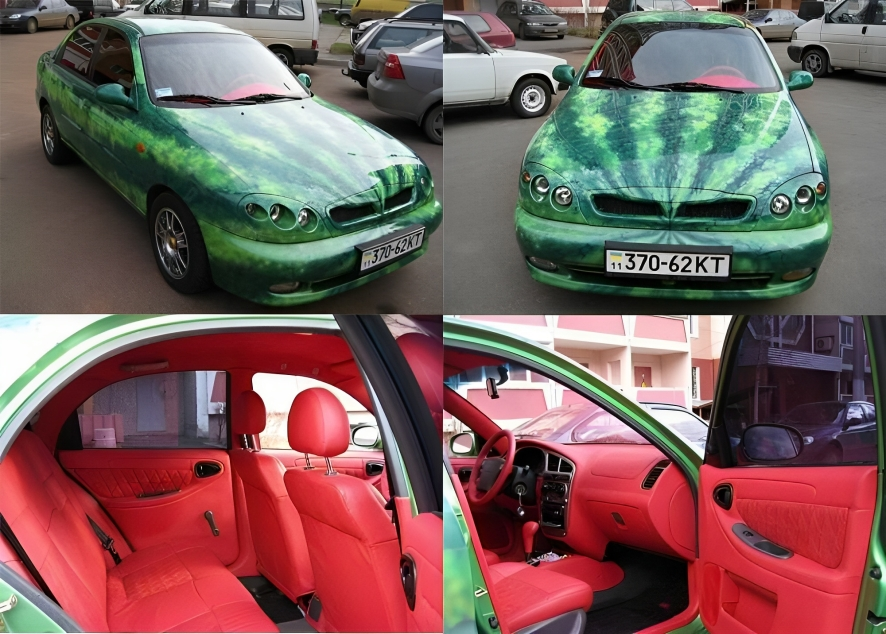 This job is highly creative and impressive because they paid attention to small details. The red interior matches the insides of the fruit, and the black fixtures in strategic places resemble the watermelon seed. It looks juicy, and we can almost taste it.
Professor Zundapp
The Janus was a microcar model named after a Greek god made by Zundapp between 1957 and 1958. It was the only car ever built by the German company, so it's rare to see one. Although it looked tiny, it was advertised to accommodate 4 people.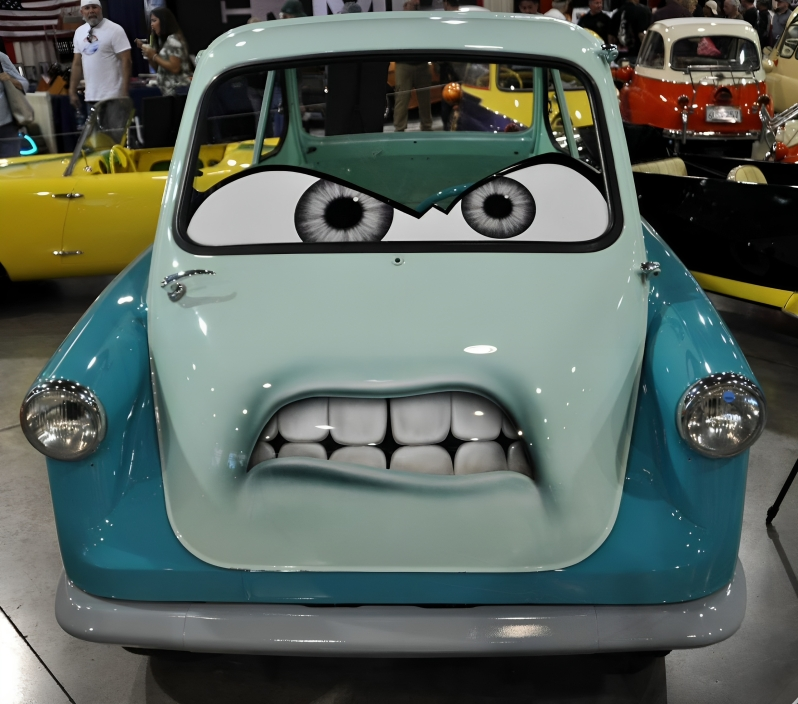 The person who did this wrap for the micro-car made it look like Professor Zundapp, better known as Professor Z, the central antagonist of the 2011 Disney/Pixar animated film Cars 2, who was promoted as the leader of the Lemons.
Tikes Coupe
Little Tikes introduced the Cozy Coupe to the market in 1979 as a toy car for kids between 18 months to 5 years. It's been loved and adored for several generations, and the key to its success was its dimensions. It also allowed children to 'drive' even when they were too young to do so legally.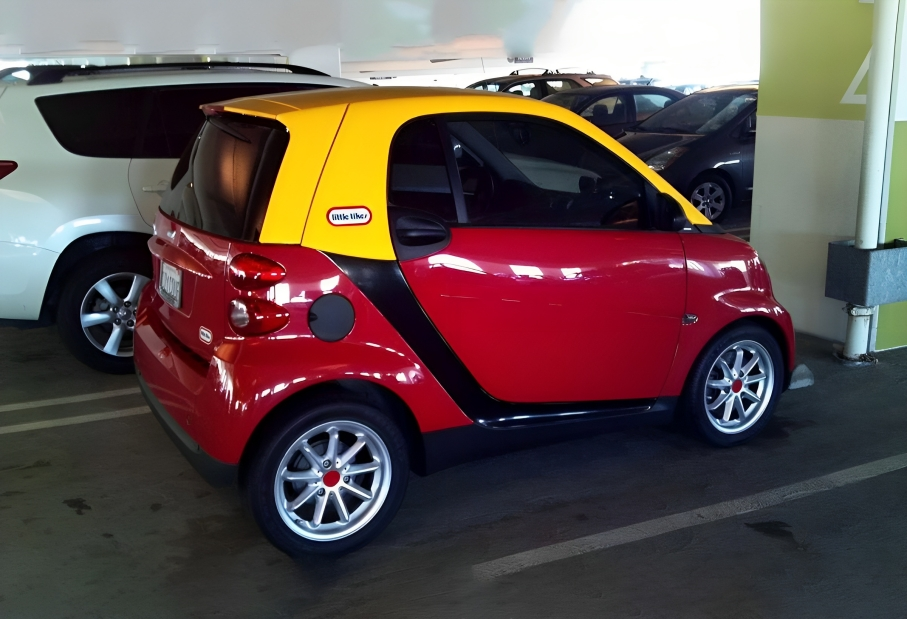 The owner of this vehicle must have wanted to relive their youth, so they spent good money on a custom car wrap that resembles their beloved toy car. Whenever they drive, they're going to feel like their 5-year-old self again, with no bills to worry about, at least for a short while.
Not A Dodge Challenger
At first glance, we know you must have thought the same thing we did: a Dodge Challenger! Well, it's not. The man who owns this black Chevy van has great humor, and this has to be one of the coolest wraps we've seen.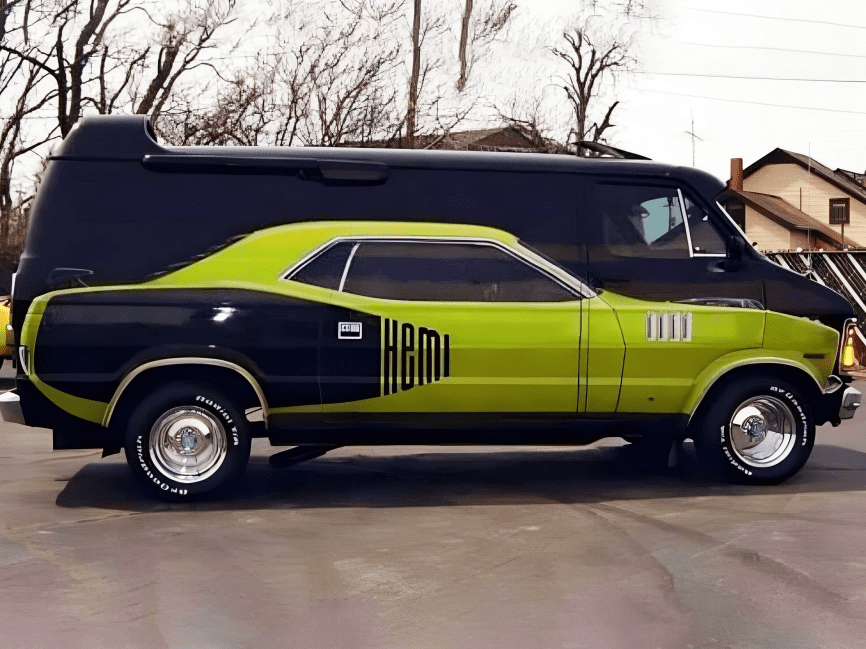 We are sure people must envy him at night because all they will spot is this neon green Challenger and wouldn't think for a second that it's some Chevy van. Well, never say you can't; you have to think outside the box.
Remember To Smile
Medical experts have proven that there are many benefits to smiling. They say it helps you live longer, relieves stress, elevates mood, and, most importantly, is contagious. We can't deny it; we actually smiled when we saw this, and that's a good thing.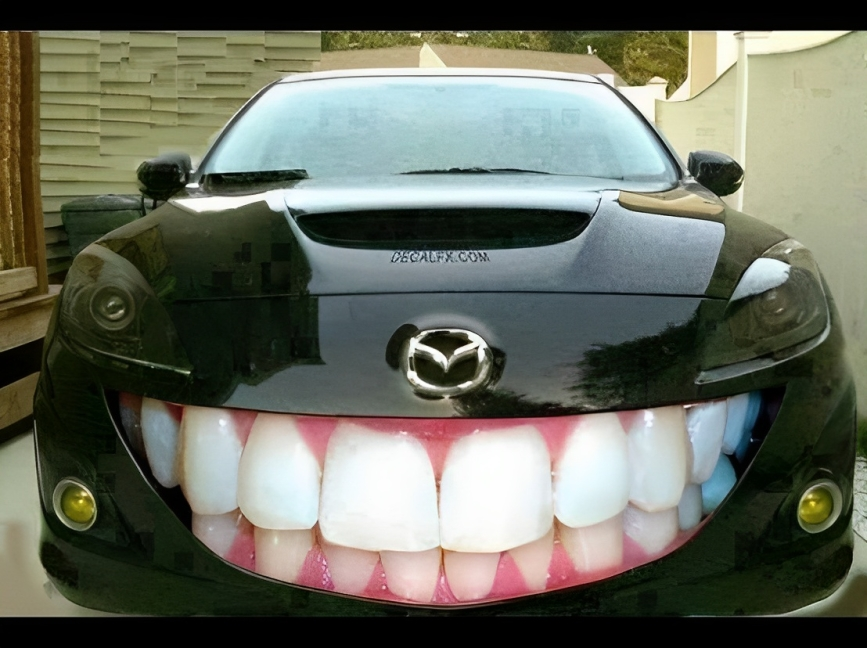 But did you know that not only humans can smile? Cars can smile, too, as proven by this wrap. The car's grill was given a mouth and a very detailed one too. Even if the owner isn't happy, at least his vehicle is always thrilled about something.
Always Fast
Your eyes are perfectly fine. That's not a DHL delivery van trying to overtake a FedEx. To be more precise, it's only a car wrap, a clever bus ad by FedEx. They even included drivers to make it look more lifelike.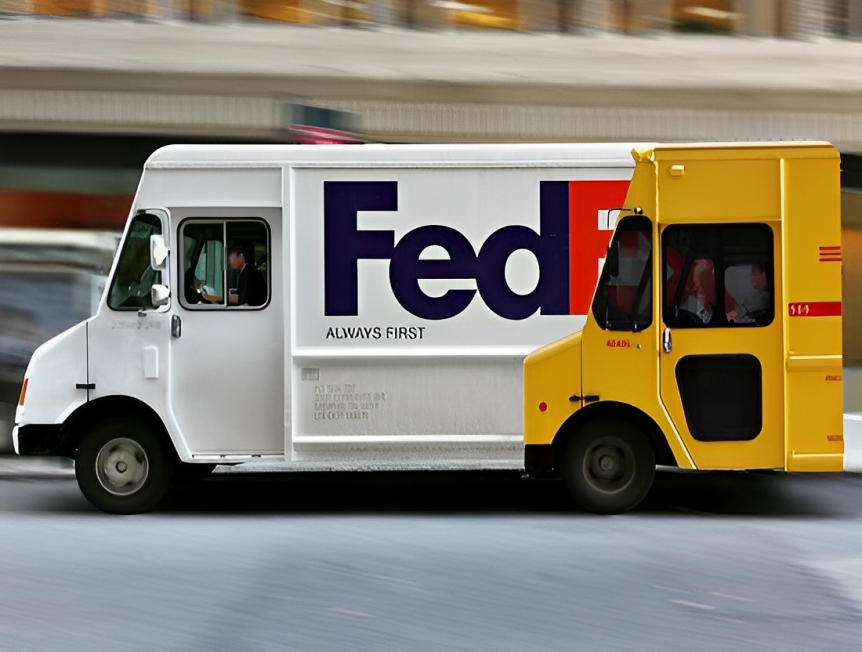 The ad agency that created this definitely thought outside the box to bring this to life. We all know the two companies are rivals and are always trying to one-up each other. We wonder what car wrap DHL will come up with.
Wooden Car
A fully-functioning French classic Citroen 2CV car made of wood took carpenter Michel Robillard more than 5,000 hours and over five years to build. He sold it this June for a whopping $224,440 at an auction. If only we had that money, we would have bought it.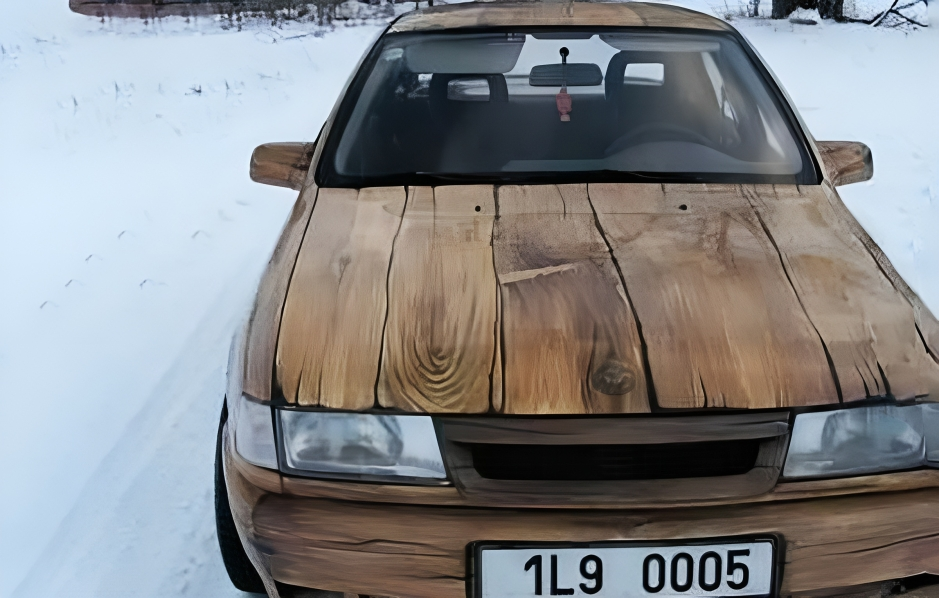 If you can't afford such a luxurious wooden car, you have a cheaper option, a wooden design car wrap. It looks like the real thing and won't leave you bankrupt. This reminds us of a log cabin in the woods, which we love.
Mechanized Look
Some print companies do a good job, but others go above and beyond expectations, and what you see in the photo below is a great example of a job well done. They transformed the smart car into a mechanized-looking vehicle!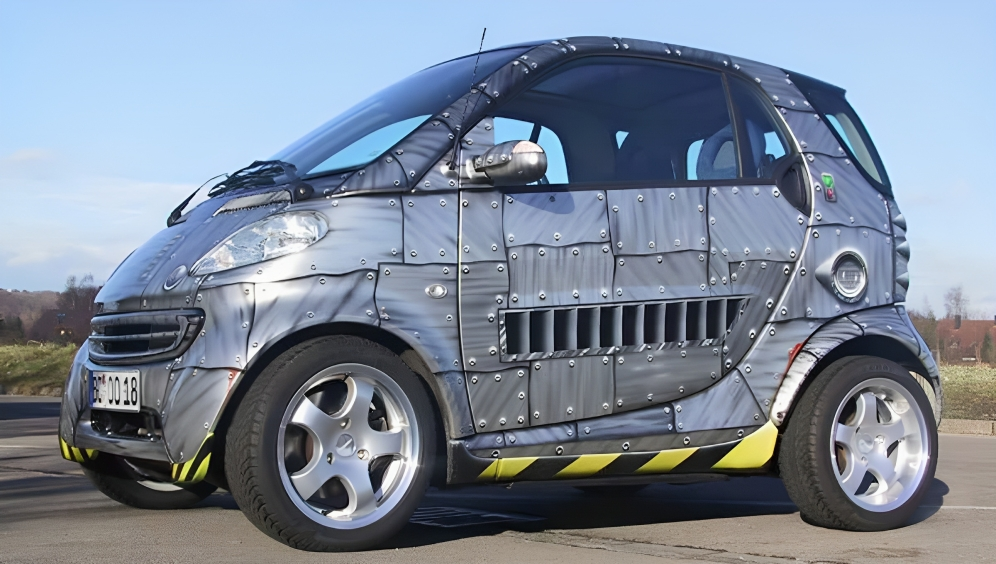 It's a wonderful creation, and they get a thumbs-up from us. They even thought of putting caution tape around the car as if telling other vehicles to stay away. We don't know where these geniuses get these ideas from, but they should keep them coming.
Cosmic Wonder
Usually, Lamborghinis make people's heads turn, but this one just upped the ante. With all the stars on it, it looks like a portal to another dimension. It's as if the mysteries of the cosmos have been captured in every square inch of its design.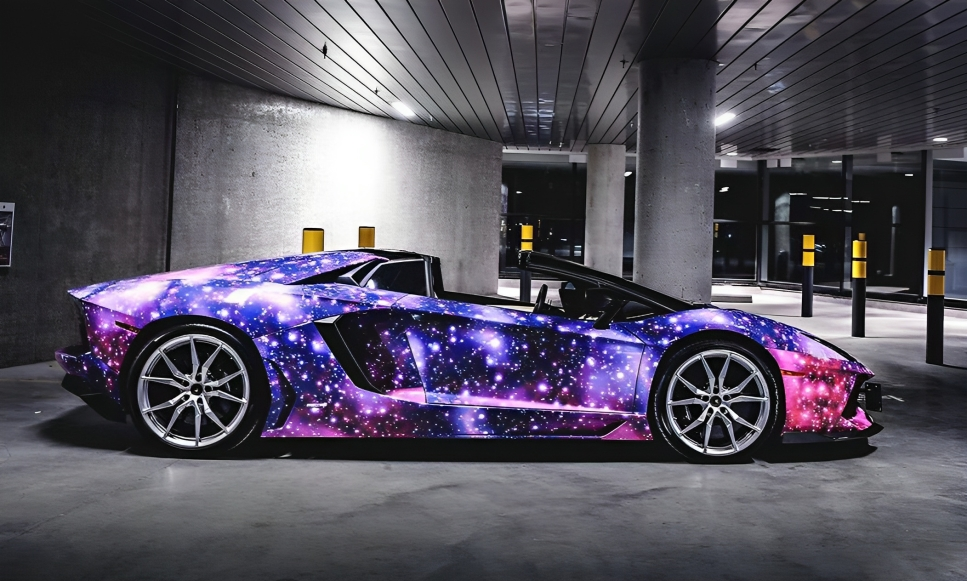 But it's more than a static representation of the universe. The stars twinkle as if they were alive. It's a work of art that transcends the boundaries of our world, inviting us to dream and be reminded of the mysteries that lie beyond the stars.
Catfish Wrap
Picture this: You're cruising down the street in something that's more than a car; it's a purr-fectly hilarious work of art. It's the catfish car wrap, and it's here to flip the script on ordinary designs in the quirkiest and most fin-tastic way possible.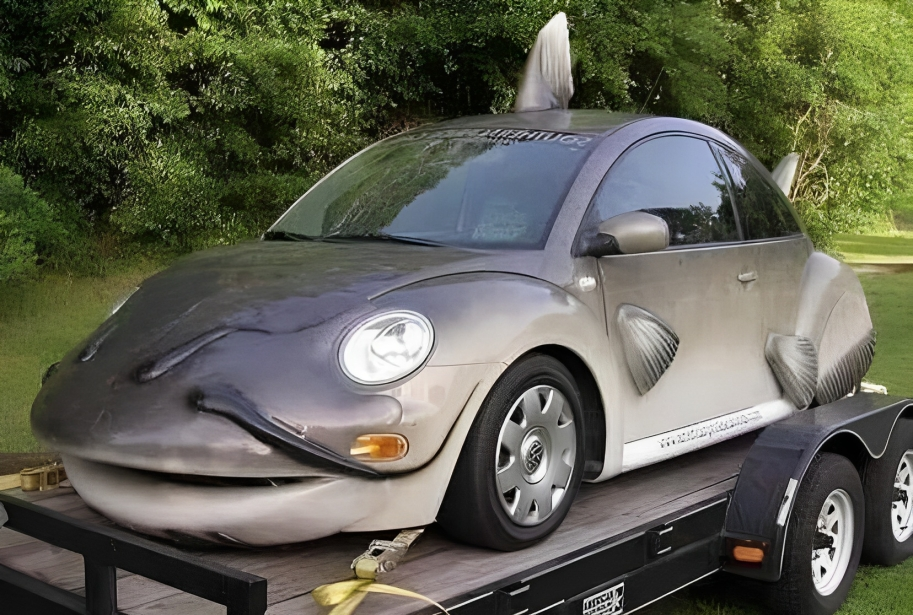 This is more than a car wrap; it's a transformation into a complete catfish with those unmistakable whiskers in front. We can even spot the fins; it looks like they added a tail, too. But it gets better. The car's headlights are the eyes.
Brick Van
This masterpiece takes the ordinary and elevates it into an extraordinary display of creativity and design. At first glance, this van wrap looks so realistic that you might think the bricks were meticulously arranged to form a seamless facade.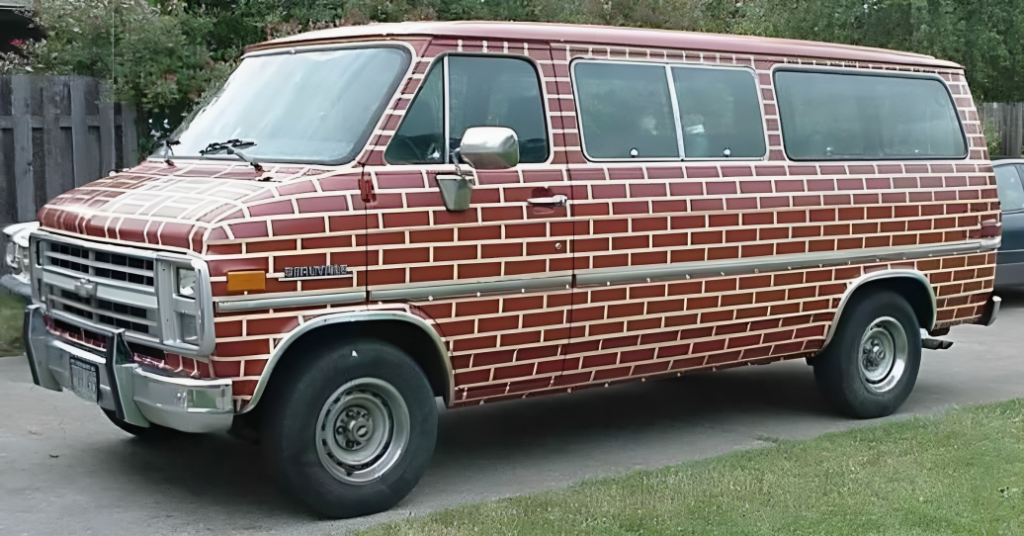 It's as if the van has been transformed into a mobile brick wall, a symbol of resilience and strength. The illusion is so convincing that you might find yourself reaching out to touch the "bricks" to confirm they're not real.
Cabike
We are starting to wonder what Smart Cars and motorbikes have in common. This is another fusion of both of them to create an incredible piece of art. Over the years, Smart Cars have been used to create fantastic car wraps like this.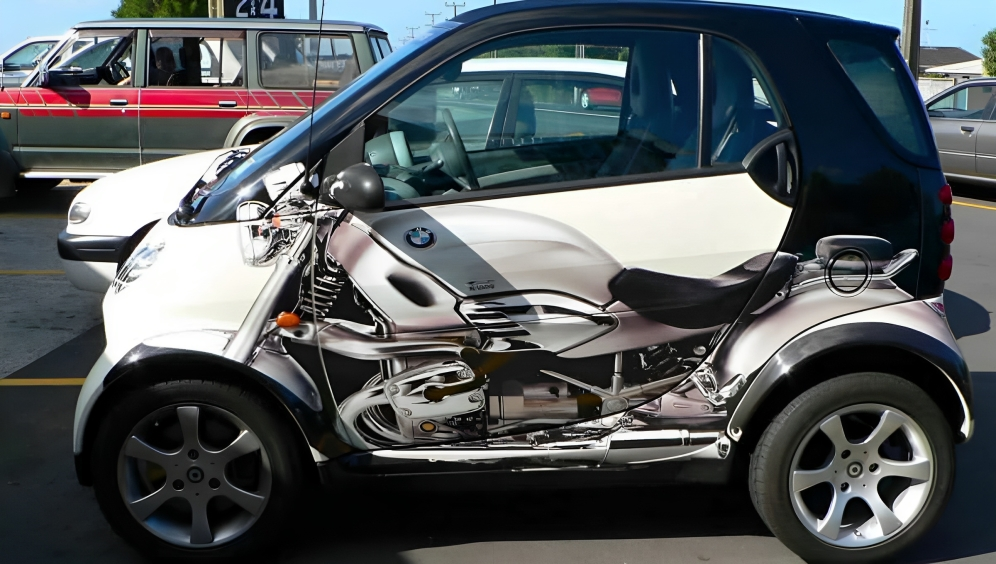 We aren't going to lie; it's simple yet flawless. In terms of comparison, they look alike, and the wheels align perfectly with the motorbike. Whoever thought of this car wrap must be a genius. It's an incredible piece of work.
Burst Of Colors
Behold the spectacular Corvette car wrap, a symphony of color that transforms this iconic sports car into a rolling work of art. It's as if a painter's palette exploded in a burst of vibrant hues, creating a mesmerizing display of creativity.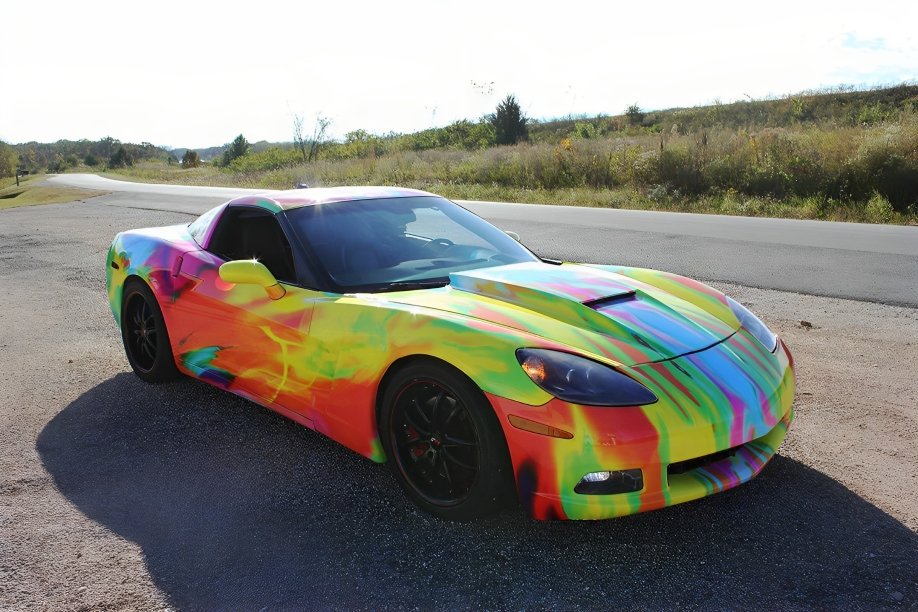 At first glance, your eyes are greeted by a wide range of colors that seem to dance and shimmer in the sunlight. From electric blue to fiery red, from neon green to blazing yellow, this wrap is a visual feast that demands attention.
X-ray Wrap
The classic X-ray wrap is a mesmerizing automotive customization that transcends the boundaries of traditional car design. It's as if the vehicle has been transformed into a moving machine, revealing its inner workings and mechanical marvels to the world.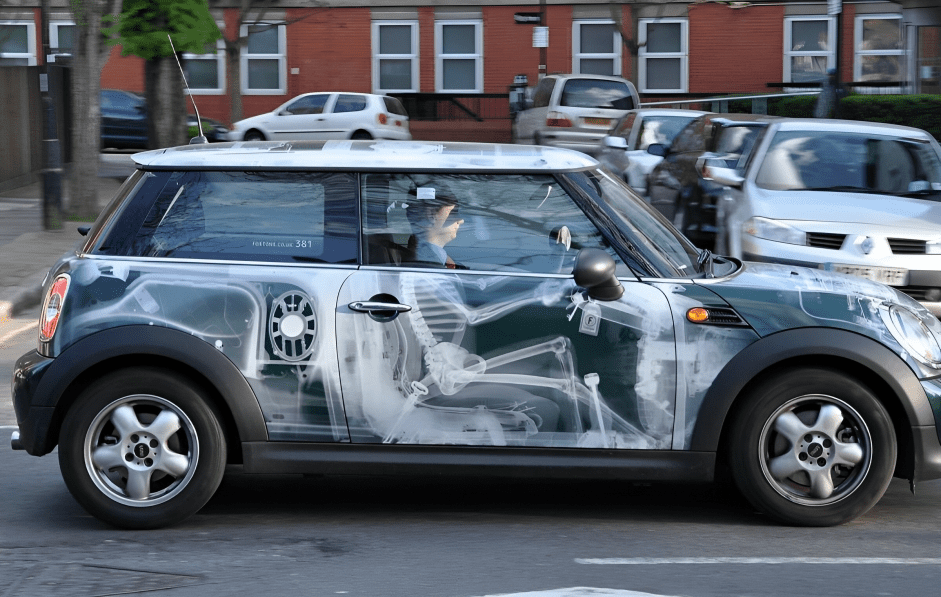 The X-ray wrap creates a sense of intrigue, inviting onlookers to peer through the layers and explore the mysteries hidden beneath the surface. It even looks as though you are seeing the skeleton of the man behind the wheels. Perfect!
Jaguar Meets Jaguar
Enter the realm of artistry where the feline spirit of a Jaguar car meets the untamed elegance of an actual jaguar in an astonishing union. Picture a Jaguar automobile, its sleek lines and powerful presence enhanced by an awe-inspiring Jaguar animal wrap.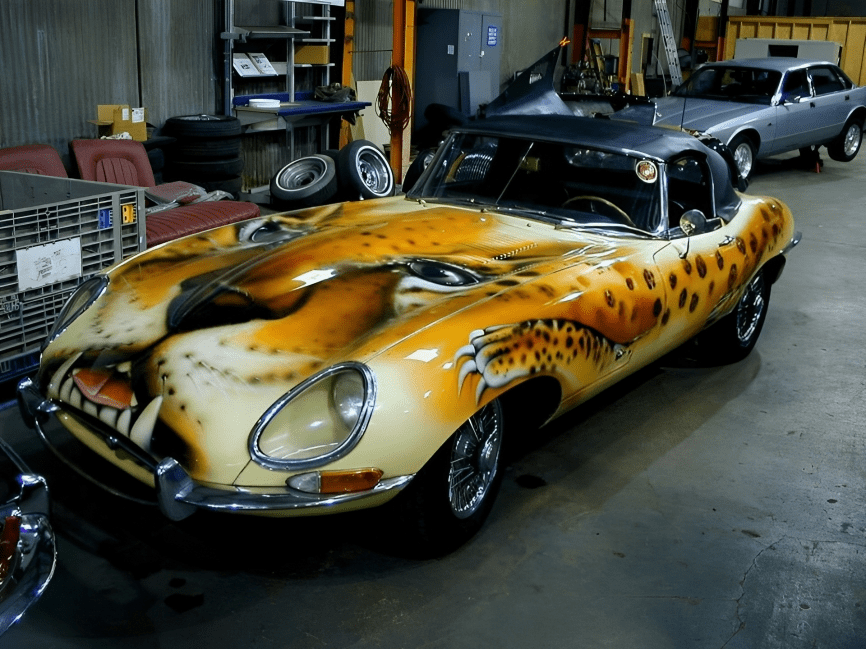 The first thing that strikes you is the uncanny resemblance – the wrap has transformed the car into a magnificent, life-sized animal, prowling the asphalt jungle with grace and poise. The details are impeccable; it seems this vehicle might slip into the wild and disappear.
Carmine Red And Satin Black
Look at this Chevrolet Corvette C7 Z06 draped in an elegant blend of carmine red with the sleek allure of satin black. It's a symphony of colors that turns heads and leaves onlookers in awe. The carmine is red, bold, and passionate.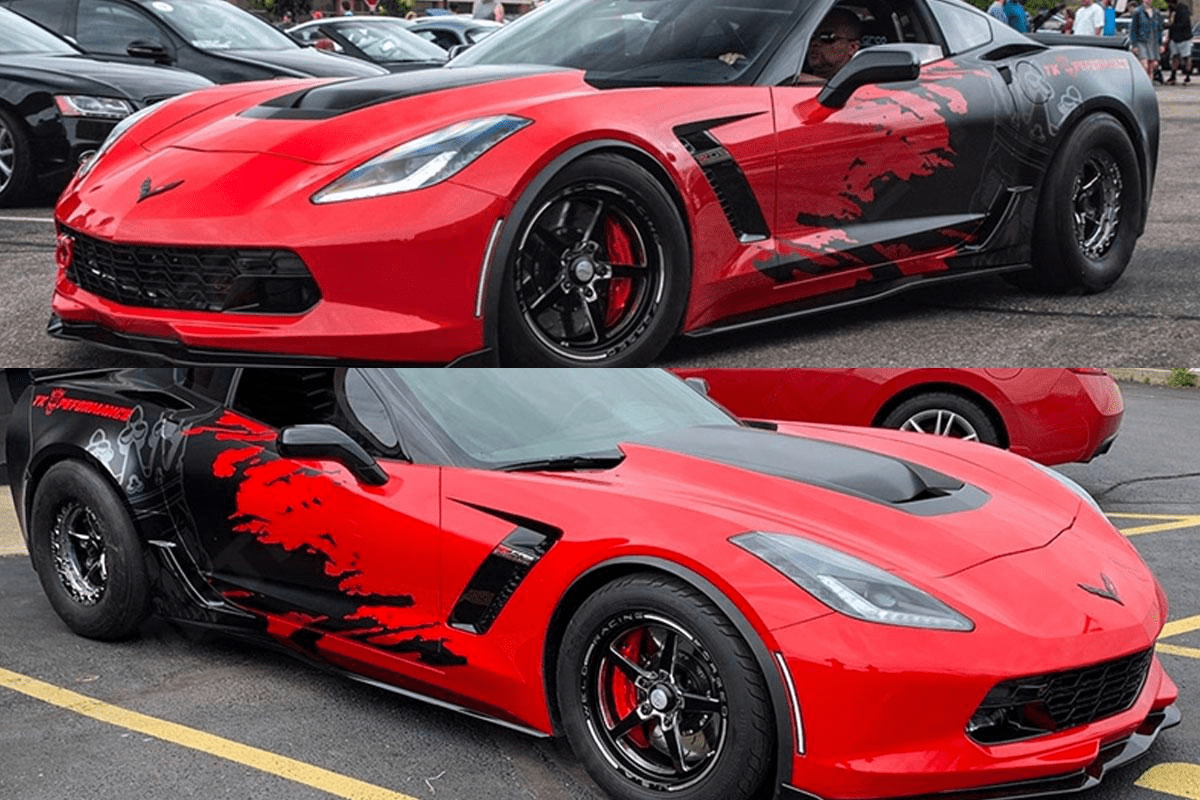 But the satin black accents elevate this wrap to a new level. The black, like the midnight sky, gives it more details. The stripes, curves, and contours create a dimension that highlights the car's muscular form. We know this is only a car, but we admire it so much.
Butterfinger Wrap
Introducing the Butterfinger car wrap, the most playful thing we have seen. Yes, it's an ad for the candy, but a closer look at this will surely satisfy your sweet tooth for unique designs. It pleases those with a flair for the dramatic.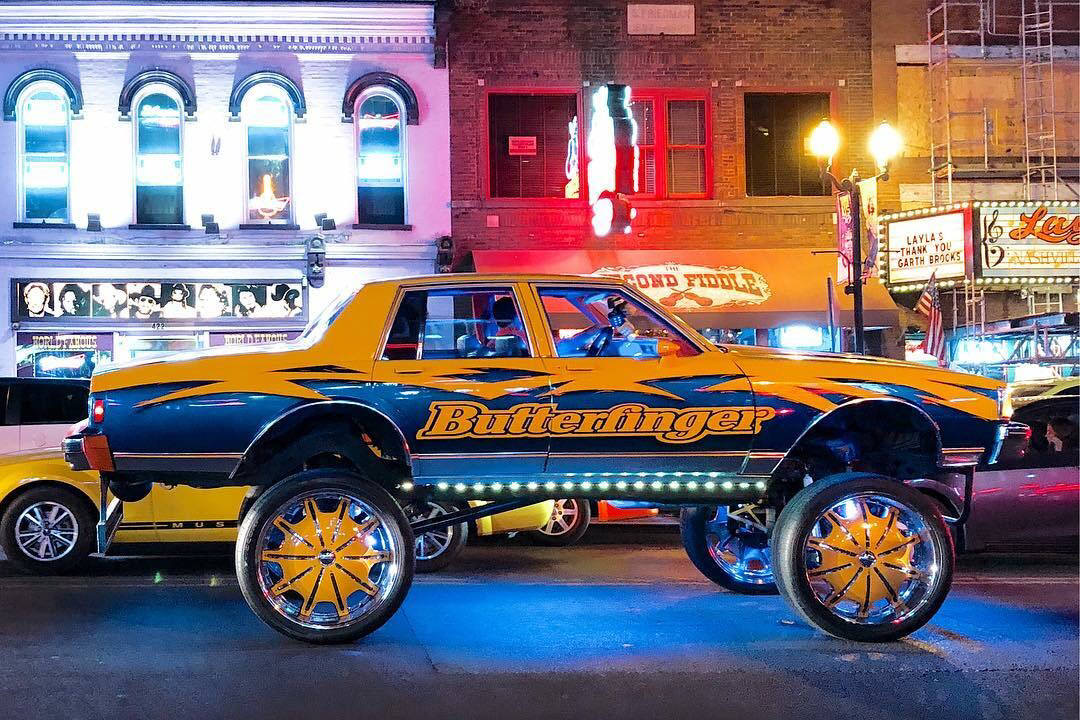 The founder of Curtis Candy Company and the person who invented Butterfingers, Otto Schnering, has always had a knack for amazing publicities. This isn't the first time he's done something incredible to make people talk. Butterfingers were once dropped from planes to boost their popularity.
Alligator On A Truck
The alligator tailgate car wrap is a great customization that combines the rugged allure of the wild with the sleek aesthetics of modern design. It's as if the vehicle has been transformed into a ferocious alligator, ready to roll down the road with an unbridled attitude.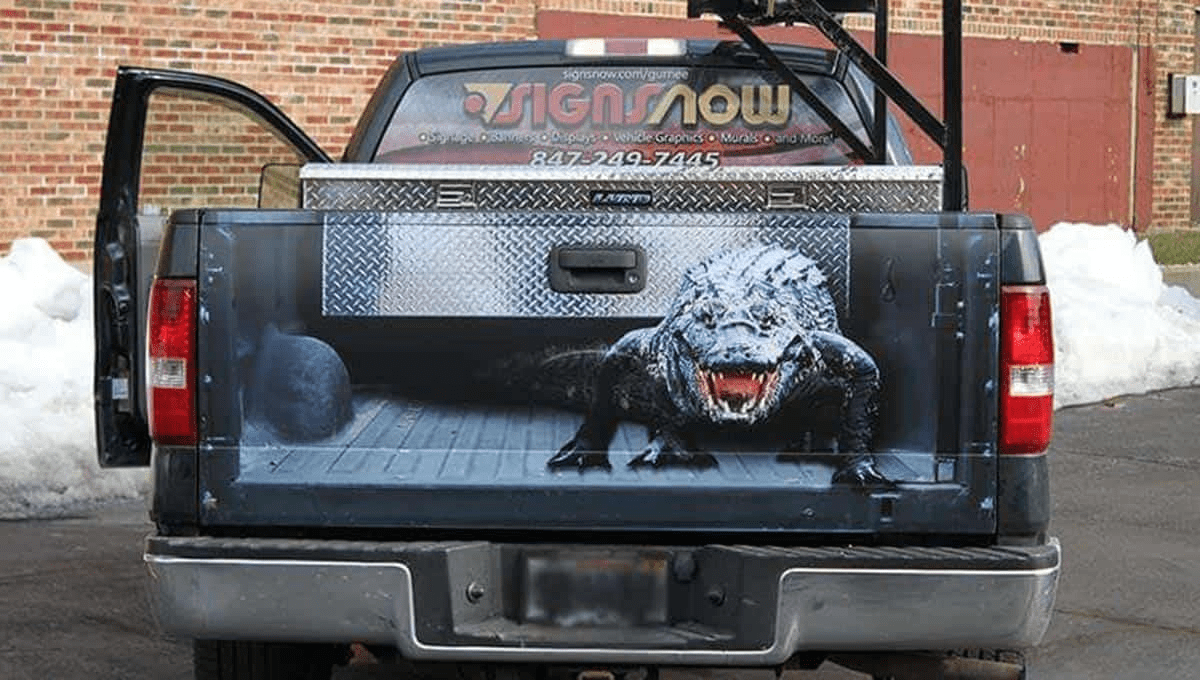 The centerpiece of this remarkable wrap is that it looks like the alligator is in the pickup van. Great attention to detail; even the scale appears to be glistening. What would you do if you found an alligator in your vehicle?
The SWAT Team
SWAT consists of highly trained police personnel who deal with very dangerous situations. This wrap was done on the Russian Bank van, and it's beyond clever. For all we know, the SWAT team depicted on the body of the vehicle could actually be inside it.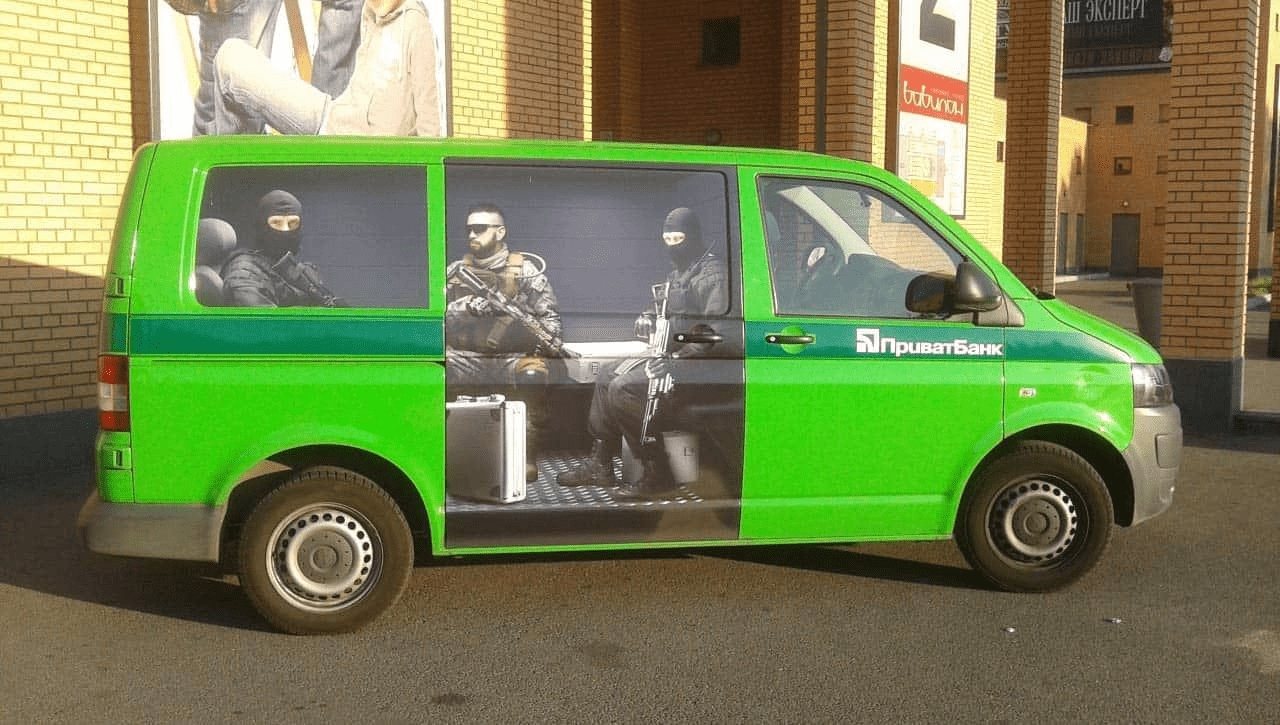 So, if you have plans to rob this bank, we suggest you stop thinking about it and consider other places instead. We are certain many folks who passed the van must have been very startled to see this because of how real it looks.
Spaceballs
Depending on your taste, you can easily transform your truck's tailgate into something exciting. This person included a scene from the blockbuster parody movie Spaceballs, released in 1987. In all honesty, this is a legendary way to create memories.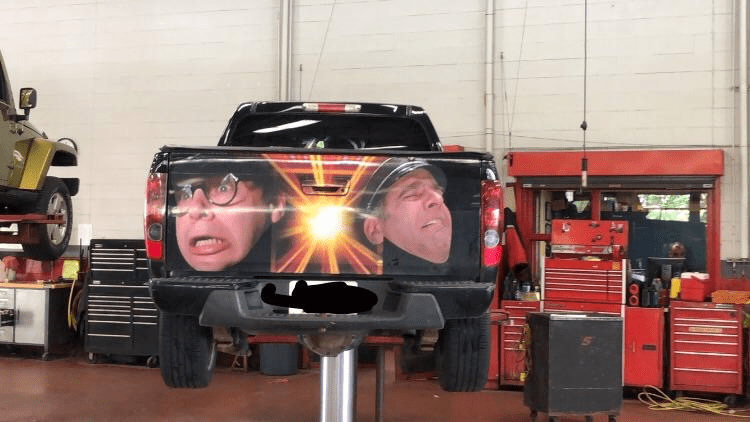 Anyone who has not seen the film should check it out. We guarantee you will have a good laugh. We are sure whoever owns this vehicle is a diehard fan and wanted everyone to know while he drives around town.
Incredible Cheetah Wrap
This incredible cheetah wrap brings the speed and ferocity of the creature to life on the vehicle. Its design captivates the eye and pays tribute to one of the fastest and most mesmerizing creatures in the animal kingdom.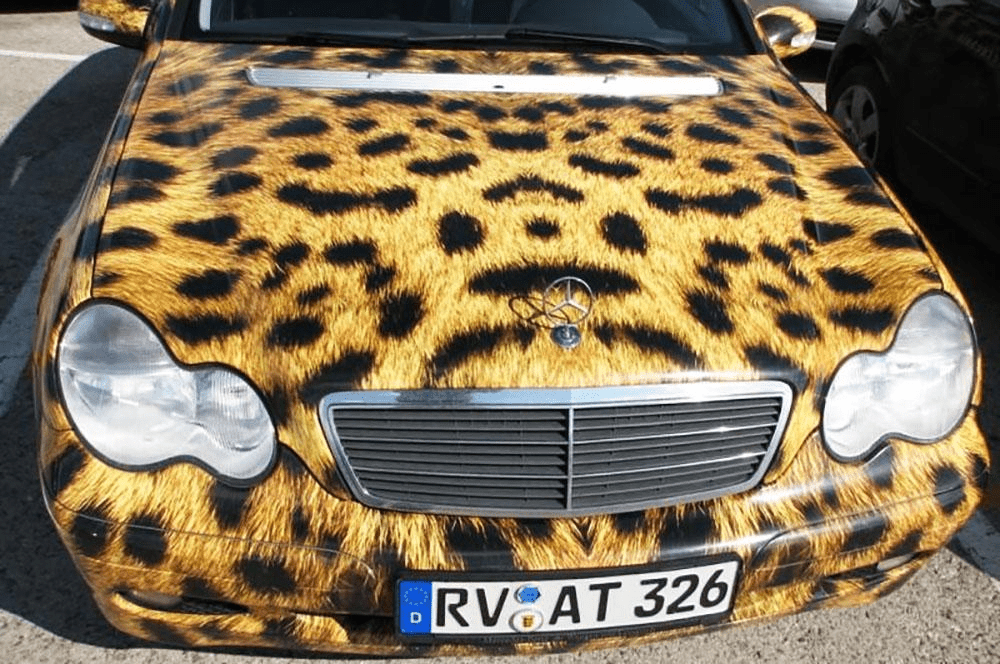 As you approach the car, you can't help but be drawn in by the wrap's realism. We don't know if this person is trying to tell us whether his car is as fast as a cheetah, but one thing's for sure: it's a sleek design that must have caught people's attention.
Gorilla Attack
Peel-away car wraps are a revolutionary form of automotive customization that offers a level of flexibility and creativity that is truly incredible. It looks real, yet it isn't. They are like a chameleon for your vehicle. They aren't true, but they appear to be.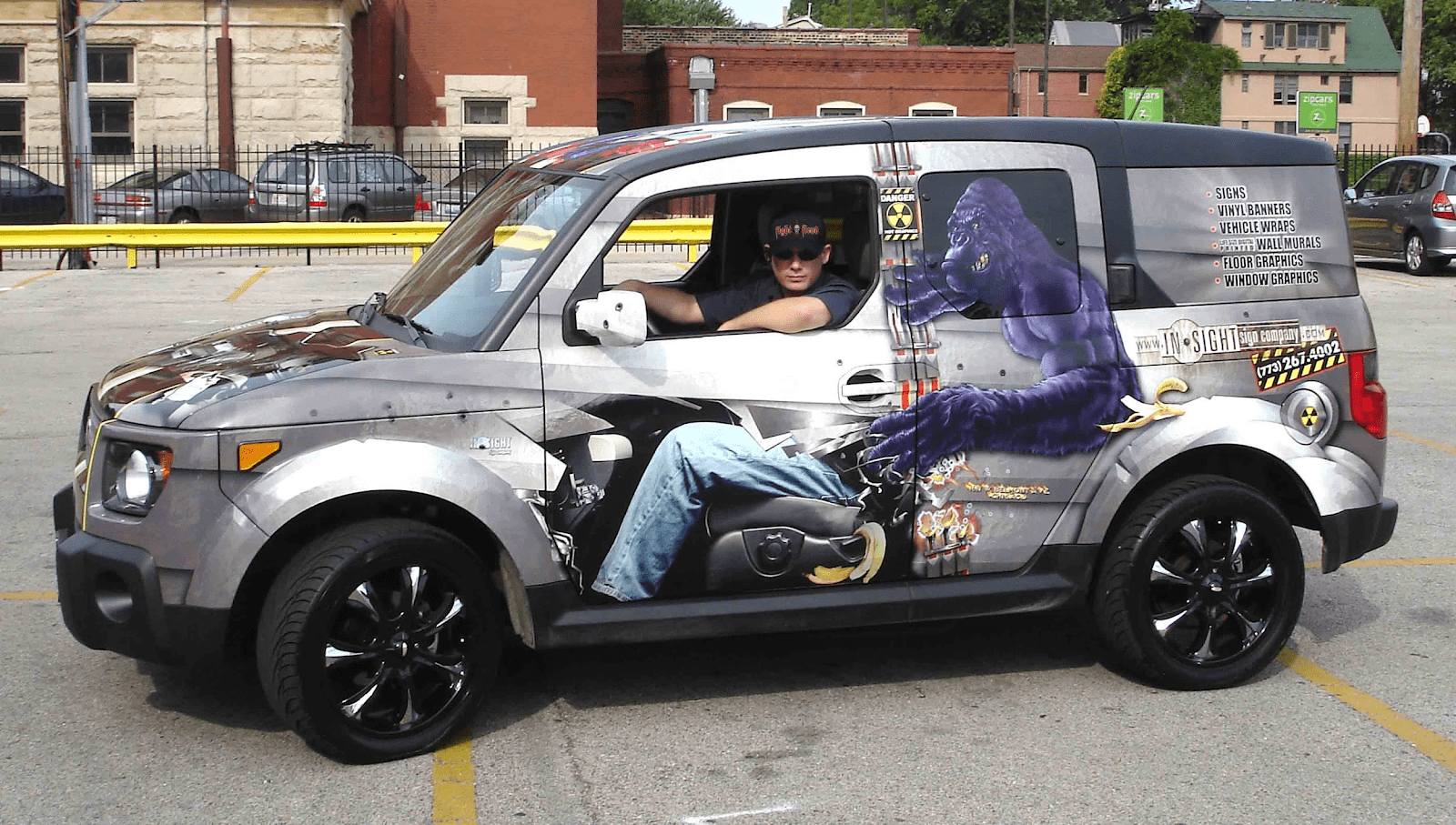 This one looks like the gorilla is peeling off a part of the car and struggling to get out. We wonder what must have made the animal so mad that it even forgot about its bananas. It's just a wrap, though. So, calm down.
Bob Ross
Bob Ross was an American painter, art instructor, and television host. So it means so much to us that someone decided to pay tribute to the legend through this car wrap. Here he is on the car hood, painting another car.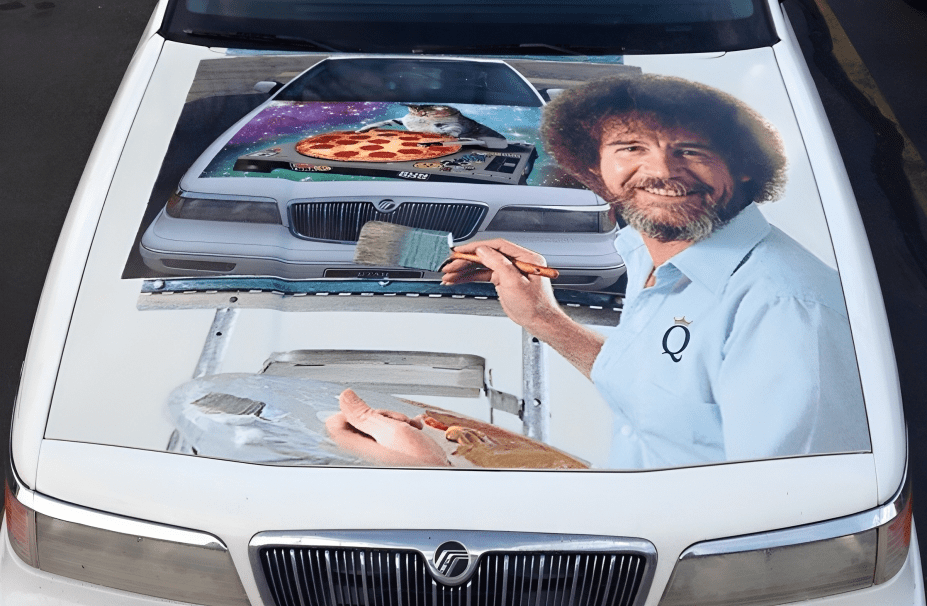 The craziest part is that the same model of Buick in this picture is also in his painting. Fun fact: not all of Ross's digits were intact. He lost part of his left index finger when he was a kid. We know that's a little morbid, but we had to share it.
Smart Motorcycle
Imagine a smart car wrap that looks like a motorcycle, seamlessly combining a smart car's compact efficiency with a motorcycle's thrilling aesthetics. Okay, we know that's a mouthful. It's a unique and eye-catching customization that fuses two worlds of transportation into one incredible design.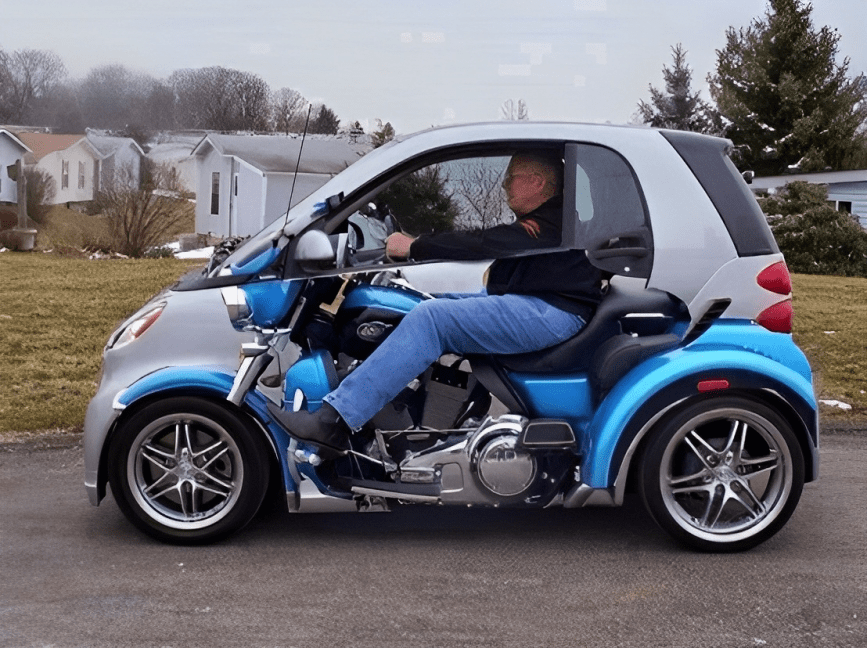 The finish is amazing in that it looks like the person behind the wheels is driving the motorcycle. Isn't it incredible to drive a car and ride a bike at the same time? Also, don't you think the bike's engine makes the car look badass?
Incredible Hulk
Yes, this is the Incredible Hulk, Bruce Banner's angry alter-ego. He can break any building, destroy any obstacle, and even crush a helicopter with one hand, and there's a perfect explanation for why he was chosen for this car created for the Gold Rush Rally.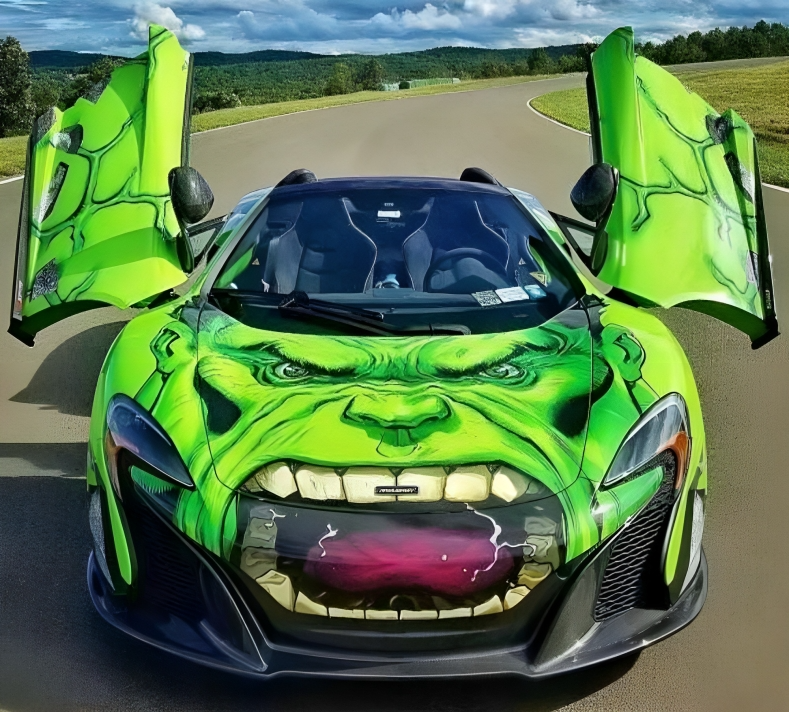 This McLaren has a seven-speed dual-clutch gearbox and a 3.8L twin-turbo engine. It can accelerate to 97 mph in just 2.7 seconds. Now you understand nothing suits it better because it is an incredible beast in its own right, much like the Hulk.
Corn On Wheels
This looks like an actual corn with wheels. For a second, this person had us fooled. This must be a vintage vehicle, and it's incredible how much it resembles one of our favorite snacks. We can only imagine taking this to the farmers market.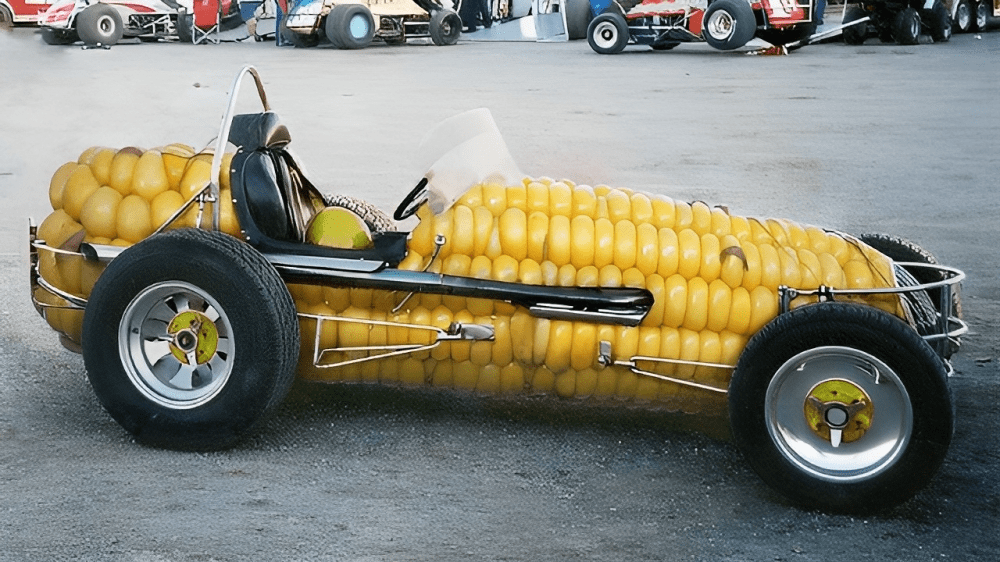 We're curious if they planned for this to resemble actual corn so much when they were making it. If so, they must have spent long hours in planning and design. This wrap is not just about aesthetics; it is a celebration of agriculture, sustainability, and life's simple pleasures.
Brick Design Wrap
This brick design car wrap looks very unique; it must have caught the eyes of several onlookers. We can't help it, too; if we saw a car like this, we'd definitely stop to stare for several minutes. When did bricks grow wheels and start cruising down the road?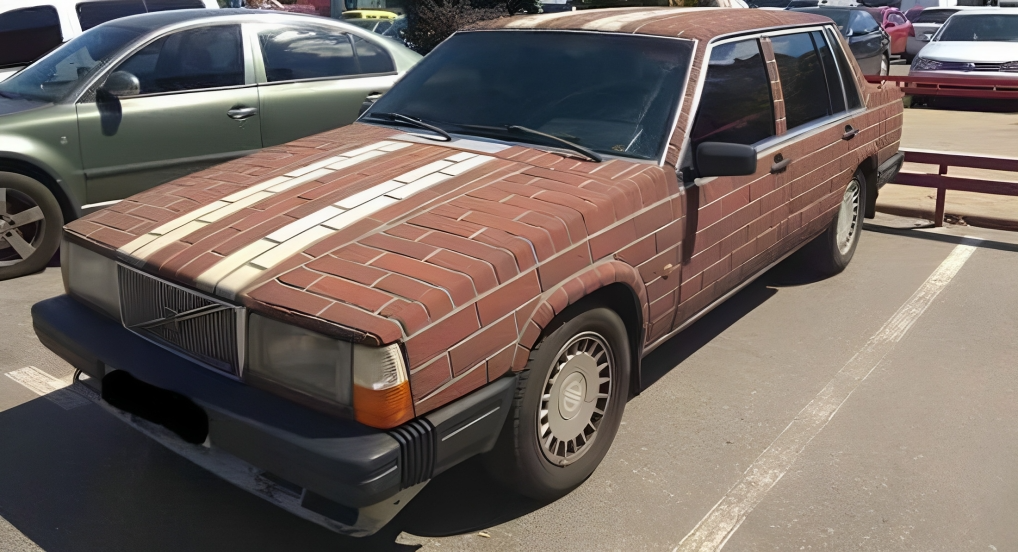 It's impressive that this person turned an old Volvo into something interesting. Whoever did this definitely has a knack for superb detailing. Everything is well-aligned, and the proportions and contours fit perfectly. Would you fancy doing something similar to your car?
Elegant Blue Wrap
This reminds us of Dr. Pepper from many years ago. What sets this vehicle apart from the rest is it's not as extensively and intricately designed. Minimalism is the name of the game here, and it works well. It's an unexpected thing to find in an expensive car.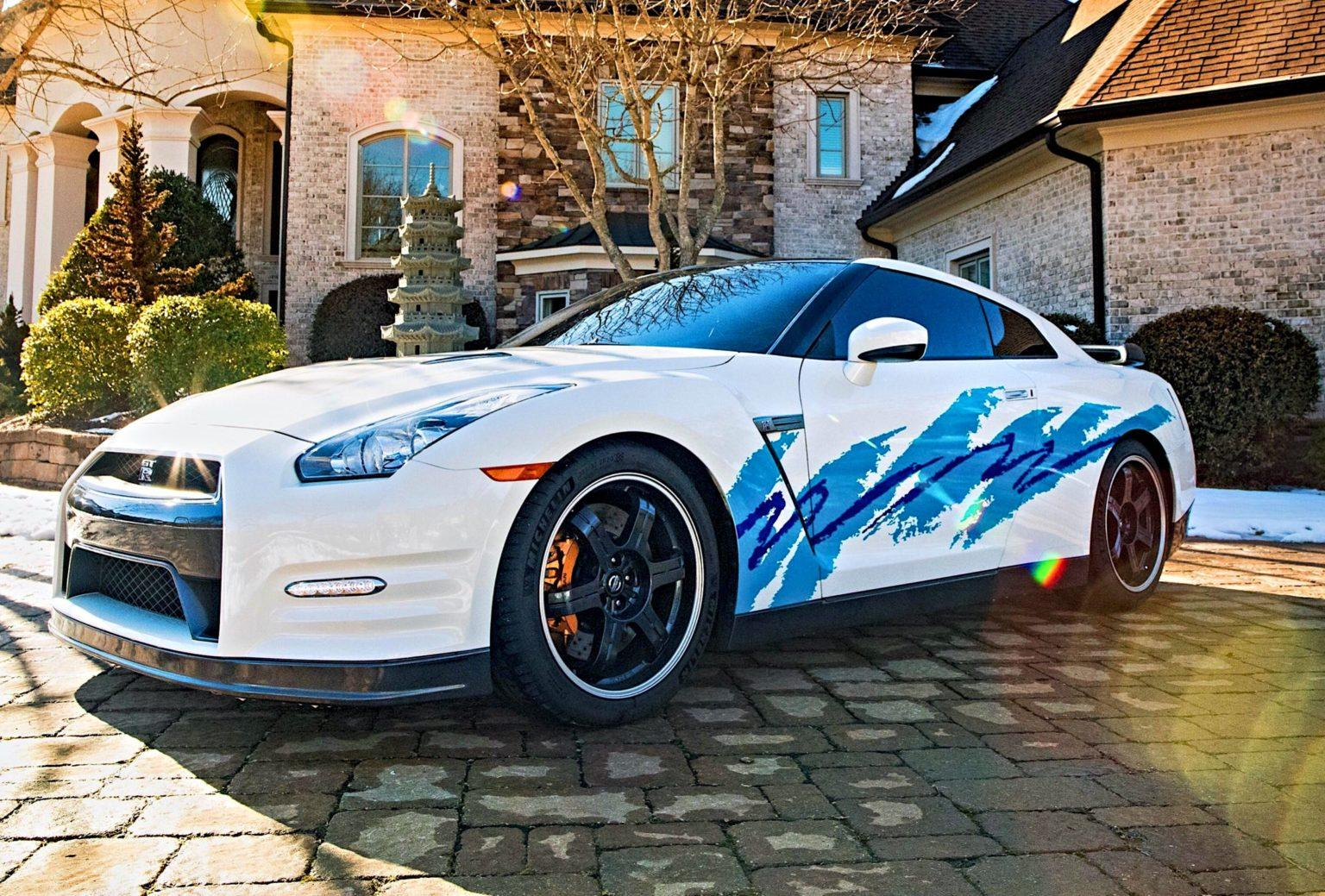 You would think someone with a sports car would want a wrap that screams masculinity. Still, we appreciate it because of its rarity. You don't get to see a car like this every day, especially if you were born in the 90s and you loved Dr. Pepper.
Asparagus Truck
Many creative wraps would look great for a cement truck, but nobody would have thought of wrapping a big truck in greens, at least not us. But whoever was behind this had a great vision, and their team executed it perfectly.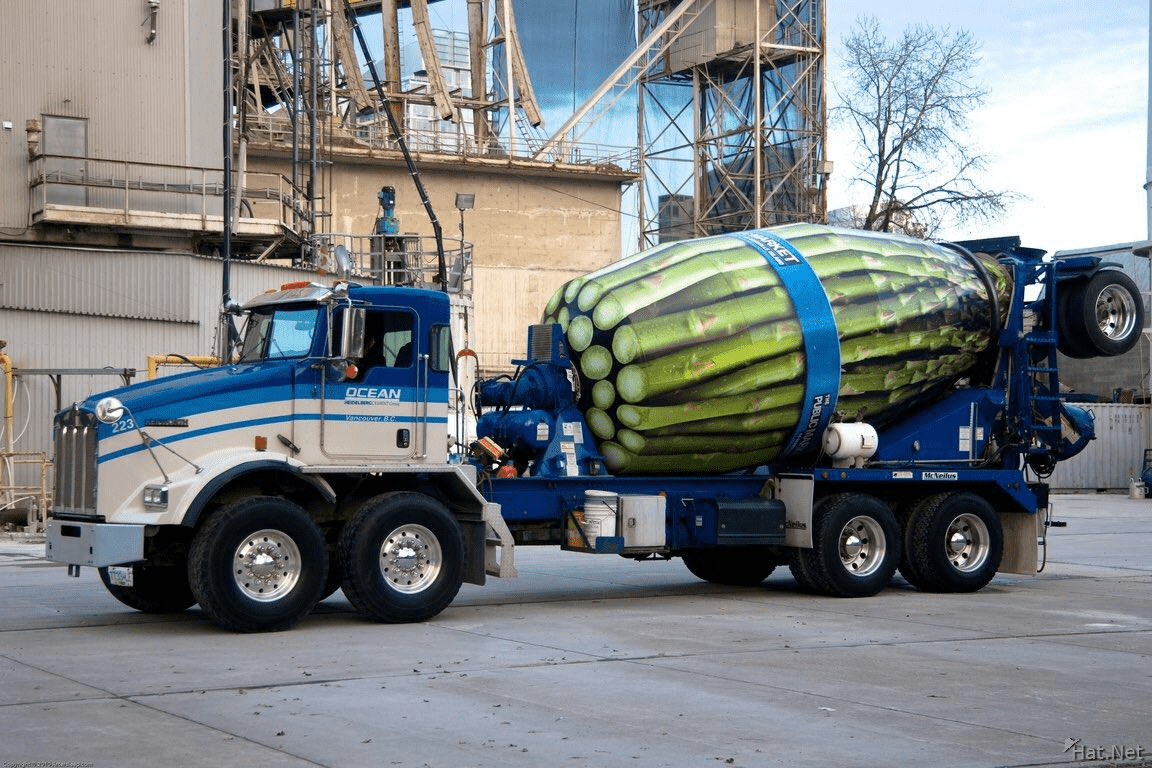 This resembles a grocery store bundle of asparagus; it's even complete with a band to hold them together. We know how proud the driver must be feeling driving such a beauty. Looking at this, we only want to rush to the supermarket and get greens.