40+ Expensive Auction Cars That We Probably Won't Find On The Road
By Sachin P December 20, 2022
---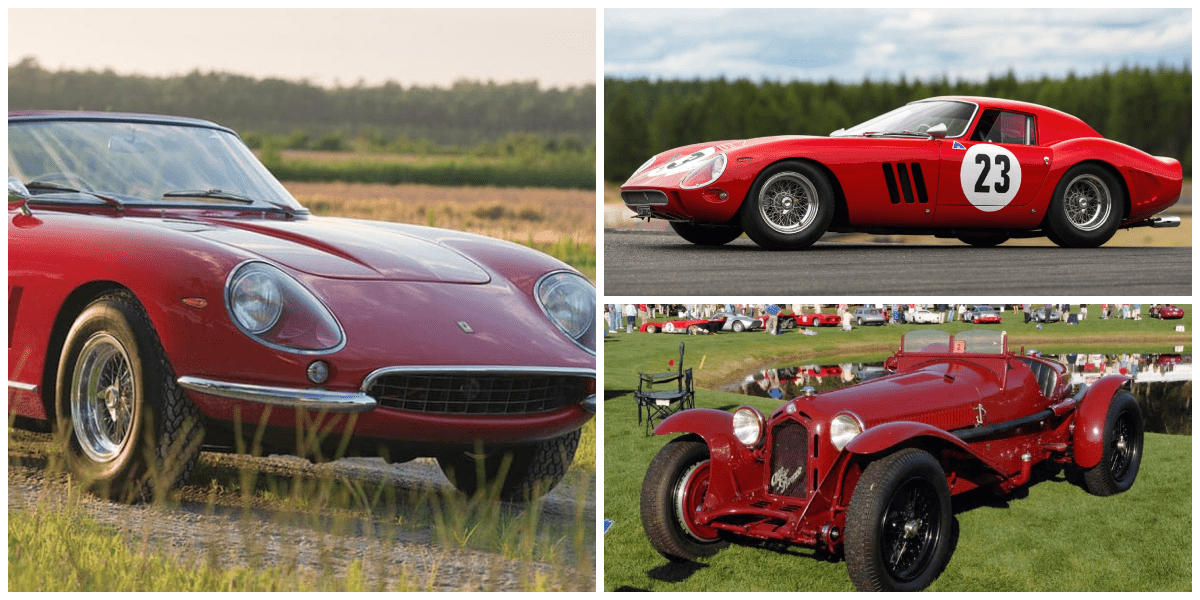 The market for vehicle collectors is a close-knit group of people. Some folks get a rush of adrenaline from adding a new vehicle to their already sizable collection, though how someone can want so many cars that they don't intend to drive is a mystery.
For collectors with dedicated garages, it's not all about racing down the road; many of the famous vehicles have histories that car aficionados want to conserve. Some of these vehicles are either stored under lock and key in a private collection or are on exhibit in private or public institutions. But even the sheltered vehicles once had a chance in the spotlight. Join us as we go through a list of some of the most expensive cars sold at auction.
1939 Alfa Romeo Tipo 256 Cabriolet Sportivo — $4,000,000
Chassis 915026 began its life among the factory's racing Tipo 256s. Carrozzeria Touring created and constructed the pre-war car's initial coachwork. Given that it's referred to as a Tipo 256, that means it was one of the final products of the partnership between Alfa Romeo and Scuderia Ferrari.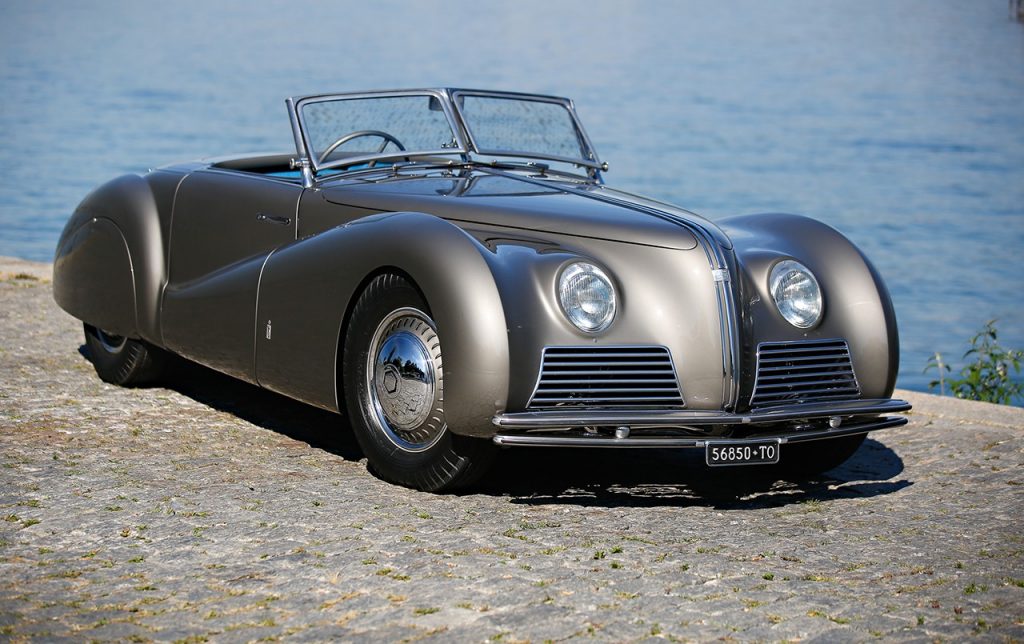 The Tipo 256s, which had an Alfa 2.5-liter six-cylinder engine that could generate up to 125hp at nearly 5,000rpm, was developed and installed by Enzo's team in Modena. There were only 20 such cars ever manufactured, hence the hefty auction price.
1935 Aston Martin Ulster — $4,406,693
C. Bertelli, a racecar driver, acquired Aston Martin in 1927. He created the 1.5-liter SOHC engine that would ultimately propel the Ulster in the LeMans race. The engine has been developed throughout the years to have included dry sump lubrication.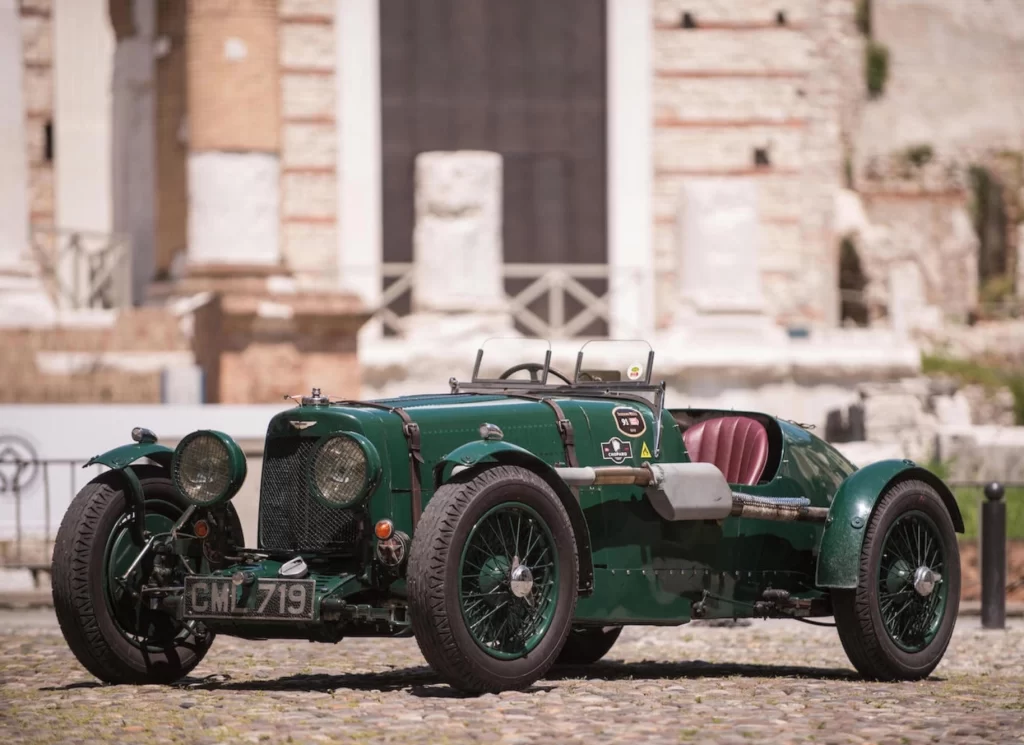 The Ulster was a prestigious pre-war racecar. The Mark II that came before it served as its main inspiration. The Ulster only ran races for two years, but they earned the British Tourist Trophy at Goodwood during the same time. Ulsters won first, second, and third place in 1934.
1964 Aston Martin DB5 — $4,620,000
The James Bond franchise was Aston Martin's best option for a fresh marketing approach once the company quit racing. When Ian Fleming's book Goldfinger was made into a motion picture in 1964, 007's vehicle changed to a Silver Birch DB5.
It was outfitted with all the required special features that any international might need. For 13 minutes of the movie, Sean Connery was behind the wheel of the DB5, and unsurprisingly, it became the most well-known vehicle in the world practically overnight.
1955 Mercedes-Benz 300SL — $4,620,000
To remain competitive in the world of sports car racing, Mercedes-Benz produced a small number of 300 SL Coupes fitted with aluminum-alloy bodywork. By using aluminum, they were able to raise the caliber of the production model while making cars that looked exactly the same.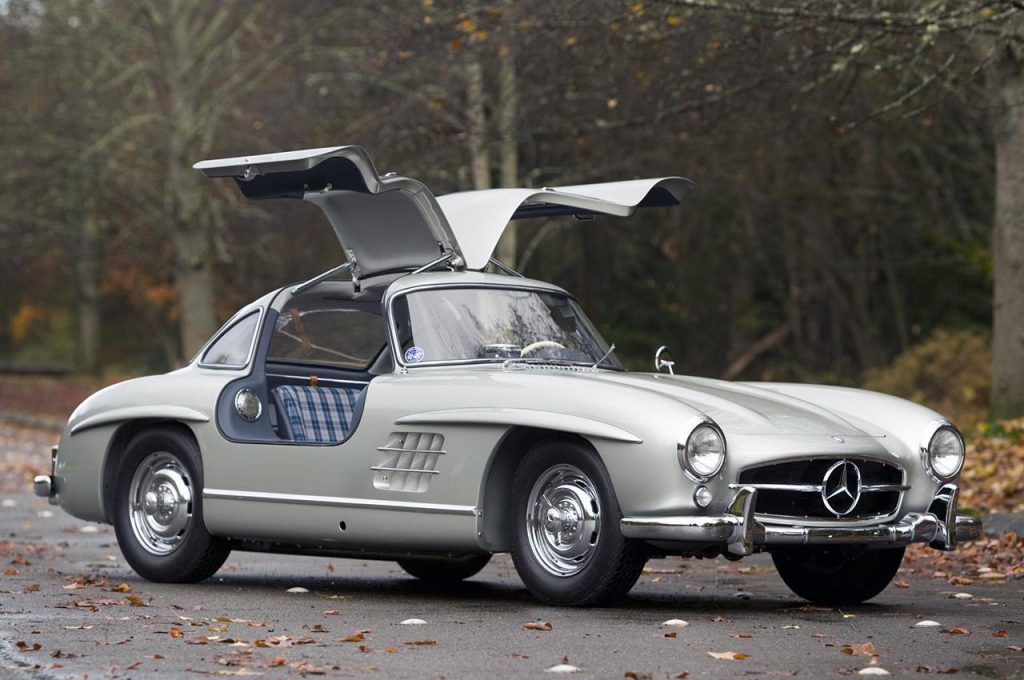 The 300 SL was a perfectly capable racer. It was modeled on the W194 racecars that won Le Mans, and participated in competitions like the Mille Miglia. The 200 lb weight decrease gave the aluminum cars a decided advantage on the racetrack. Only 29 alloy cars were ever made.
1936 Mercedes-Benz 540K Special Roadster — $4,620,000
The 540K Special Roadster is the best Mercedes-Benz of the Classic Era. It's also one of the very sought-after high-door, long-tail variations. The Special Roadster is a striking display of power and wealth, but it didn't come about randomly. Josephine von Krieger ordered it as a graduation gift for her child Henning.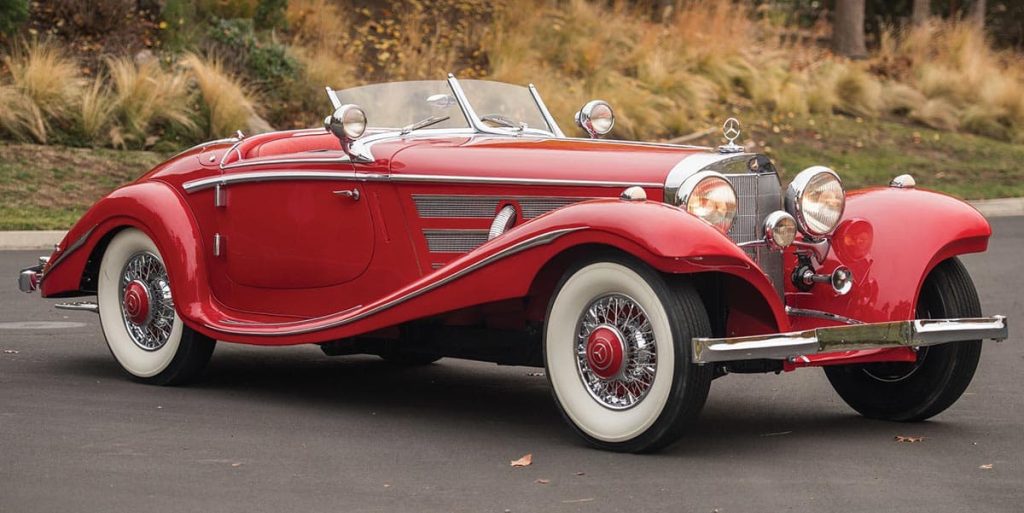 The 540K was handcrafted with extraordinary features, such as a pricey Telefunken radio, distinctive interior fittings, and the family crest hand-painted on the driver's door. It was completed in black and had pigskin upholstery. Very few cars can even hold a torch to the swag of this vehicle.
1956 Maserati 450S Prototype — $4,816,350
It all began in 1956 when Tony Parravano, a wealthy American businessman, engaged in business with Maserati, an Italian manufacturer. He wanted to create a new V-8 for the frame of the Kurtis Indy. Maserati spotted the chance to resurrect the Tipo 54 program.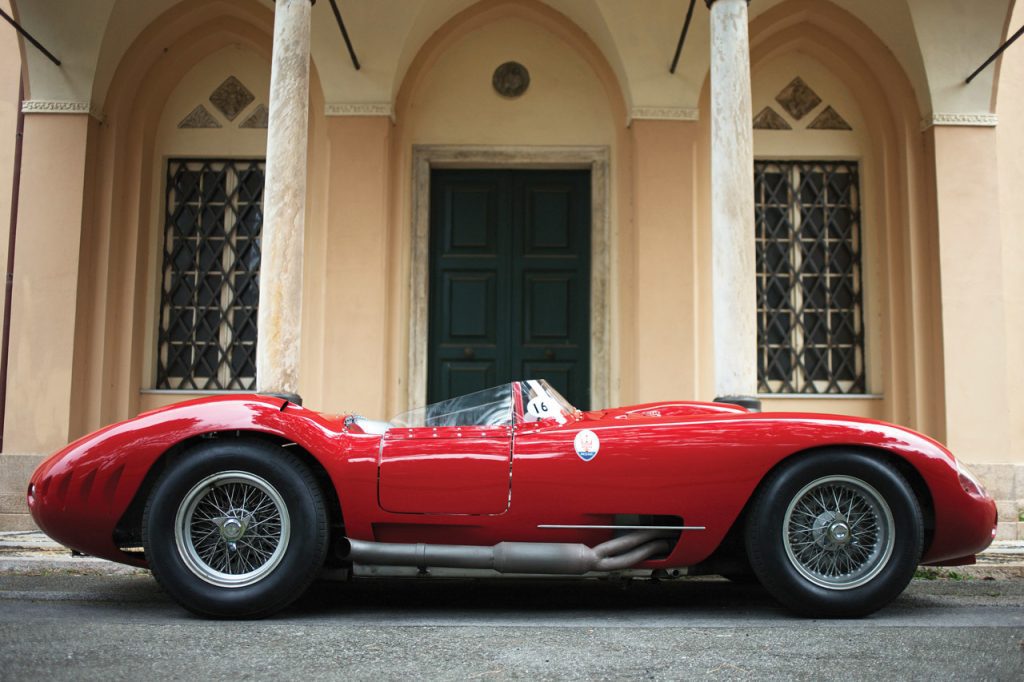 The V-6-powered original vehicle with chassis number 3501 served as the test vehicle for the American-ordered vehicle. In August 1956, during the Swedish Grand Prix rehearsal, the 450S made its debut and astounded everybody with its incredible top acceleration and speed.
1955 Jaguar D-Type — $4,947,835 (Serial: XKD520)
It was anticipated that the D-Type Jaguar would succeed in doing what its forerunner, the C-Type, had already accomplished the previous year — a win at Le Mans. The C-space Type's frame was substituted by a monocoque tub featuring load-bearing exterior panels, which neatly reduced weight.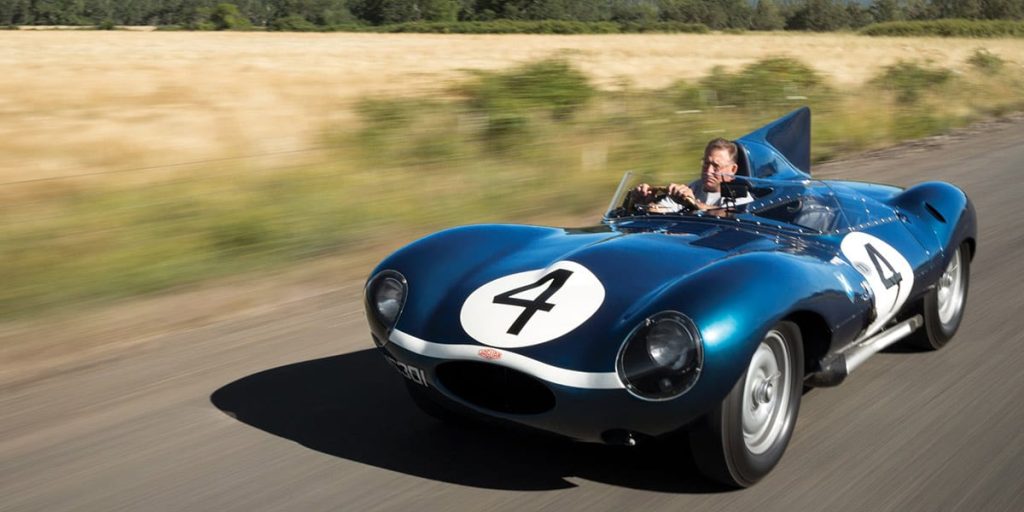 In building the new car, a few things were discovered, one of which was that an enlarged bonnet would've been better for aerodynamics. Five "long-nose" D-Types, including the showcase car, lined up for the Le Mans start in 1955. Needless to say, Jaguar triumphed.
1965 Shelby Daytona Cobra Coupe — $7,685,000
The Shelby Cobra roadster had already established itself in 1963 by crushing the Corvette on American short tracks. In addition, Shelby produced a hardtop variant of the roadster for Le Mans. Although, it finished fourth in the category behind the Ferrari GTOs.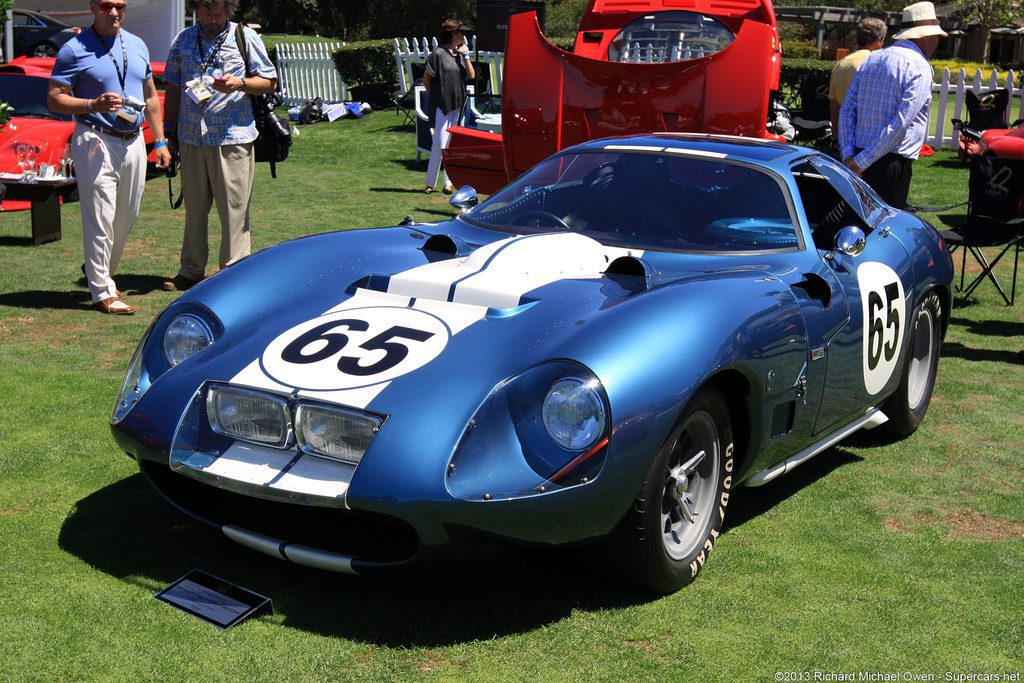 The Daytona Coupe, a hand-built supercar that would propel America to the pinnacle of automobile racing, was indeed the defining moment. Pete Brock persuaded Shelby to agree to redo the body of his 289 Cobra with an enclosed cockpit for improved aerodynamics.
1929 4½-Litre Supercharged 'Blower' Bentley — $7,906,745
Bentley increased the capacity of their 3 Litre model to 4.5 Litres in late 1927. It went on to rule the endurance events. Together with co-driver Bernard Rubin, Woolf Barnato won the 1928 24 Hours of Le Mans in a 4.5 Litre.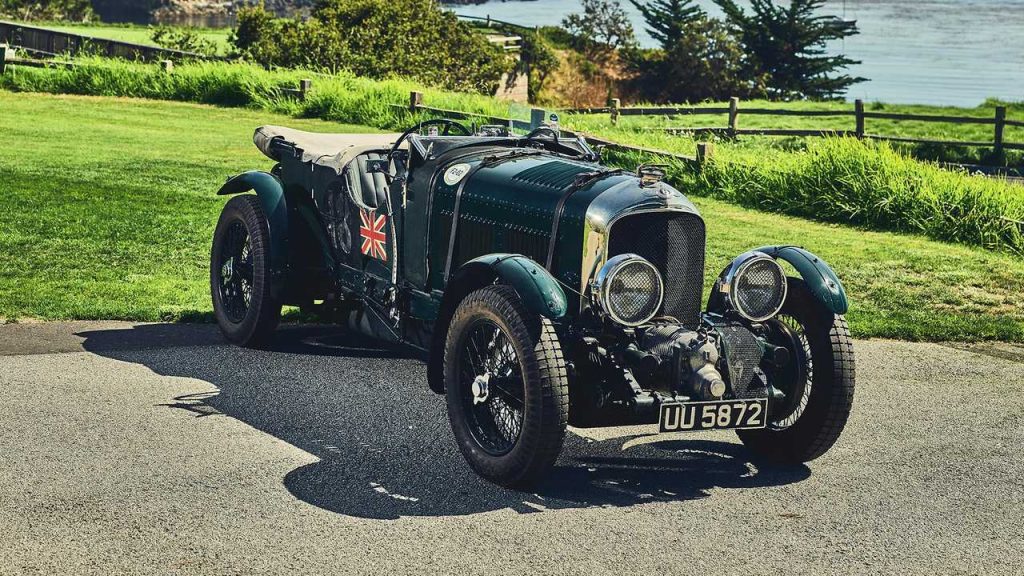 The 4.5 Litre was created by Bentley as a bare chassis with a hood radiator and scuttle that were intended to be bodied by a separate coachbuilder. Since then, several people have had their original bodies replaced by duplicate Vanden Plas Le Mans Tourer bodies.
1928 Mercedes-Benz 680S Torpedo Roadster — $8,226,000
This was created as a replacement for the 6,246-cubic-centimeter Model K. This became the vehicle that would permanently cement Mercedes Benz's legacy as the industry leader in high-performing luxury vehicles. The Jazz Age was an era of affluence and greater social liberty, and that included the cars made at that time.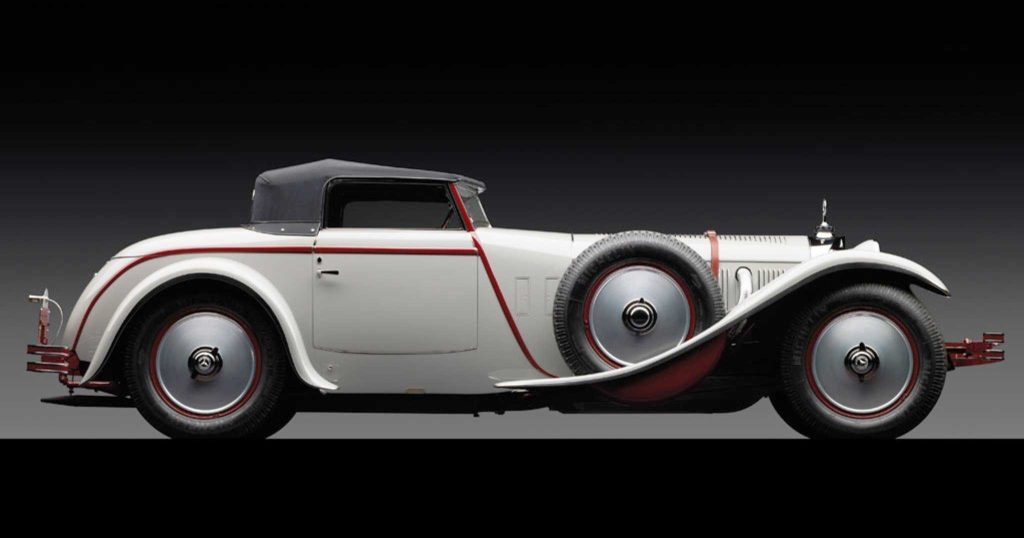 The Type S, created as the replacement for the Model K, was brisk, strong, alive, and focused. It evolved into a symbol of the era and the height of ambitions that, during the Roaring Twenties, appeared within everyone's reach. Needless to say, this car's value lies in its history.
1951 Ferrari 340 America Barchetta — $8,250,000
The Ferrari 340 America became the first version in the America line to be designed with export in mind. This was done as a way to expand Ferrari's presence in the United States. To make a further name for itself, the 340 raced at Le Mans twice in the early 1950s.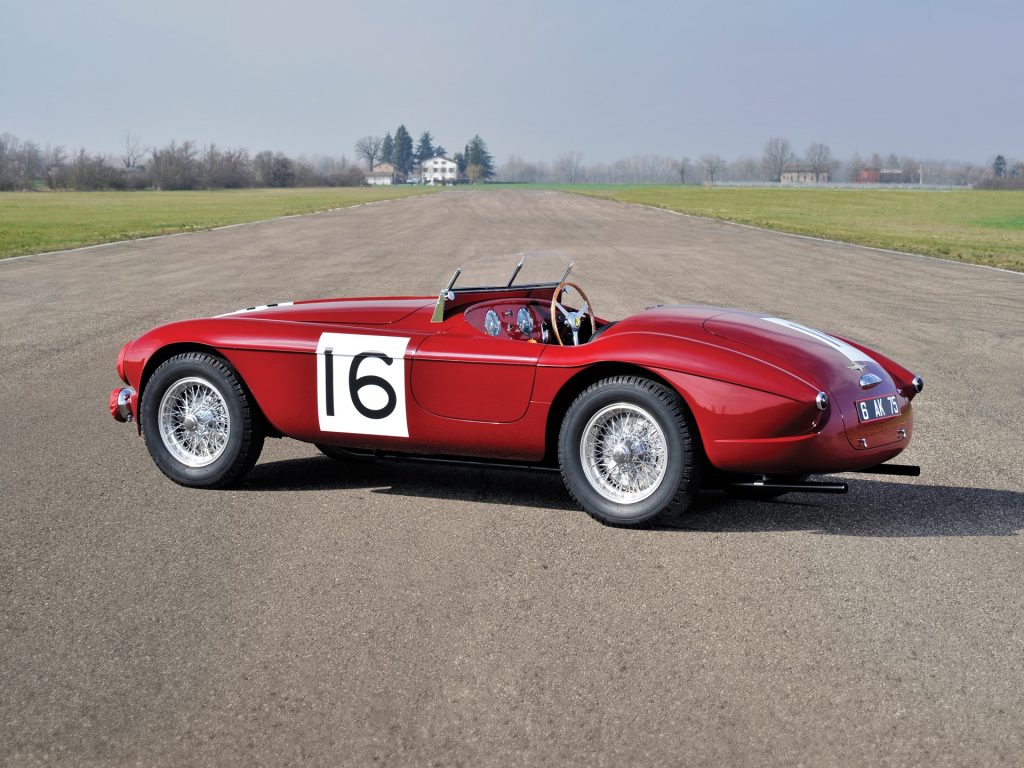 It sported a brand-new Lampredi V-12 that eventually made its way to Formula 1. The market it was trying to hit in the United States was the American buyers who desired more power, larger engines, and far fewer rough interiors.
1962 Ferrari 330 TRI/LM Spider — $9,281,250
The Ferrari Testa Rossa 330 TRI/LM was the final model in a popular and long-running line of Ferrari Testa Rossas. It represented the most advanced version in this area. However, our focus vehicle also boasts the reputation of being a distinctive concept that took first place at LeMans.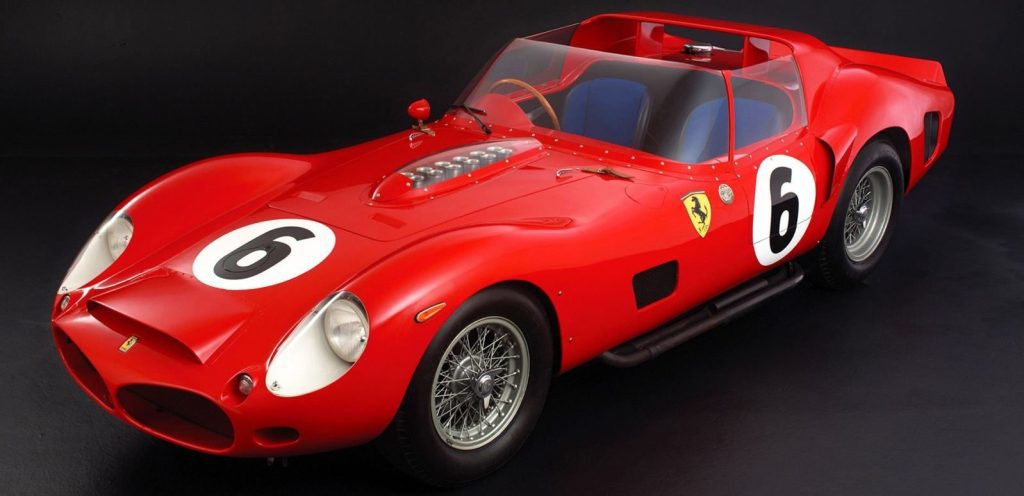 Unquestionably, this is among the most significant Ferraris. Ferrari dominated the Le Mans three times in a row in the early 1960s using front-engine Testa Rossas. With the final of these triumphs, a significant chapter for Ferrari came to a close.
1937 Bugatti Type 57SC Sports Tourer — $9,735,000
This was the second series of Bugatti's renowned Type 57, which was presented at the Paris Auto Salon in October 1936. It was designed by Jean Bugatti. It had a 3.3-liter twin overhead-cam eight-cylinder engine plus a chassis that was the result of many years of outstanding racing.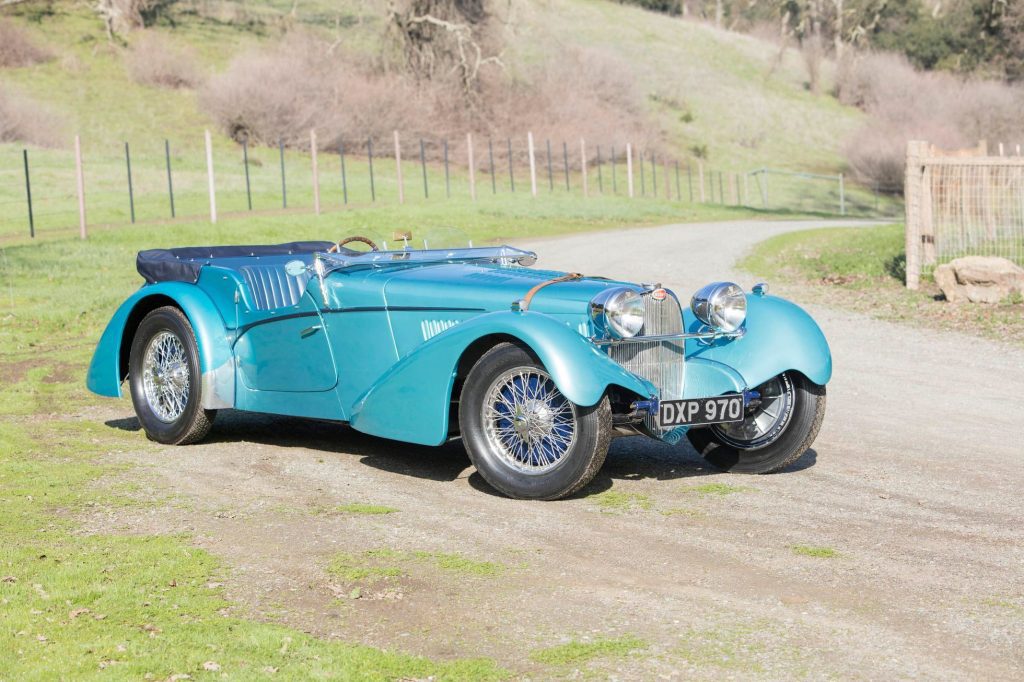 Bugatti unveiled two other intriguing Type 57 iterations: the supercharged 57C and also the aggressive 57S. The Type 57S was built on a specially created chassis that was simultaneously shorter and lower. The "S" comes from the French word, surbaisse, which translates to "lowered."
2017 Ferrari LaFerrari Aperta — $9,982,000
At the 2013 Geneva Motor Show, the Ferrari LaFerrari made its maiden debut in front of the general public. It triumphed despite fierce competition from the Lamborghini Veneno and McLaren P1. The LaFerrari is not just the fastest road-legal supercar to emerge from Maranello…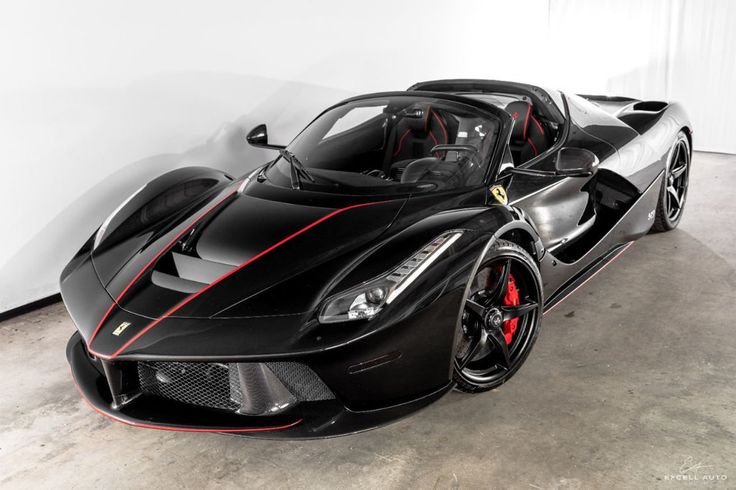 It's also the first Ferrari to be equipped with a hybrid drivetrain. The LaFerrari was the first Ferrari that wasn't created by Pininfarina since 1973. It was made as a replacement for the legendary Enzo and the F50. Only 499 cars of this model were produced.
1982 Porsche 956 — $10,120,000
Porsche created the 956 to fit with Group C racing. Norbert Singer, a seasoned project manager, and his team's plan put a lot of concentration on winning the 1982 Le Mans. Porsche won first, second, and third place outright that year.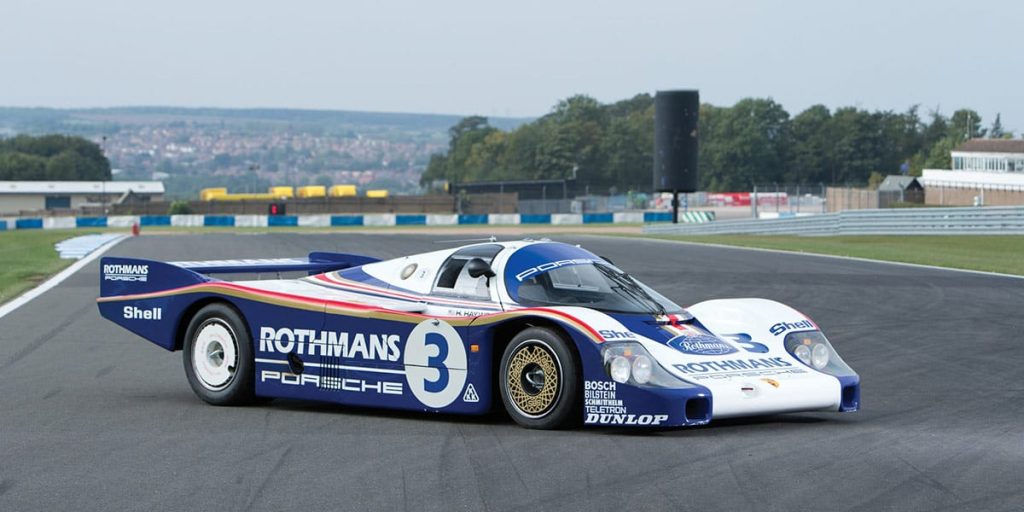 Thanks to their outstanding staff and the recently built Weissach plant, Porsche transformed the 956 into a unique client concept that would dominate motorsports for a decade. Though this was despite the fact that they had little meaningful competition in 1982.
1931 Duesenberg Model J Long-Wheelbase Coupe — $10,340,000
Fred Duesenberg stood at the peak of his game in the 1920s. In 1913, he founded one of the major enterprises in America with the aid of his siblings. They would later use a twin-engine special made for Tommy Milton to smash the American land speed record.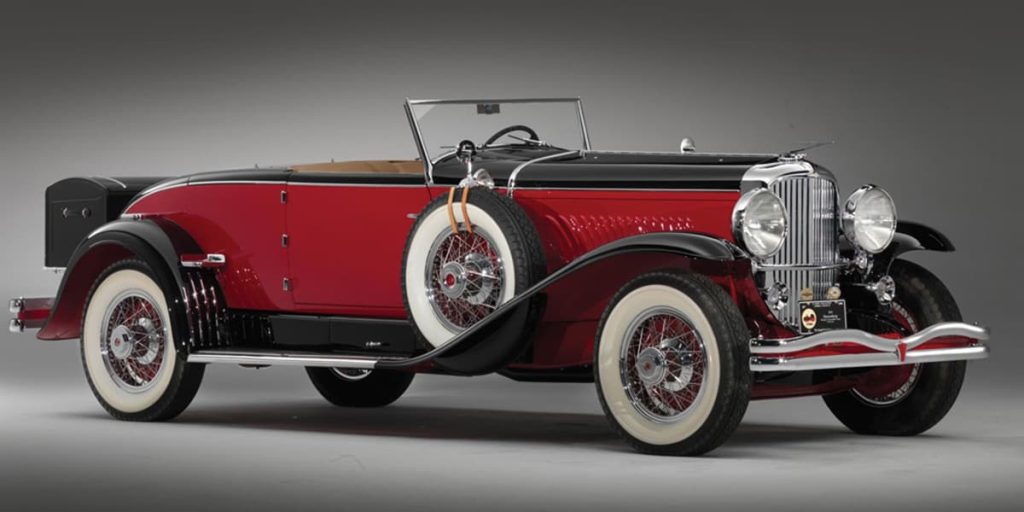 The French GP was achieved by Jimmy Murphy the next year while operating a Duesenberg. This marked the first-ever American GP triumph and established a pattern for numerous additional achievements in the United States, notably winning the Indianapolis 500 in 1924 and 1925.
1932 Bugatti Type 55 — $10,400,000
In 1927, Bugatti created its Type 43 Grand Sport. It was the first 100mph Grand Prix-powered racing chassis that could be used on public roads. In actuality, though, it was a close-coupled, four-seat touring machine propelled by a Type 35B Grand Prix supercharger.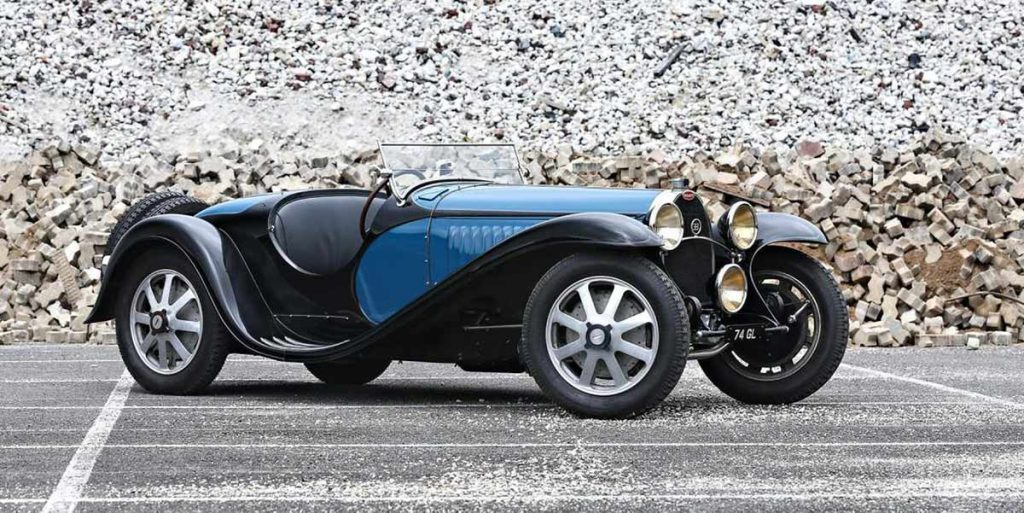 So when the twin-camshaft Type 51 range, which was remarkably similar to the Type 35 range, replaced it in 1931, a road variant was released shortly after. This new design was regularly alluded to as the "Super Sport." It truly was a luxurious supercar of the early 1930s.
1968 Ford GT40 — $11,000,000
The CSI modified its rules in 1967, imposing a three-liter capacity restriction on prototypes. This led to the abolition of the 427 Fords. Luckily, under the skillful leadership of John Wyer, J. W. Automotive Engineering Ltd. (JW) & Gulf Oil saw a lot of leeway in the GT40 chassis.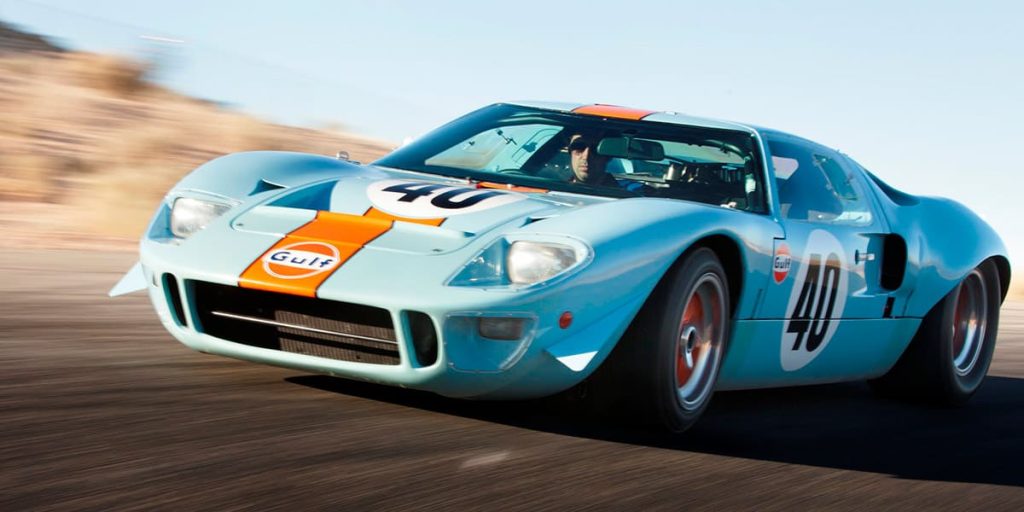 That was a Group 4 sports vehicle. Then they expanded their GT40 program; two of JW's light GT40s from the 1967 season, nicknamed the Mirage M1s, were upgraded. They employed a carbon-fiber reinforced body that somewhat resembled the classic GT40 Mk I while maintaining their lightweight chassis.
1933 Alfa Romeo 8C 2300 Monza — $11,990,000
A variant of this Vittorio Jano-designed car became a victor at Le Mans in 1931 and 1934. It was also victorious in the 1931 Italian Grand Prix where it managed to claim first and second place. This was with the Nuvolari-Campari and Borzacchini-Minoia teams at the wheel.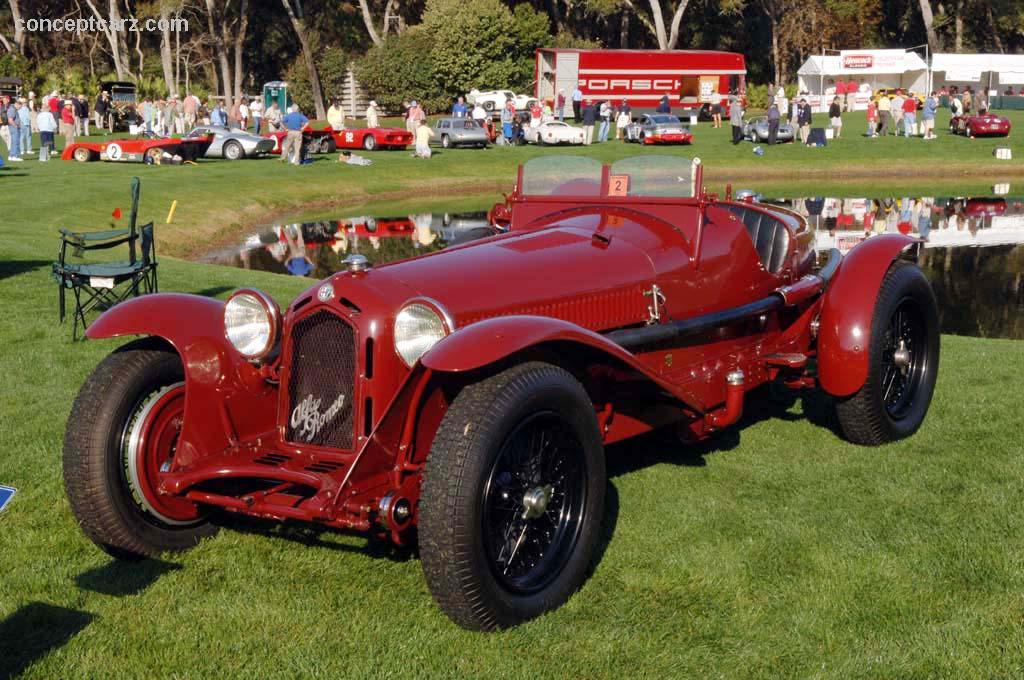 This earned it the moniker "Monza" in the process. When at the Monaco Grand Prix, Monzas driven by Nuvolari and Caracciola finished first and second. With the era's leading drivers, Nuvolari, Campari, Borzacchini, Caracciola, Etancelin, and Sommer, the vehicle won upwards of 50 races.
1953 Jaguar C-Type Works Lightweight — $13,200,000
The Jaguar C-Type won the 24 Hours of Le Mans twice for Coventry. It is among the few sports-racing vehicles to have attained such iconic status. The renowned XK120 roadster, which had transformed automotive technology with its dual-overhead-cam engine in 1948, served as the ancestor of the C-Type.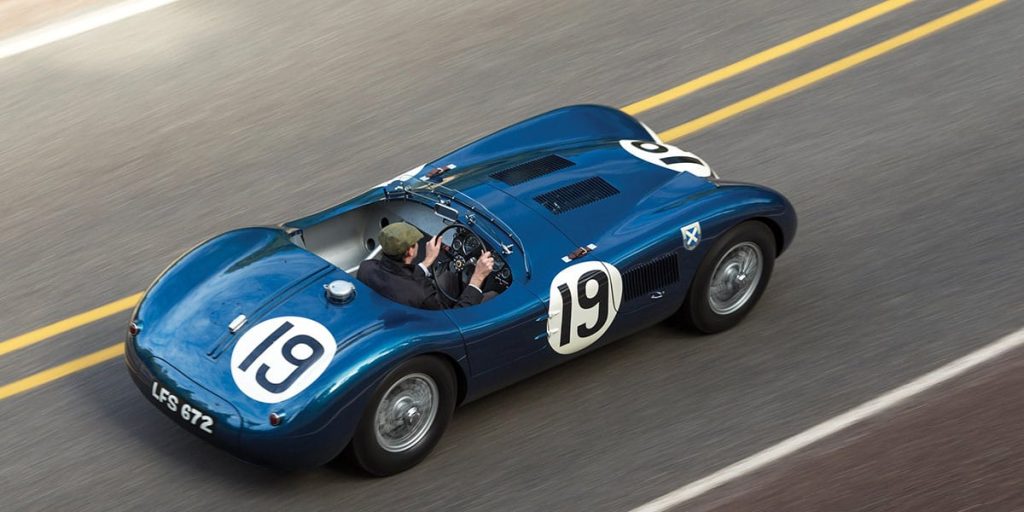 The C-Type made its racing debut at Le Mans in 1951 with a squad of factory-sponsored vehicles under the name XK120C. After over 20 years, this was the very first British car to triumph at Le Mans. That history-making victory alone elevates the car's status in the eyes of auctioneers.
1960 Ferrari 250 GT SWB Competizione — $13,500,000
Ferrari unveiled the short-wheel-base (SWB) Berlinetta at the 1959 Paris Salon as a pure racer. The vehicle on display was 1539GT was repeatedly alluded to as the prototype because of its unique characteristics (or lack thereof). The 1539GT lacked several elements that would become standard on newer models.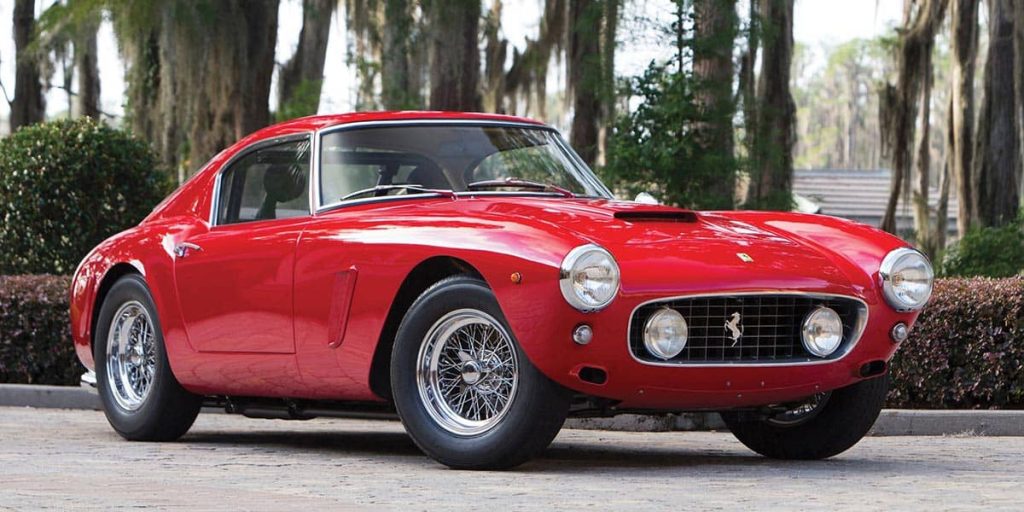 This included fender vents and blinkers, front cooling ducts, plus recessed license plate holders on the trunk. This design has the fewest line interruptions out of all the SWBs. The Interim models, created by Pinin Farina, served as the inspiration for the Paris automobile.
1962 Shelby 260 Cobra CSX 2000 — $13,750,000
The American automotive industry would certainly not be what it is today if it weren't for CSX 2000. Also, American sports cars and motorsport would probably never have made it onto the international stage! While the car itself was notable, it was the chassis number CSX2000 that raked in the big bucks at auction.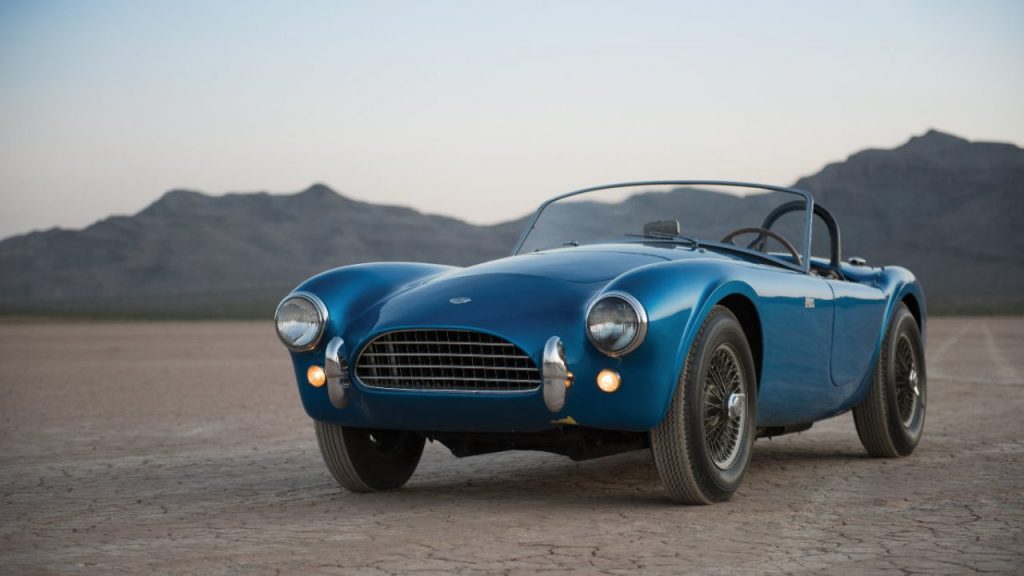 It was made by altering an AC Ace with direct involvement by Carroll Shelby at AC Cars in Thames Ditton, England. CSX stood for "Carroll Shelby Experimental 2000." Performance evaluations on the car in 1962 were fairly impressive due to its 260-hp V-8 and lightweight aluminum body.
1969 Porsche 917K — $14,080,000
The Porsche 917 Kurzheck Coupé (917K) made its debut in 1970. This model was the version that had the most impact on the development of the Porsche 917 in general. It was a high downforce model that had a cut-off tail for further downforce.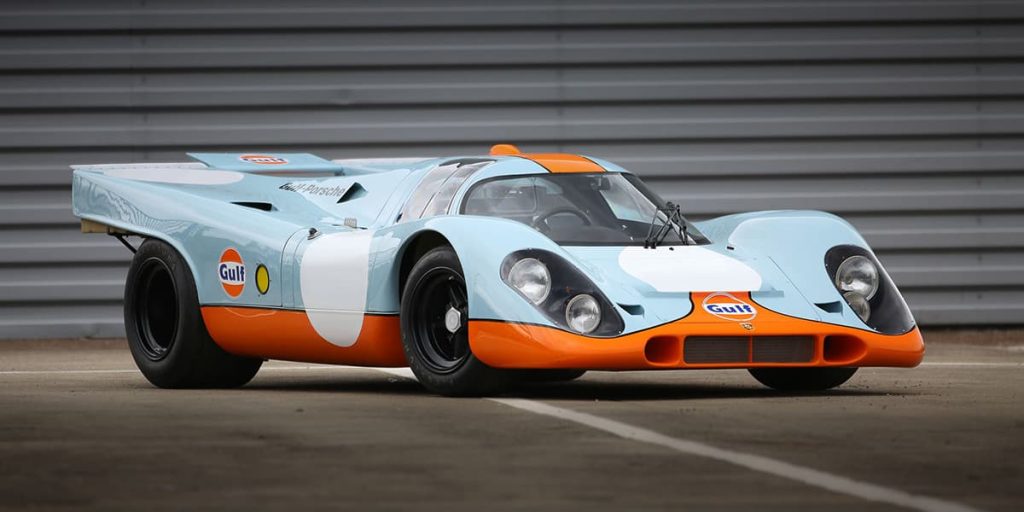 It also contributed toward two wins at Le Mans. Few racing vehicles have achieved the same level of fame as the 917. At Le Mans in 1970, it was fast enough to be risky yet dependable enough to bring Porsche their first outright victory.
1964 Ferrari 250 LM — $14,300,000 (Serial: 6107)
Ferrari's 250LM sports car at the 1965 LeMans achieved its goal by winning the event for which it was named. It was both the 250 LM's and the racers' — Jochen Rindt and Masten Gregory's — finest achievement. Therefore, there was much to cherish. They were driving Ferrari's perfect racing machine.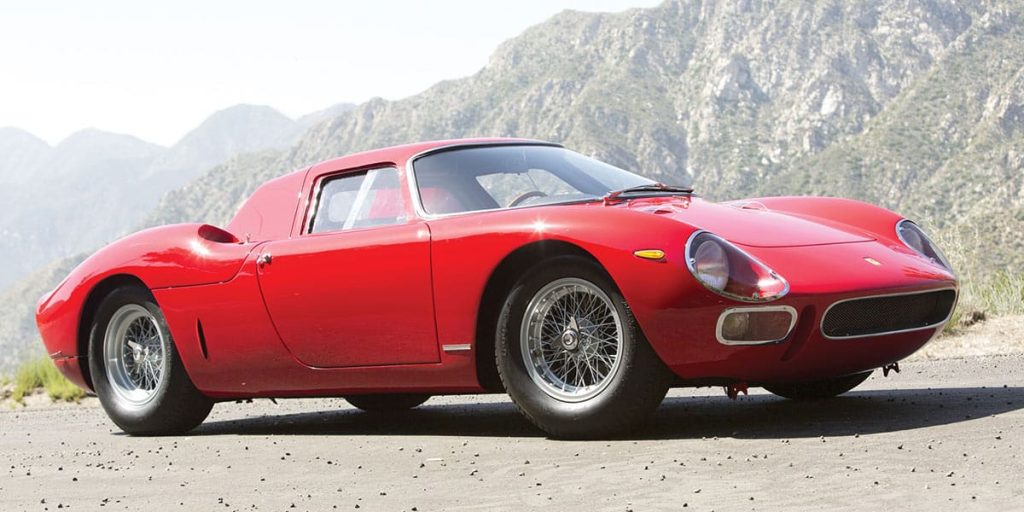 It featured a mid-mounted V12 engine inside a low-drag bodywork, as well as other successful features of the mid-1960s layout. Although the car was privately referred to as a 250/LM, the factory retail brochure referred to it as the "Berlinetta 250/Le Mans" even prior to its 1965 victory.
1962 Aston Martin DB4 GT Zagato — $14,300,000
Owing to its specially designed bodywork by Zagato of Milan, the DB4 GT Zagato was unquestionably among the most thrilling and stunning British sports cars, despite its lackluster sales. The Ferrari 250 GT roller coaster, which dominated the World Sportscar Championship, has been the target of its conception.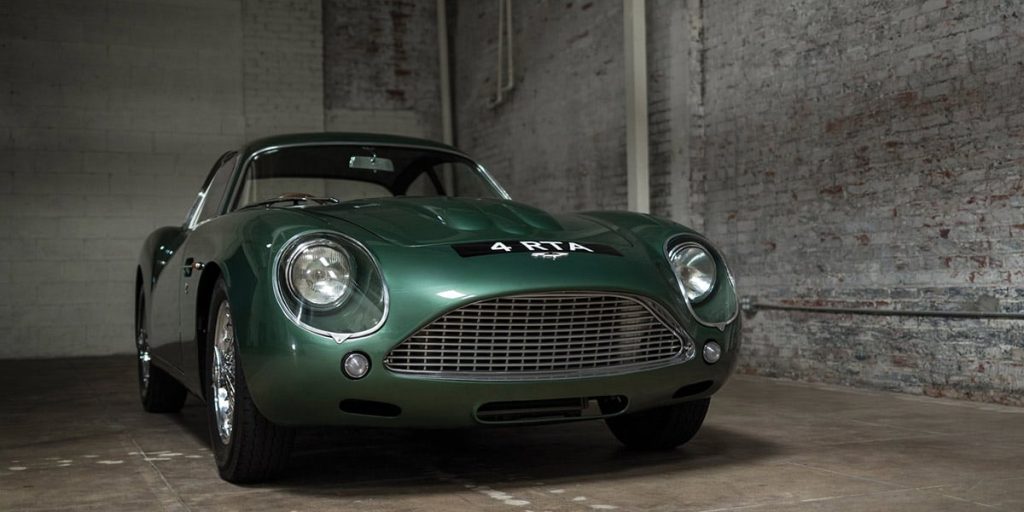 Despite the fact that the majority of the 19 cars were developed as race cars, at least four of them were sold to private teams and drivers. On the racetrack, the DB4 Zagato competed in numerous significant events against vehicles like the Ferrari GTO.
1957 Ferrari 250 Testa Rossa — $16,390,000
The 250 Testa Rossa was one of Ferrari's best-performing racing vehicles to ever grace the track. It also had an unconventional yet functional bodywork designed by Scaglietti & C. The 250 Testa Rossa was created for the 1958 racing season. It was intended for both Scuderia Ferrari and independent competitors.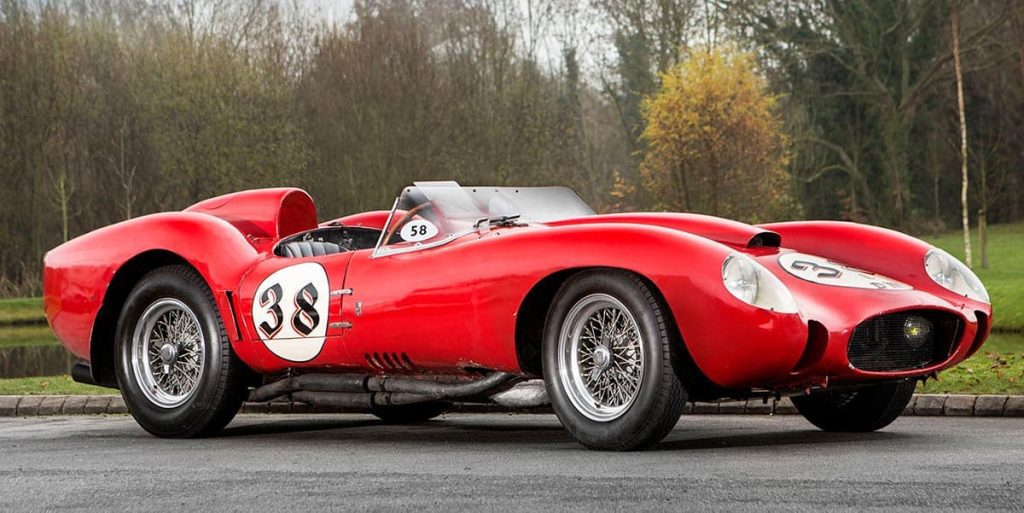 Because the Commissione Sportiva Internazionale (CSI) had restricted engine capacity to 3.0 — done as an effort to reduce maximum speeds — engine selection became the most important consideration. Ferrari tested two options in 1957 to figure out the best fit for their brand-new sports car.
1962 Ferrari 250 GT SWB Berlinetta Speciale — $16,500,000
Ferrari hired Pinin Farina in 1956 to create a demonstration vehicle using the chassis 0425GT from the impending 250 GT. The renowned 14-louver Tour de France Berlinetta, which conquered the 1957 event by a wide margin, was created from the next design.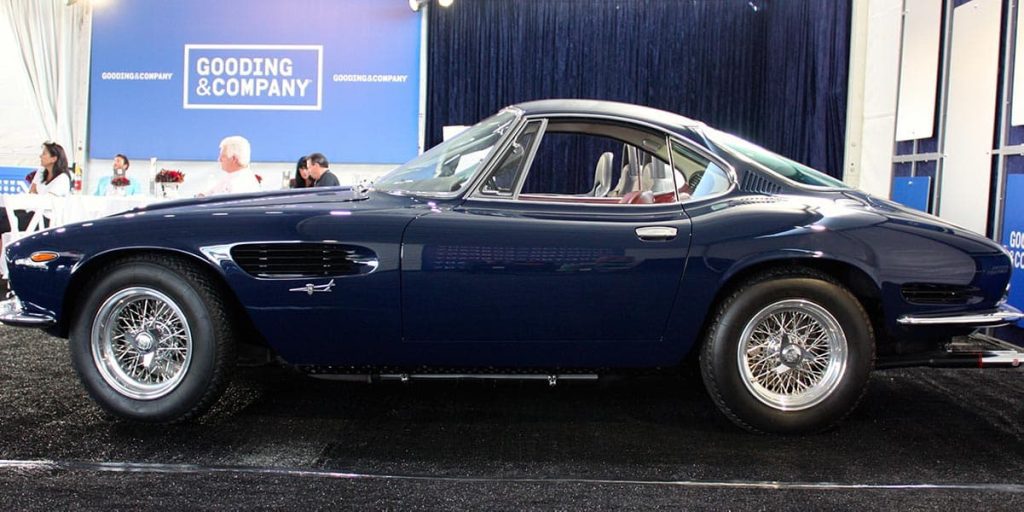 Since it was the first car of its kind, it had many unique features. These include an oval egg-crate grill, recessed headlight trim, rear tail fins with incorporated lights, oversized 4-louver vents on the fenders, as well as a fastback shape that Ferrari used on their competition cars.
1959 Ferrari 250 GT LWB California Spider Competizione — $18,150,000
Nine out of the fifty California Spyders built on the extended wheelbase frame had competition features and lightweight aluminum alloy bodywork. The California Spyder was indeed a unique competitor, although it had a lot in common with Ferrari's Testrossas as well as other sports roadsters.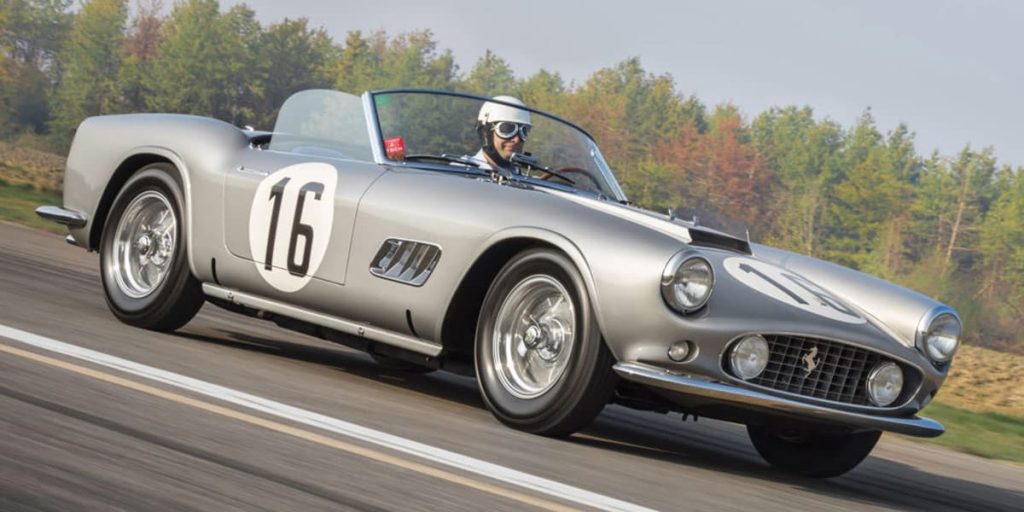 The usual purchaser was looking for a fully functional road car that might periodically compete successfully in track events. At competitions in places like Sebring, Bridgehampton, Nassau, and Watkins Glen, alloy California Spyders topped their class and managed to claim the victory.
1954 Ferrari 375 Plus Spider — $18,400,177
Ferrari has a racing history that is unmatched by many other world-famous automakers. In the earlier post-war period, The Prancing Horse controlled almost every industry it entered. The 375 Plus Spyder is one of its best racing vehicles from this time period.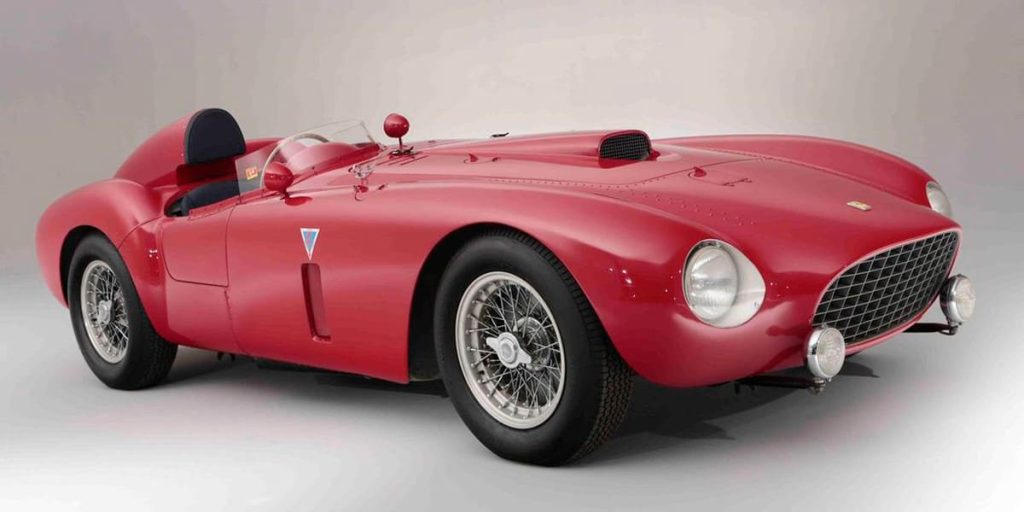 The V-12 engine inside the long-nosed convertible gave it both power and beauty. This was also a phenomenal hit on the racetrack, winning the Carrera Panamericana Road event, Silverstone, and Le Mans. Only three of the four produced are in existence today.
1961 Ferrari 250 GT SWB California Spider — $18,454,304
The 250 was Ferrari's most popular line of early models. The greatest example among the 12 years of operation is difficult to choose, but the 250 California SWB Spyder has to be right up there. Scaglietti created the roadster expressly for shipping to North America.
Only 37 units of this specific model had veiled headlights. This expensive vehicle was previously owned by French movie star Alain Delon. It was coated in dark blue instead of the brand's signature Rosso Corsa and had a black fake leather interior.
1939 Alfa Romeo 8C 2900B Touring Berlinetta — $18,997,883
Before World War II, the Alfa Romeo 8C 2900 was the fastest in the world you could purchase. Though it was known for its speed, there was more to it than that. This is the second of five specimens of the Touring-bodied type ever made.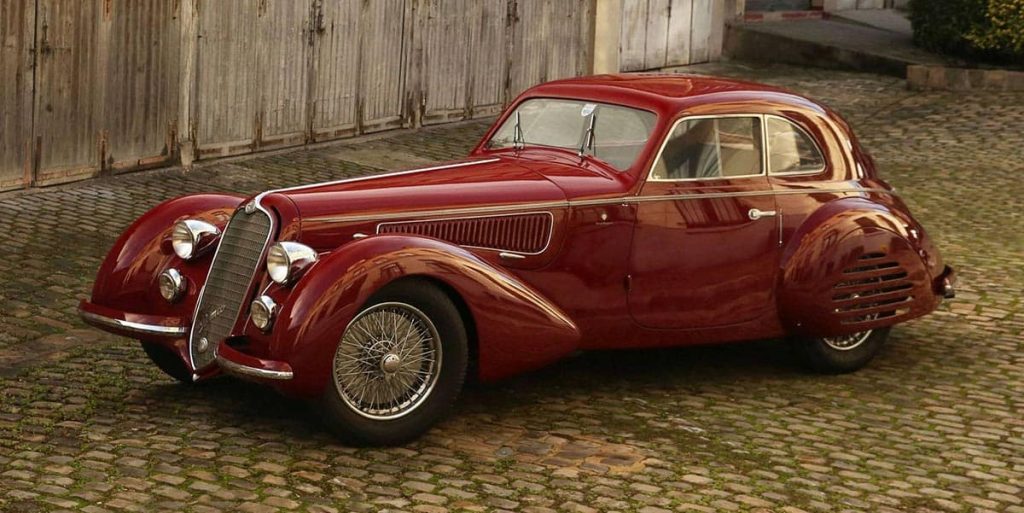 The car, notably the Carrozzeria Touring berlinetta form, was considered among the most exquisite cars of the era. This prompted some to name it a "Rolling Masterpiece." It's quite understandable that its current owner spent nearly $19 million on it in 2019.
1939 Alfa Romeo 8C 2900B Lungo Spider — $19,800,000
The 2900 Luongo Spider from Alfa Romeo was incredibly cool. The open-top model of the vehicle combined elegance and performance, unlike any other car before or since. It served as Alfa Romeo's and Italy's response to the Bugatti Atlantic. Only 32 8C/2900 Luongo Spiders were ever produced.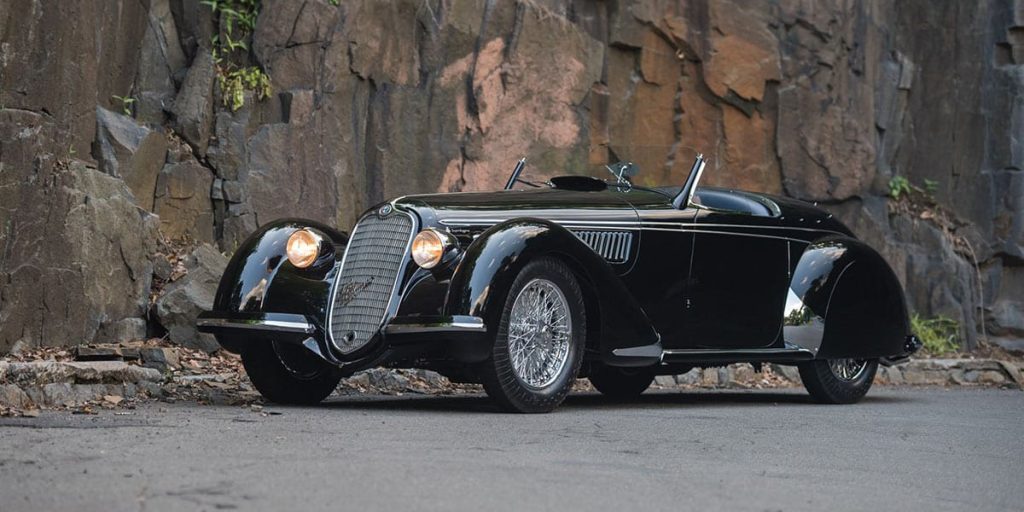 Out of that, only 12 touring convertibles remain in existence today. The Spider, which fetched a whopping $19.8 million at auction in 2016, is so uncommon that this stunning black version is the only one still on the market today.
1994 McLaren F1 'LM-Specification' — $19,805,000
Even though it is now around three decades old, the McLaren F1 nevertheless gives a contemporary and new appearance. That might be why so many brands and designers strive to emulate its overall aesthetic. But the Gordon Murray-designed coupe offers more than just a pretty face.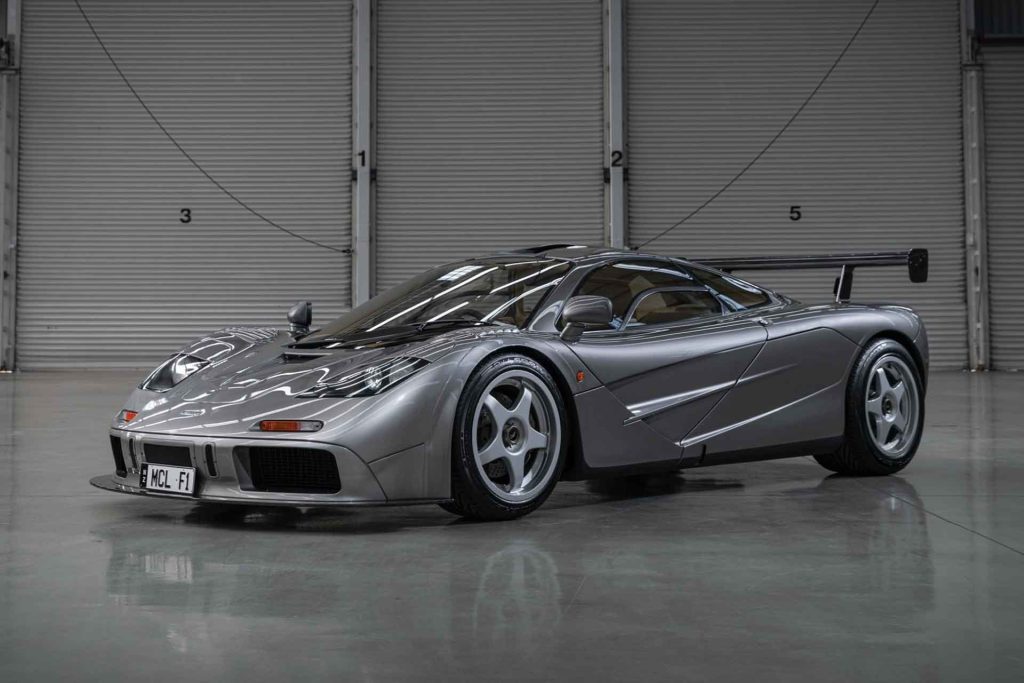 It also sports a V-12 engine with Formula 1 roots that temporarily renders it the fastest production automobile on the planet. With all this in mind, it comes as no surprise that this was one of two LM-specified specimens sold in 2019 for just under $20 million.
1995 McLaren F1 — $20,465,000
The McLaren F1 might just be the most prized automobile of the contemporary era. Throughout its six years of production, McLaren just produced 106 units, only 64 of which have been legal to drive. This Creighton Brown specimen is really stunning.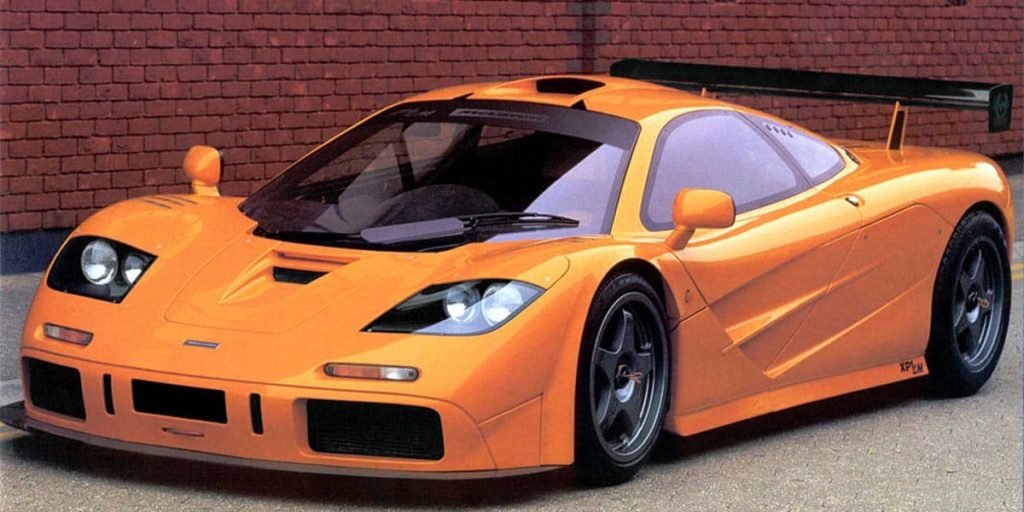 However, what truly sets it apart is the odometer reading of 242 miles. That's right; since it left the factory in 1995, this automobile has averaged fewer than 10 miles per year. That is why it sold for more than $20 million.
1963 Aston Martin DP215 — $21,455,000
When this Aston Martin DP215 Competition went for $20.46 million in 2018, nobody was shocked. The stunning car is a 1963 prototype, the final of the manufacturer's four "project cars" produced when David Brown had been in command of the firm.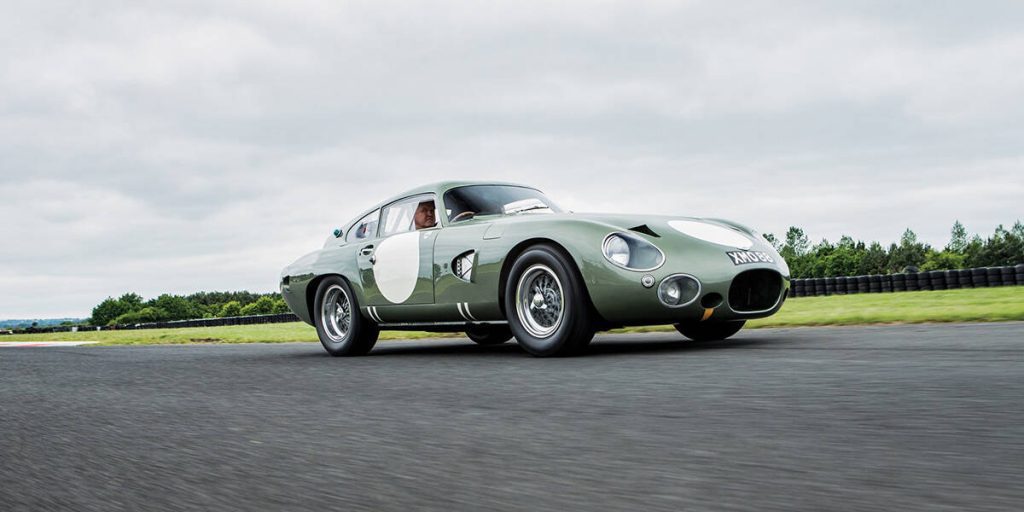 This would later compete at Le Mans just months after it had been conceived. Although it finished the race in second place that same year, this was the first vehicle to surpass 300 kph when it reached a high speed of 319.6 kph (198.6 mph) on the Mulsanne Straight.
1935 Duesenberg SSJ — $22,000,000
Even though Duesenberg is no longer in existence, aficionados still remember it well. A significant factor in this is this stunning 1935 convertible. It was created especially for Gary Cooper, one of the greatest actors of the heyday of Hollywood. This included stunning coachwork by LaGrande.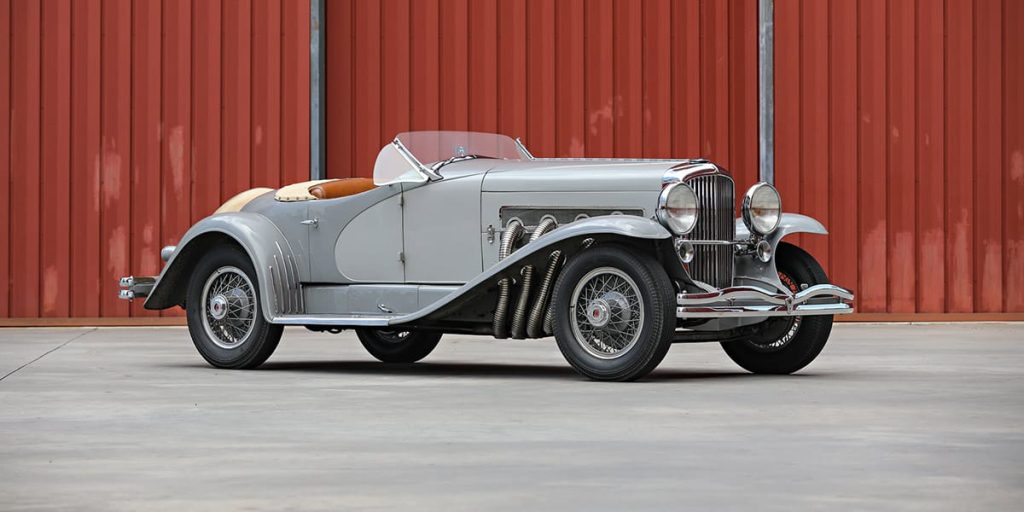 Only two copies of this roadster were ever produced; one was sold to Clark Gable, who allegedly used it to race Cooper. This may help to clarify why the was ultimately sold at Pebble Beach in 2018 for $22 million, well over double its pre-sale estimation.
1956 Aston Martin DBR1 — $22,550,000
The DBR1 roadster was Aston Martin's most significant model, but the DB5 may be its most well-known vehicle. It comes as no shock, then, that the first of the four manufactured prototypes is also its most costly vehicle; it went for $22.55 million in 2017.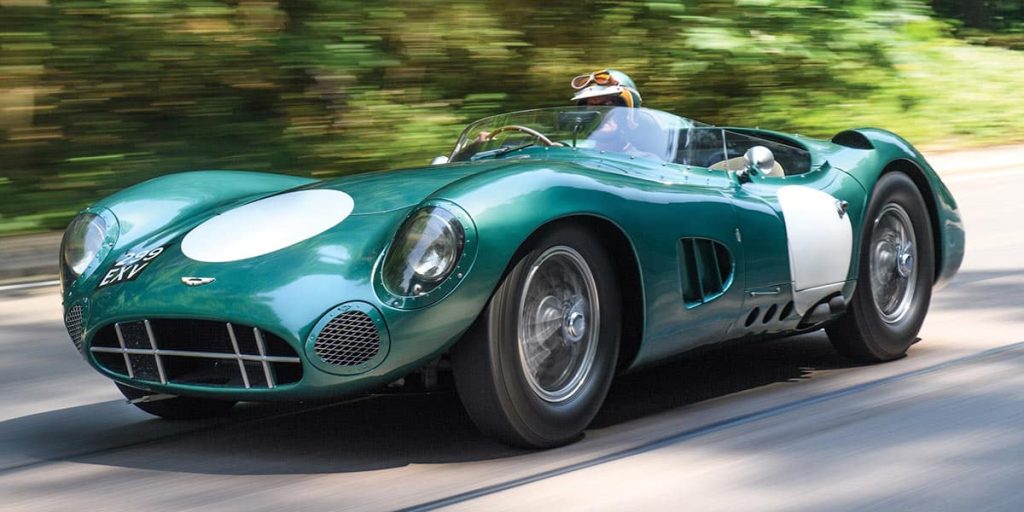 However, as it was the first item to leave the assembly line, it didn't sell for so much. Sir Stirling Moss, a legendary driver in motorsports, won the Nürburgring 1000 KM in 1959 after coming from behind in the wonderfully refurbished green roadster.
1955 Ferrari 410 Sport — $23,000,000
Carroll Shelby isn't alone in his appreciation for the V-12-propelled Ferrari. It was handled by a few of the top drivers of the period, notably Juan Manuel Fangio, Phil Hill, and Masten Gregory. Carroll Shelby rated the 1955 410 Sport Spider "the best Ferrari [he] ever drove."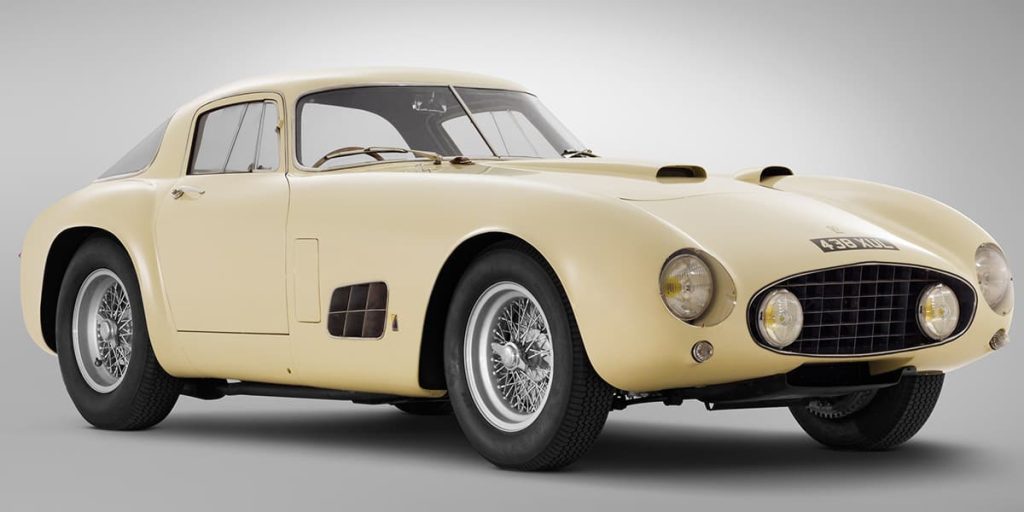 The 400-horsepower monster was enjoyable to drive, too. Chassis No. 0598 CM, which was acquired for $22 million in 2014, was indeed a seasoned victor, finishing first or second in 19 further races between 1956 and 1958 while winning 11 of them.
1931 Bugatti Royale Kellner Coupe — $9,800,000 (adjusted for inflation — $23,375,000)
On this lineup, the Bugatti Royale, frequently referred to as the Type 41, stands out as a special vehicle. Throughout the last ten years, the majority of milestones for expensive vehicles put up for auction have been set. Classic cars are simply worth more money today.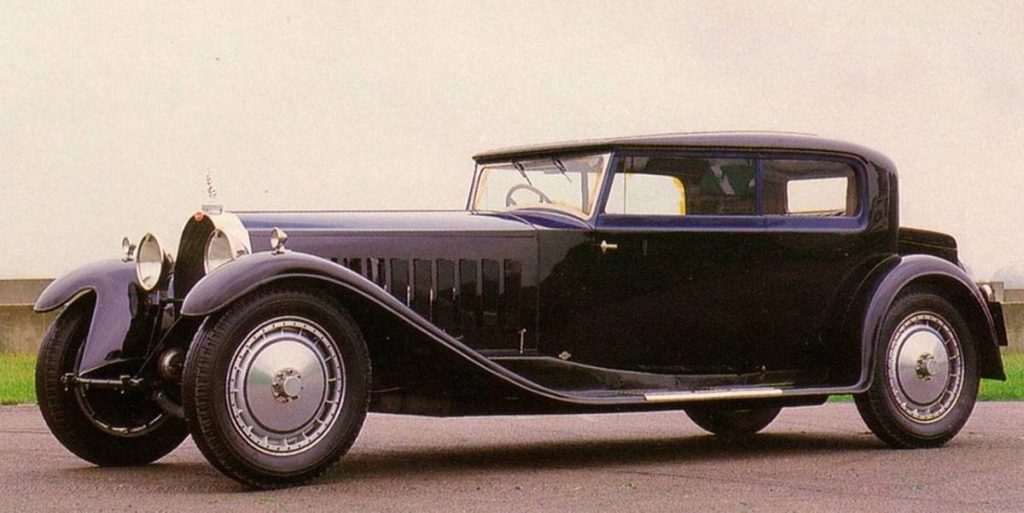 This is true for a variety of reasons, though this 1931 Royale was purchased in 1987 for such a high price that it still holds the record. This is unquestionably one of the top ten most expensive automobiles ever sold (adjusting for inflation)!
1964 Ferrari 275 GTB/C Speciale — $26,400,000
Very few are as distinctive as the Scaglietti-designed Berlinetta Competizione vehicles. These were driven by the Scuderia Ferrari squad. For participation in the 1965 24 Hours of Le Mans, only three were made. Rosso Corsa is the hue that represents Ferrari, most precisely.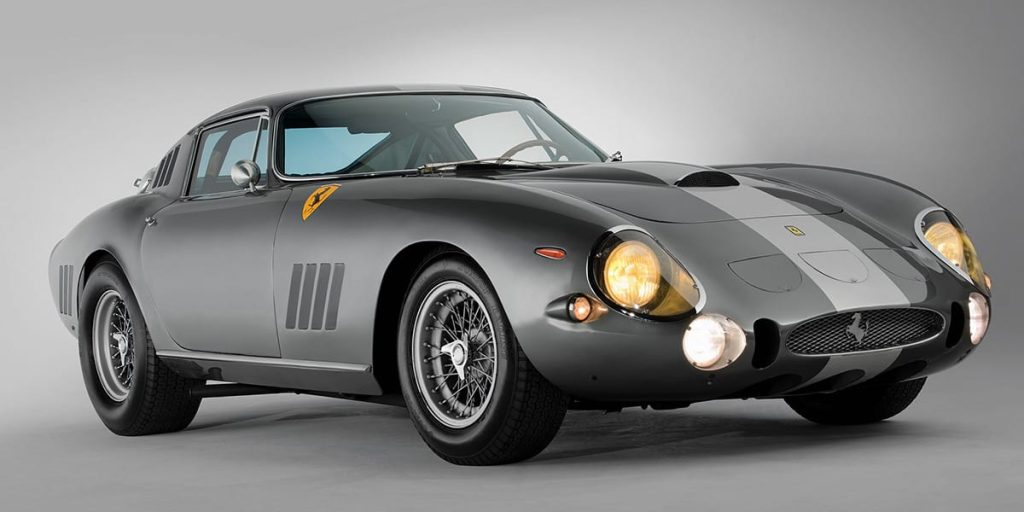 This specific 275 GTB/C has a metallic dark grey exterior with a central racing stripe made of a lighter color. Unlike others from that line, it didn't participate in the endurance event. That helps to explain how it is in pretty excellent shape when this was sold in 2014 for $26.4 million.
1967 Ferrari 275 GTB/4*S NART Spider — $27,500,000
One of the most sought-after Ferraris is perhaps the 275 GTB. The value of the car is increased even more by this version compared to earlier versions from the same manufacturer. Particularly if aficionados are bent on a rare-spec model, like the NART Spider.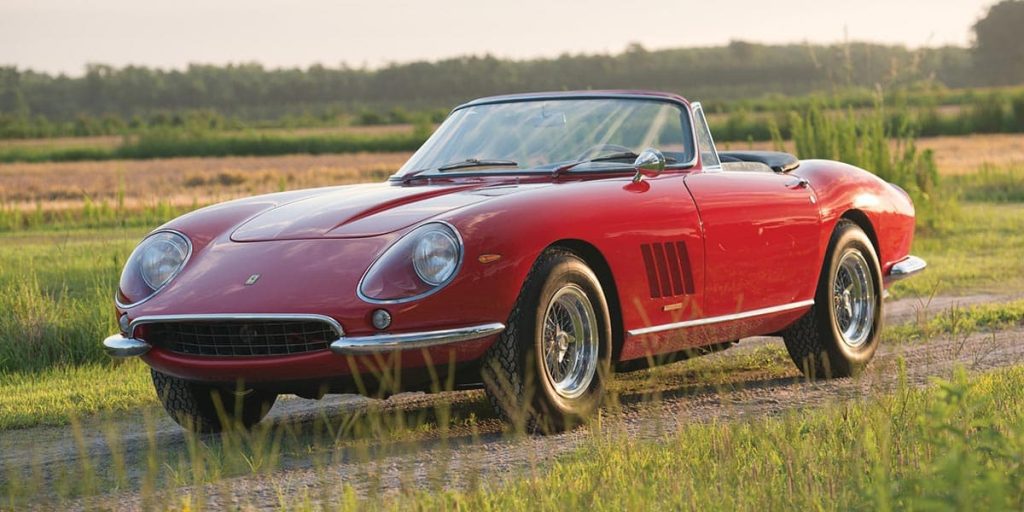 That is because there are only 10 of these available — that's what drove the price of this immaculately repaired, number-matching specimen to $27.5 million. However, it's a nice sign that bidding hit such a height because the sale's revenues were given to charity.
1956 Ferrari 290 MM — $28,050,000 (Serial: 0626)
Two separate 1956 Ferrari 290 MMs can be found among the top ten most expensive auction automobiles ever. They were both designed to participate that year in the Mille Miglia. This one was driven by five-time Formula 1 champion driver Juan Manuel Fangio.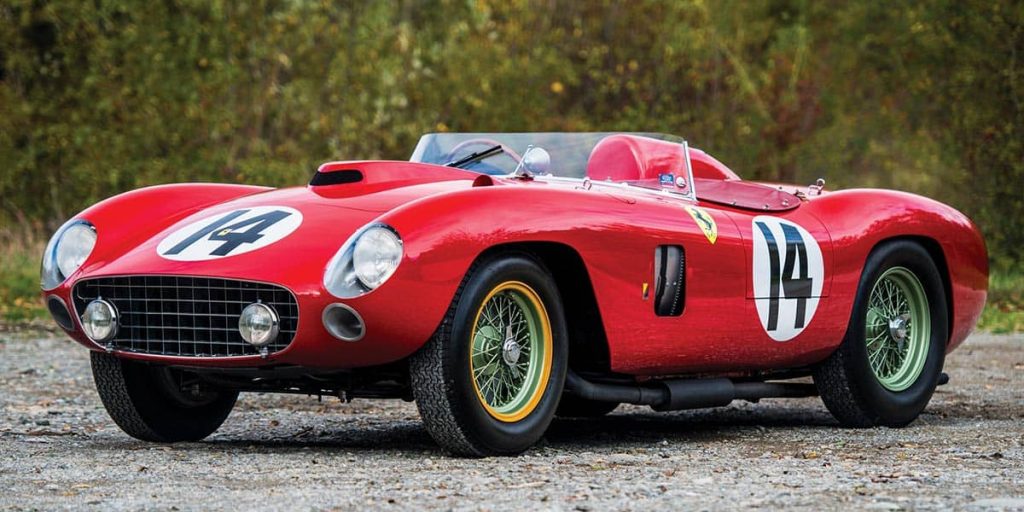 However, this open-top speed beast is about more than the driver. It is also an incredibly gorgeous car with a striking blue-and-yellow front. When you add all of the things together, it makes sense why it went for $28 million.
1954 Mercedes-Benz W196 — $29,600,000
The Mercedes-Benz W196 has been far more lucrative than most. During the 1954 and 1955 Formula 1 campaigns, the heir to the W194 was notably handled by both Sir Stirling Moss and Juan Manuel Fangio. It won nine out of the 12 races it competed in.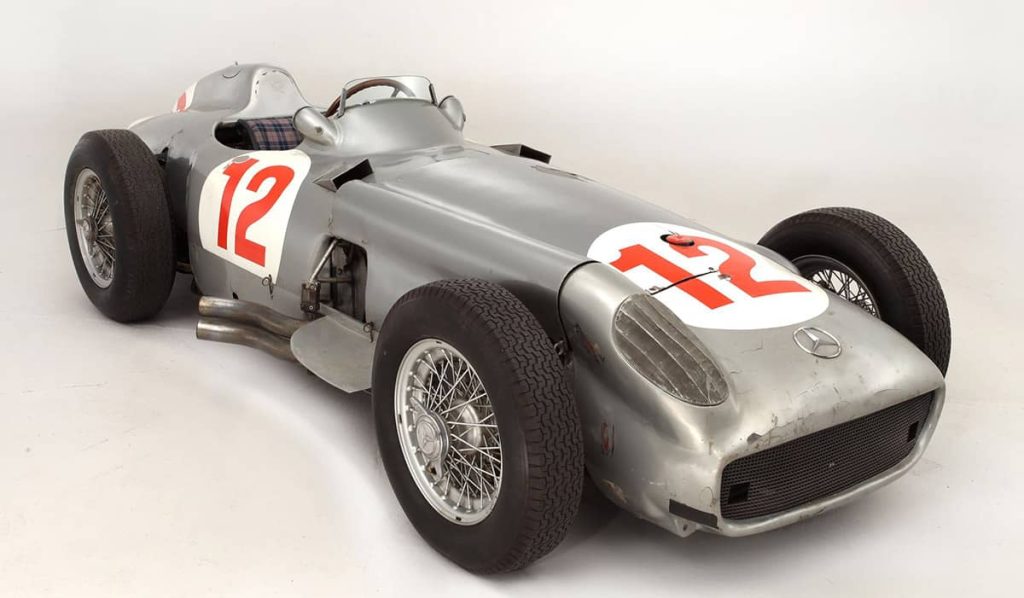 It also snatched two world titles. This specific model had a silver finish featuring white racing gumballs. It was the first to win the 1954 French Grand Prix. It was that it was the only model not housed in a factory or museum collection.
1957 Ferrari 335 S — $35,730,510
The 1957 335 S could very well be the best of the best. Ferrari used it to capture the Constructor's World Championship in 1957 and place runner-up at the last Mille Miglia. This is not the most expensive of the marque's racers…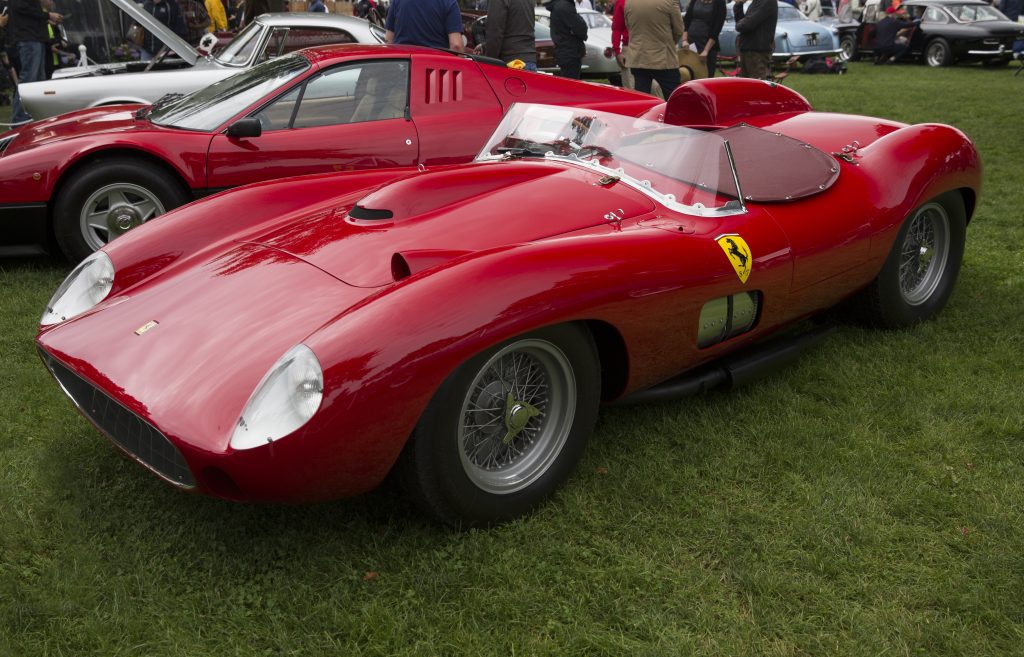 …but it came close after being auctioned by Artcurial for $35.75 million. This was also driven by a few of Ferrari's top drivers throughout that period, which include Peter Collins, Wolfgang von Trips, as well as Luigi Musso, as is generally the situation with these cars.
1962 Ferrari 250 GTO — $48,405,000 (Serial: 3413GT)
A second gorgeous Ferrari 250 GTO was sold by RM Sotheby's for $48.41 million, four years after the extensively contested Violati's 250 GTO for $38.12 million. Even with the significant difference in price, attempting to distinguish between the two coupés can be a real head-scratcher.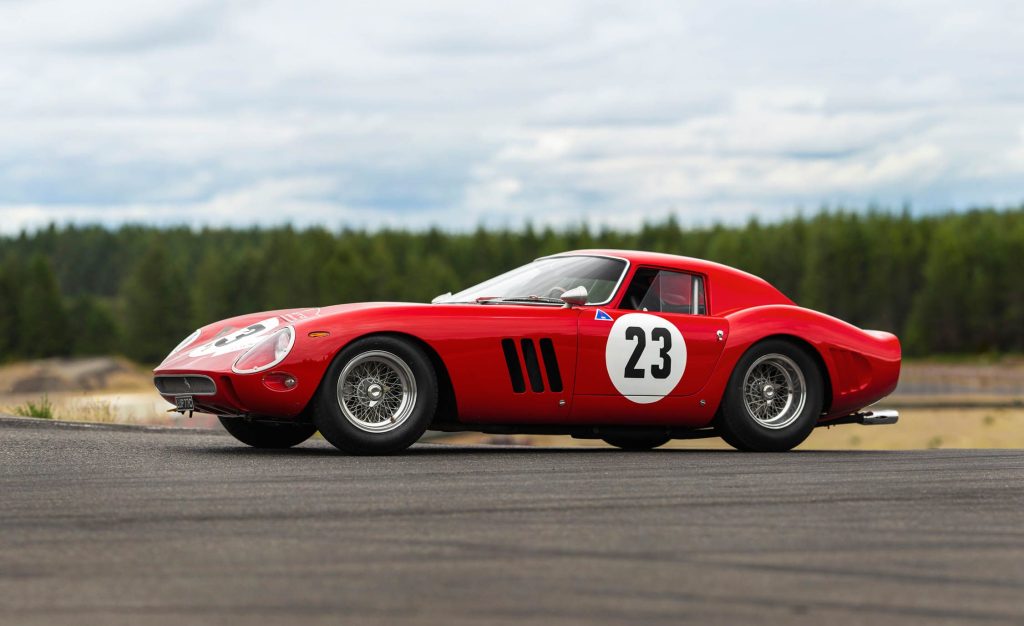 The much more costly 250 GTO, meanwhile, became the third vehicle to leave production and is largely genuine; it still has over 95% of the original components. It makes sense that someone would be willing to spend an additional $10 million for that.