Transit Treasures: 35+ Remarkable Bus Stops For A One-of-a-Kind Commute
By Saptargha D August 28, 2023
---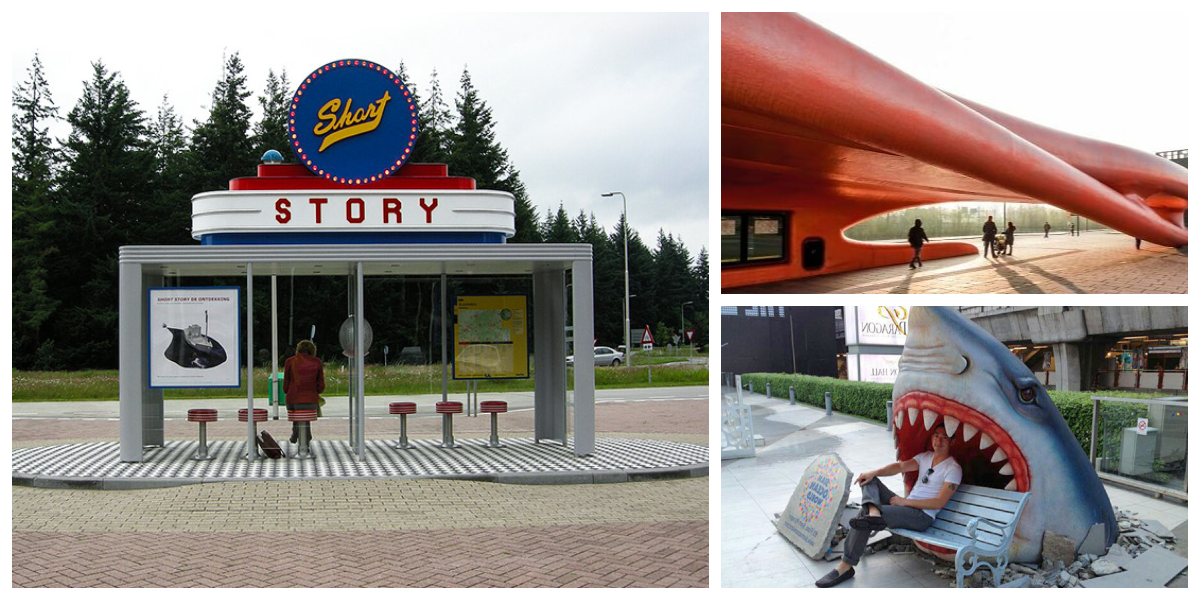 Bus stops, the inconspicuous hubs of public transport systems, are often ignored in the urban landscape. Yet, they fulfill a crucial purpose, granting commuters respite as they navigate the commotion of city life. These mundane structures, usually defined by their practical designs, have long yearned for the touch of ingenuity that could metamorphose waiting into an enthralling experience. Thus, a few imaginative architects and designers embraced the challenge of transmuting these disregarded spaces into extraordinary works of art.
In this article, we will show you some creative and alluring bus stops, where the fusion of functionality and artistic vision has reshaped the very essence of public transportation. Each bus stop tells a different story about the city it serves, from futuristic designs to aesthetic treasures. They transcend the designation of basic infrastructure, becoming doorways to an intriguing universe and tempting tired travelers to enter a world where creativity has no boundaries. So, get ready to witness rare treasures in the concrete jungle of public transit!
Eco-Innovation at the Crossroads
In the busy city of Cambé, Paraná, an imaginative businesswoman, decided to reinvent a boring bus station. She skillfully constructed an innovative structure that perfectly fits with nature. She even combined vivid paintings that breathe life into the surroundings with an eco-conscious heart and an eye for creativity.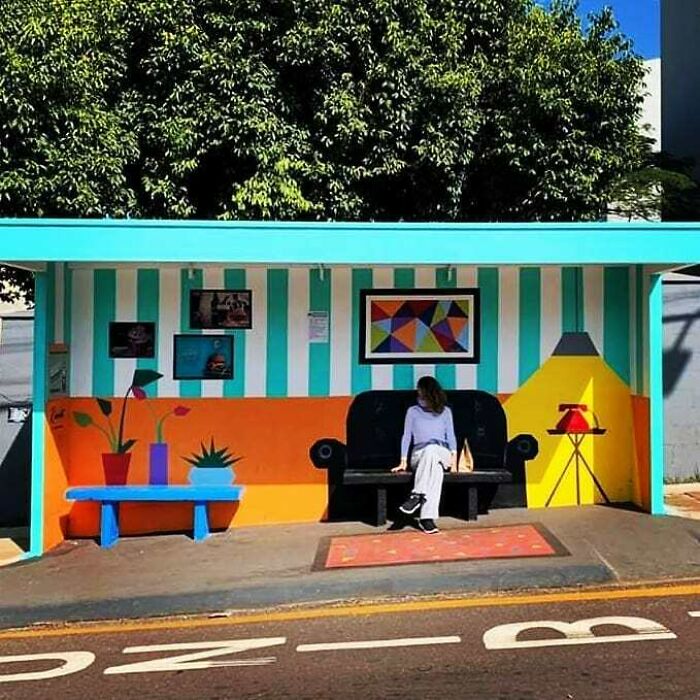 The woman aimed at making the waiting period more enjoyable for fellow travelers. She installed two artistic yet cozy benches—one adorned with a vibrant painting, transforming it into a whimsical table, and the other exuding an irresistible aura of comfort as it takes the shape of a snug sofa.
Goal Stop
Nestled playfully by a soccer field, a bus stop has joyfully hugged its sporty environment, morphing into a tiny goalpost. No need to doubt your eyesight—this spot is all set to infuse the art of waiting with a playful vibe, inviting travelers to join in the fun.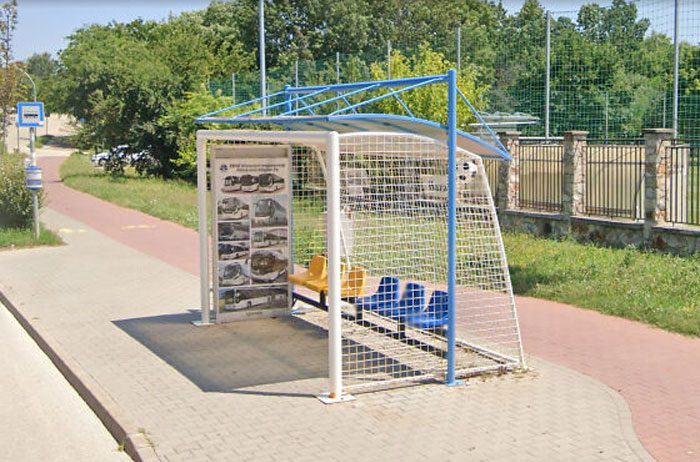 Commuters are often caught up in a bizarre contest where public transport collides with penalty kicks. Soccer fans seize the opportunity to hone their corner kicks while waiting for their bus. No wonder this goal-inspired bus stop perfectly leverages the waiting experience of travelers with a sense of playfulness!
Timeless Beauty
Amidst the cityscape, an avant-garde bus stop stands as a captivating sculpture. Constructed with parallel metal lines, it defies convention with its graceful curves and angles. Glistening in sunlight, the intricate network of steel forms an abstract canopy, sheltering waiting passengers. The lines seamlessly blend mathematical precision with artistic elegance, casting shadows on the ground.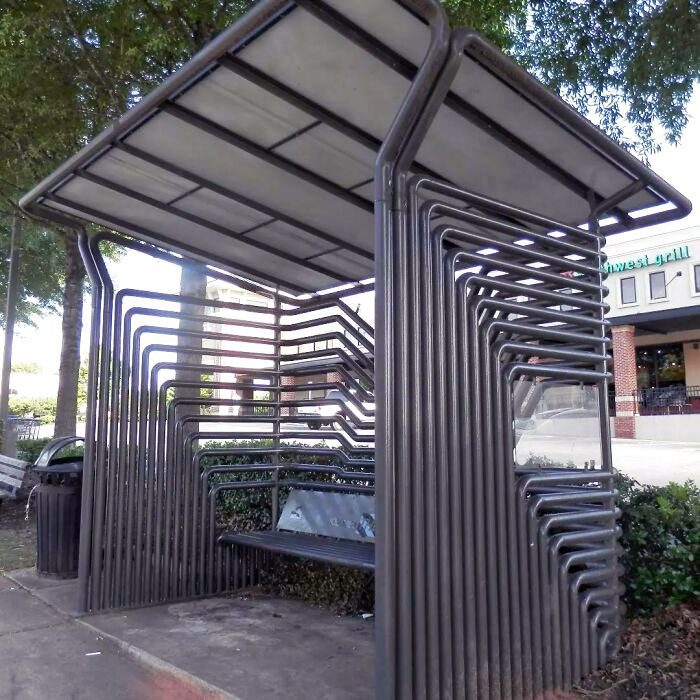 This innovative design offers a unique interplay of light and space, creating an ever-changing tableau. Passersby are enticed to pause and ponder the fusion of engineering and aesthetics, where the utilitarian bus stop transforms into a captivating urban art piece, harmonizing modernity and creativity in a single exquisite structure.
Bus Shelters Turned Breakfast Ovens!
Caribou Coffee in Minneapolis whipped up a unique marketing strategy to launch their new breakfast sandwiches. They turned ordinary bus stops into oven-shaped shelters that emit heat! Also, they displayed some images of freshly baked treats to entice travelers to their outlet.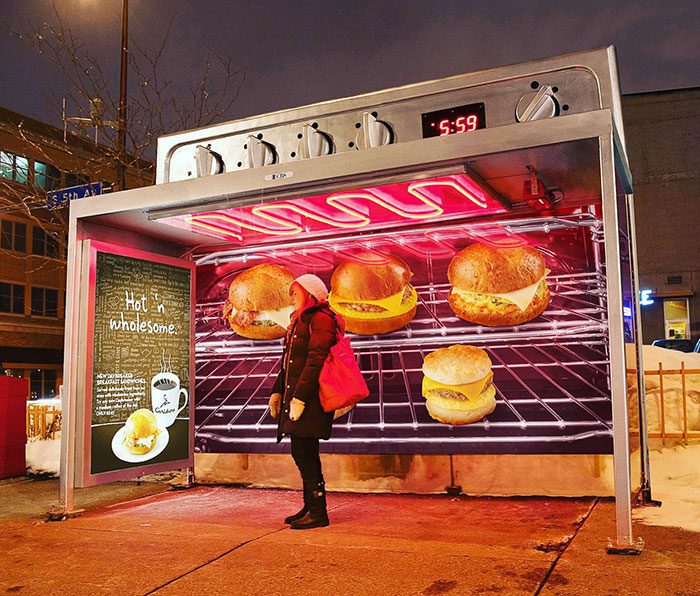 For passersby, it was like walking into a cozy mobile café. They were greeted with grins and growling tummies due to the delectable surprise at the stop. Thus, Caribou's culinary ingenuity provided commuters with a warm shelter, melted their hearts, and roasted their taste senses!
Wooden Geometry
Nestled within the hills, a rustic bus stop emerges, an ode to simplicity. Crafted entirely from weathered wood, it stands as a harmonious blend of geometric fragments. The structure, resembling an abstract rhomboid, presents an artistic take on functionality and form.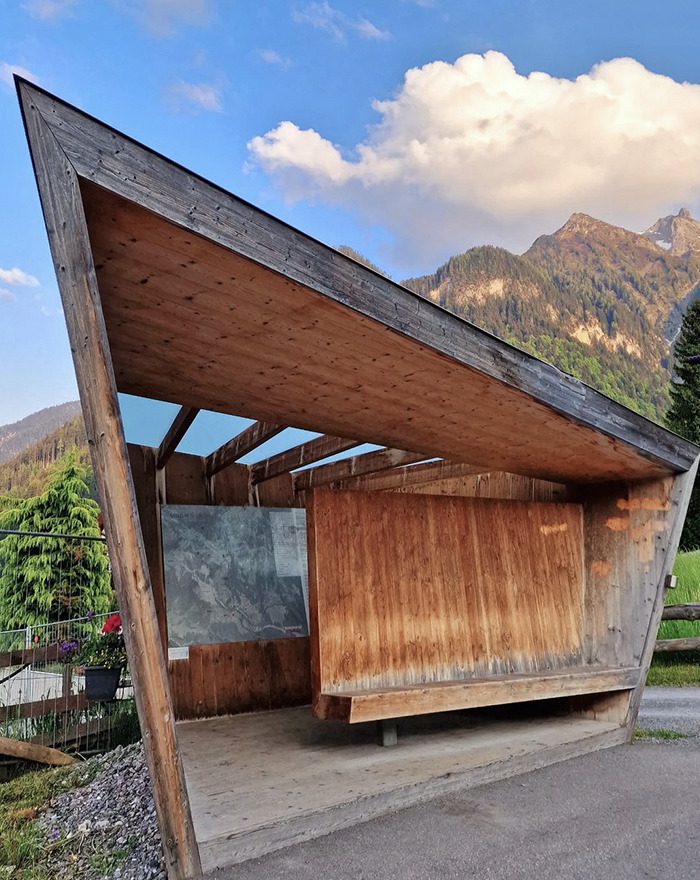 While the wooden panels on the roof extend their eaves like welcoming arms, the planks on the walls evoke a sense of warmth in commuters. The installed solitary bench in the space makes the waiting experience more comfortable, inviting travelers to take some rest under the shade.
South Korea's Hi-Tech Haven at the Bus Stop!
A bus stop has taken convenience to a new level in South Korea's tech-savvy streets! It has an LED screen that displays real-time bus schedules, ensuring you never miss a ride again. Also, this station is a genuine accessibility hero, offering ramps and accommodations for persons with disabilities and making it accessible for everyone.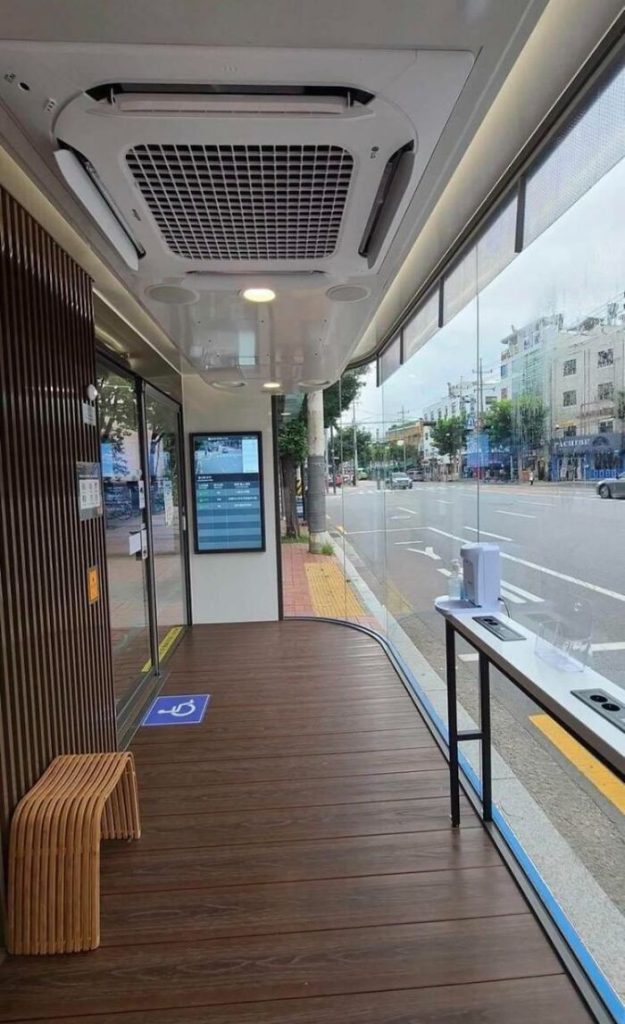 But hold on; there's even more! This high-tech refuge has a sanitizer dispenser to keep travelers' hands clean and germ-free. Also, it has many power outlets for commuters to charge their mobiles or laptops on the go. Thus, equipped with ultra-modern facilities, this South Korean bus stop enhances the waiting experience in multiple aspects.
A Concerto of Painting and Touring at Austin-Bergstrom's Guitar Bus Stop
Music fans will love this guitar-inspired bus stop arrangement at Austin-Bergstrom International Airport. With the shelter designed in the shape of a sleek guitar, it strikes a chord with travelers. It serves as a waiting room and a tribute to the city's musical character.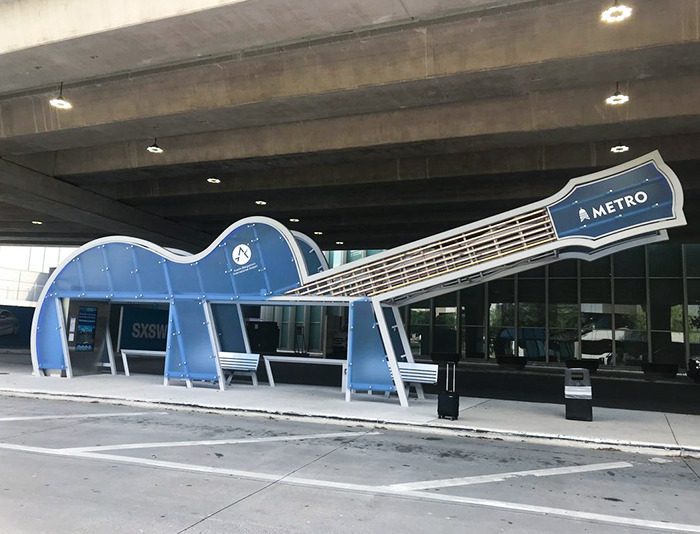 The guitar-themed bus stop reflects the essence of Austin's dynamic culture with vivid artwork and musical elements. Travelers are serenaded by the unique ambiance that flawlessly integrates art, transportation, and a deep rhythm as they assemble beneath this musical shelter.
Boa Noite's Futuristic Bus Stand
In the charming city of Curitiba, Brazil, the roads have arrived with a surprise—an innovative bus terminal at Boa Noite that is anything from average! This tube-shaped station has a rising lift platform, making it accessible to everyone, including individuals with impairments.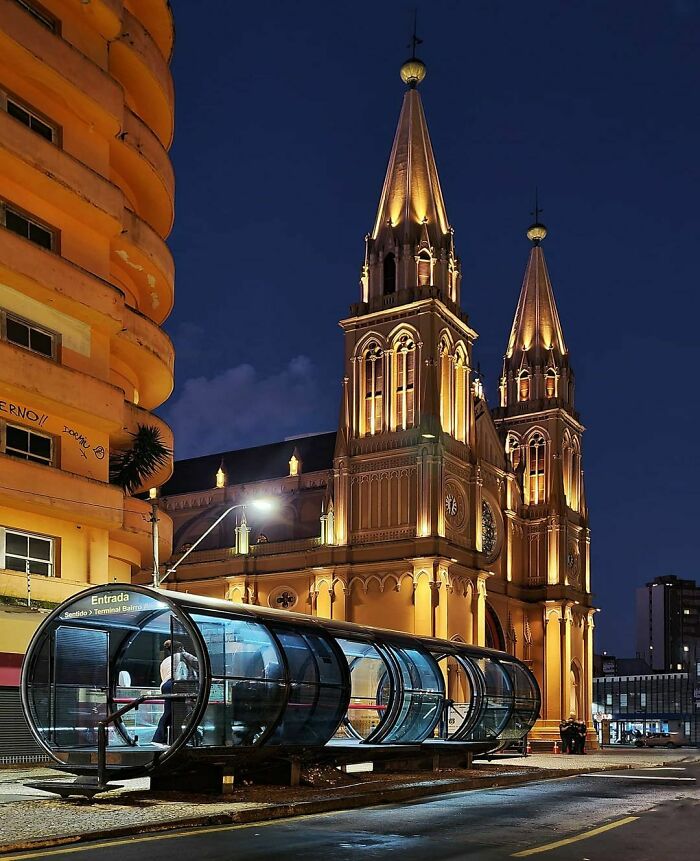 Like a sci-fi movie, technology and accessibility create an unforgettable transportation experience. Thus, Boa Noite's futuristic bus stop sets the path for a more inclusive and enjoyable future, demonstrating that with a bit of creativity, everyday travel can be an experience of equality and joy!
Norway's Literary Haven
Norway, the country of fjords and fairytales, has enhanced the bus stop experience with a pleasant surprise—a reading nook for the eager readers! Instead of being bored while waiting for the bus, you can immerse yourself in a literary journey.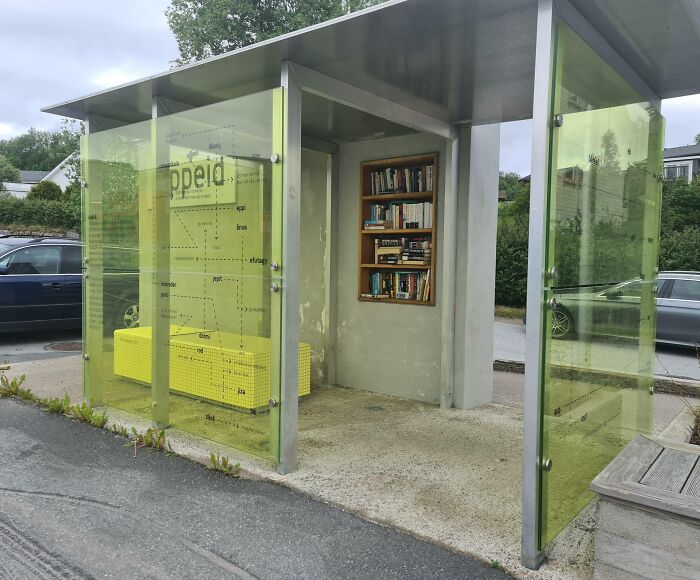 Inside the shelter, shelves are stacked with books ranging from intriguing mysteries to sentimental classics. Thus, it serves as a paradise for bookworms and casual readers, transforming tiresome bus delays into intellectual getaways. Nevertheless, while you may be lost in this book wonderland, be aware of your bus's arrival.
Fruity Fiesta
With fruit-inspired bus stops that look good enough to eat, a tasty treat lies around every turn in the enthralling nation of Japan! These luscious havens will brighten your day and excite your palate, from strawberries and tomatoes to watermelons and muskmelons.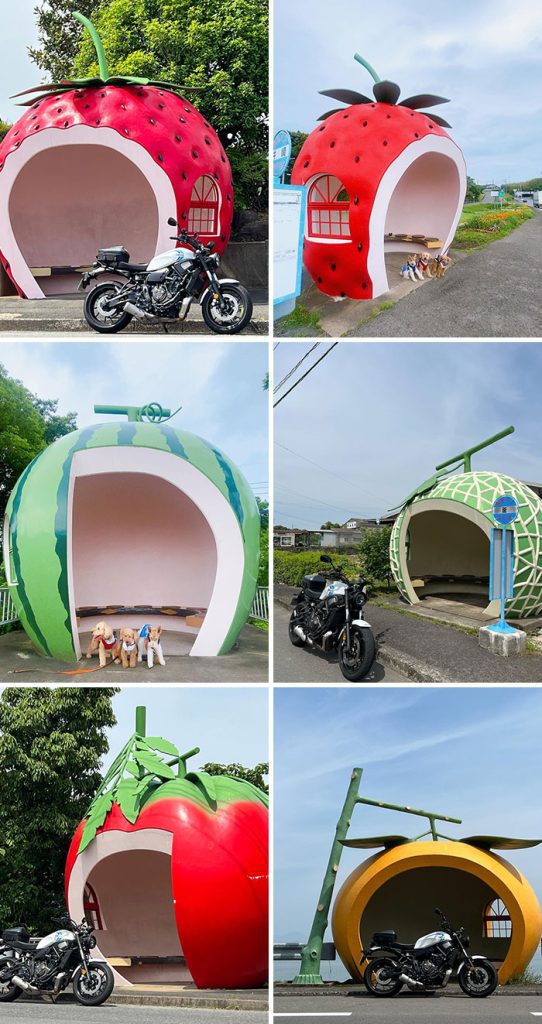 Commuters can't help but feel like they're in a fruity fantasy, waiting for transit with a dash of delectable charm. These eye-catching stations have become the buzz of the town—a whimsical delight for both locals and visitors, showcasing that even boarding a bus can be a delicious and refreshing adventure!
Urban Comfort
This image presents a couch at a bus stop, providing a haven of calm in the middle of the busy metropolis. Such a tranquil shelter will be tempting for travelers to catch their breaths after a tiresome commute or recharge before a long journey.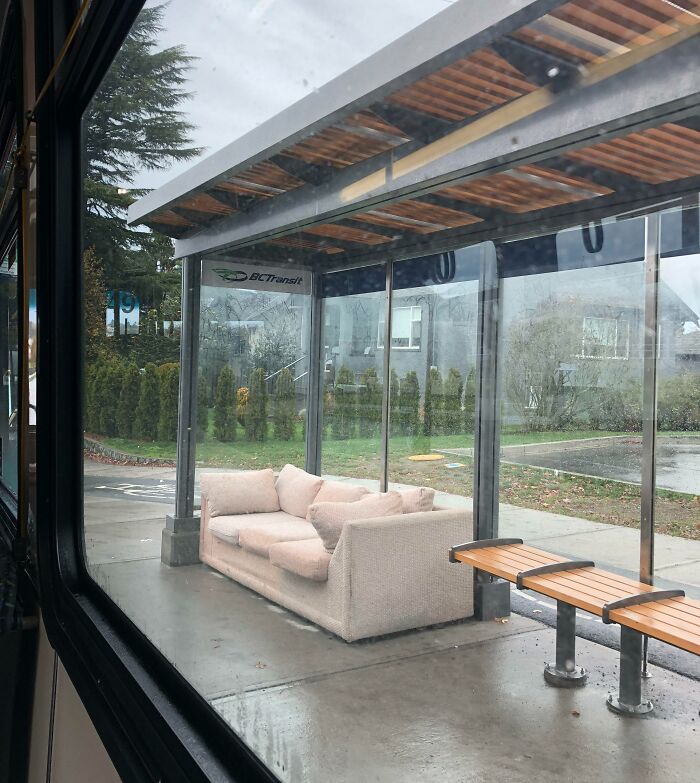 Embellished with soft cushions that add to the inviting aura of the shelter, this sofa serves as a conversation starter and a meeting point for commuters. As friends converse and other passersby strike up talks, the bus stop morphs into a welcoming gathering spot, transforming the overall waiting experience of travelers.
Jaws-Dropping Adventure
Hold on to your seats because this Thailand bus stop outside Siam Ocean World is not your ordinary shelter—it's a jaw-dropping adventure! Commuters are confronted with a massive shark, jaws wide open, eager to welcome people into an underwater wonderland.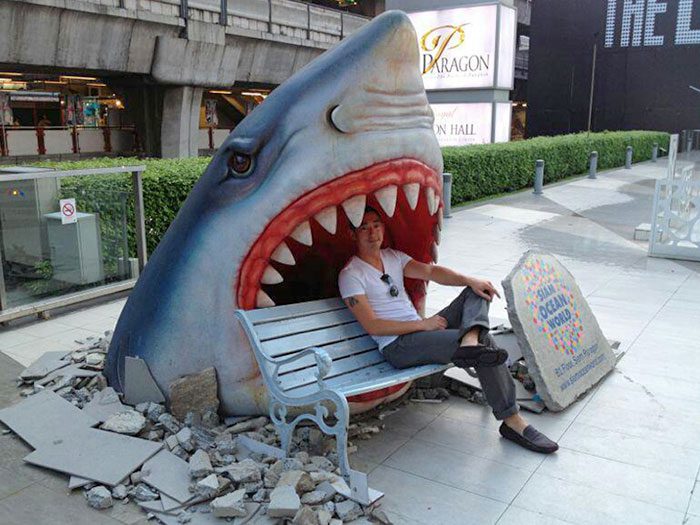 This fin-tastic bus stop mixes art and entertainment, evoking the oceanic wonder of Siam Ocean World. As travelers congregate beneath the shark's watchful eye, they become a part of the fish's swimming journey until they board their bus. Thus, this stop shows how everyday bus drives can be spiced up with a bit of creativity.
Flat-Pack Fabulous
Hold on to your Allen keys, for Ikea Australia has converted a typical bus stop into a page straight out of their 2018 catalog. From sleek chairs to cozy couches, the space is decked out in Ikea's distinctive designs. It's now time to wait for your luxury ride!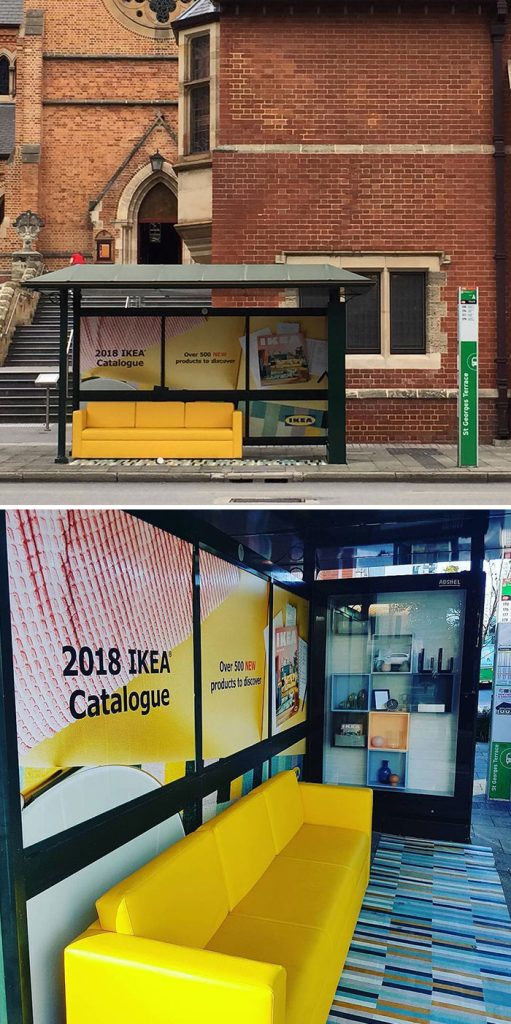 This bus station's transformation is nothing short of a furniture fashion display. It engenders a mesmerizing exhibition of comfort and elegance that engulfs commuters. So, brace yourself as you witness the astonishing and avant-garde transport revolution brought forth by Ikea at this bus stop.
Grandparent Geniuses
A lovely surprise awaits youthful bus riders in the sweet nation of Japan. Wise and quirky grandparents devised a life-sized Totoro, a renowned cartoon figure, to alleviate bus-stop boredom. This cuddly woodland spirit, with a big tummy to nestle in, has become a source of joy for children and adults.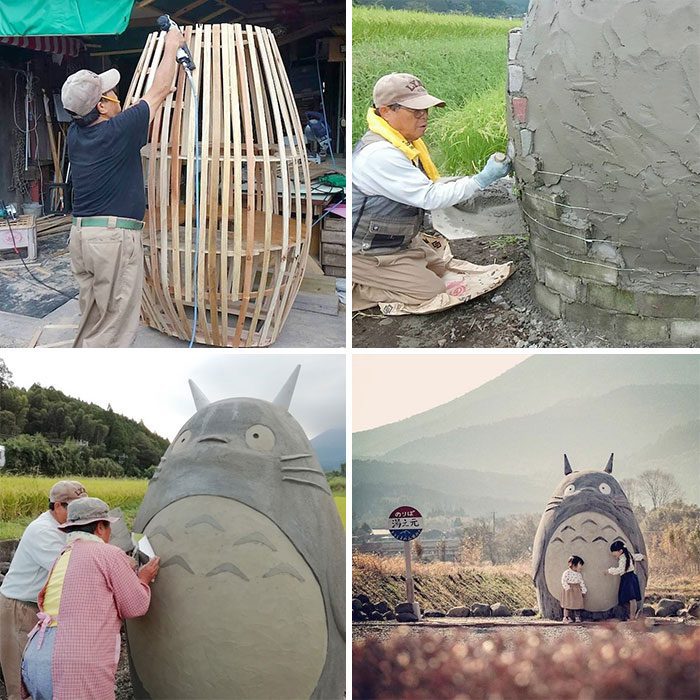 So, there's no more feeling lonely while waiting! Totoro's captivating presence transforms everyday times into animated adventures. As youngsters squeal with delight over their new furry pet, these brilliant grandparents demonstrate that a bit of creativity can paint the world in happy colors.
How Dutch Cities Are Bee-ing the Change?
Dutch communities have put the "bee" in "bus stop," transforming them into "Buzz Stops!" These eco-friendly stations aim at stabilizing urban bee populations while allowing commuters to wait for their rides comfortably. They have transformed into bustling hotspots for bees and other pollinators thanks to the bright flowers and pollinator-friendly plants that adorn the bus shelters.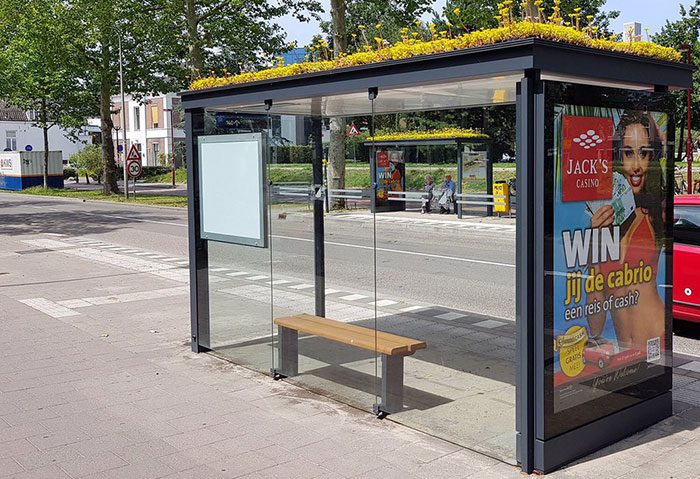 Commuting becomes a win-win situation for travelers, and an ecological balance is established as the metropolitan landscape blossoms into a lush paradise with these bus stations. The amalgamation of natural beauty and modern infrastructure compels passersby to stop for a moment and appreciate the bee-friendly allure of these "Buzz Stops."
A Bus Stop Bench Reminiscent of a Home
A beautiful bus stop at Sackville and Shuter in the hectic center of Regent's Park, Toronto, presents a homely ambiance. This cozy little space is furnished with replicas of commonly used household items, such as a dining table, desk, chairs, and cabinets, to evoke an inviting feeling of warmth.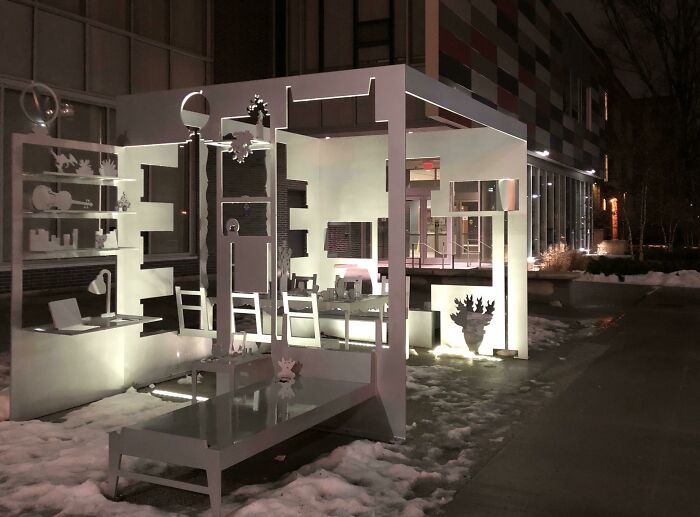 The shelter is a lovely example of community care, providing relief from the weather while maintaining a feeling of honor for people in transit. It emerges as a beacon of optimism through its intelligent design and inviting environment, demonstrating how a slight improvement can significantly improve travelers' lives.
Regal Reign
Three bus stations on Oxford Street had elegantly decorated themselves with replicas of King Charles III's royal crown in an extravagant show of grandeur and festivity. As an homage to the coronation, these giant artworks conjured a feeling of ancient glory in the heart of London.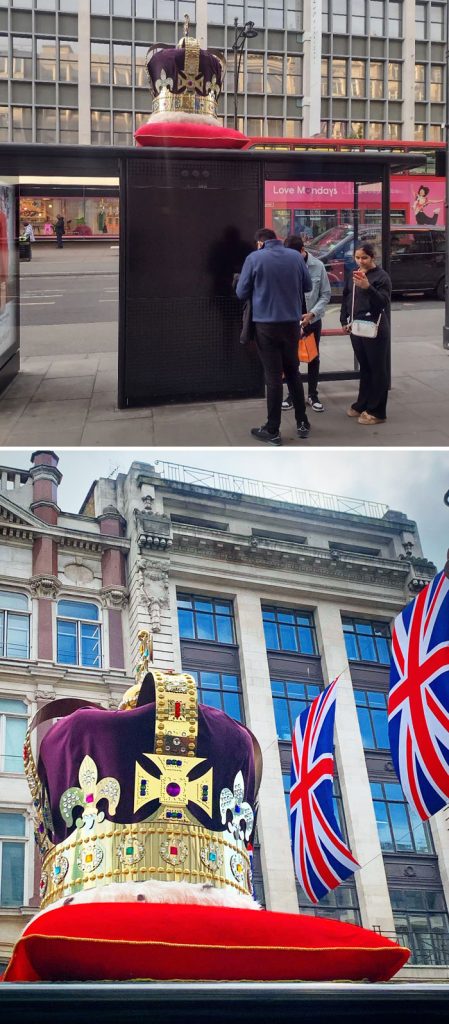 Bustling Oxford Street became a live tribute to the British monarchy's rich past and long legacy. But at the same time, the sparkling embellishments of the crowns under the sunlight served as temporary landmarks for commuters, quickly navigating them to the bus stops through the crowded street.
Korea's Chill Zone
A bus stop has become the ultimate cool respite amidst Korea's scorching summer heat! The shelter comes to life as the weather warms, spritzing riders with mist. It feels like a lovely foggy paradise where waiting for the bus becomes more pleasant and soothing.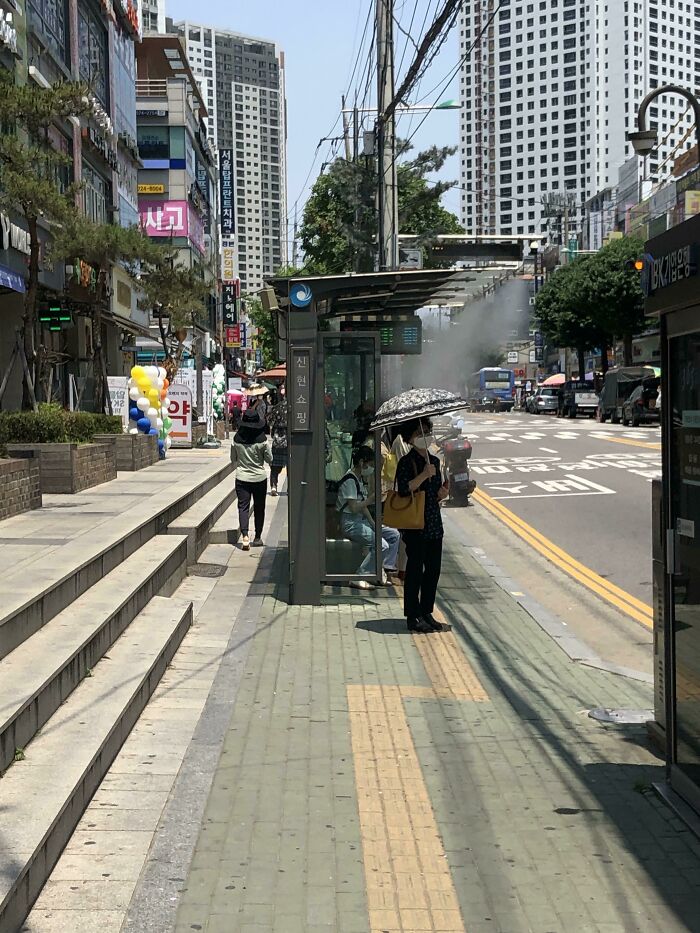 Commuters can't help but enjoy the moment, relishing in the refreshing chill as they wait for their transport. This inventive bus stop has become the talk of the town as strangers interact over shared minutes of refuge from the sun's burning heat.
Breda's Green Gateway
This bus stop at Karnemelkstraat in Breda, Netherlands, is more than just a waiting area; it's a glimpse of the city's "Green Park" ambition! Breda hopes to be Europe's leader in green urban living by 2030, and this bus stop is a milestone in achieving that goal.
Resembling a serene oasis cloaked in lush green hues, it invites tranquility and beauty to the space, enriching the overall waiting experience for travelers. However, amidst this bus-waiting journey, the city's marvelous metamorphosis is witnessed as it unfurls its verdant tapestry, fusing urban existence with nature's symphony.
Pretty in Pink
While commuting in the bustling Dubai Design District, you will discover a charming surprise in the form of a tiny bus station decorated in a beautiful shade of pink. This delightful work steals hearts with its whimsical appeal, providing a welcome counterpoint to the city's sophisticated architecture.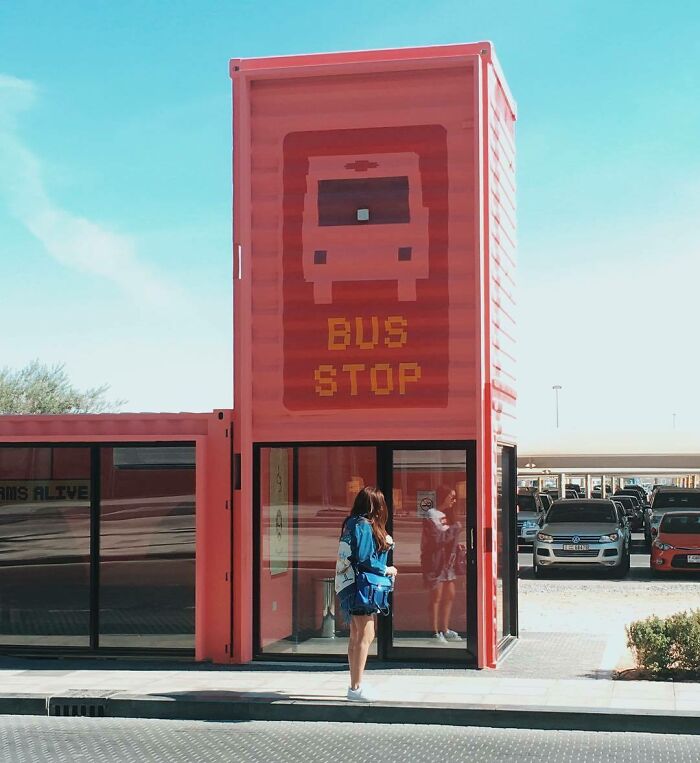 Imprinted with the renowned Nintendo game typeface, the bus stop's signage provides an additional touch of nostalgia and vagary to the metropolitan setting. This pleasant blend of color and font transforms the daily commute into a joyful journey, making a lasting impact on those who come across the station.
Holstein's High-School Bus Stop Gets Artsy!
A gorgeous bus stop rises tall near a high school in Holstein, Germany, but it's not a typical shelter! Instead of the customary metal or wooden poles, gigantic pencils have been installed at the station as a creative surprise for young commuters.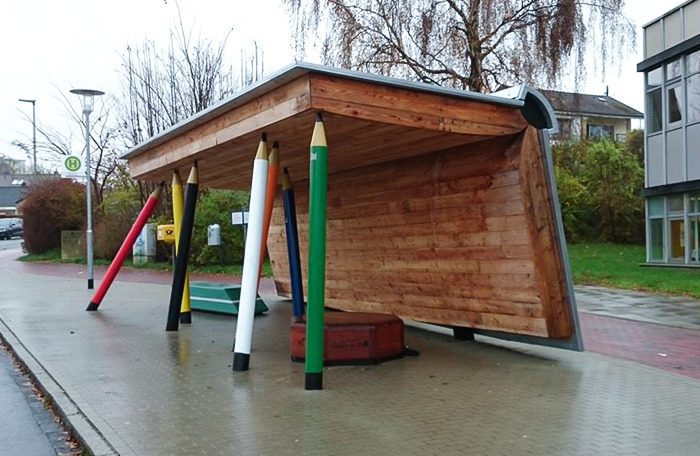 The bright, colorful pencils, in combination with the book-shaped structure, are a lighthearted homage to the educational environment, where information and ideas flow freely. Holstein's pencil paradise is more than just a bus stop; it's a quirky reminder that learning is all around us!
Bus Shelter Gets a Nostalgic Sitcom Makeover!
A bus stop has been designed to resemble the classic living room from the TV program Roseanne! As you wait for your transport, enter the Conners' world. The encounter mimics a rendezvous with the long-lost comrade while you stand at the bus station!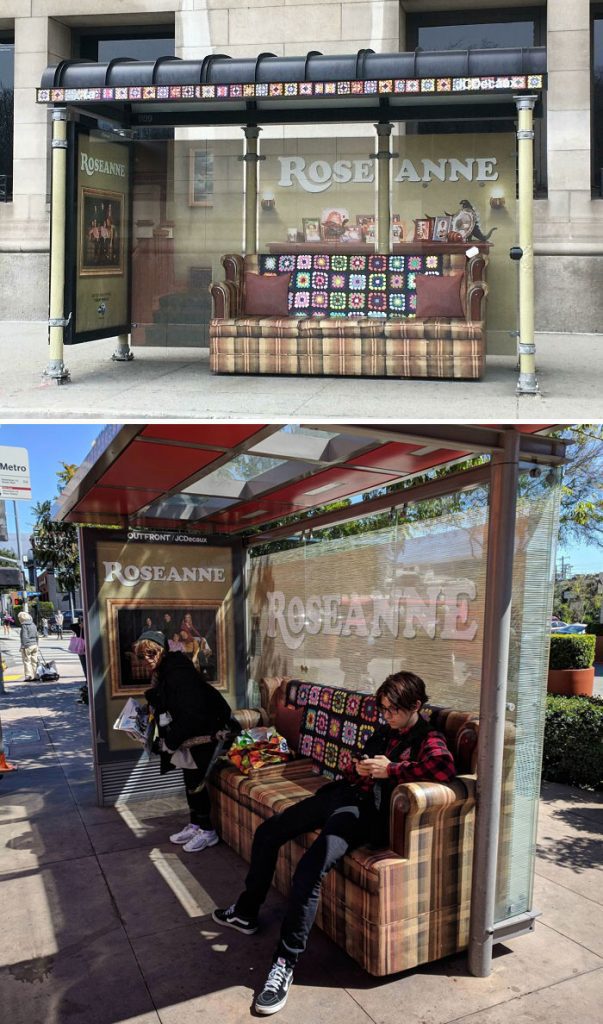 With vintage furniture, tacky décor, and a tinge of '90s nostalgia, this shelter takes commuters back to the cozy chaos of the Conner family. The set-up looks so realistic that as travelers perch upon the recognizable couch, they can envision the whimsical dialogues of Roseanne and her kin.
Unraveling the Tale of a Giant Pin at the Bus Stop
In a picturesque town celebrated for its distinctive allure, a bus stop embarks on an artistic divergence from the mundane, unveiling a captivating notion. This colossal pin looms resplendent over the expectant sojourners. This ingenious homage to the town's inimitable persona showcases an expansive pin, encapsulating the quintessence of pinpointing destinations.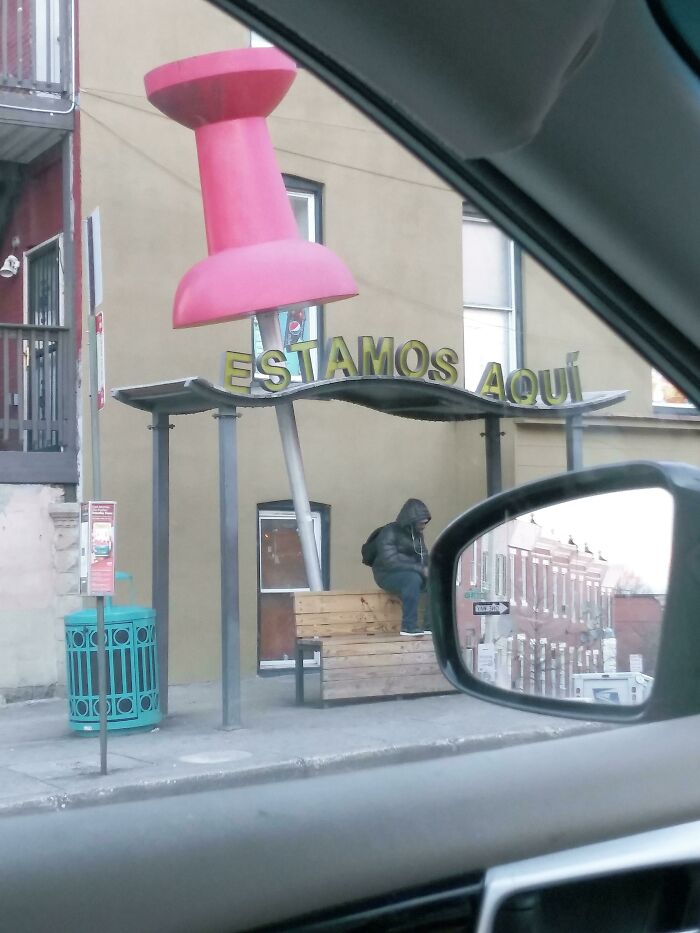 This pin-testing piece radiates a sensation of "you are here," providing bus boarders with a tactile connection to their stop. It's a moving reminder of the surprising power of art in even the most unlikely places, leaving an everlasting impression on people's everyday journeys with its memorable charm and originality.
Reykjavík's Bus Shelter Celebrates World Environment Day!
A bus stop in Iceland's scenic city, Reykjavik, has been given an eco-friendly makeover to promote World Environment Day. This shelter is not just a place to wait for buses but also a depiction of the spirit of environmental consciousness that each individual must nurture.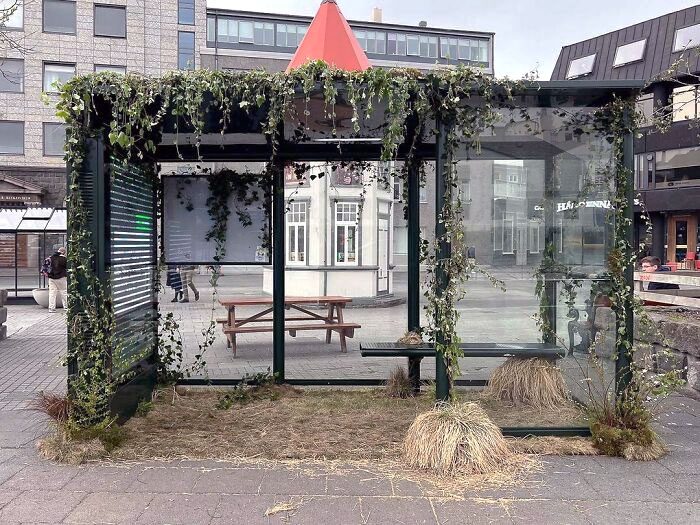 With tendrils of green vines sprawling all over it, the bus stop greets travelers with a warm embrace. For commuters, it almost feels like sitting in the lap of nature while awaiting the bus. So, as passengers congregate beneath this green silhouette, they become a part of a worldwide movement to protect Mother Nature.
Leicester's Sweet Buzz
The city of Leicester buzzes with excitement as they change bus stations into "Bee Stops!" To promote environmental awareness and preserve the population of these pollinators, the city has given its shelters a bee-utiful makeover. Adorned with vivid bee-themed artwork, these stops serve as mini sanctuaries for our busy little buddies.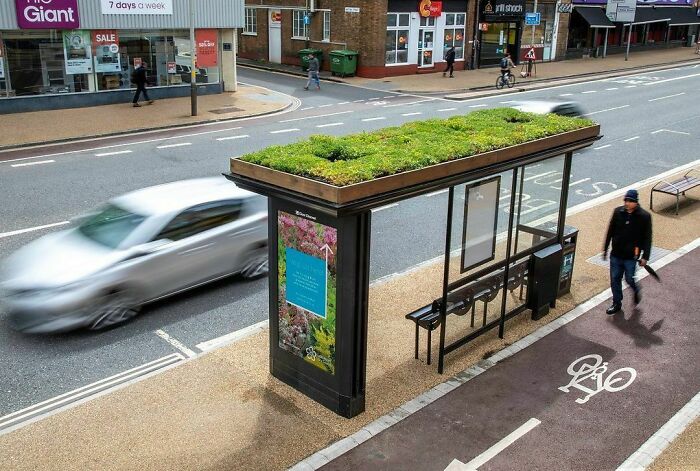 These "Bee Stops" are more than only decorative; they remind us of bees' critical role in our ecology. Thus, Leicester's delightful effort improves public places and educates citizens about the significance of safeguarding these biodiversity, providing everyone with a friendly and fuzzy feeling while they wait for their ride.
Swedish Savvy
Welcome to "The Station of Being" in Sweden, a bus stop unlike any other! Prepare to lay back and unwind in the wooden pods installed in this station for maximum comfort. These pods can automatically turn by the windy breeze without requiring electricity.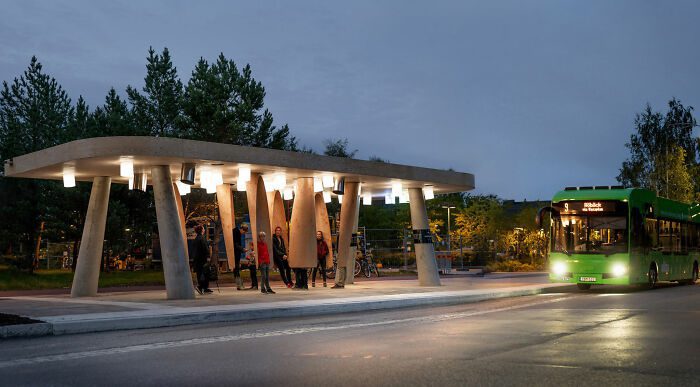 Travelers can now have a personal windscreen that satisfies their inclination toward coziness while waiting for their bus! All they have to do is turn the pods manually and personalize them to create their social environment. Thus, this futuristic bus stop is crucial in offering a sustainable travel experience.
"Planetarium" Bus Stop Puts You Under the Moon!
Commuters are in for a heavenly treat at the fanciful "Planetarium" bus stop. A moon cutout is attached to the shelter's roof to render a magical waiting experience. As light falls on this artificial celestial body, it shines with a shimmering glow, creating a lunar masterpiece.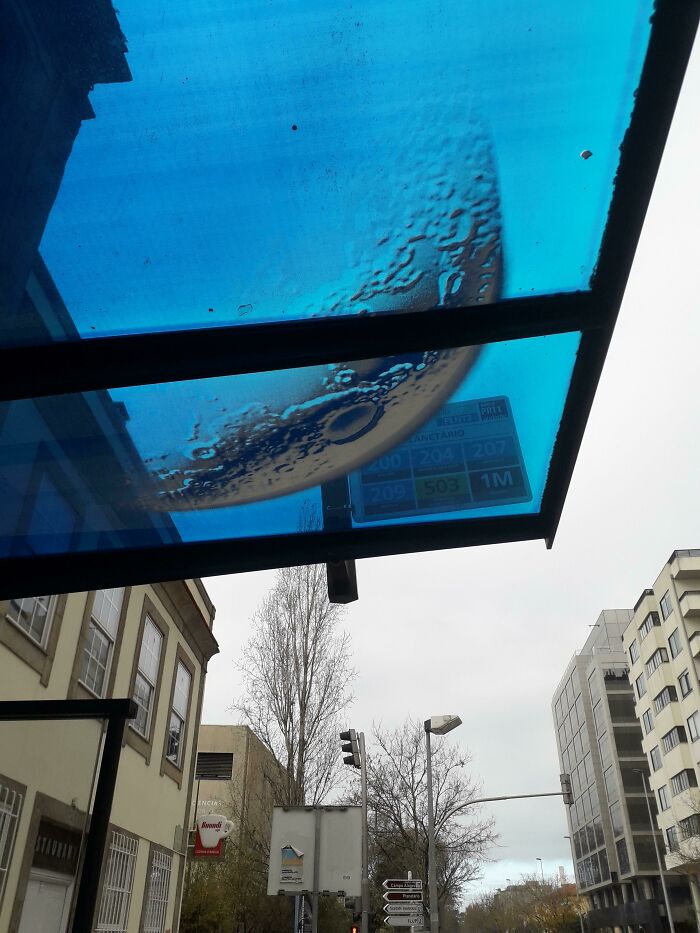 Every traveler enjoys a charming moonlit night at the bus stop as they assemble under the cosmic canopy. The "Planetarium" is an ideal refuge for selenophile commuters who love to gaze at the moon and find solace in its dazzling embrace while waiting for their bus.
Oceanic Wonder
The magnificent "Whale Jaw" bus station is an architectural masterpiece built by NIO Architecten in the lovely Dutch town of Hoofddorp. Inspired by the elegance of aquatic life, it replicates the majestic jaw of a whale, offering a strange and immersive marine experience to commuters while they wait for their rides.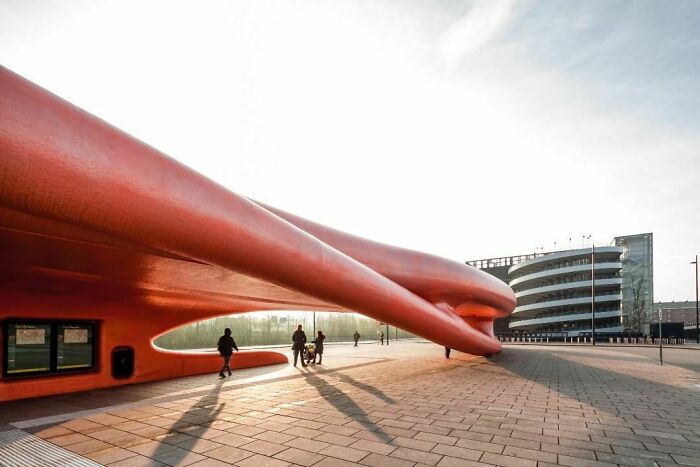 The organic curves and elegant lines of the "Whale Jaw" effortlessly integrate with the surrounding terrain, providing a touch of aesthetic brilliance to the urban infrastructure. Travelers seek refuge beneath the massive 'baleen,' resulting in a harmonic environment that blends utility and creativity.
Glowing Sheep Crown Village Bus Shelter!
A village bus shelter saw an astonishing sight—a life-sized sheep mounted on its roof. However, this wooly creature isn't your typical sheep! In the ebony abyss, a mesmerizing marvel unfurls, unleashing a kaleidoscope of colors akin to a glorious prismatic display.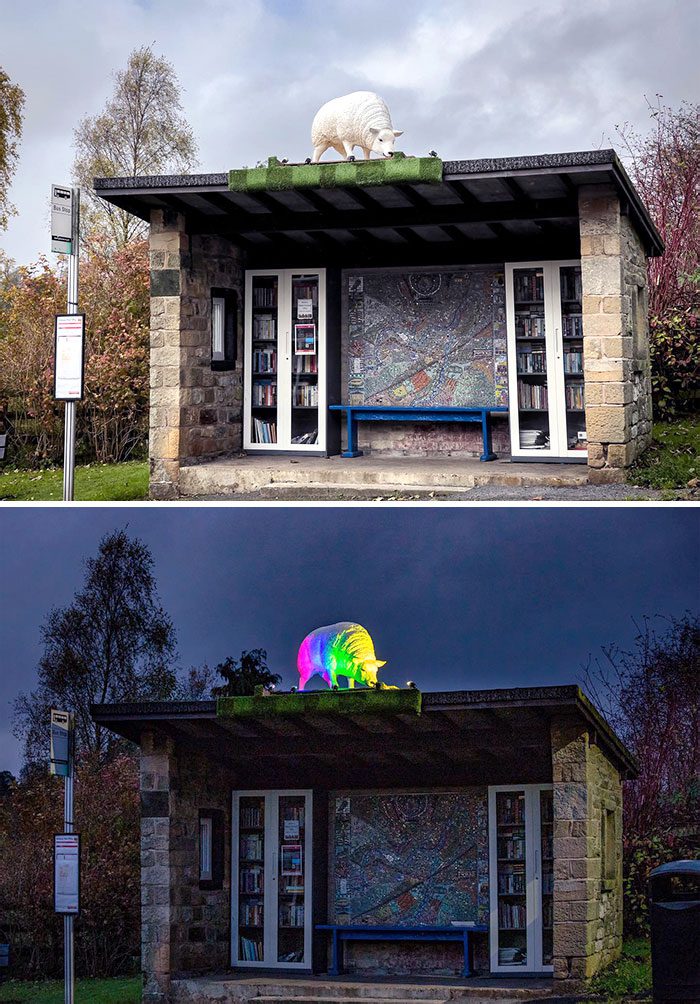 As the sun sets, the shelter transforms into a sheep-shaped light show, adding a beautiful touch to the community. Lingering at this brightly lit space amidst the nocturnal embrace renders a captivating waiting experience. Thus, the glowing sheep serves as an affirmation of the infinite realm of art, embellishing the apex of the bus shelter.
Haute Hare
Fashion and celebration collide at the Gucci "Year of the Rabbit" bus stop in Chengdu, a busy metropolis in China. The stunning exhibit honors the Chinese zodiac of the rabbit and enthralls spectators with its aura of haute fashion. It incorporates Gucci's distinctive themes and exquisite embellishments, creating an appealing combination of luxury and tradition.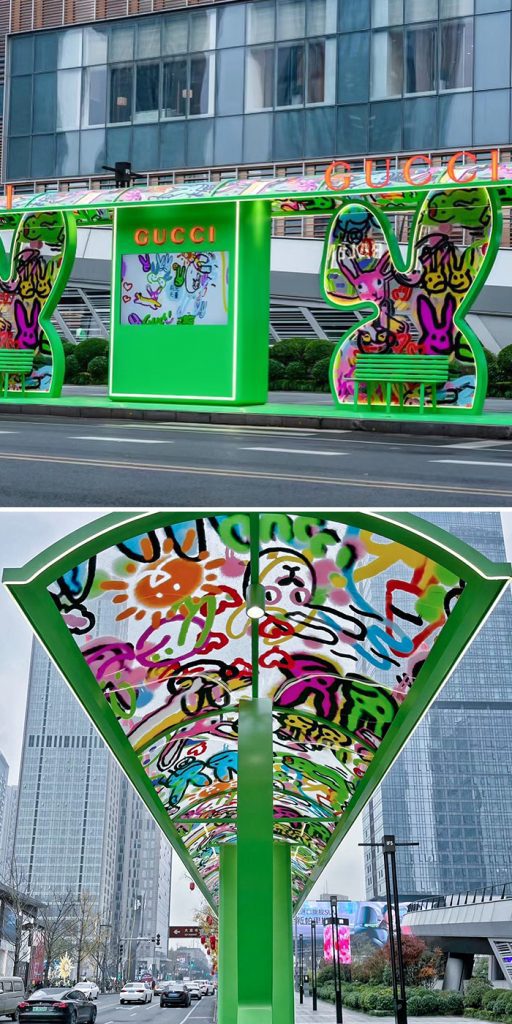 Encapsulating the spirit of artistic creativity, Chengdu's Gucci bus station symbolizes hope, peace, and prosperity as the city celebrates the Chinese New Year of the Rabbit. Thus, commuters are transported into an extravagant realm of positivity while waiting in this imaginative environment.
Norway's Bus Stop Wonderland
Norway has a unique bus stop unlike any other in this eccentric country. Someone with a flair for comfort and aesthetics has converted a plain bus station into a full-fledged living room! Consider waiting for your transport while sitting on comfortable seats, sipping coffee at a charming table, and perusing books on a little shelf.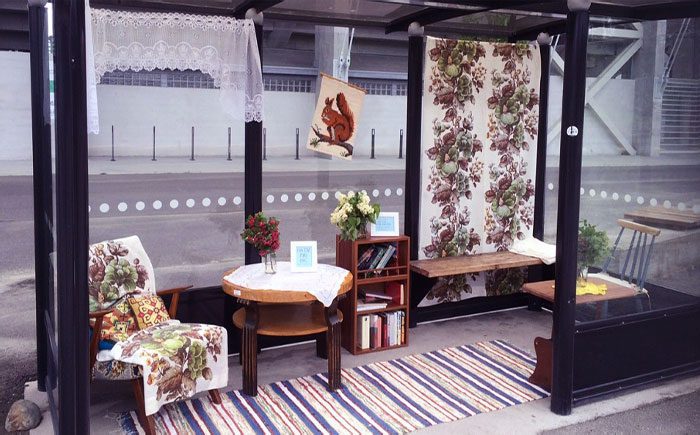 The refinement is continued with gorgeous flower vases and fashionable drapes, which offer an added dose of charm to the space. This bus stop redefines waiting, forming a cozy refuge that transports passengers into a living fantasy. No wonder this is one of the most thoughtful bus stops in the world!
Catch the Wave
A one-of-a-kind "Wave" bus stop welcomes enthusiastic travelers on the beautiful coastline of Gagra, Abkhazia! You won't find surfboards or beach views here, but you will discover an extraordinary architectural masterpiece that will make you feel like you're in the underwater world!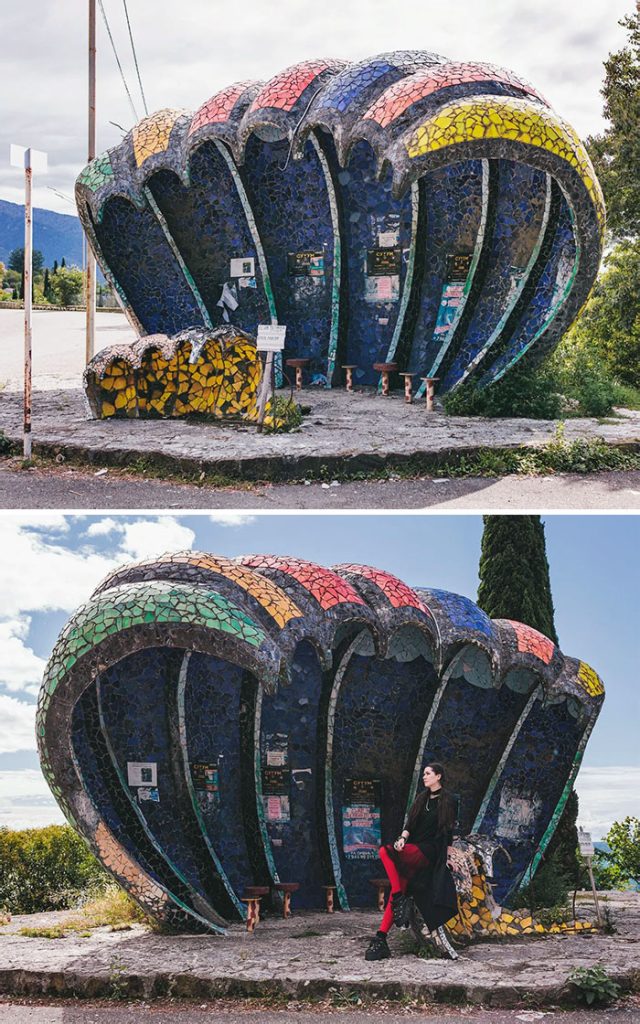 This curving beauty replicates the delicate pattern of a wave, creating a mesmerizing spectacle for everyone passing by. Thus, whenever commuters wait at this bus stop for their ride, they can embark on the illusionary "Wave," letting the exhilarating rush whisk them away.
Family Guy-Based Bus Stop Brings Animated Fun to Commuting
In the center of Budapest, a bus stop transforms into an animated adventure with the irreverent fun of Family Guy. This one-of-a-kind design features life-sized cutouts of Peter, Lois, Stewie, and the Gryphon family, adding a bit of animated fun to the everyday commute.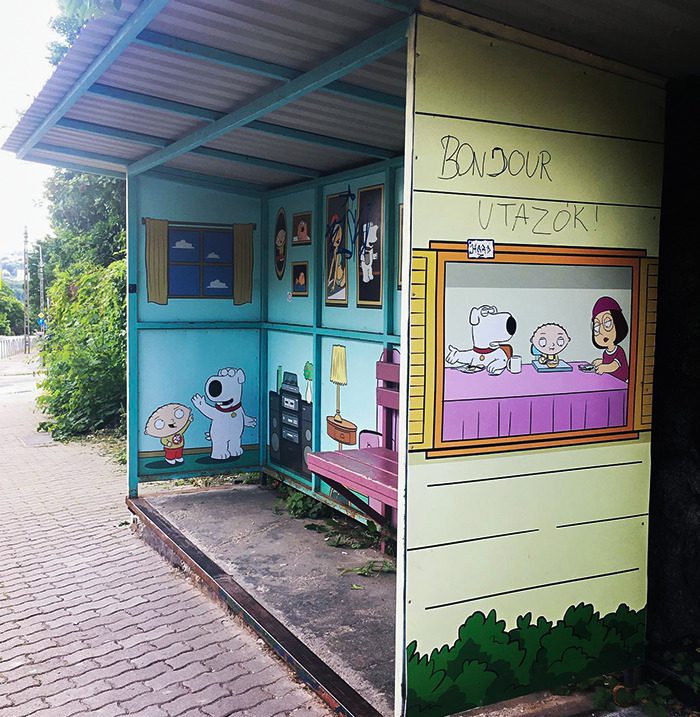 Young and old alike are engrossed in the humorous world of Family Guy, giggling at the antics of their favorite characters. Thus, the cartoon picture bus stop transforms into a lovely retreat, encouraging travelers to unite over shared laughter and reminiscence.
Peacock's Perch
Someone used their artistic skills to change a bus stop bench's hole pattern into a beautiful macramé artwork—a colorful peacock. Yes, you read that right! This once-ordinary seat now boasts a feathery extravaganza with commuters and passersby looking at it twice.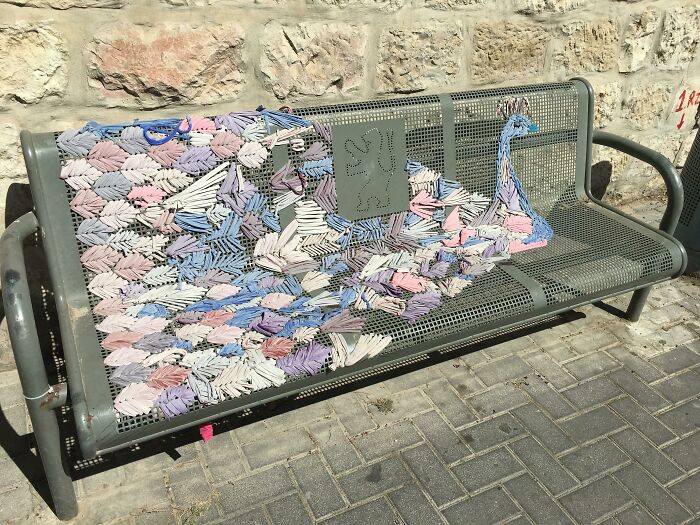 The vibrant macramé peacock towers over travelers as if greeting them to its regal domain. With complex knots and vivid threadwork, this bench-cum-peacock is a sight. It's a great combination of usefulness and aesthetics, showcasing that creativity has no bounds.
Views from Atop a Bus Stop
In the lovely town of Krumbach, a unique bus stop stands as an architectural marvel. Some white rods emerge perpendicularly from the ground to form a grid-like pattern, and nestled within it lies a set of stairs spiraling upwards. It grants adventurous travelers access to a small, elevated platform to unleash panoramic views of the surroundings.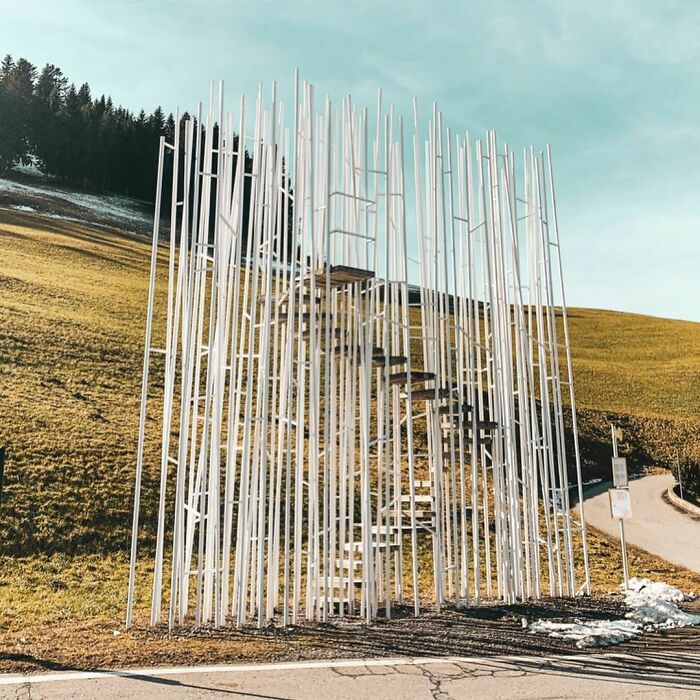 This juxtaposition of clean lines against the town's chaos creates a serene oasis for transportation and contemplation. Thus, this station is a functional bus stop and an artistic experience that elevates the mundane waiting period into a moment of architectural wonder and scenic beauty.
Electric Palm Heaters Turn Cold Bus Stops Cozy!
Prepare to be amazed by the ultimate heating solution at this modern Dutch bus stop! These electric palm heaters have transformed cold waiting into a warm affair. Wayfarers clutching these palm enliveners don't merely bid their time for a bus but also find themselves in a thermal haven.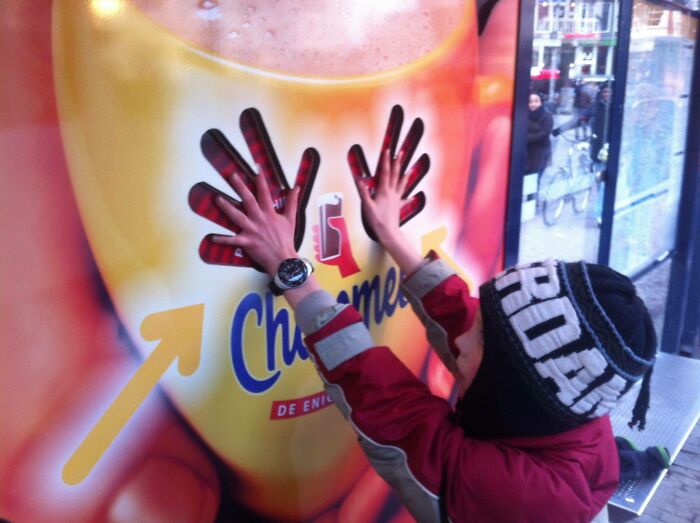 So you no longer have to worry about chilly fingers while traveling in the winter! These electric palm heaters will warm your hands as well as your heart. This well-tested method implemented by the Netherlands government metamorphoses the act of waiting into a soul-stirring encounter, flawlessly harmonizing with those frosty fingers!
Golden Glowy Charm
Visitors to Hannover, Germany, are in for a treat—a unique bus station embellished with a mesmerizing X-shaped golden glowy sign. This remarkable construction, meticulously designed to complement the city's mood, lends a magical touch to the busy metropolitan environment.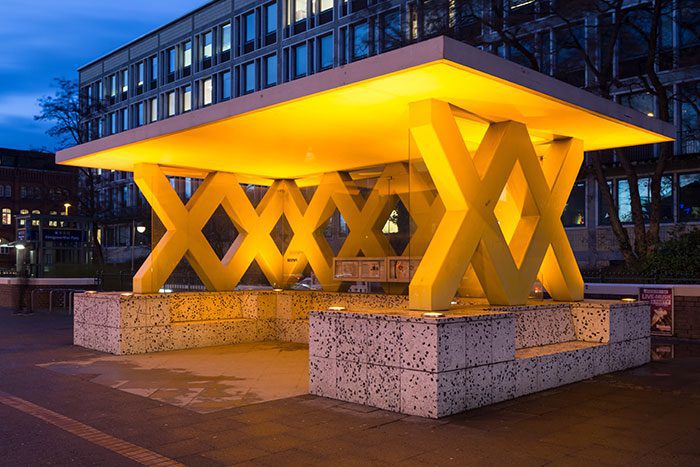 It draws attention and demonstrates Hannover's commitment to fusing art and utility. As the golden aura envelops commuters, this distinctive bus stop serves as a shining beacon of innovation, highlighting the city's attractiveness and evoking a feeling of amazement in all who pass by.
Bangkok's Tasty Transit
Keep your recipe books closed because Bangkok's bus stop is cooking something unique! Commuters are welcomed by little gardens on either side of the station, which thrive with popular kitchen herbs, including basil, lemongrass, and watercress. It's like waiting for the bus in the middle of a gourmet kitchen!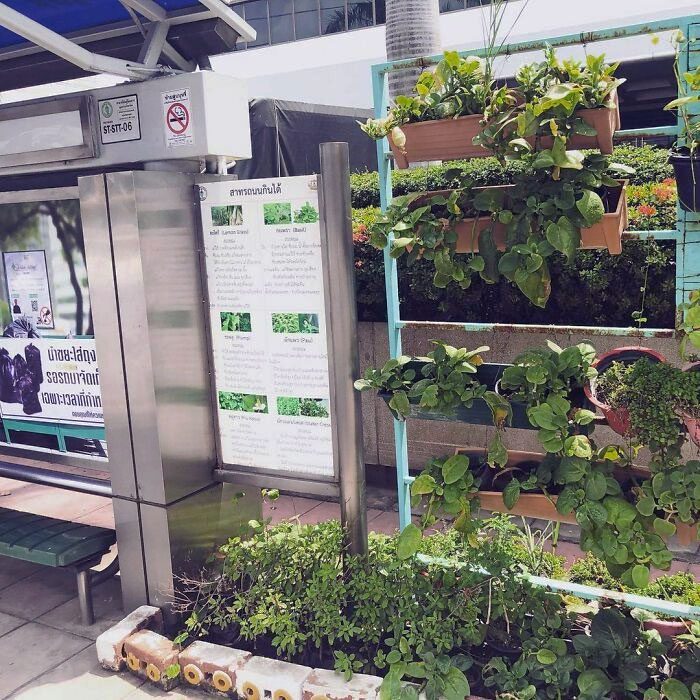 As the perfume of fresh herbs permeates the air, travelers can't help but pick their favorite ones on their way back home. Instead of quick food, this bus stop invites you to take a tasty diversion. So, step into this fragrant sanctuary the next time you're in Bangkok, and let the cooking magic begin!
Brazil's Bus Stop Gets a Cartoon Makeover!
In Brazil, an everyday bus stop deviated from the commonplace and began on a colorful adventure. A clever artist sprinkled some Simpson magic on top, and voilà! The transition is nothing short of a comedy masterpiece. Once, it was just a place for commuters to kill time, but today, it's a gateway to Springfield!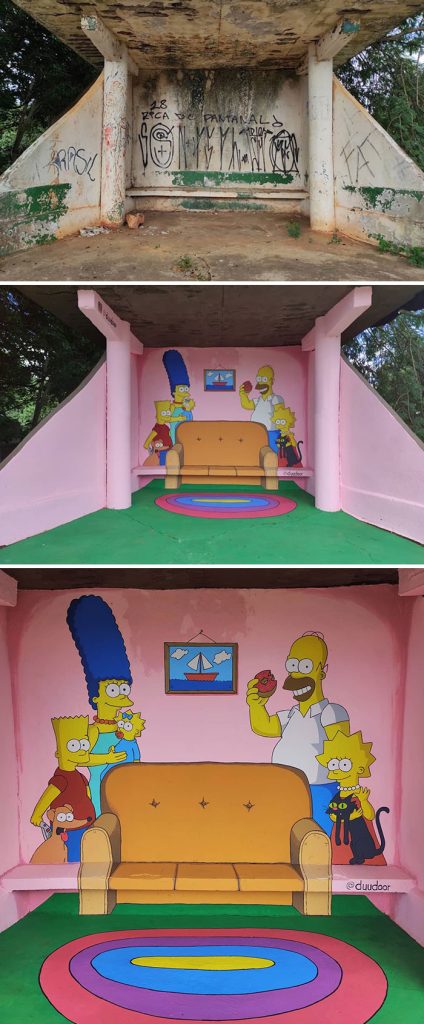 Homer, Marge, Bart, Lisa, and the rest of the group now adorn the walls, greeting visitors with open arms and hilarious expressions. Thus, whenever you walk into this bus stop, you'll feel like you are entering an animated universe with the renowned yellow family providing whimsy and amusement to your daily chores.
Quaint and Cozy
This bus stop stands out as a real head-turner in the quaint town of Dunchurch, Warwickshire! With a charming thatched roof, the shelter belongs to the countryside. Hence, commuters are transported back in time as they wait under the rustic beauty of this bus stop.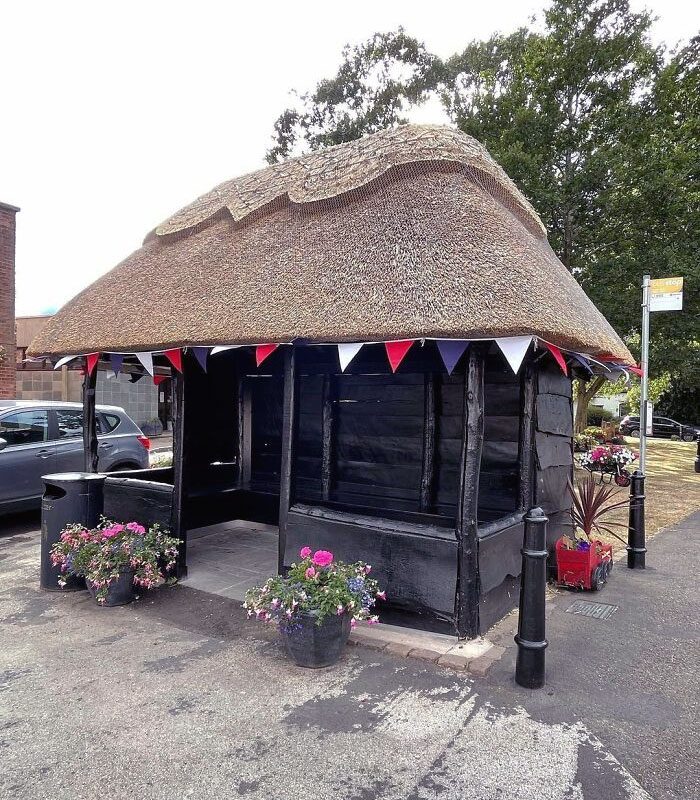 It evokes the sensation of being snugly ensconced in a captivating sanctuary, relishing a steaming infusion in the friendly presence of woodland denizens. So, when you find yourself in Dunchurch again, seize a moment to revel in the eccentricity of this thatched-roof shelter
Baltimore's Wood-Clad Bus Stop
Bus passengers in Baltimore, Maryland, are in for a fun and valuable surprise. Meet the oddball bus stop that gets both smiles and admiration! This station distinguishes out with its innovative design as a wooden fantasy. The timber "BUS" sign gives a bit of rustic appeal to the metropolitan scene.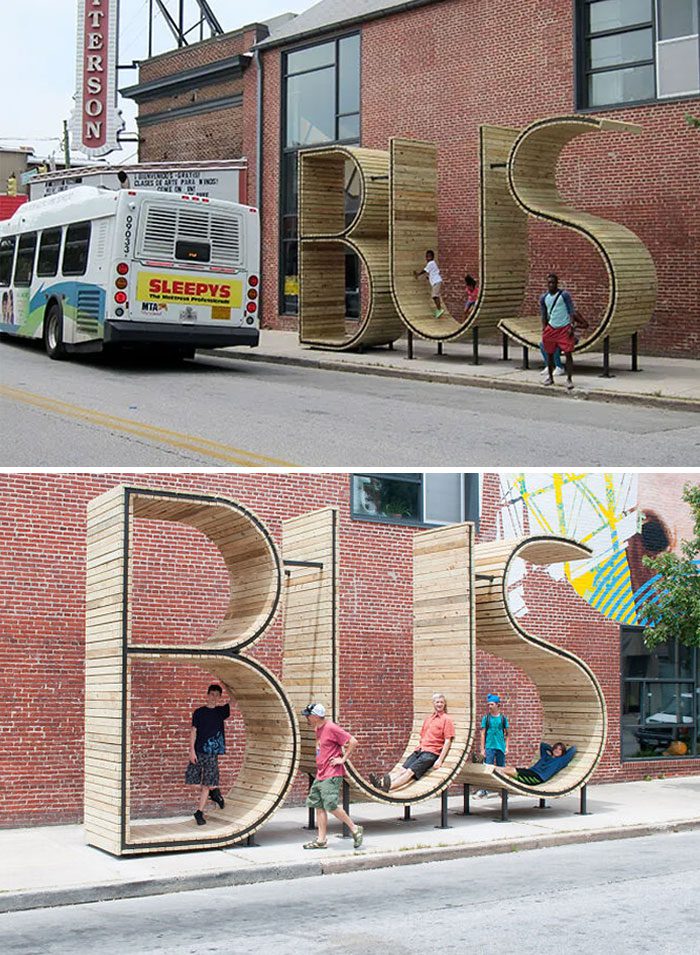 It's like waiting for a ride in a cozy woodland hut! This quirky bus stop adds joy and a feeling of community to the travel experience, demonstrating that even ordinary necessities can be revamped into lovely art pieces. Baltimore's wood-clad treasure has thus transformed waiting into an unforgettable experience—a dose of laughter and warmth on wheels!
Nature's Floral Crown
Nature has created a beautiful tapestry that glorifies a bus stop in Campinas, São Paulo, Brazil. The arching branches of a neighboring Bougainvillea plant have delicately engulfed the station's roof, forming a mesmerizing scene like a crown fit for royalty.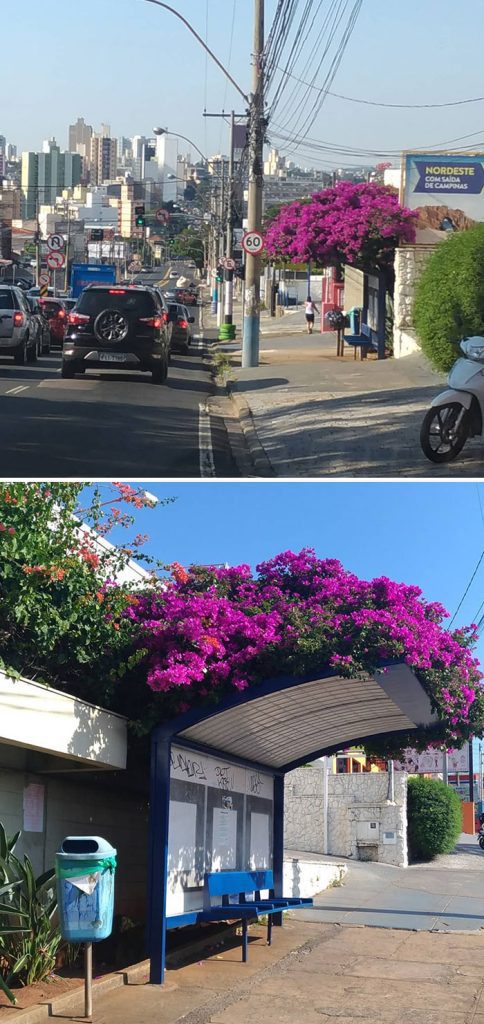 This magical bus stop becomes a refuge of tranquility amidst the urban bustle as exquisite flowers intertwine with the shelter. Passengers are enveloped by nature's craftsmanship, connecting with the peace and beauty surrounding them. Campinas' bus stop is a living monument to the lyrical grace that flourishes when human spaces coexist with the natural environment.
Rolling in Style
The "First-Class Bus Stop," where luxury meets public transport most delightfully, is now available. This station has a little café with vintage bar stools, making your journey a comfortable joyride. So, while waiting for the bus, settle into these cozy seats, sip your favorite coffee, and kiss the blues goodnight.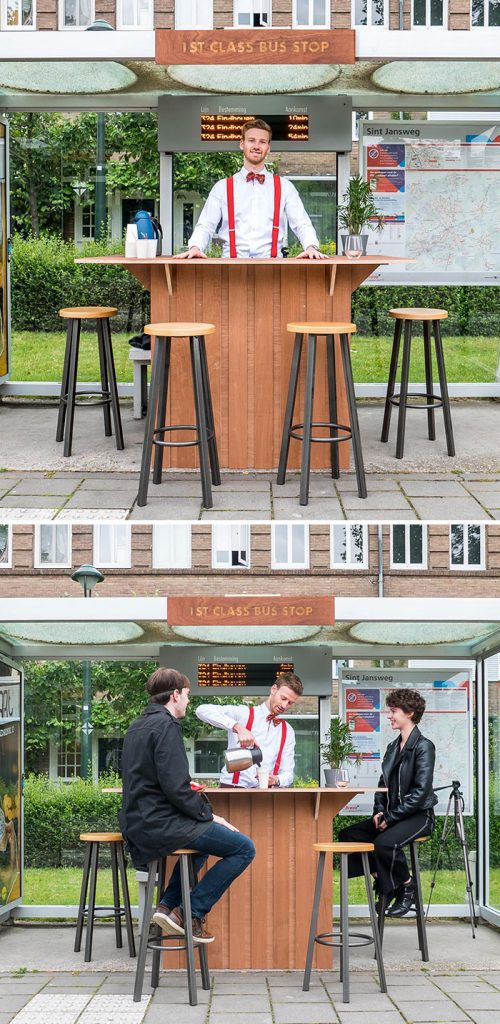 At this bus stop, commuters find themselves in a café oasis that helps put the stress and bustle of their daily life behind them. Thus, they take advantage of the pleasant combination of convenience and luxury to make the most of their waiting experience.
Ginkgo Leaves Canopy Transforms North Ave Bus Shelter
Inspired by the elements found in nature, human creativity takes over this bus shelter on North Ave, transforming it into a living beauty. It highlights a vibrant emerald canopy of beautiful Ginkgo leaves, creating a display of mother nature and enchanting travelers while waiting for their daily rides.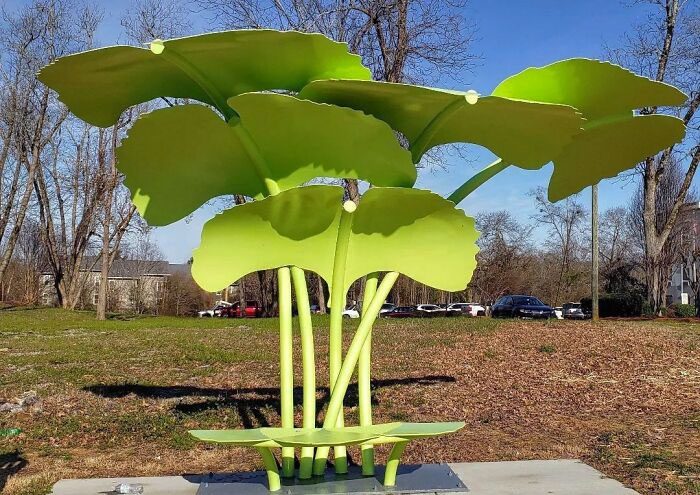 Although the construction is manmade, its realistic appearance adds a natural charm to the bus stop. The refuge serves as a quiet oasis, an escape from the city's hustle and bustle. The world appears a bit greener, and travelers' faces are graced with a gentle grin as they congregate beneath the vivid greenery.
The Shelter of Stories
Standing tall next to the street, a contemporary bus stop catches the eye. The design is clean and modern, with a sleek metallic frame holding up this fascinating shelter. Above it lies a vibrant board in patriotic blue, red, and white hues, boldly announcing "Short Story" in a playful font of sunny yellow.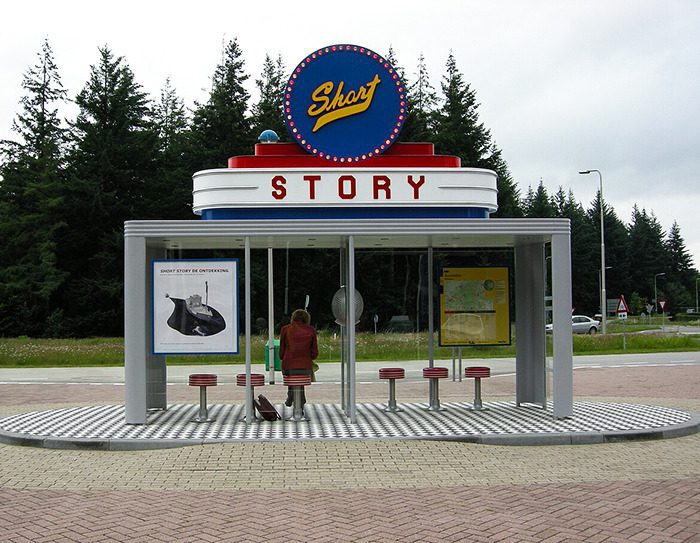 On the contrary, beneath the sign is installed a set of comfy seats, beckoning weary travelers. Thus, with an artistic touch and cozy ambiance, waiting for a bus becomes an opportunity to engage with words and colors at this stop, inviting passengers to create their own stories.