30 Van And Bus Conversions That Have Us Packing For Our Next Roadtrip
By Anthony K March 1, 2022
---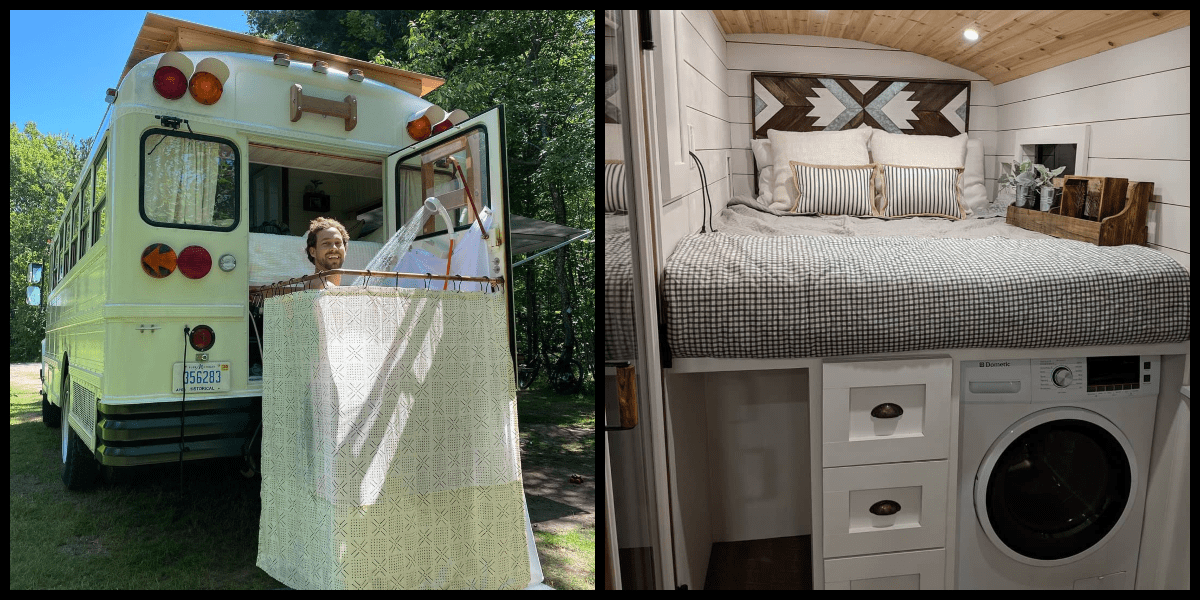 Take a moment to imagine your ideal backyard and amplify it into a wide gorge of wildflowers, a serene beach with waves, or the safe place you retreat to when stressed. More adventurers and explorers are adopting the unique practice of converting old buses and vans in to mobile homes to use as either a permanent living space or temporarily for trips. Brandon Saltalamacchia, the founder of 'Van Clan' notes that most folks prefer converting vans and buses for their freedom. Its allure also lies in escaping the traditional way of life involving bills and daily constraints. The tiny places used as homes economize space while holding most of your necessities. In no time, you would forget about living in a normal-sized home. This list explores some of the best bus and van conversions that will make you think of trading your large home for a mobile alternative.
Firetruck Makeover
Hold on, a fire truck!? We were also stunned by this brave family unafraid to push their limits. It hasn't lost the original touch considering that they maintained the iconic color red. The interior has been transformed into a spacious living room.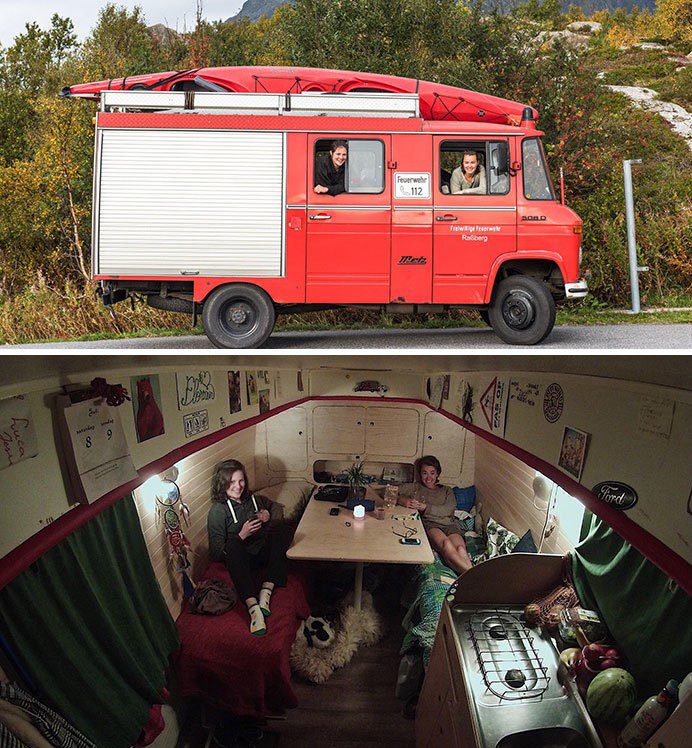 The duo in the image is of the siblings who took this renovated truck across Europe for a total of eight months! They must have gotten along well to have spent so long so close together. Would you take a year-long trip with your sibling?
A Room with A View
For your outdoor expeditions, you need an exclusive view to make sure each stop is memorable. The image below features a van with an expansive window. The spacious view allows you to watch birds, or map the night sky. And the lights lined along the door can seem like stars when you begin drifting into slumberland.
The unique view makes your van the best for various sceneries you love. Imagine watching the sunset and sunrise whenever you feel like it. You wouldn't have to worry about small windows cutting off your view. It also gives you ample space to focus your camera and take snaps of your companion(s) without leaving the comfort of your van.
Home Sweet Home
When you find joy and happiness, don't let anybody bring you down. Instead of whining over the bus that you can't afford, get a van and transform it into your dream home. From the outside, the van looks too small to be anyone's home. But taking a look behind the curtains…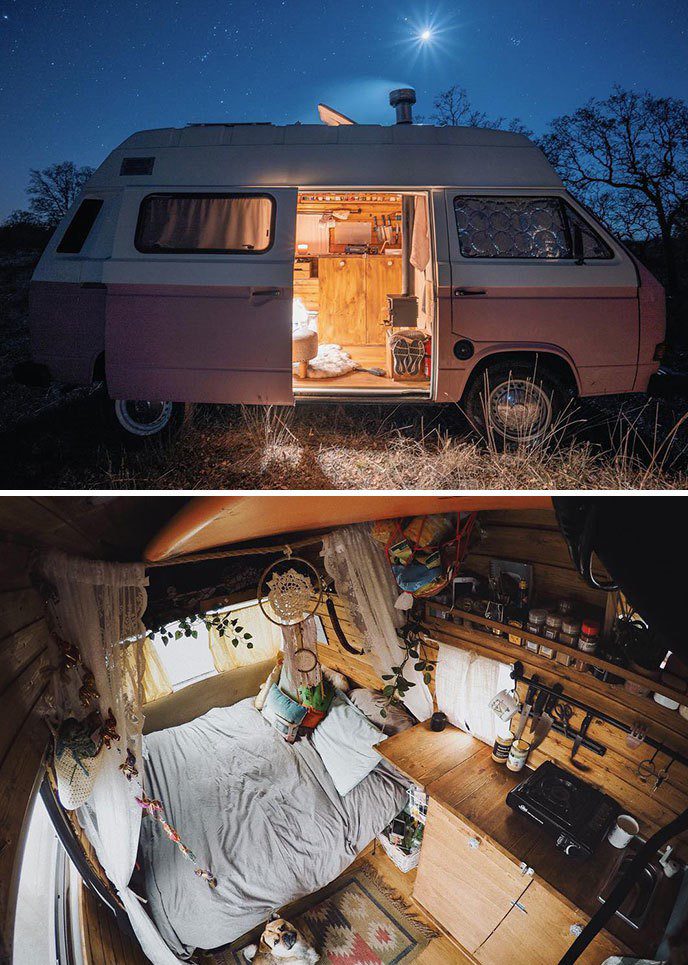 The owner prides themself in the hard work they've put into renovating the van, deeming the time and resources more than worth it. Based on the van's size, it's best for a single dweller or couple looking to bond further.
Loft Bed
When renovating vans, you can use every available resource to make your miracles happen. If you can't afford a bigger space for your travels, make use of every tiny space to turn the van into a home. Decorate the interior and do your cooking outside, to avoid damaging your decor.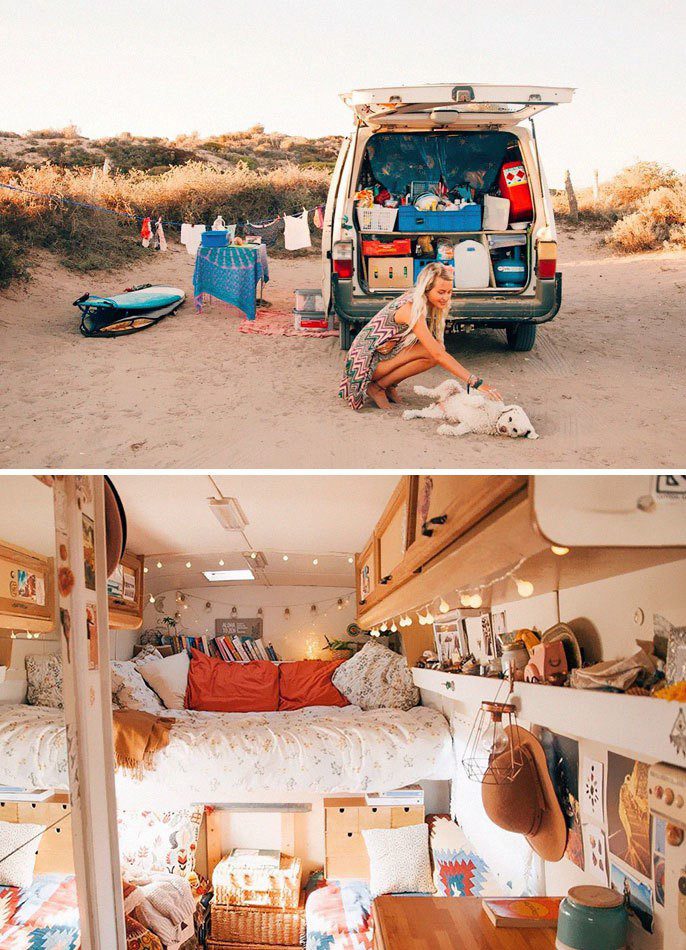 For couples and small families, spending time on the road in a van can strengthen their bonds. This couple can never forget about their first van that allowed them to fall deeper in love. With close quarters, there is no separation between "his" and "hers."
Using Any Available Resource
The bitter taste of roots shouldn't discourage you from seeking the beautiful fruits in store. In the case of a van conversion, the process can feel overwhelming and you might get cold feet before it's finished. But if you see the project through, you'll feel better and be proud of your efforts.
Renovation doesn't require expensive materials — you can upgrade the space using spare parts from anywhere. This revamping style is environmentally friendly, too, as it focuses on upcycling. And with an eclectic collection, if you find something new along your travels, you can make changes as you go.
Always Work To Be Done
School buses are efficient because they feature adequate space for your items and are the perfect accommodation for taller people, who might struggle in shorter vans. Taking time to convert an old bus might seem endless, but it is worth it in the end when you see what you've created.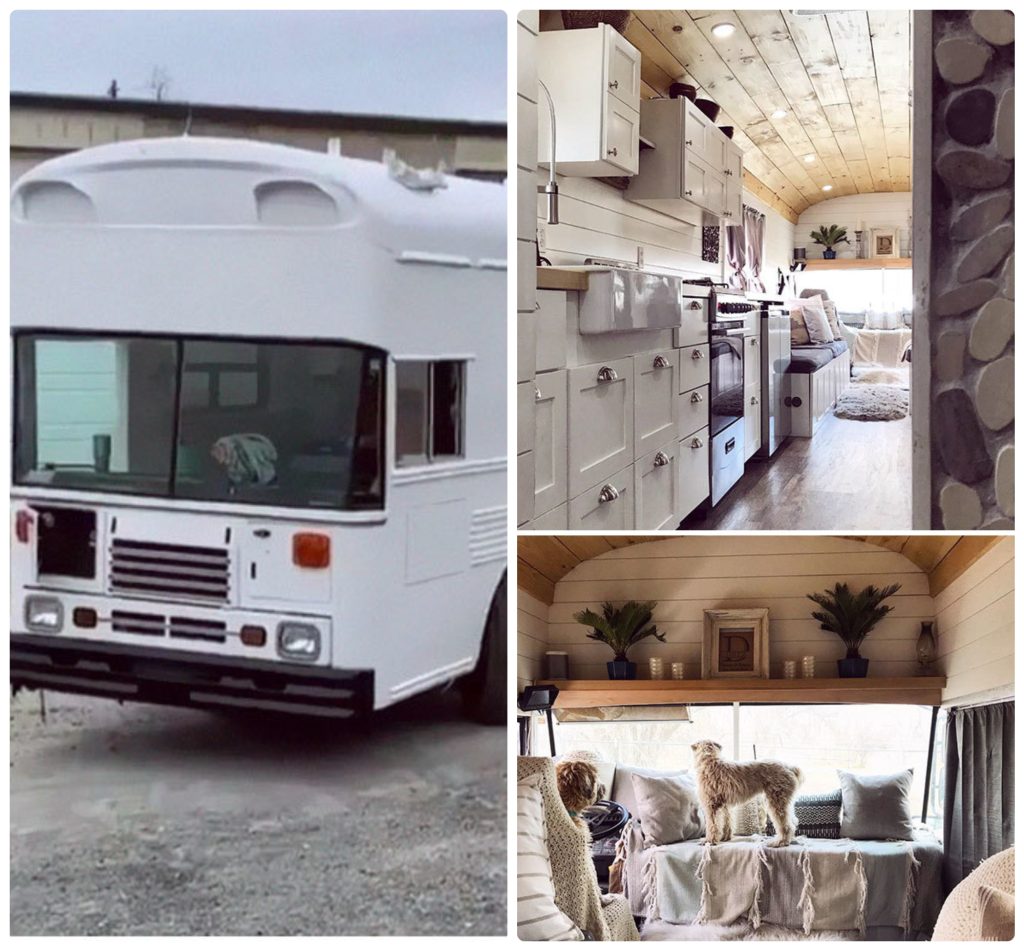 This family has taken to reconstructing a bus into an extension of their home. It features seats, decorations, and enough space for pets. We hope that we can jump onto the bus for a family experience. Building your space piece by piece allows you to make various adjustments and complete it without going off the budget.
Meet "Chuck"
Imagine the thrill of setting out on a trip to your dream destination without needing to worry about expensive accommodations. A renovated van is the perfect way to solve your overnight needs before the vacation even starts. The trip can get even better if you're making these travel plans with your partner.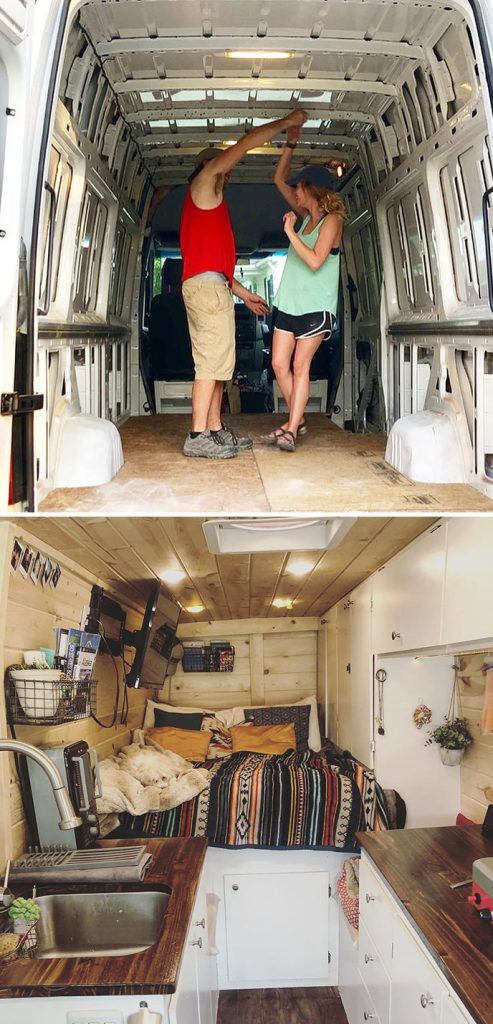 For a long-awaited trip, the couple has taken the time to alter the interior and give it life with their designs. A project like this is a great way to bond and spend more time together. This couple is taking their renovated van on a trip to Alaska. How exciting!
Commission For A Firefighter In Toronto
Canada has developed into a dream destination for most folks around the world. The country boasts of a multi-racial society with individuals of diverse skills and expertise. You can take advantage of various antiquities of sentimental value. This image features a decommissioned bus turned into a home for a firefighter in Toronto.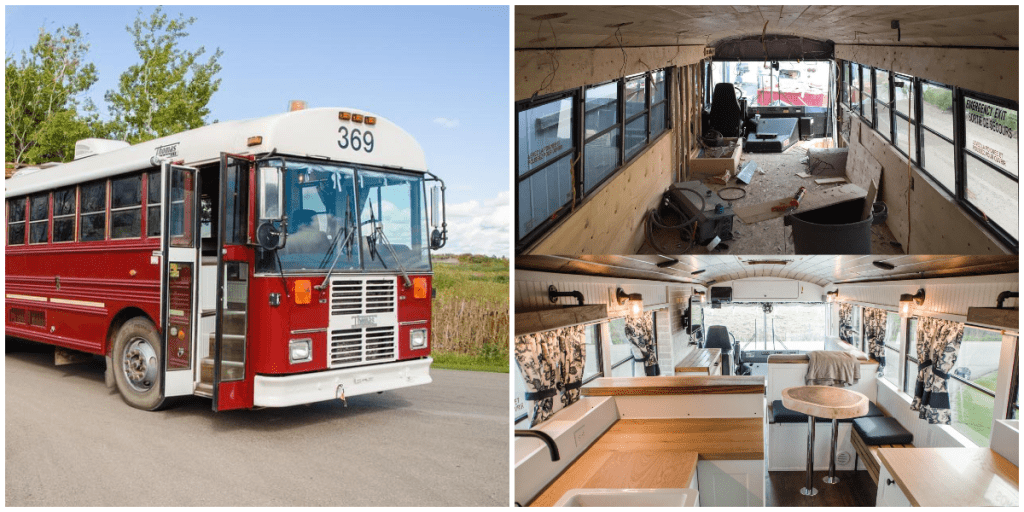 We love that the picture includes the before and after. It shows us that, when it comes to renovations, looks don't matter. It's what you can turn into that's truly important. It takes talent and creativity to turn an old bus into a world-class home.
Coolest Bus Ever
The definition of a cool bus differs from one individual to the next based on individual fashion, tastes, and preferences. However, we believe that most will agree with our choice for the coolest bus. From the outside, you may wonder why we love it, but the inside tells a whole different story.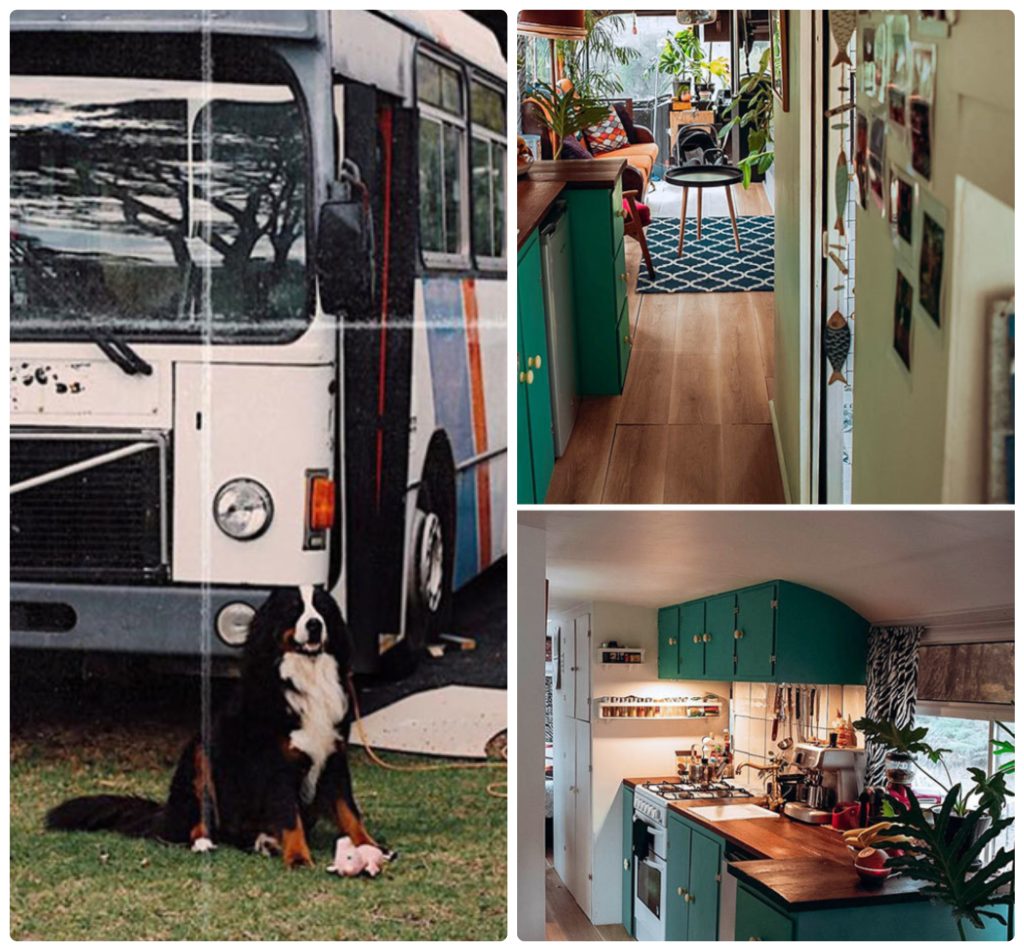 The interior décor is better than what's in most regular homes. It features a blend of both vibrant and neutral colors that suits any aesthetic. This cool bus is also decorated with plants, making the owner feel like they are living outdoors, even when inside.
Meet "Florence"
When rebuilding a camper van, you don't need to be an interior designer to build your dream home. Your goal should be to make a peaceful and cheerful environment that brings you comfort every time you step inside. To see the project through, you must dig into your arsenal to find your innate creativity and resilience for a better outcome.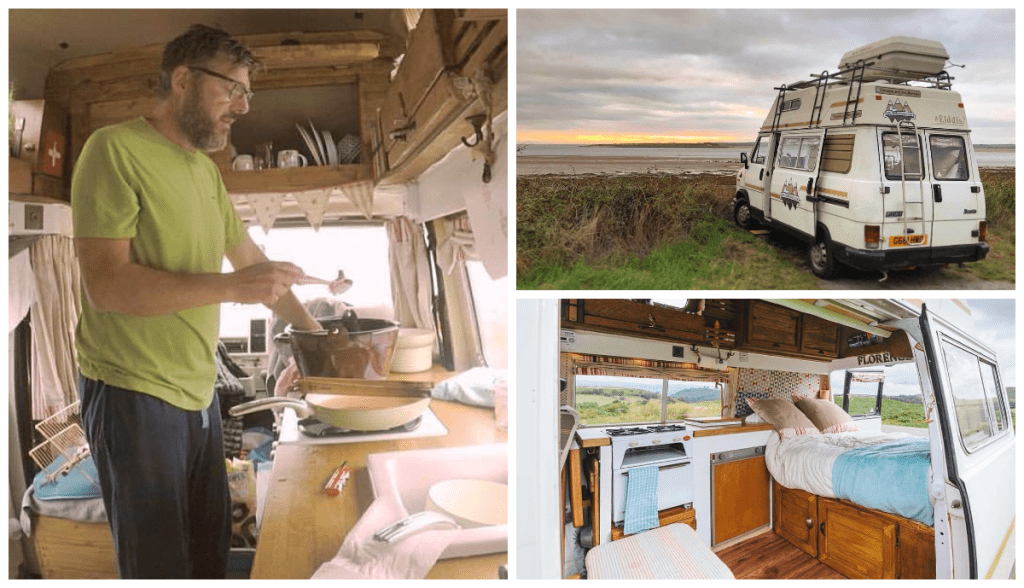 Renovating a camper van is not for the faint of heart. It took over six weeks and £1,000 to turn this camper into a dream home. The builders/owners even named their van: Florence. Their Instagram is full of pictures showing that the tireless hours were worth it.
Fun For The Whole Family
One may conclude that folks living in big houses are fully contented and happy. But staying in one place doesn't suit everyone. Some people feel the need to explore, just like this family who traded in their 5,000 square foot home for a renovated school bus.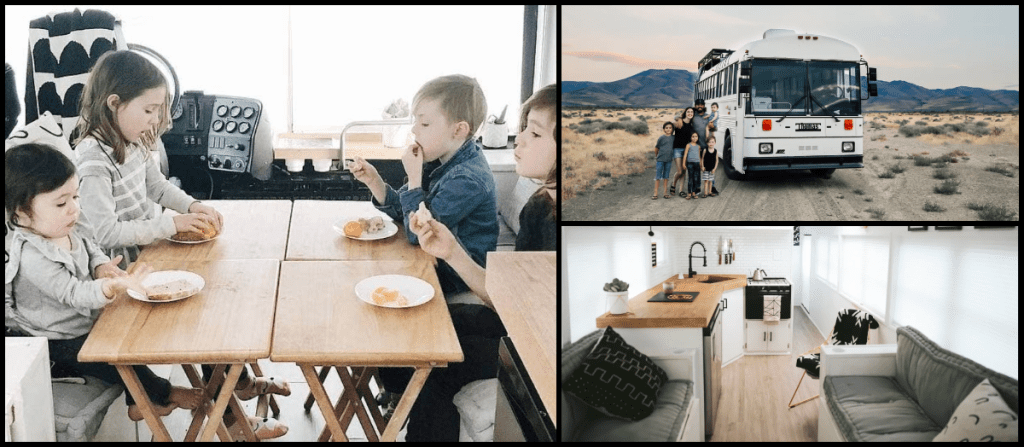 While it may have been a big change for the kids, it must have been a unique and exciting experience to move into this crazy new home. Living in a mobile home makes it easier for a family to travel, explore new places, and expose kids to the wider world outside their hometown.
Meet "Carl"
Before the first experience, you may consider car conversion to be an impossible feat. But once you get started, it may turn out to be cheaper and more effective with each upgrade. And since you're the one doing the renovation, it's easy to customize it to suit your needs.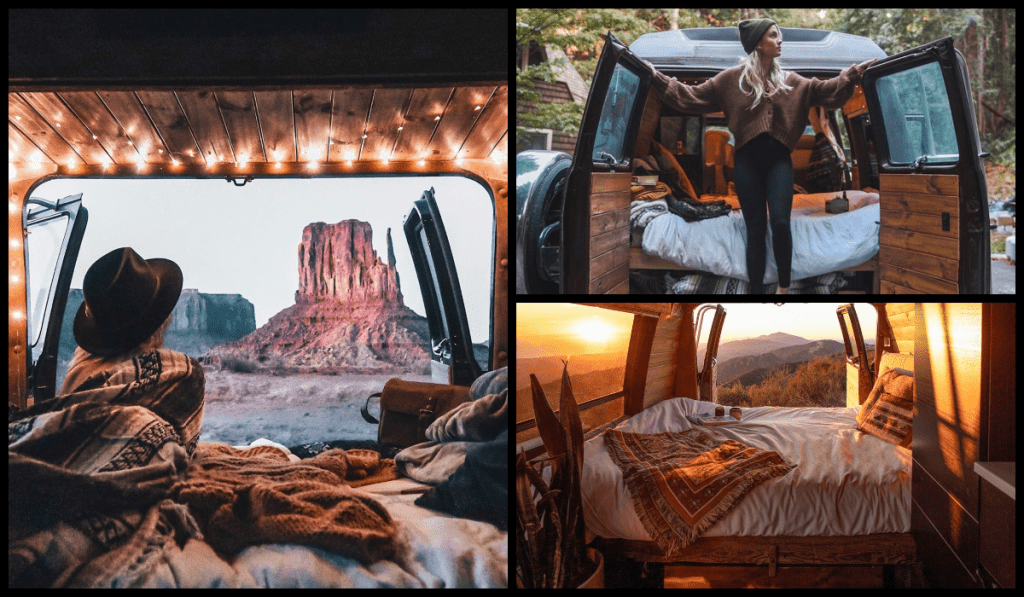 A home doesn't need to be an apartment or a three-bed, two-bath house. As this explorer shows us, home can be anywhere, and with a renovated van like hers, we can't argue. The rustic design creates the perfect atmosphere to match any destination on her travels.
School Bus Makeover
When renovating a van or bus, the sky is the limit. You can go for a rustic look, or a sleek modern look if that's more your style. This bus renovation is a modern take on remodeling with its hardwood floors and wooden countertops.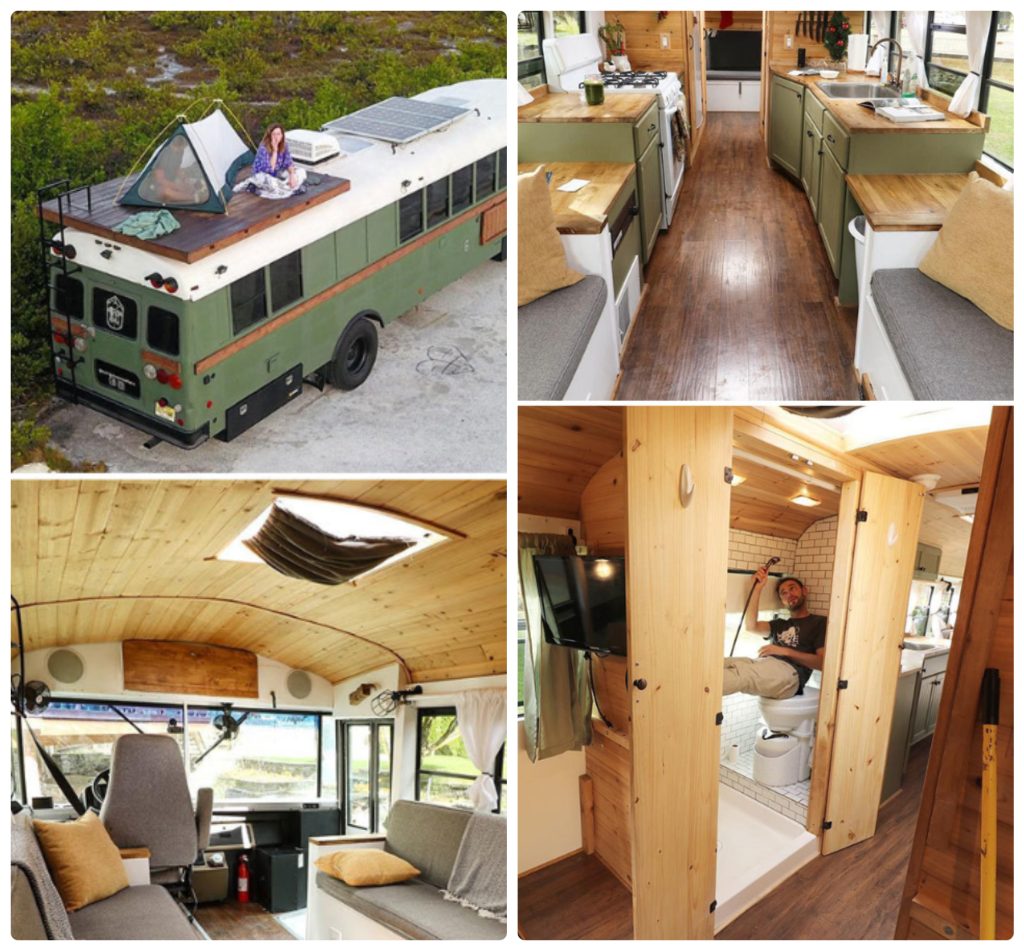 If you were to stumble across pictures of the interior on social media, you might never have thought this was a mobile home. The renovation done on this old bus is a true masterpiece. From the looks of it, it probably wasn't the cheapest remodeling, but it looks worth it!
No Paintjob Required
There has never been a more accurate Instagram name. This person did indeed travel by bus — a school bus, that is. This bus got a major makeover, complete with a fireplace indoors and some plumbing that includes a toilet and a sink.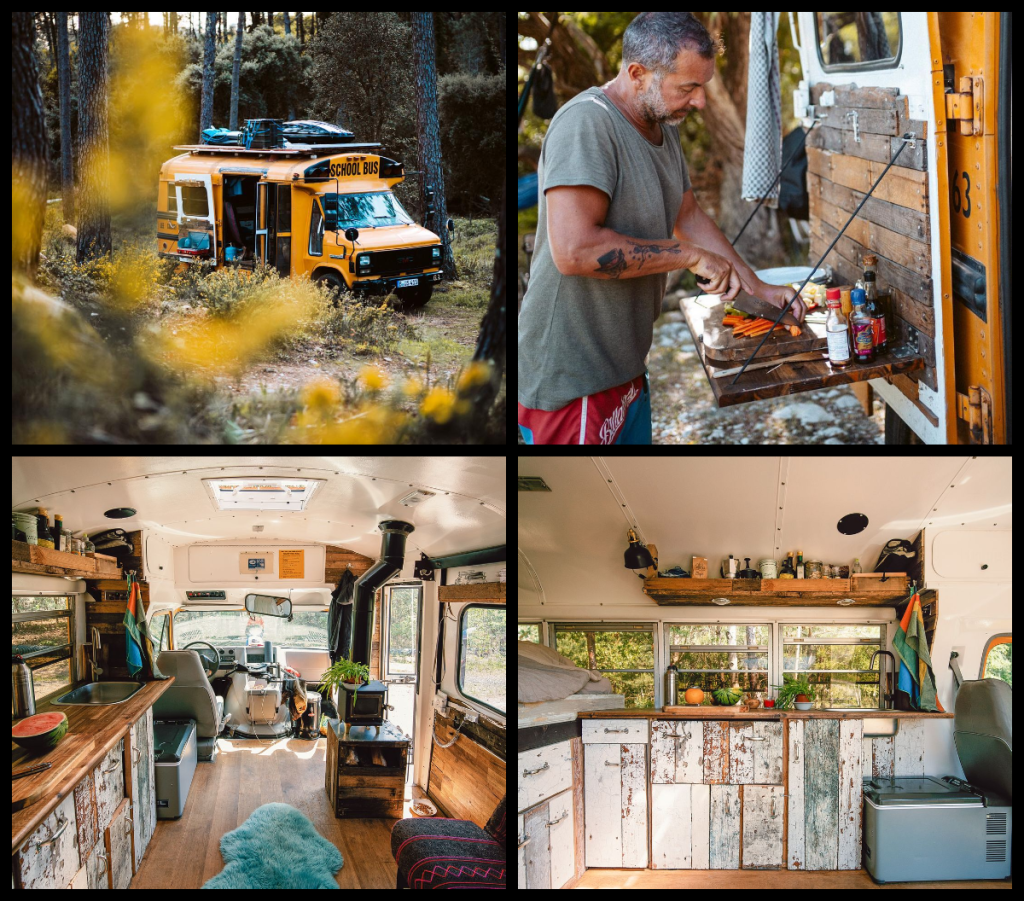 He made use of every corner of the revamped school bus. With a cooking space outdoors, there is more room for living comforts inside. And we love the fact that some of the interior was made using reclaimed wood. Renovations are the best places to make use of upcycling!
Motivating Others To Travel
The decision to explore van life requires a deep sacrifice. For the full experience, you need to fit all of your necessities in your new living space. But it's all worth it when you get to wake up in the same place that you parked the previous night; gorgeous scenery included.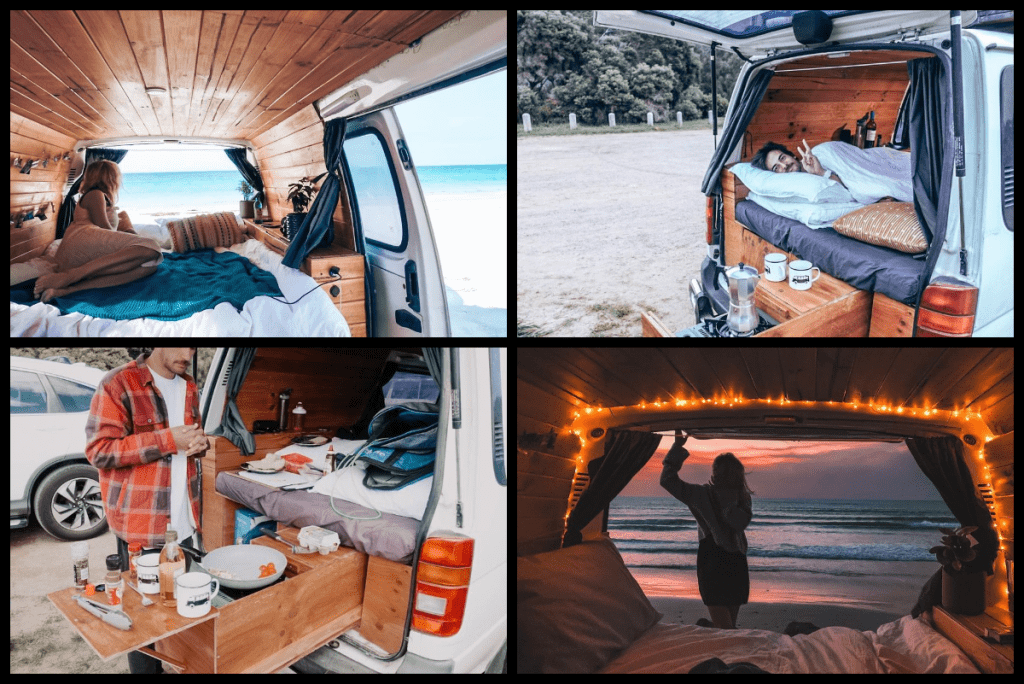 This couple got creative with their renovation. Rather than working in the kitchen counter into the van's main space, there is a pull-out section in the back. And with the kitchenette right under the bed, they can literally roll over and make their morning coffee.
Meet "Cassie"
Judging by the looks on their faces, this couple was thrilled with their van renovation. With a portable grill, they saved space for other amenities…which unfortunately does not include a bathroom. While there are plenty of solutions to this, it is important that one considers these necessities before heading out on the road.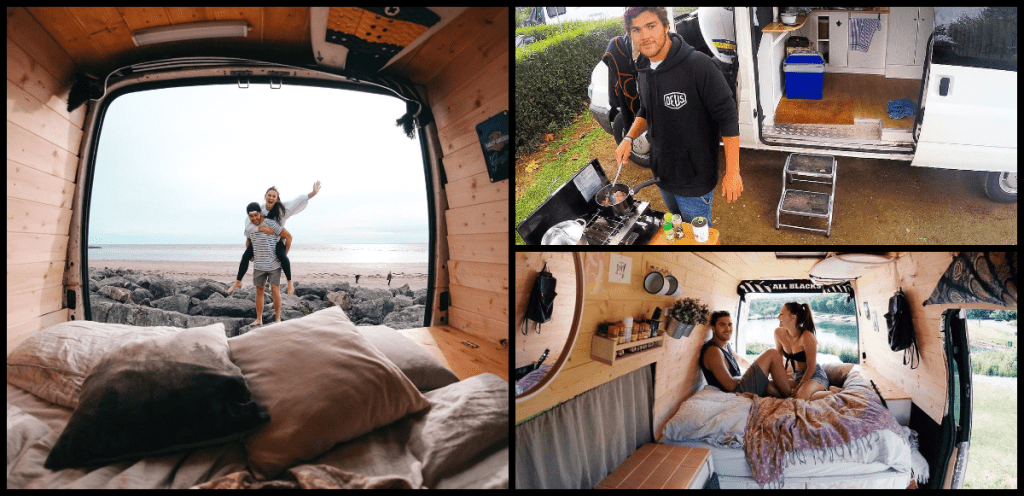 After converting an old bus or van into a mobile home, all you need is food, insurance, gas, and a destination in mind. With closets, ovens, fold-out desks, beds, couches, and other essentials, you can live freer than most in traditional homes.
Overhaul To Last Years
For a more luxurious road trip, renovating a bus is the way to go. With more space, you can include more amenities, and won't need to rely on public facilities for the toilet or laundry. Though renovations like this one are much more expensive and time-consuming, the couple seems happy with their hard work.
This renovation really has it all! A kitchen, full-sized fridge, workspace, toilet, and even a washing machine! And most importantly, their cat seems to like it as well. After a few years of living in a place like this, it might be hard to return to a stationary life.
Cozy Mobile Home
Home should guarantee your safety and well-being, but that doesn't mean it needs to be in one place. Having a van can mean you can feel that same comfort of home no matter where you are, foregoing motels for your customized safe space.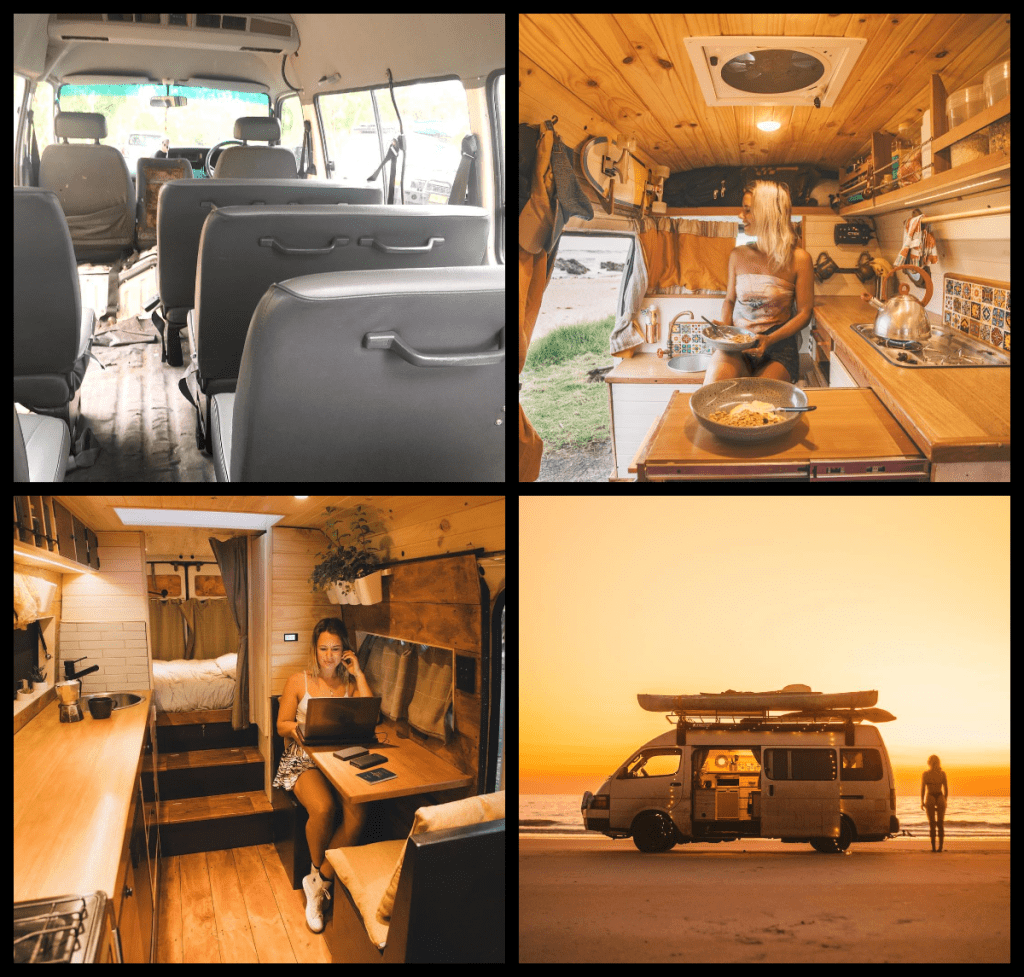 It takes true vision to see a van packed with rows of seats and turn it into a cozy living space, complete with a table to work and eat at. The curtain separating the bed is a nice touch, as it makes the space feel more like a home, with separate rooms for different functions.
1966 Greyhound Commuter Bus
Besides the school bus, you can also transform a commuter bus into your dream home. For commuter buses, history geeks may prefer buses from the Montgomery bus boycott. This next image features a 1966 commuter bus maintaining its shape and form decades later. Perhaps a commuter bus can serve you better if you detest school buses.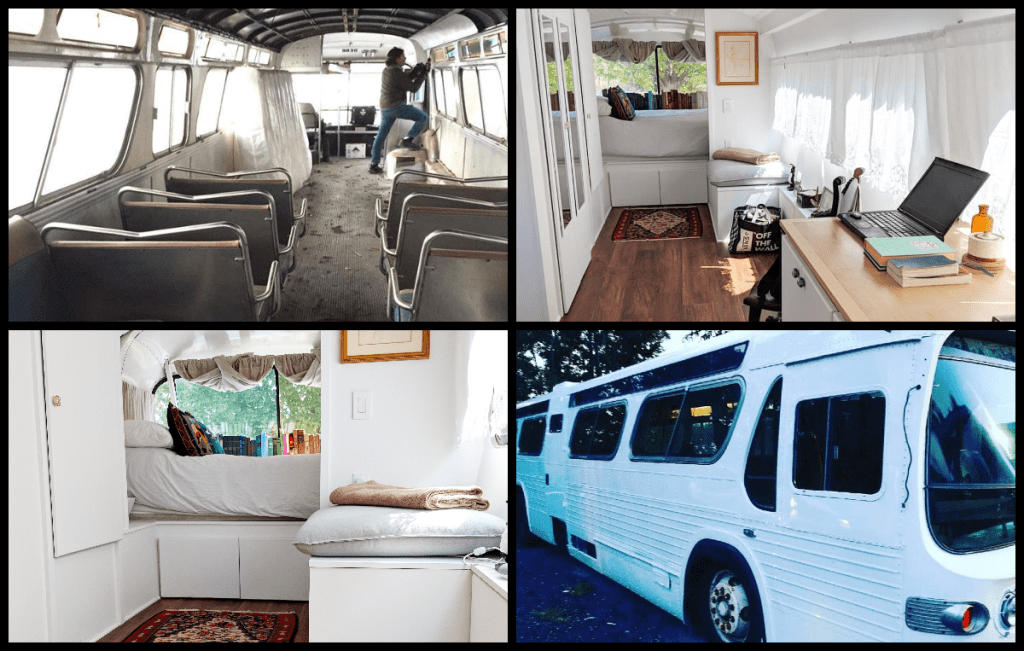 It appears more spacious than the regular school bus, with enough room for a whole family. Converting the bus may require more resources and time, but you are assured of a durable piece that can last for years. With the commuter bus, you can include relevant amenities like a washroom, kitchen, study, and office, allowing you to work remotely.
Meet "Altas"
The high roof van is better because it accommodates individuals of different sizes. It features more space for your preferred design and items. Getting a new one and redesigning it to your desired specifications can be costly. After investing time and resources, you can make the Sprinter LWB high roof your new home.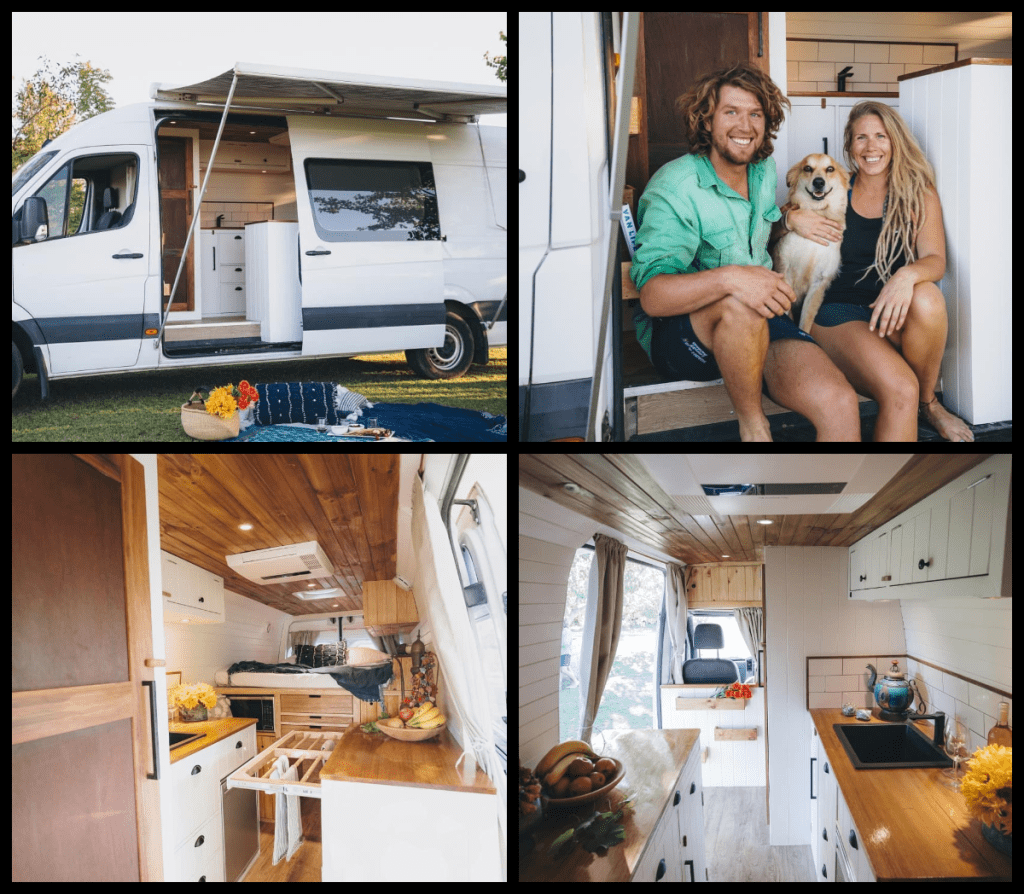 Transforming a van into a living space isn't just a project for long vacations. You can use it for a weekend getaway or week-long trips. And you can save time normally spent looking for a hotel to explore the sights.
Meet "the dirt turtle"
Dedication ensures that you are better placed to see various projects through at all costs. @somerdrifters on Instagram proves that their resilience couldn't let them give up on a long-desired project due to the lack of funds. The sacrifices they made included working extra shifts, living with their parents, and doing all they could for their project.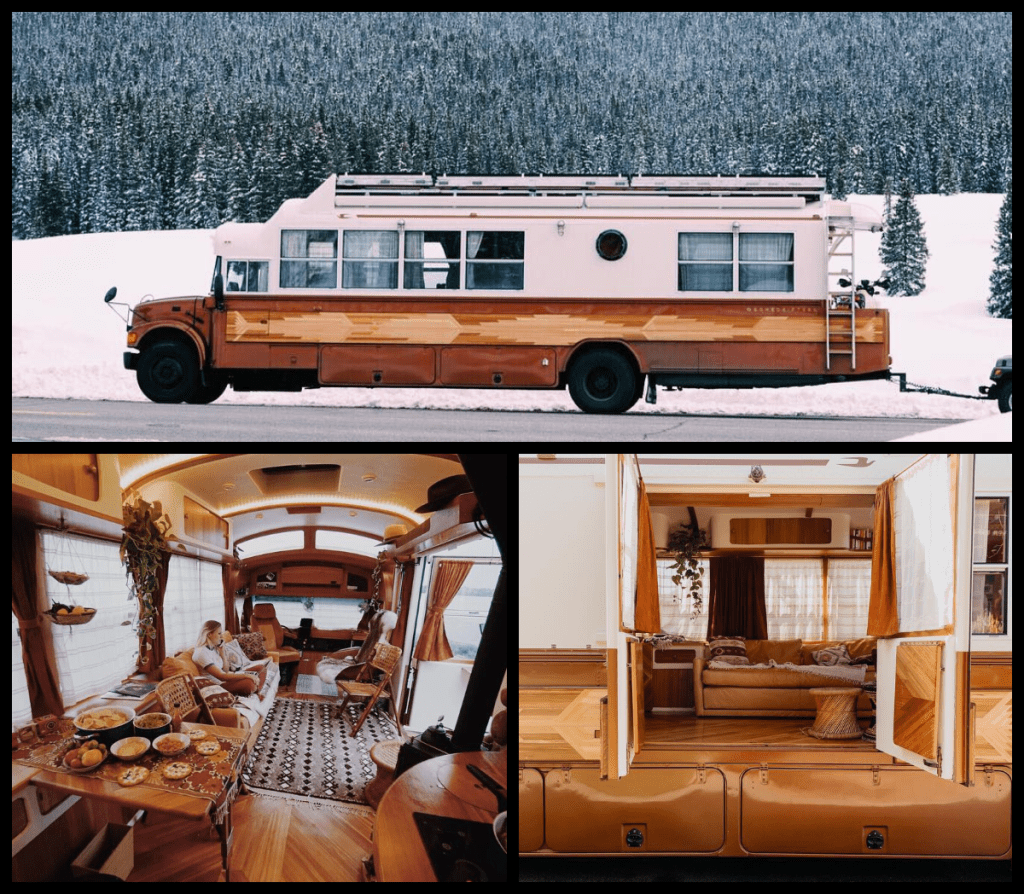 If perfection is your thing, you need to design the vehicle as you prefer. Their design and sacrifice didn't go in vain considering the final product. Making the roof part of the renovation should not be overlooked. It is the perfect space to lay down and watch the stars at night.
A Lot Of Love To Pack In
If you can find a safe and convenient place to park the van, you can make use of the surroundings and have more space than the interior alone. This Australian couple has an inspiring story, having only packed only a tiny screwdriver and a hammer. We applaud them for their continued resilience to create a mobile home.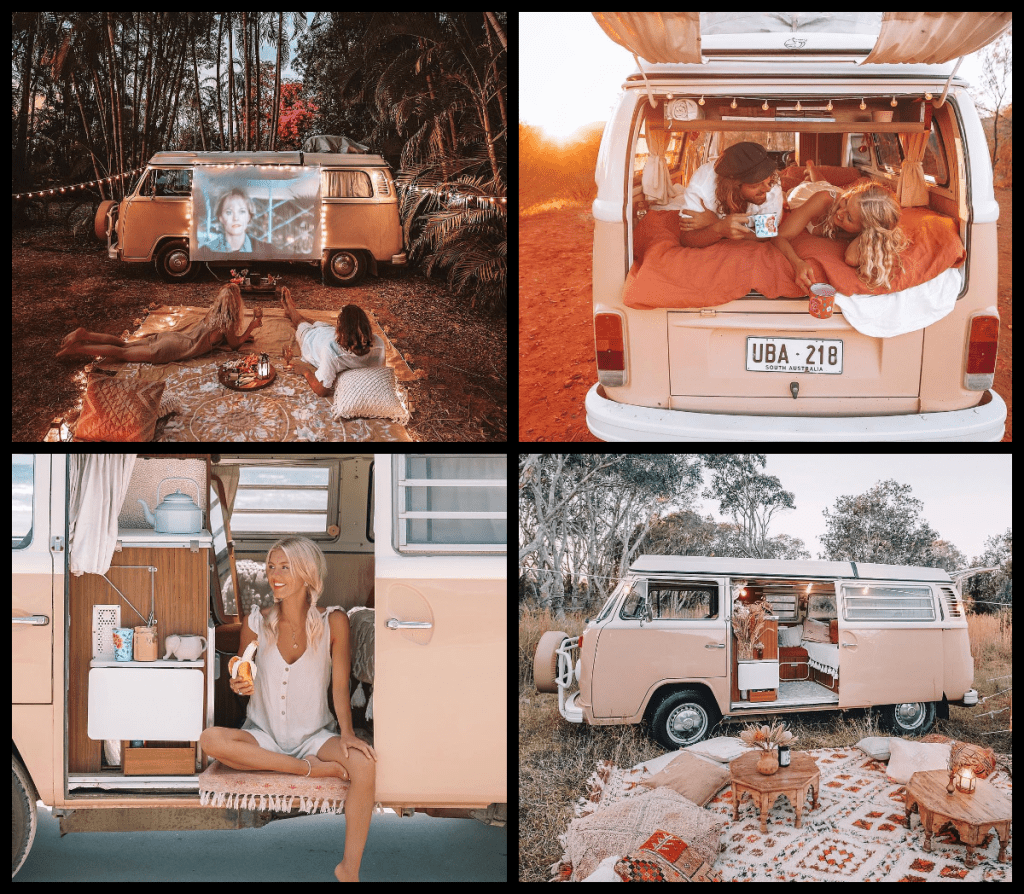 This home on wheels is versatile and takes advantage of the gorgeous scenery. Recreating a living room outdoors is perfect for date night or just spending an evening with your loved one(s). Unfortunately, if the weather goes berserk, you will be confined to the car to watch movies, play games, or cuddle.
Meet "Fern"
We love the before and after photos of bus renovations. The final product is always gorgeous, but there's something special about seeing how it came to be. This remodel includes a fully functioning kitchen, perfect for homemade meals on your trip. Besides sticking to your own recipes, you eat healthy while saving more funds for fuel.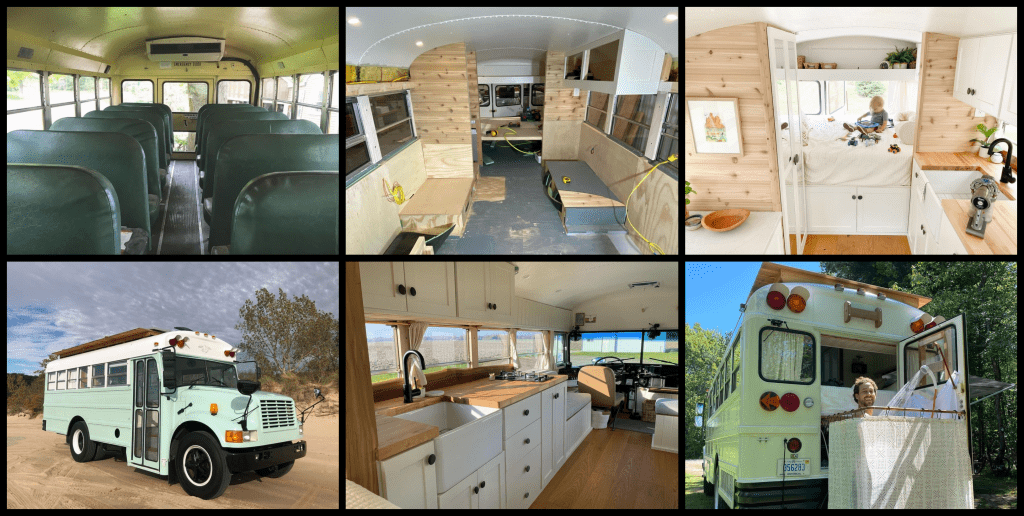 The outside of this bus is deceiving as it looks rather small; like the interior would be cramped. But this renovation maximized the space to accommodate the whole family. We have to give them bonus points for the pop-out shower. One cannot overlook hygiene in favor of life on the road.
Mobile Studio
Here is another one that happily showed off the full renovation process. Filmmaker Zach Both reworked an old van into a mobile studio. And judging by the pictures, it was well worth it. Of course, the mobile studio isn't only for the arts, with a built-in work desk fit for any job.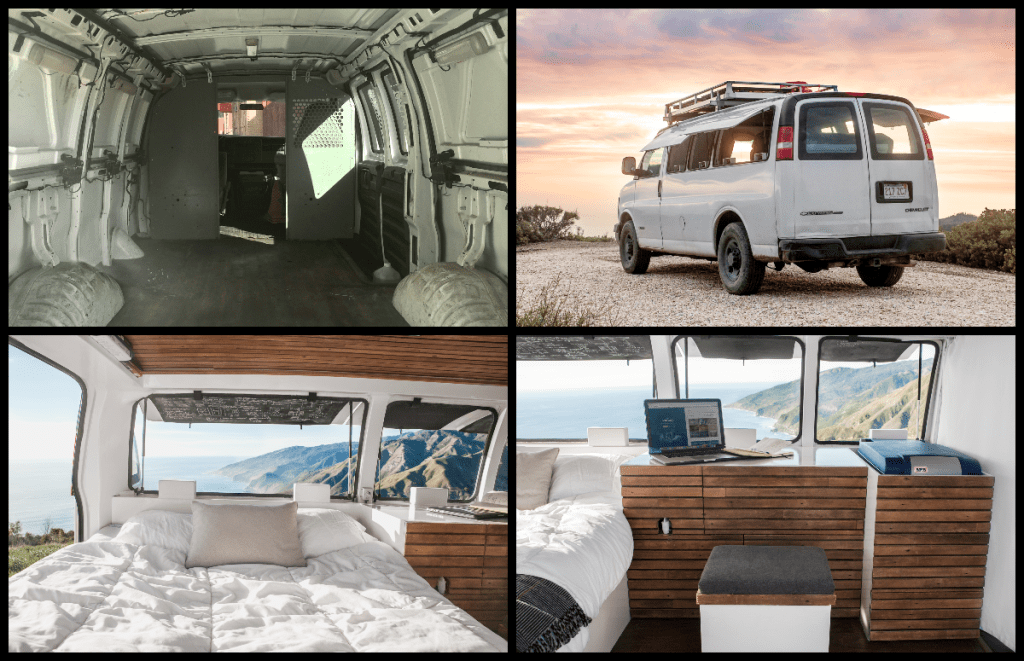 The run-down rusty cargo van took a lot of time, money, and energy to turn into the gorgeous studio we see above. It cost $12k and was on and off work for ten months. The final result is spacious, pleasant, comfortable, and fully designed to operate efficiently on different roads while allowing a view of unique sceneries.
Perfect For Gamers And Musicians
Without some class, our list wouldn't suffice among bus and van enthusiasts. What's better than a Mercedes Benz when balancing quality and performance? It will sweep you the feet from the outside, but the real surprise is on the inside. While drifting off this world in the van, you can test your music prowess at the tiny studio.
It features ample space to walk around without knocking your head on the roof. The lounge area is spacious enough to fit in whatever entertainment you desire. You can customize your space with a big television for games and movies and even an instrument to practice without your neighbors complaining.
School Bus Revamping
Every road geek dreams of getting a cabin on wheels. To make a dream come true, you need to spend more than a couple of late nights and several Mcdonald's runs to get the best results. The big question is, how would you transform the old bus into your dream piece?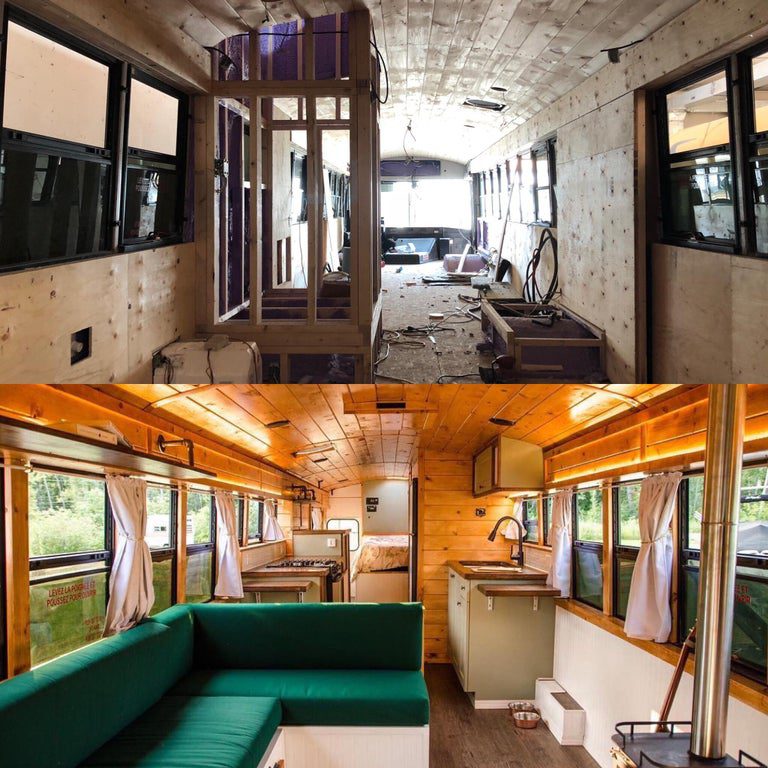 If you lack decorative ideas for the bus, you can find inspiration online from other creative minds. After customizing your bus into the living room you've always dreamt of, you'll find it more comforting than an immobile home. If you can't customize it yourself, you can get help from the professionals in your neighborhood.
Unique Adventure Rig
Most of us are willing to enjoy a unique adventure in the wild or drive down new roads. After converting a bus, you can use it as a home and platform for seeking different kinds of adventure. Other than using it as an office, you can host friends and relatives who want to join you on your quests.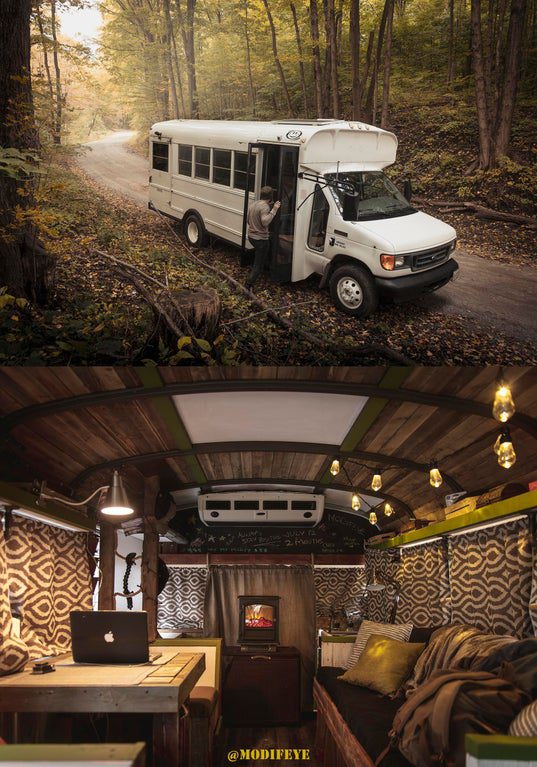 The cozy adventure rig gives one a unique experience. With thick curtains, it is easy to feel safe in your privacy no matter where you go. And the fireplace adds a warm, homey feel that the owners assure us is electric and a safe distance from the curtains.
Meet "Vanna"
Van renovations aren't just about revamping an old space; it's about making a home. Vans like this one are more suited for a single traveler, a couple, or a small family. The owner of this van has creatively used the limited space to include a bed and designated spaces to hold items along with the door.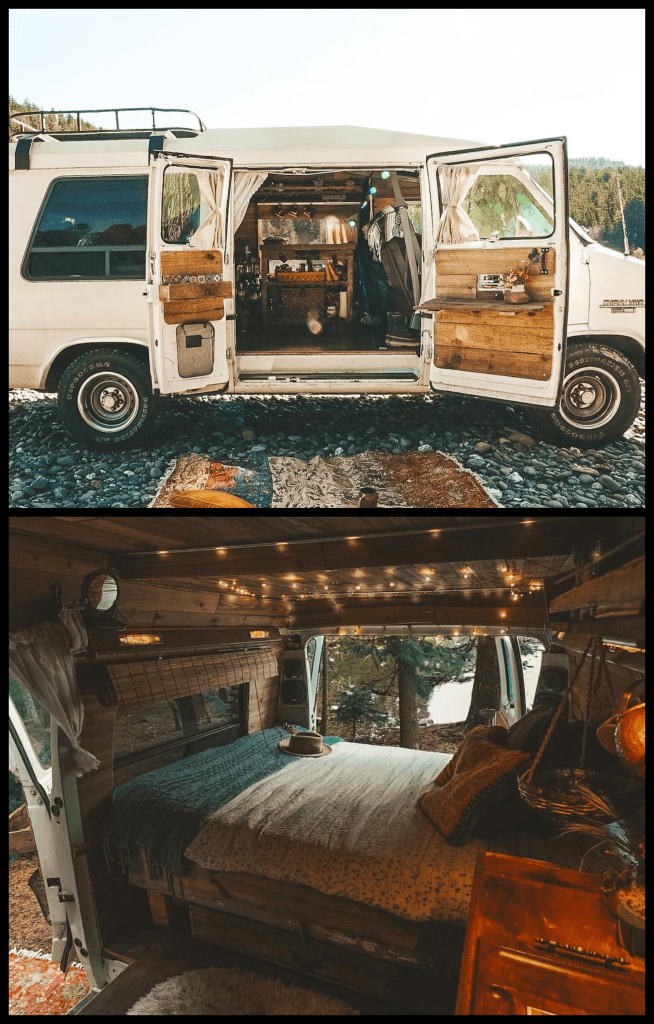 With all its beauty, it can probably come with some disadvantages. One internet user pointed out that the use of wood in this van could make it heavier. Though, on the bright side, the added weight would probably keep you from speeding away and knocking down all of your stuff.
A Special Place In Your Heart For The First Project
If you catch the travel bug, you may find yourself wanting to do a full upgrade — including upgrading the van itself. Perhaps the size didn't suit your needs, or the cost of repairs was getting to be too much. But trading in your first project is hard, and it will always hold a special place in your heart.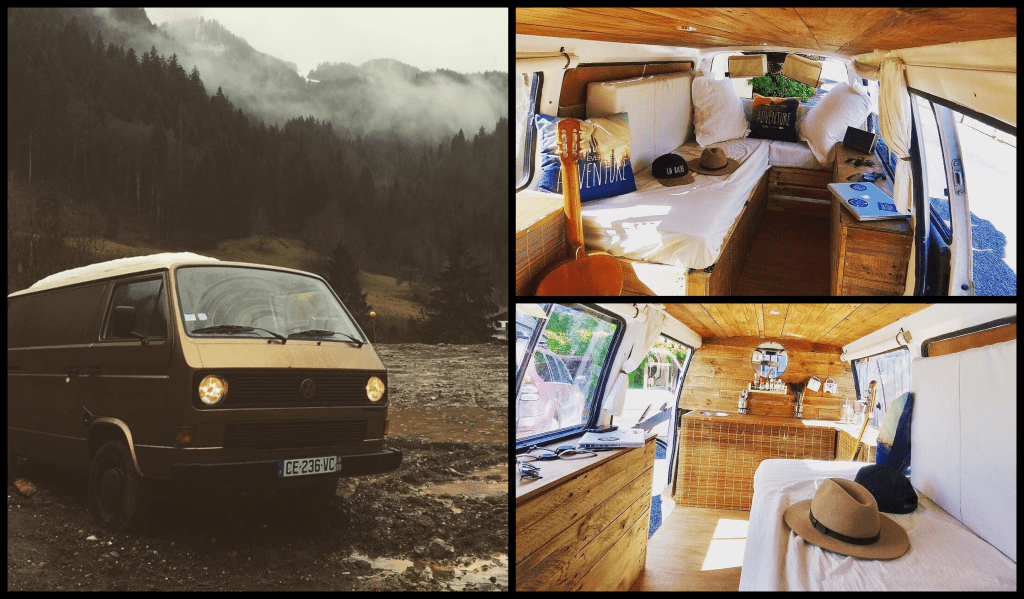 This van owner shared their project on Instagram, fondly remembering the trips taken in this Volkswagen T3 classic. Their bed/couch combo isn't something we've seen before, which is a bit surprising as it is the perfect way to fit everything comfortably into a small space.
Then and Now Photos Never Cease to Amaze
There's no need to rush your project. While you may wish to hit the road as soon as possible, taking the time to make your dream home-on-wheels is worth the sacrifice. This person took two years to transform their van into this mobile masterpiece.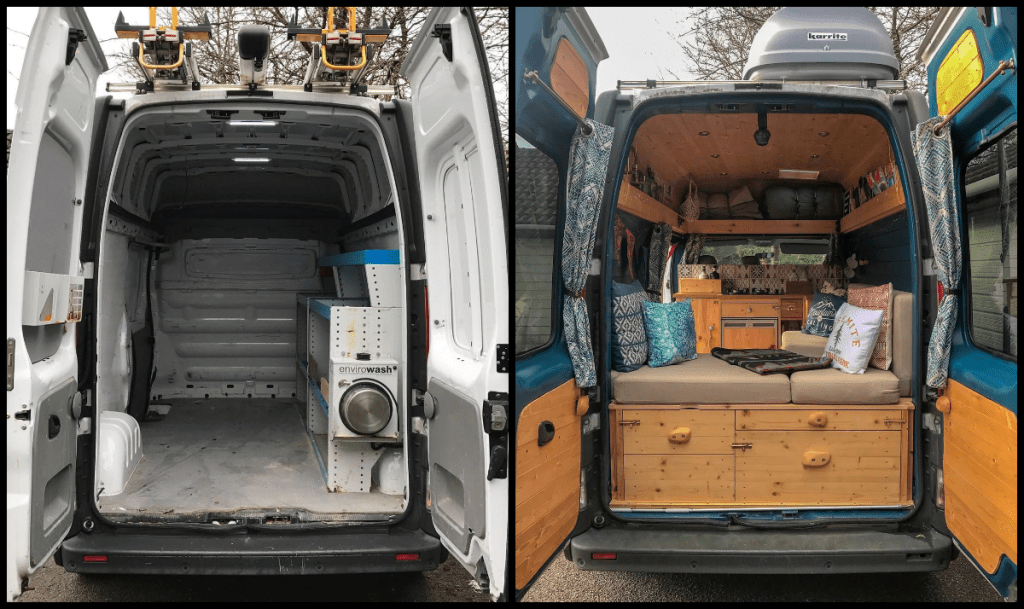 Fitting it with your custom touches to match your personality, fashion, and vibe is well worth the wait. When you're on the go, you should feel comfortable, and there's no better way to do that than to customize your van.